Making Memories Around the Caspian Sea
Written by Anastasia Leniova. Posted in Rides
"I resign to travel the world on a motorcycle!" I proclaimed when I was 23. By that time, I'd received a degree in Foreign Relations, had spent a couple years working in Belarus, and was wondering if we were really born to spend a huge part of our lives in offices.
I had a 2003 Honda XL 650 Transalp, a year of riding experience, and slightly more than $1,000 accumulated for a trip. It was to be a great and crazy adventure through Belarus, Russia (Elista, Dagestan and Chechnya), Georgia, Armenia, Iran, Turkmenistan, Uzbekistan, Kazakhstan, and Russia again. And there would be the whole range of experiences from being on my knees at gunpoint, fueling the bike with condensed natural gas at a dried sea bottom, camping on neutral territory between two countries, and a bunch more. As the entire story won't fit into ADVMoto's word limit, I'll share some of the most memorable moments with you.
• "We know the short road."
Being overwhelmed and alone in Iran, dealing with bike importation, wearing a long shirt and hijab under the helmet, and coping with excessive attention from locals, I was glad to meet three German round-the-world riders (ThreesomeWithTwins.com) in the seaside town of Astara. Our adventure started from two things—I suggested going to the mountain city of Masuleh, and they suggested taking the "short road." At that time I had no idea they were such experienced motocross and enduro riders on their huge ADV bikes. They were ready for everything, unlike the young and unexperienced me. "It should be fun," they said.
We headed out of town towards the mountains amidst beautiful, flower-covered slopes. The innocent-looking gravel road soon gave way to a much narrower one, covered with sharp, unstable rock, along an abyss. That's where I dropped my bike for the first time out of many that day. Somehow we concluded that we had gone too far and that returning wouldn't make sense, so we took an alternative road which turned into another narrow path, and then became a river with a slippery, stony bottom. Not knowing if this route would dead-end as well, we decided to risk it.
That's where I first saw the German team in action. With water slurping into their boots, they dragged their heavily loaded Africa Twins (CRF1000L) and GS though the river. In some places the trail was so narrow they had to remove the panniers and use a shovel to chisel a path through the rock. With my smaller bike and only a top box it was easier, but I had to count on their help to pull my bike out of difficult spots. That day I dropped the bike around a dozen times, which broke a few parts. At one point we met some locals who promised it would be easier from there on. This "easy" route continued as we struggled with the landscape, riding, pulling, and shoveling our way through the rocks, our strength oozing away as we tackled a skinny clay ditch filled with water. We had to pull four bikes out of it one by one, with an incredibly strong local man helping us, lifting the bikes as if they were sacks of flour.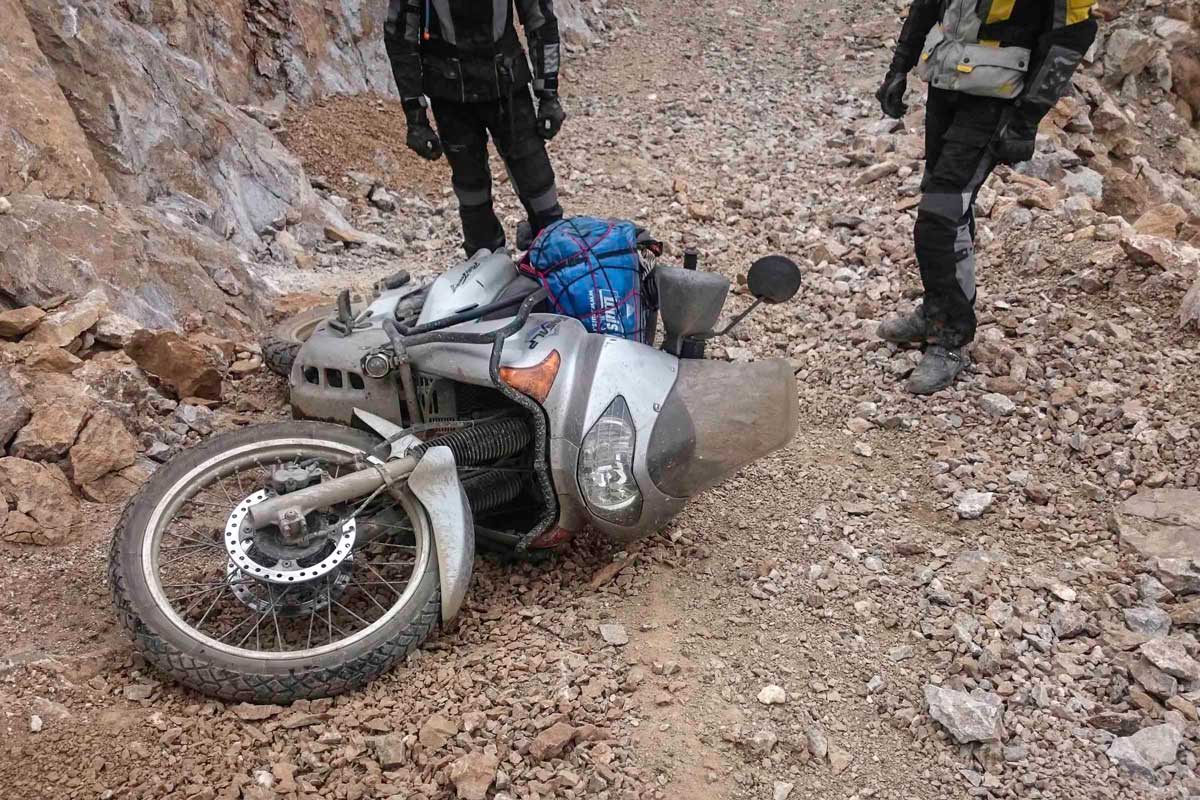 First drop of many on the way to Masuleh.
The ditch turned out to be the final obstacle before the village. Relieved, we stopped to put up our tents, but the strong man invited us inside his home. After making instant noodles for the company, we dozed off in our sleeping bags on the floor and slept like babies. By the way, the Masuleh mountain town was also okay, but it paled in comparison with the "short road" there.
• A Night at Hell's Gate
I made it to Turkmenistan! Getting into the country was difficult as I'd been denied the transit visa twice in Belarus. Then I re-applied for it in Tehran but had to receive it in Mashhad after 10 days, but only for five days on set dates. That would still work, but I had trouble getting my bike back from the hardworking Iranian mechanics, whom I'd asked to lend me a part of their shop to change the oil myself but had jumped in to help, disassembled the bike completely, and were not in a hurry to put it back together.
By the time I arrived at the Turkmen border it had closed, so I had to camp in the no-man's land between the borders. Many thanks to Iranian border guards for bringing me tea and food! It turned out that I had to pay a sizable chunk of my budget for entrance formalities, but you can't imagine how happy I was to finally arrive in this central Asian "North Korea." Deviating from the route that was indicated on the visa was punishable by a heavy fine, so I ended up with just two days for crossing the entire country. I made a quick ride across the monumental but empty Ashgabat, bought more instant noodles at the local market and rode out of the city into the heat of the Karakum Desert. The road was paved but destroyed in places, and it was so hot that even the wind was not helping, rather burning me to the bone. Every now and then I stopped to pour water over my overheated head in order to avoid passing out, and my five liters of water ran out fast. Luckily, I found a well in a deserted village. The cold water and shade were like paradise.
The goal was "Hell's Gate," a huge natural gas crater in the middle of the Karakum Desert near the Darvaza settlement, where a gas extracting station had collapsed through the sand, leaving a 60-meter-diameter hole in the earth. The leakage had been poisoning the cattle, so the pit was set on fire in the 1980s and has been burning ever since. The road towards it is notorious as well; in ride reports others complained of difficulty getting through the quicksand. I deflated the tires, but that didn't help much as I was an off-road novice, so I took a Jeep "taxi" to the spot along with other tourists, which was much easier. As it got dark, I put up the tent on a hill where I tried not to get poisoned by the gas while admiring the infernal landscape. The Gates of Hell were surrounded by a luminous halo that contrasted sharply with the stillness of the surrounding night. I got goosebumps and couldn't fall asleep for a long time, overwhelmed by the sensation of something so supernatural.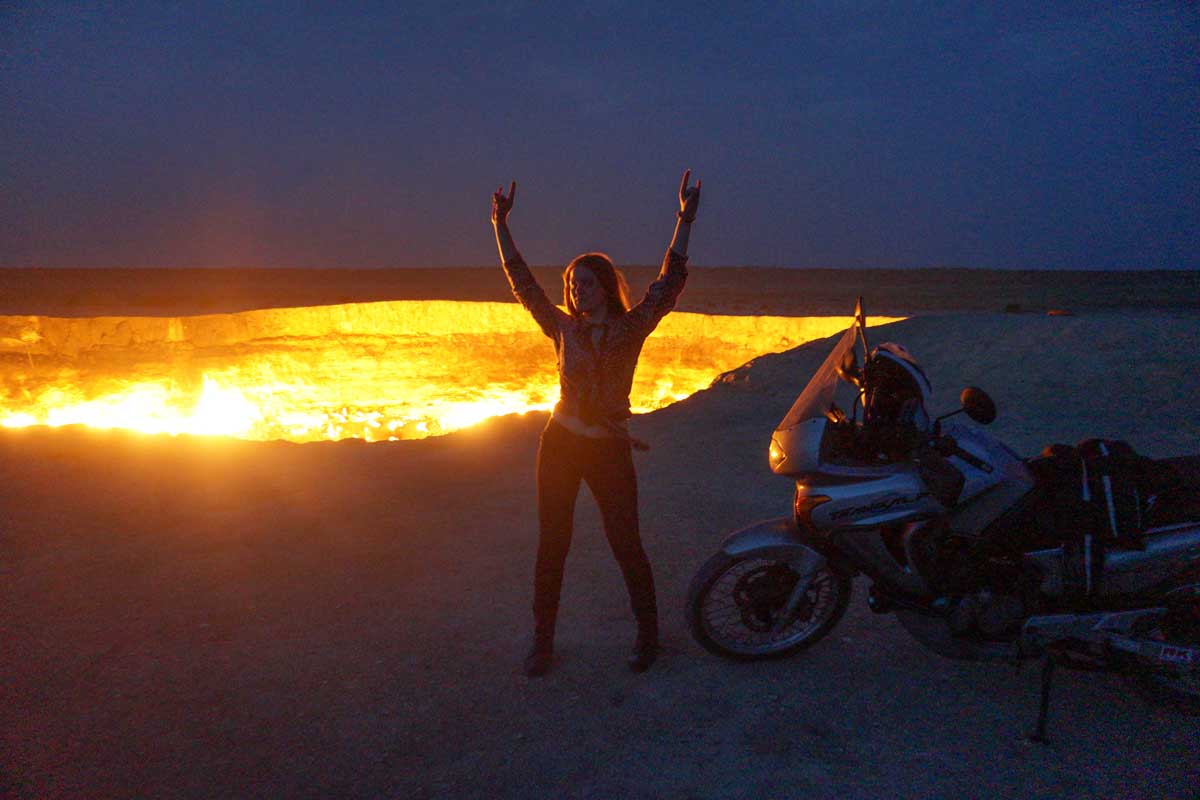 The Gates of Hell were surrounded by a luminous halo that contrasted sharply with the stillness of the surrounding night.
• Ship Graveyard
Having spent a couple of days in the Uzbek cities of Khiva and Nukus, I decided to ride north to see the shores of the Aral Sea, which had all but dried up and pretty much disappeared, and the famous ship graveyard in Moynaq. Once a big port city with a fish canning plant and an airport, Moynaq lost its heart after the irrigation project on Amu-Darya River was launched and the river and sea started emptying. The town was larger than I expected, but had the murky atmosphere of a ghost city, and I received stern looks from the few people remaining. Avoiding stopping anywhere for a long time, I proceeded to the graveyard of ships that had once sailed the waters of the Aral Sea. Now their rusting hulks just sat in the dirt, devoid of water, where they entertained tourists.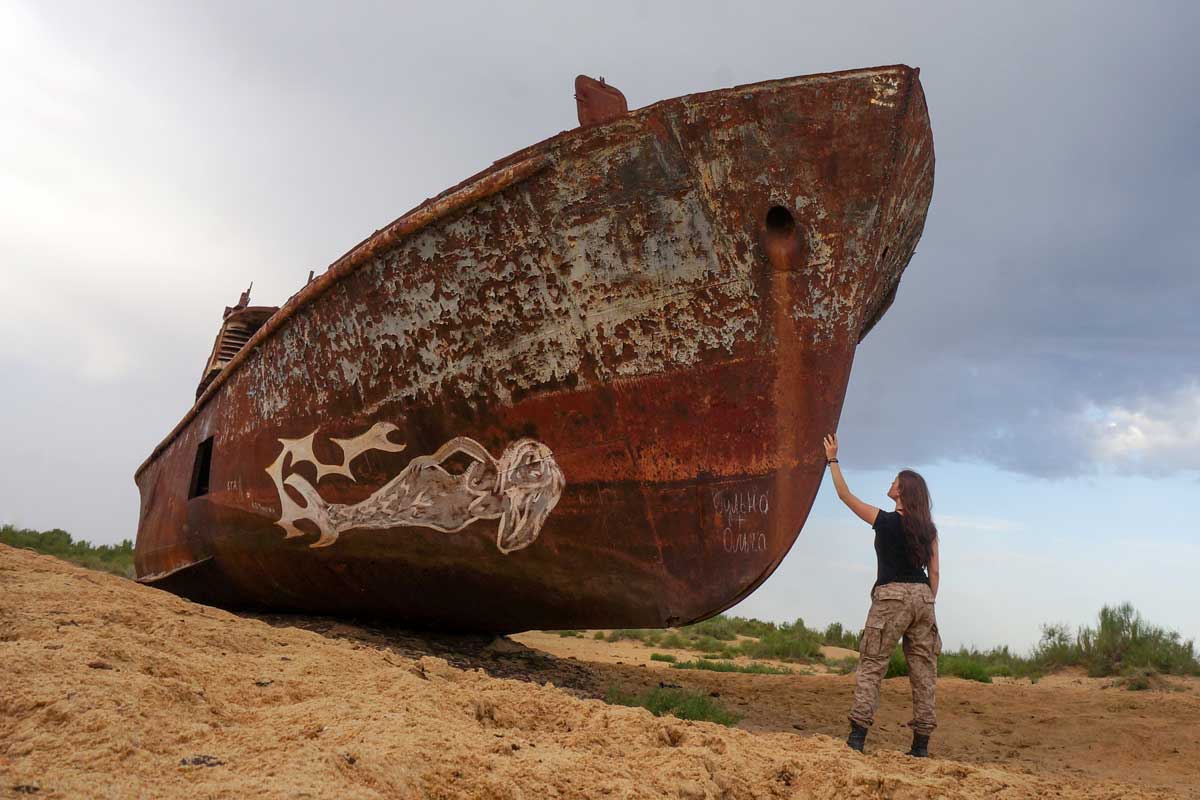 Ship graveyard in Moynaq.
Finding fuel is difficult in some areas of Uzbekistan. As Moynaq was quite remote, I had little choice but to fill up with unknown mystery fuel from a can. Riding off onto a paved road, I made my way towards an overnight stop. I camped on the way, but in Nukus I met a wonderfully kind woman who gave me the name of her friend's father in Shege Village, who could host me for the night. The village of 300 or so had no streets or house numbers, so I wandered around asking for directions.
An elderly woman, Kaligun, ran out of her home as I approached and took me inside to her table. The host or hostess traditionally sits on the floor together with the guest, and the others from the household dine in a separate room.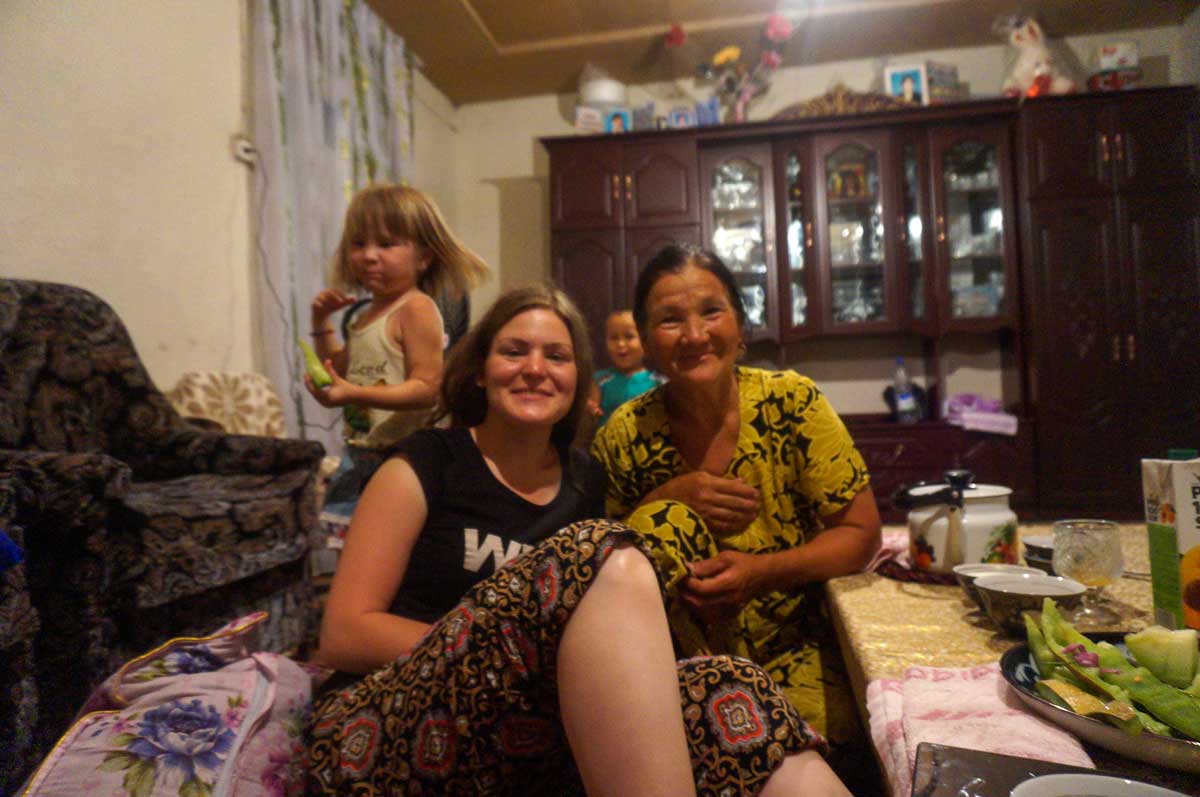 Dinner with Kaligun and some of her many grandchildren.
There was no natural gas pipeline in the village, which explained why I saw cyclists with huge gas bottles on the way. Kaligun showed me around the village, which included yurts used as summerhouses, and kids as young as four going fishing. At night we removed the dinner tables, put mats on the floor and slept there, women and children in one room and men in another. As I departed the next morning, they gave me lavash flatbread with dried fish, and I was touched almost to tears by such kindness to an absolute stranger.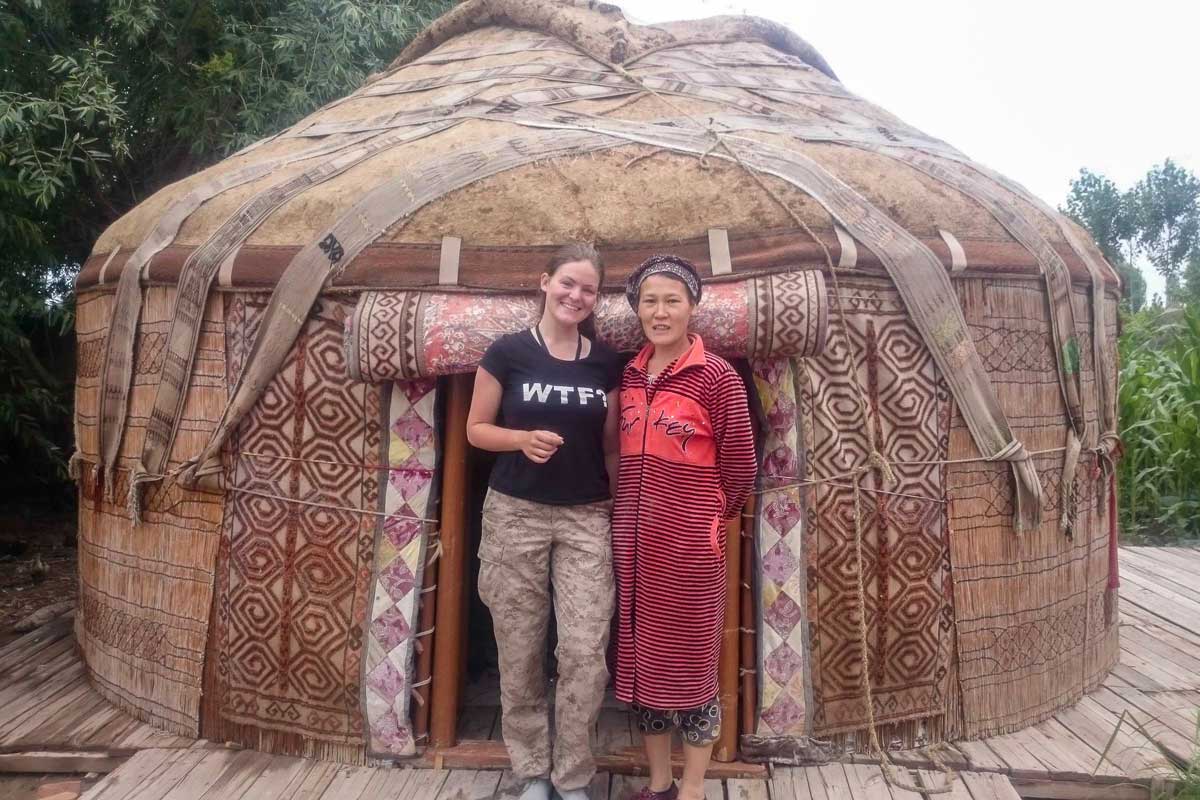 Uzbek hospitality and a summer yurt.
The following day was no less memorable, as going farther into Kazakhstan required returning over 200 kilometers. But a local told me that I could take a shortcut though the dried bottom of the Aral Sea. I was young and stupidly brave enough to take his advice, seeing no roads or signs of life, not knowing how many kilometers it would require, but hoping that a tank of fuel would be enough to cover the route. I got completely lost 20 kilometers in, all signs of life ended at kilometer 30, and sometime later I bumped into a roadway gate in the middle of nowhere with a guard who told me I couldn't go farther.
As my optimism was running low, I explained that "can't go" was not an option and that I didn't even need a road, but if he could supply some direction to Kazakhstan that would help. To this he just shrugged and opened the gate. The gravel road was pure magic, a reminder that this area was once a sea bottom. As I was getting panicky about fuel, and hoping for a miracle, imagine my surprise when I stumbled across a gas extracting plant. And now, imagine the surprise of the workers who are brought there bi-monthly by off-road trucks and who definitely didn't expect to see a girl on a motorcycle. They had no decent fuel, but gave me a can of liquefied natural gas that could get me by if there was nothing else. A gravel road took me farther and farther and soon, after I had lost hope and added some liquid natural gas to the Transalp's tank, I finally made it to the main road. Right in time, as a terrible thunderstorm was about to start.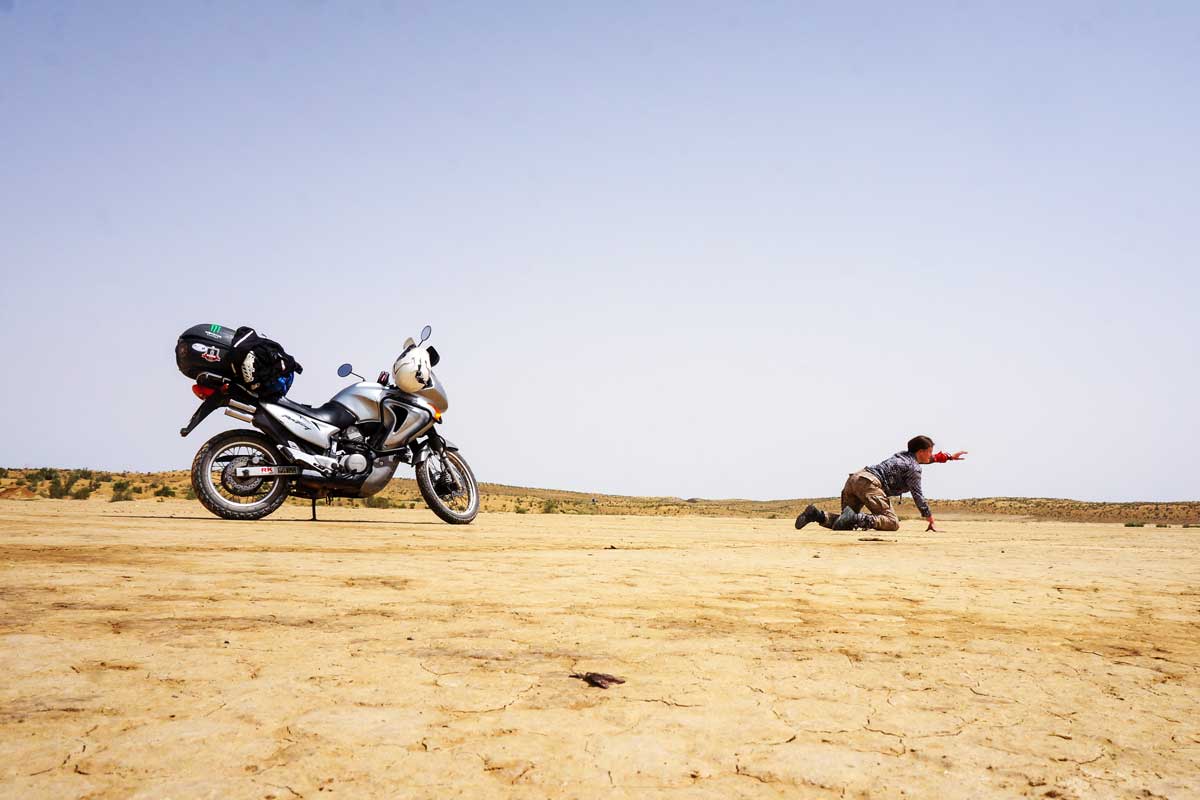 Taking a shortcut though the dried bottom of the Aral Sea.
The entire trip lasted about three months, and it was like throwing myself into the water to learn how to swim. To be honest, I was happy that both the bike and I survived and successfully made it home. But it was like a school for overcoming all kinds of life's obstacles. As time goes by and the world changes, the challenges we face are different. Travel! And if you get bored—you can always take the "short road".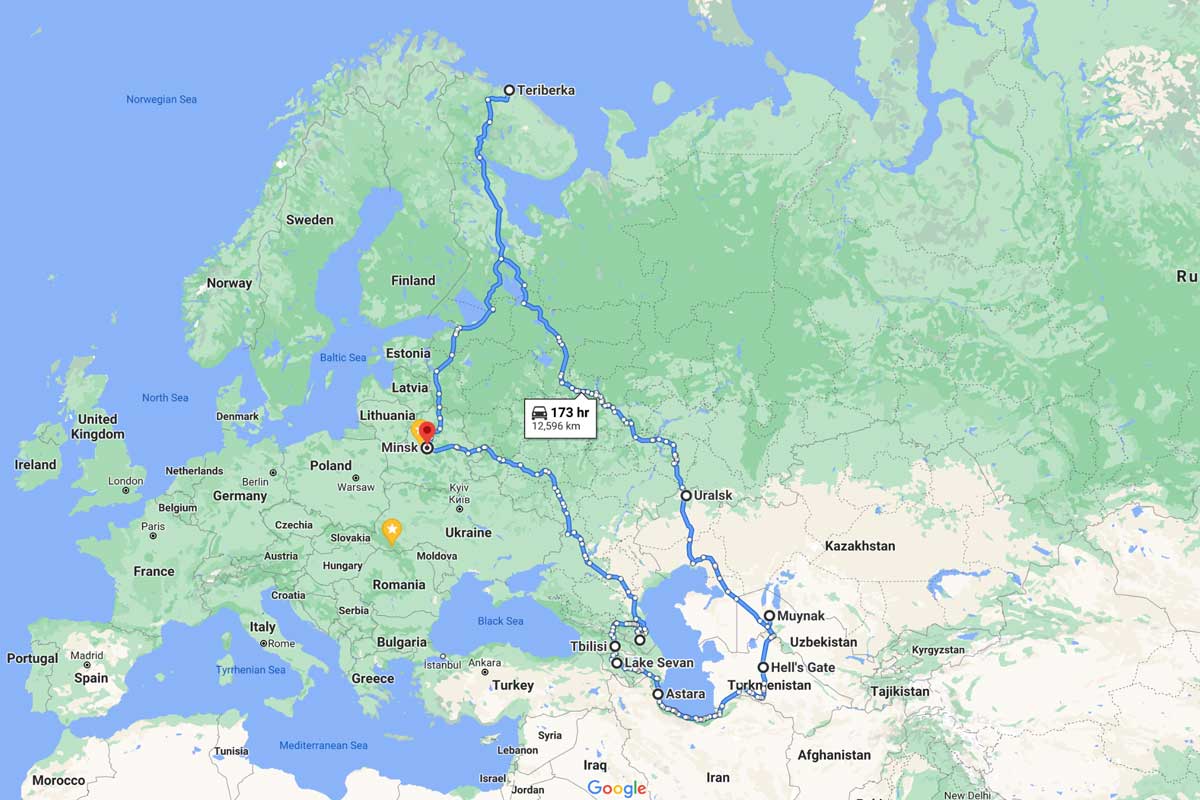 The approximate map of the route around the Caspian Sea.
---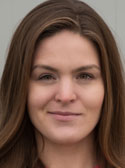 Anastasia Leniova is a Belarusian motorcycle ADV rider, who traded solo off-road travels for enduro and rallies. After traveling around the Black, Caspian and Baltic seas on a Honda Transalp and KTM 690 Enduro R, she became the only woman so far to complete the Silk Way Rally in Malle Moto. Anastasia dreams of becoming the first Belarusian to complete the Dakar Rally on a motorcycle, and now is searching for sponsors for Rallye du Maroc as a part of preparation—doing it without a mechanic, as always.