HJC RPHA 1N Helmet Review
HJC RPHA 1N Helmet Review
Review Summary
The HJC RPHA 1N is a helmet that carries some serious pedigree with it, as it is the road-going version of the RPHA-01R GP helmet used in MotoGP and World SBK. It offers superb protection, is whisper quiet even when at speed, and has so much ventilation that wicks away heat almost as quickly as it gathers. One of the best helmets I think is available on the market today.
Materials & Build Quality
Pros
Extremely light
Excellent visibility with a very tall and wide visor
Comes with a Pinlock Pro lens and even tear-away strips in the box
Whisper quiet no matter which way your head is turned
Is the road-going version of the HJC RPHA 1 GP helmet
Has a FRHPe-01 FIM Homologation certification, the best you can get
Cons
Does take more time to wear in than many helmets
Included extra spoiler is attached with adhesives and not a physical lock-in system
Very expensive (but worth it!)
If you have a pronounced forehead, does feel a touch tight, just enough to knock a half point off of comfort in an otherwise comfortable helmet
Despite it being legal to ride without a helmet in some states, we all know that our heads are the most vital things to protect when riding. This is true from someone riding a 50cc scooter all the way up to a 320 HP Kawasaki H2R hyperbike. As such, there are thousands, even tens of thousands of helmets out there to pick from. There are the cheap n cheerful, the budget helmets that protect well enough but don't break the bank, and then there are some helmets that are truly top tier. Names like Shoei, Arai, AGV, and HJC enter into that top tier, and the choices up there are almost always evolved from racing helmets.
For HJC, however, they didn't really evolve their RPHA-01R GP helmet, used by MotoGP world champion Fabio Quateraro and Moto3 champion Brad Binder who now races in MotoGP as well, as much as translate it directly across to road usage. The only major modification, as told by HJC, was adding the speaker pockets into the EPS foam and changing the liner to be a "fits most people" instead of being custom formed. Apart from that, the RPHA 1N is quite literally the same helmet used in Grand Prix racing.
When I was given the opportunity to test out the RPHA 1N, there was not even a second of doubt in my mind. I must admit some bias, as my primary helmet for both 2021 and 2022 was my previously reviewed HJC i10, one of the least expensive helmets that carries a track-day worthy SNELL M2020 certification. However, I will still remain as objective as possible in my review, and I think it will be interesting to see how what is in effect a racing helmet behaves in sport touring use.
About HJC Helmets
HJC Helmets has been around much longer than many people think, having been incorporated in 1971 in sunny California. All research, design, development, and prototyping are done in-house at HJC America, where the headquarters is equipped with its own wind tunnel, as well as on-site carbon fiber, fiberglass, and polycarbonate manufacturing capabilities. This allows all evolutions of designs to be signed off on Friday, and have a helmet ready for the wind tunnel Monday.
HJC expanded rapidly throughout the 20th century. Apart from the California headquarters, there are the two manufacturing sites in Seoul, Korea, and Vinh Phuc, Vietnam, the Asian market headquarters in Korea, and the European market headquarters in Reichstett, France. It is also through this expansion that HJC became involved in MotoGP, MotoAmerica, and World SBK..
What HJC excels at, however, is letting the knowledge, safety, and features of their racing and powersports helmets trickle down through their lineup so that both mid-range and entry-level budgets have at least one fully track-ready helmet, as well as keeping a top tier series of helmets straight from the race track to the road via the RPHA series. 
About webBikeWorld's Review Policy
This product was provided at no cost by HJC via our partner RevZilla for this review. Despite our affiliate relationship with RevZilla, we do not allow brands to influence review scores or content. Please see our review policies for more information.
We here at webBikeWorld believe that you can't just try something out once and give an honest opinion of it. Any product we test is actually used by our testers, and as such, I have used the HJC RPHA 1N helmet as my primary riding helmet for the latter half of this season, from the start of July to the end of September, 2023.
HJC RPHA 1N Features, Fitment, & Comfort
Features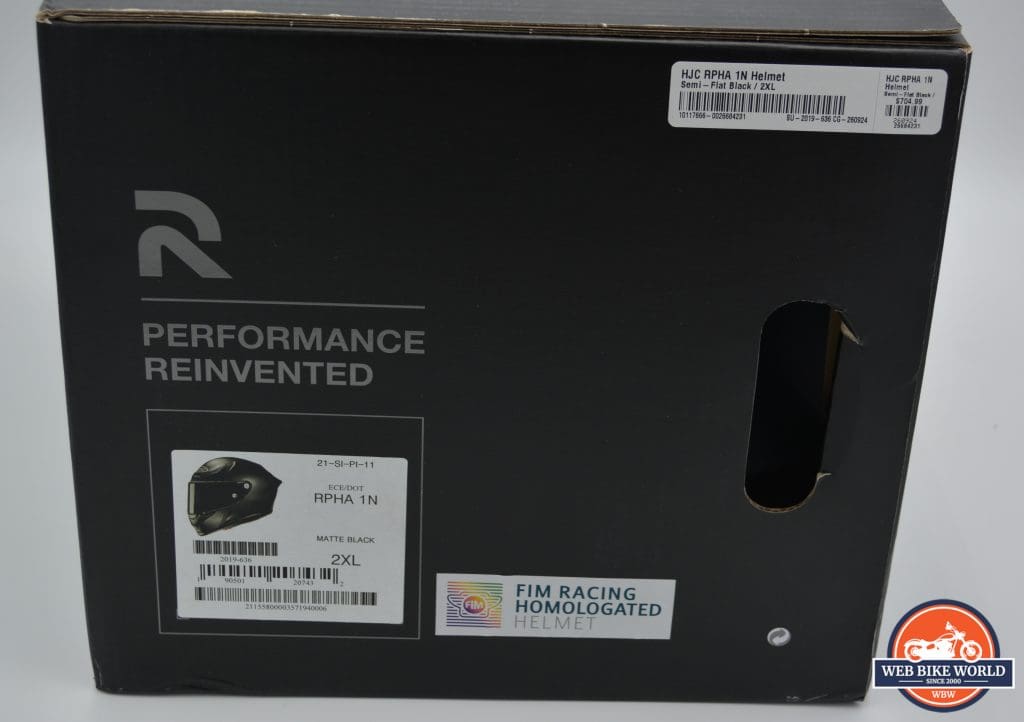 Probably the biggest feature about the RPHA 1N that I noticed right away, even before opening the box it came in, was just how light the thing was. When I took the helmet out of the box and placed it on my kitchen scale, it read a scant 1,499 grams, or 3.3 pounds, which includes the internal padding. Just for interest's sake, I also weighed the box without the helmet in it, and that came out to 1,134 grams, or 2.5 pounds. So, less than 6 pounds total as shipped inside its packing material, which is damned impressive.
The shell material of the RPHA 1N is also gloriously smooth to the hand, which makes sense as it is a combination of carbon composites and fiberglass reinforced carbon matrix material, which HJC terms as their Premium Integrated Matrix Plus (P.I.M. Plus) shell material. The padding is hypoallergenic and moisture wicking, and while it does require a firm tug, both the cheek pads and top liner are removable for airing out and/or washing.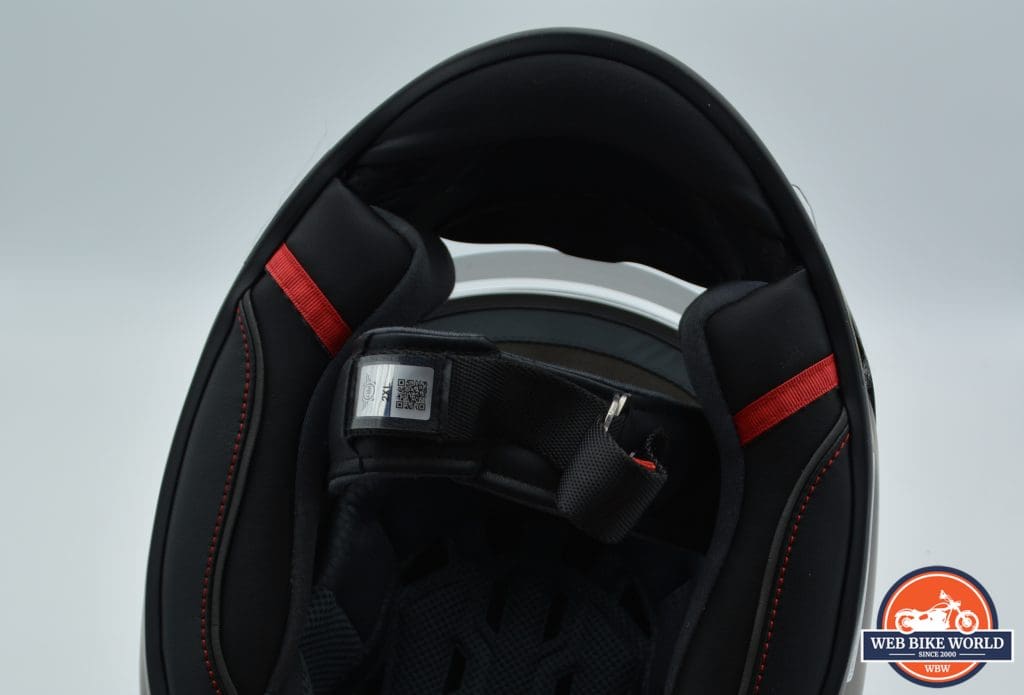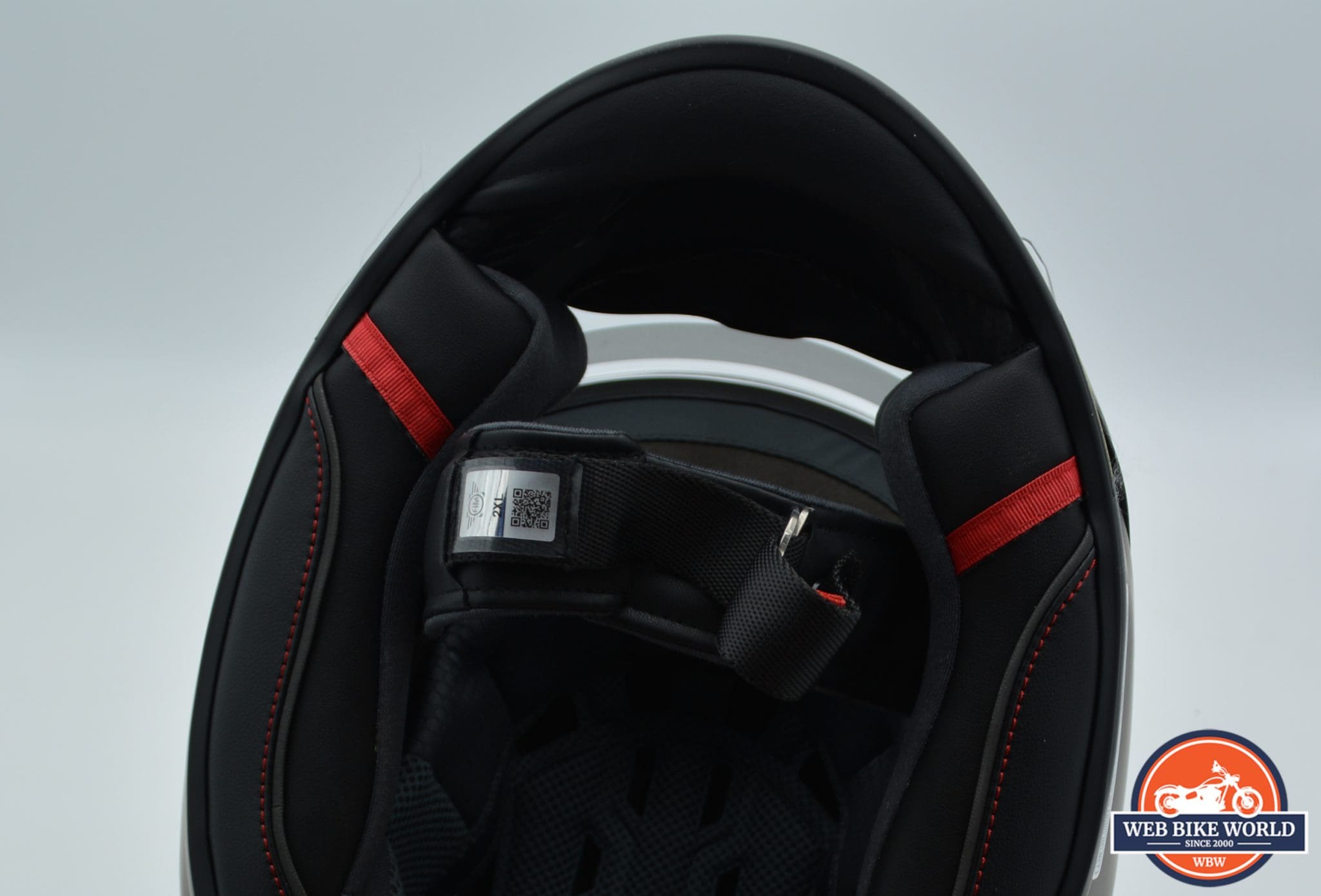 There are, as is pretty standard at this tier of helmet, emergency release pull tabs at the bottom of each cheekpad.
What impressed me as well was just how much stuff came in the box. I was expecting the standard helmet bag, maybe a Pinlock lens for the visor, and a few extra amenities. What I got was an extended, clear racing spoiler that attaches via adhesives, a chin curtain, a top-tier Pinlock Pro lens, a soft-touch helmet bag that is made of the smoothest fabric I think I've ever felt, and even more, the helmet comes with a full stack of 50 tear-off strips.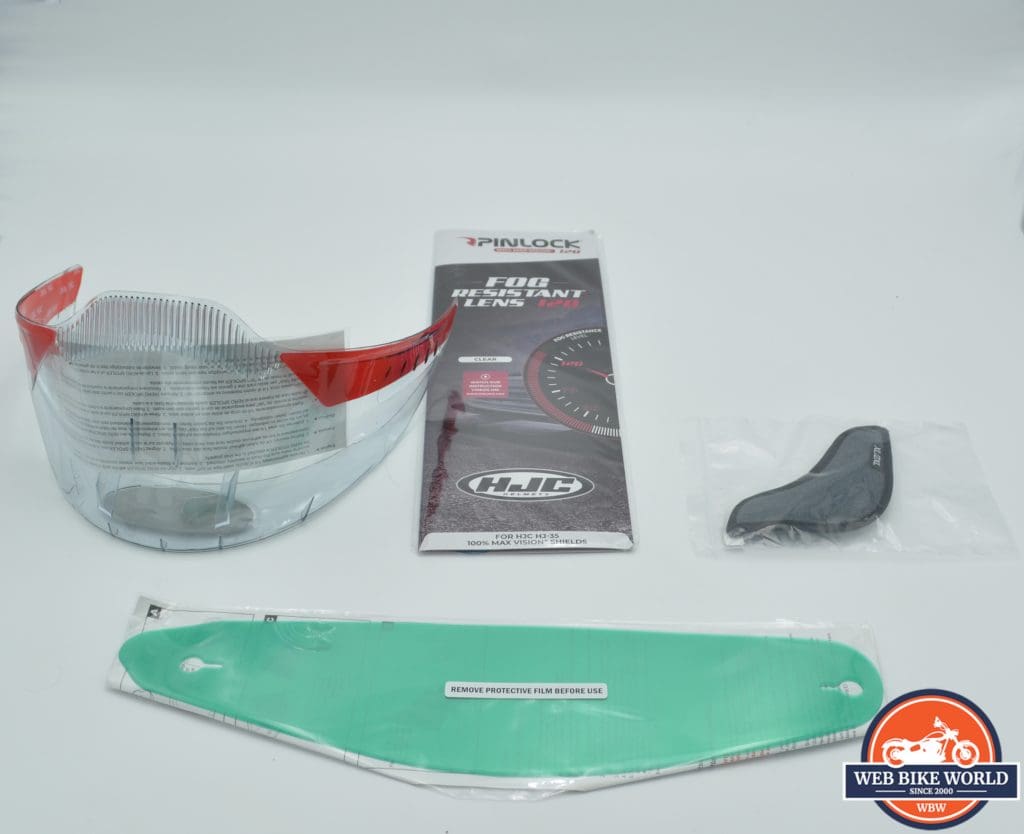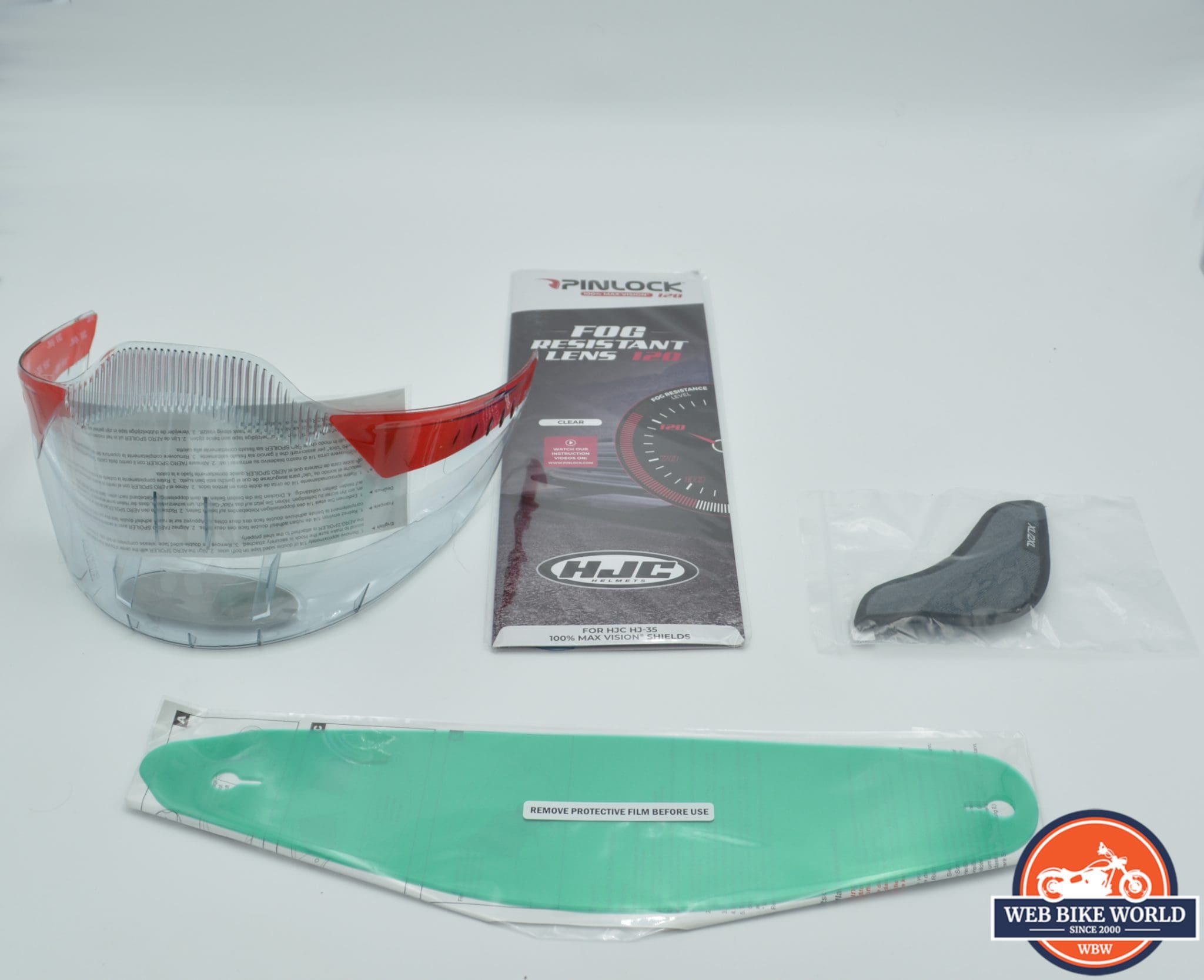 This is further reinforced as the helmet features a sliding visor lock. While the detents on the visor are very strong, including the final one that clicks closed, you really don't want air to start to lift the visor or buffet it. So, a visor lock slides home to keep it shut no matter what, and is just that little extra bit of racing tech that is just a nice extra touch.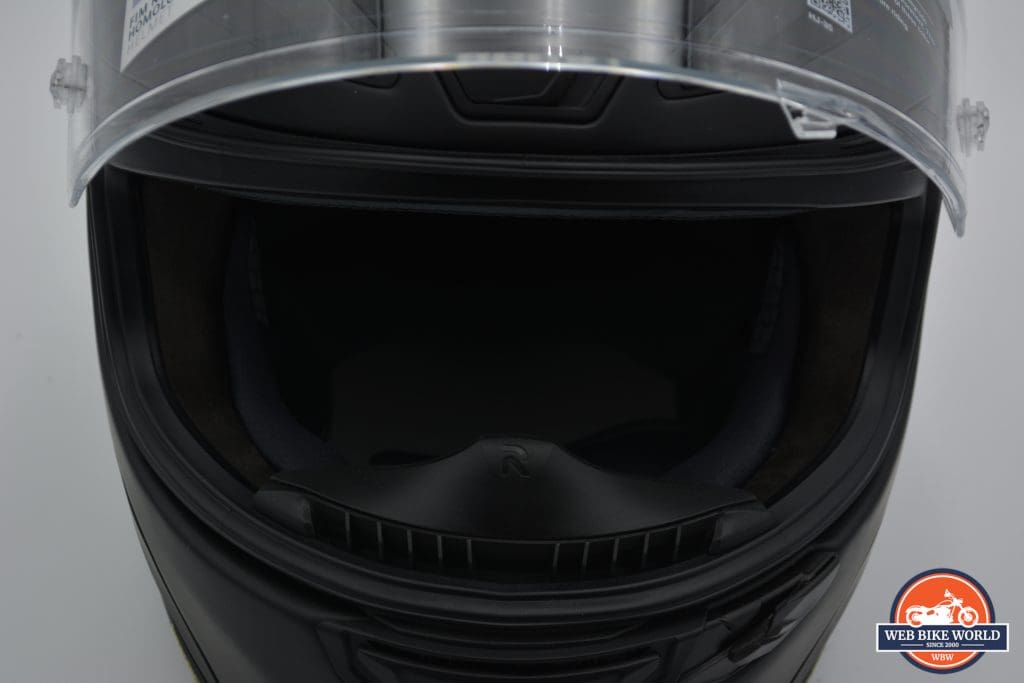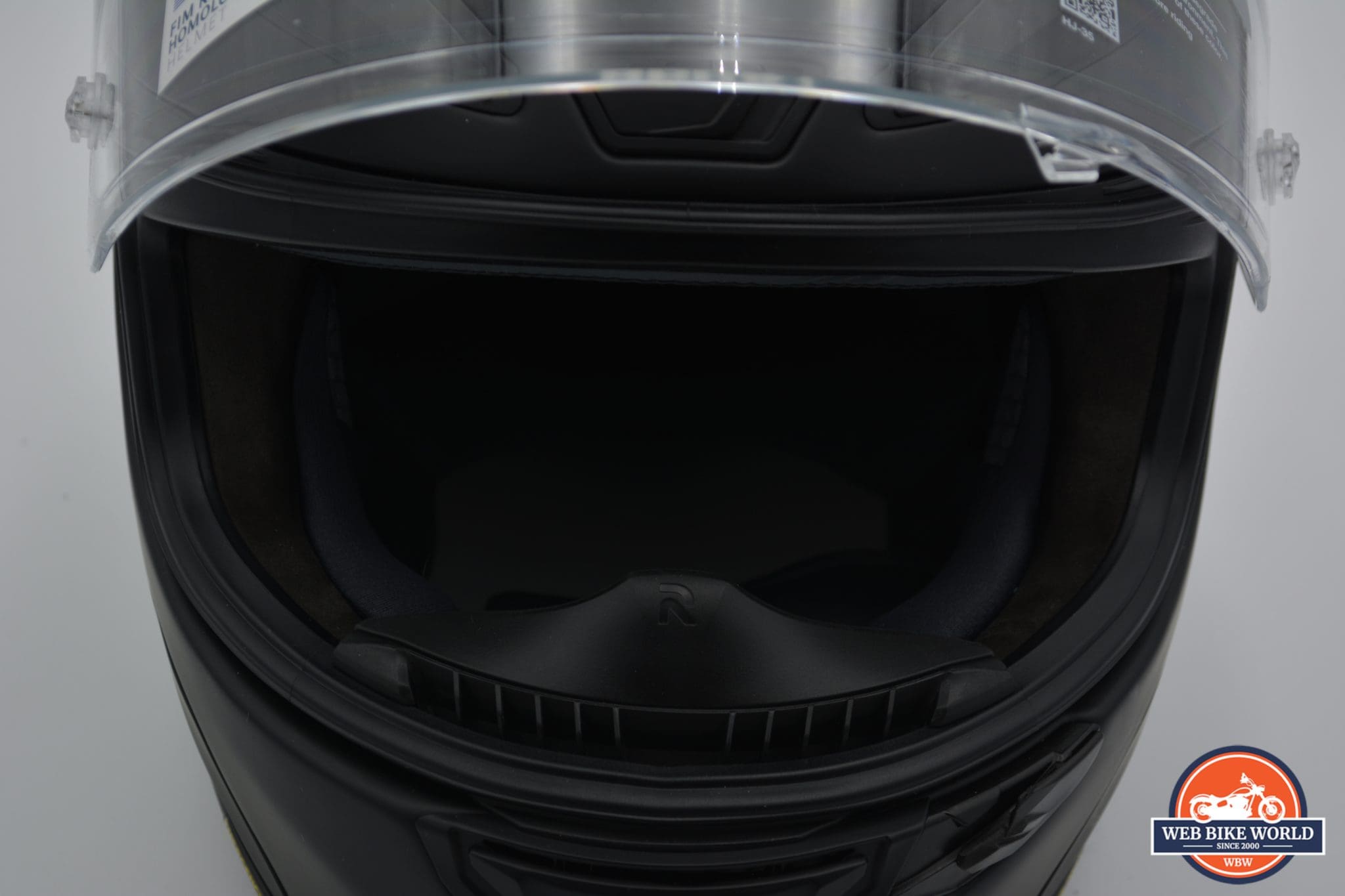 The helmet also comes with pretty much the biggest amount of ventilation options I've come across on a helmet. There are no less than five intakes on the front, with the air evacuated by four exhausts. The intakes include two crown vents that are very wide and very open, a forehead vent, and two chinbar vents, one small and lower down, and with the primary vent above it.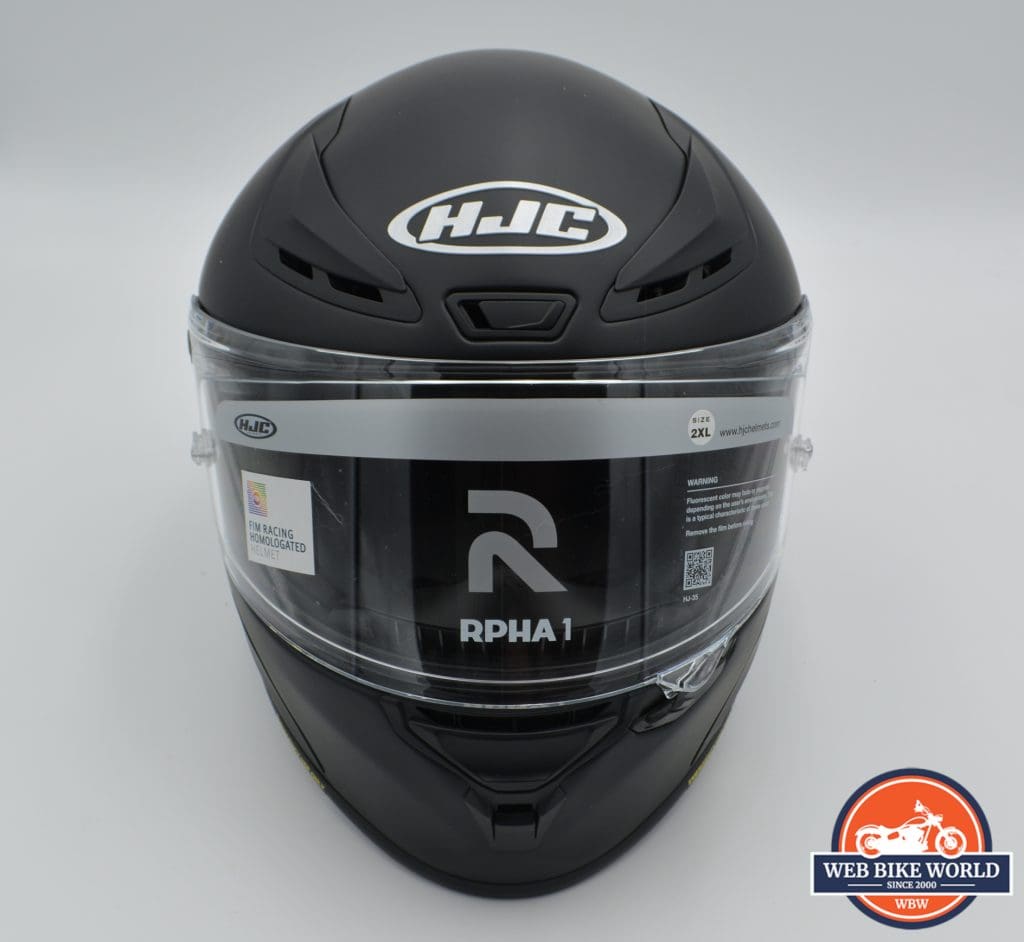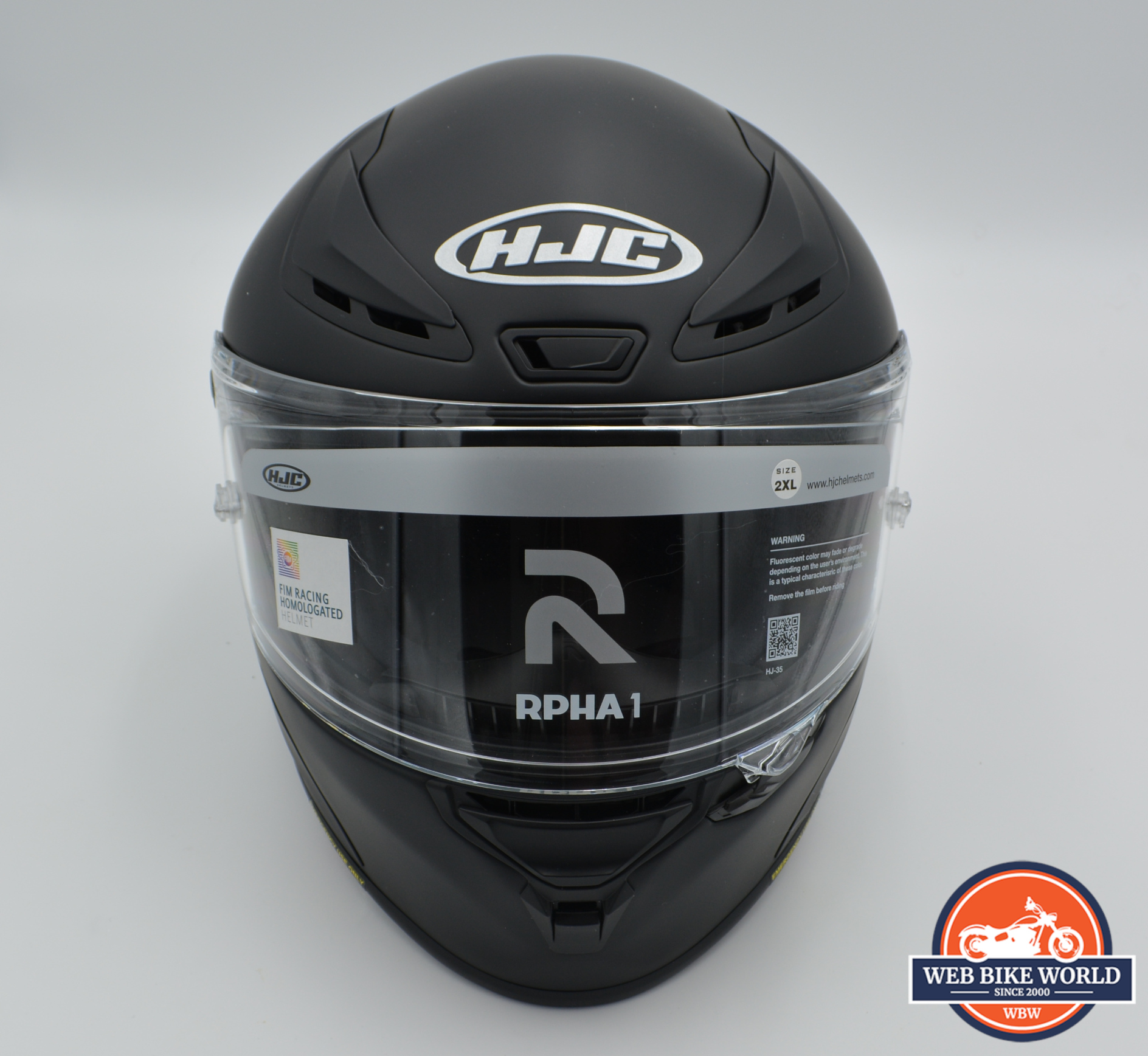 What is particularly interesting about the exhausts is that two of them are along the jaw, while the other two are stacked at the top rear of the helmet. One exists via a mini-spoiler above the main spoiler, while the other exhausts below the primary spoiler, both taking advantage of the Venturi effect to literally suck air out of the top of the helmet.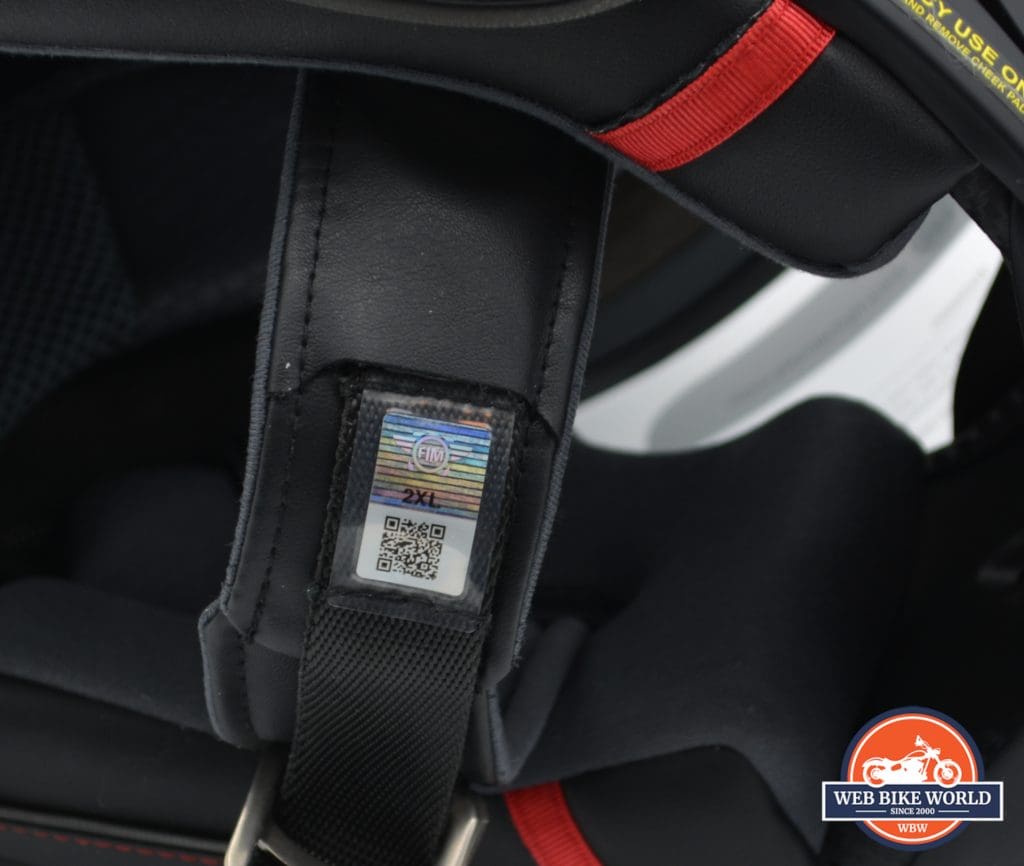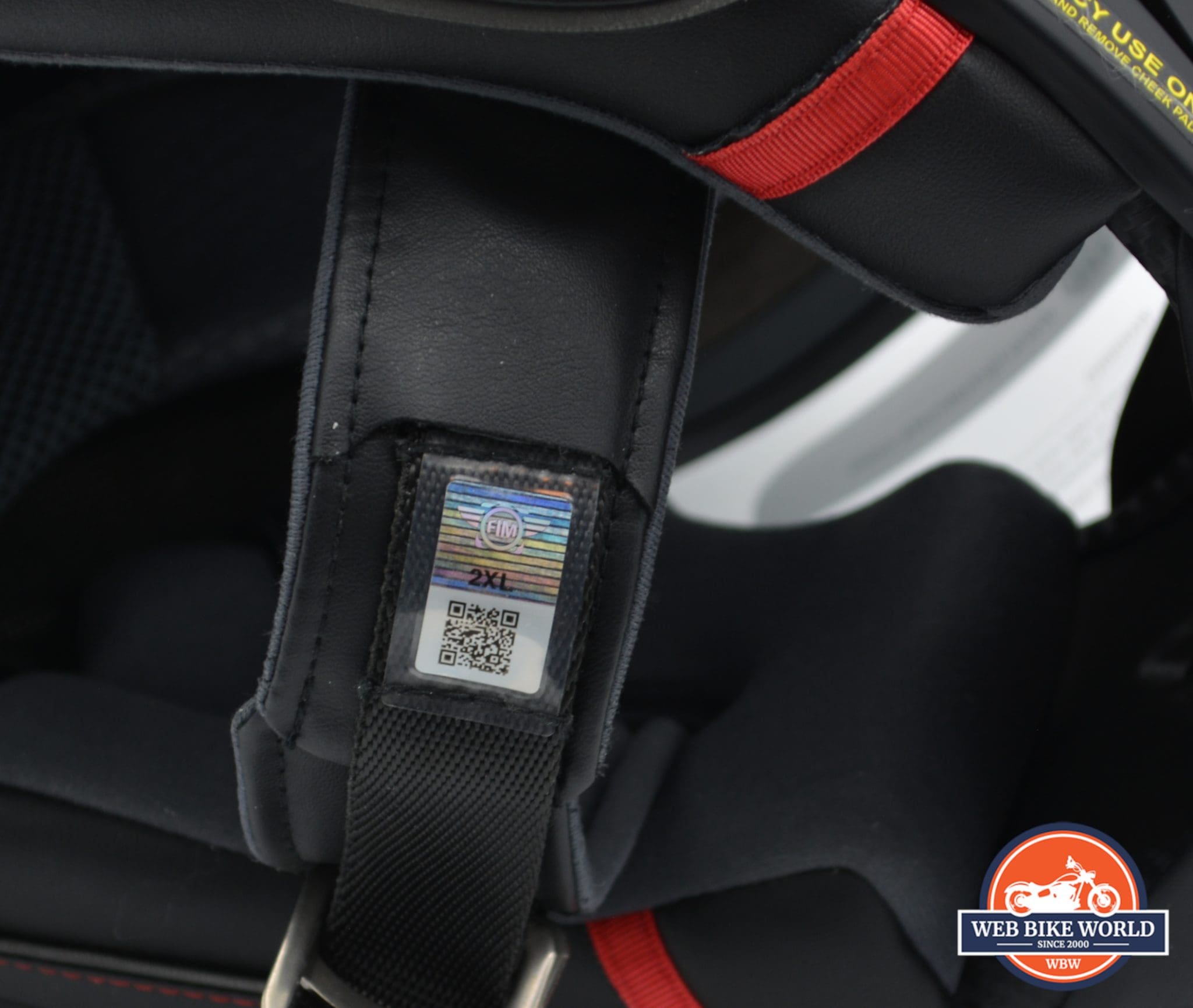 I must also mention that this helmet carries its certification not on the bottom rear of the shell, as with most helmets, but instead carries it on the chinstrap. This is the placement of the FRHPe-01 FIM Homologation sticker, meaning that this helmet, as it stands, is qualified for Grade 1 racing use.
Fitment & Comfort
I have quite possibly the most difficult head to find a helmet for. I am between 2XL and 3XL for most helmets at nearly dead on 63 cm (24.8 inches), I am between intermediate oval and long oval, and I have a prominent cranial ridge that starts precisely in the middle of my forehead that continues all the way to just before the basilar skull area.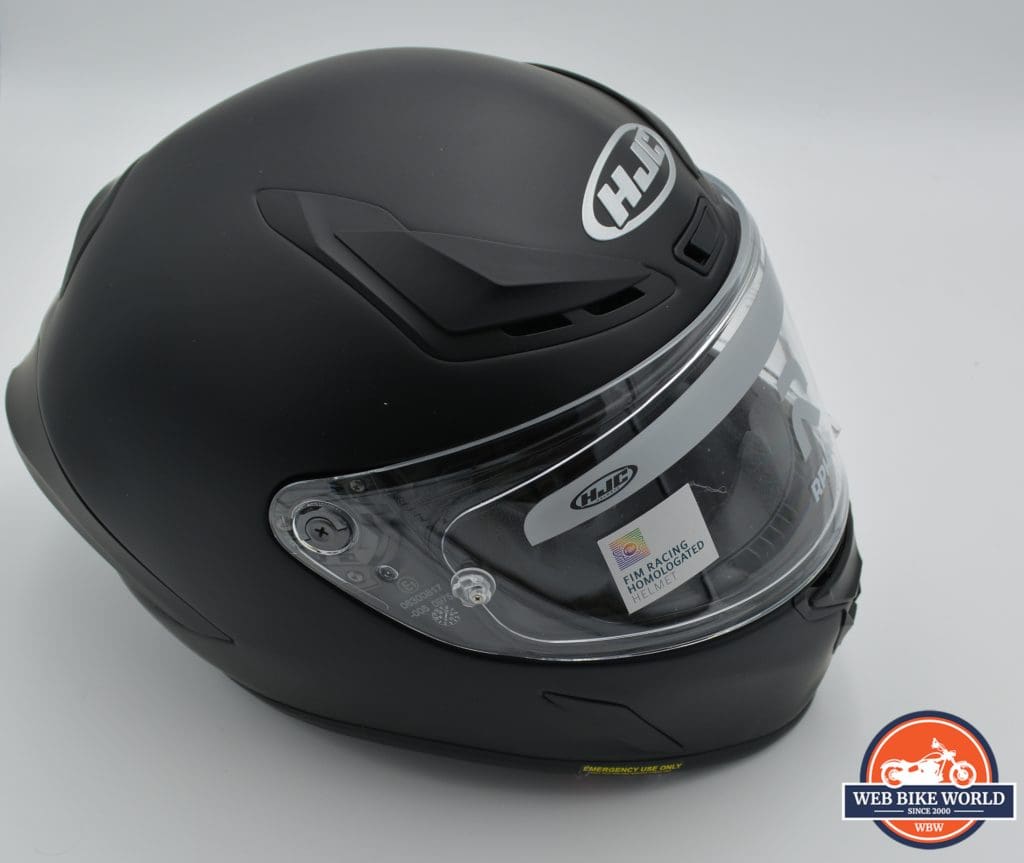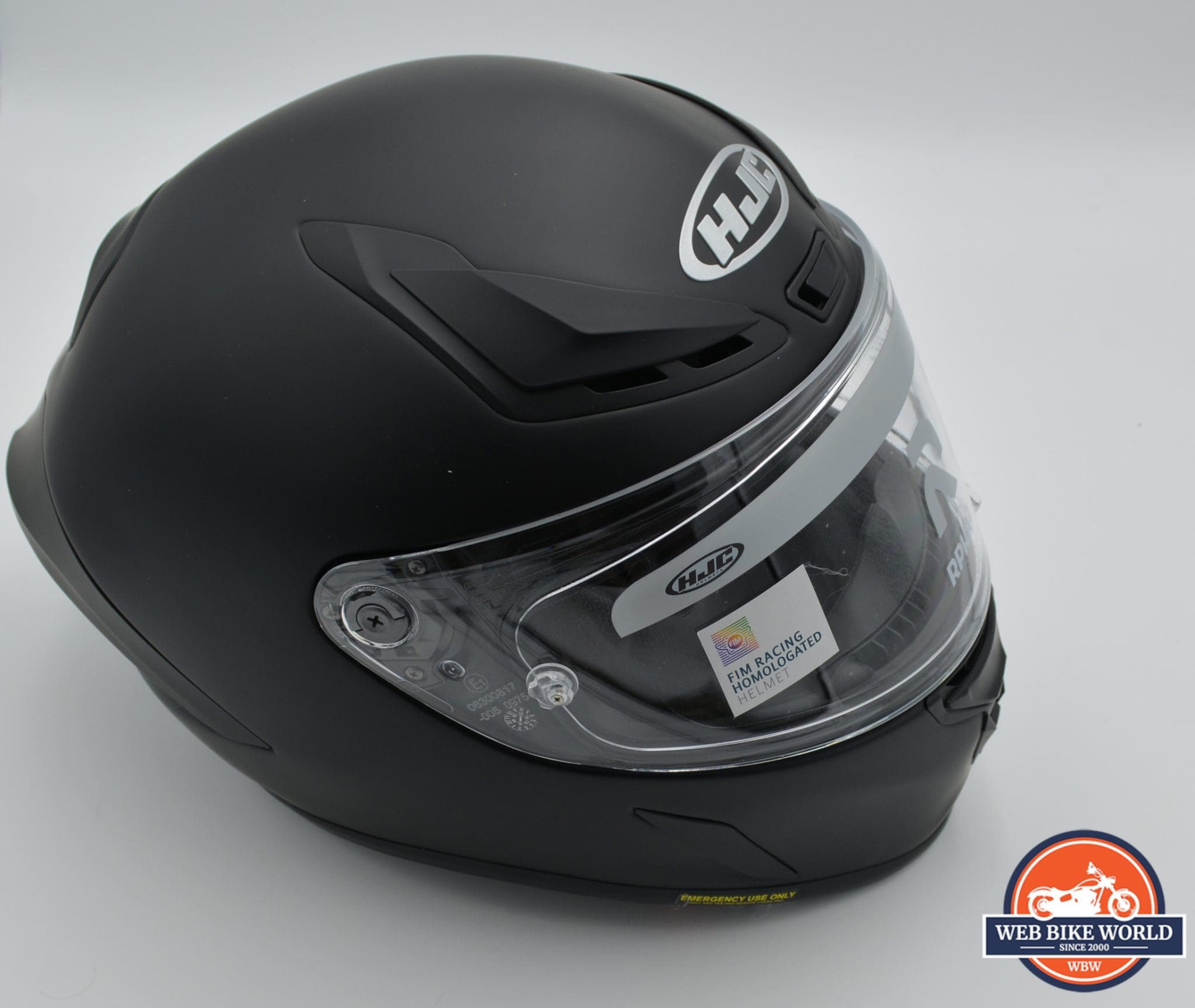 When I first fit the helmet on, it was almost absurdly tight, but it did fit… just. I felt a good squeeze against my forehead, and the cheek pads were scrunching my face together so I looked like a rather uncomfortable squirrel inside the thing! However, I persevered and wore the helmet around the house for an hour before I took it off. What surprised me is that the cheek pads still felt as stiff as they had been when I took the helmet out of the box.
I did wear the helmet again for an hour at a time over the next two days, and after maybe 5 hours of wear in, it finally started to conform a bit more to my face. The pressure on my forehead diminished gradually, and I was able to finally keep my lips together, despite my cheeks still being squashed hard by the pads.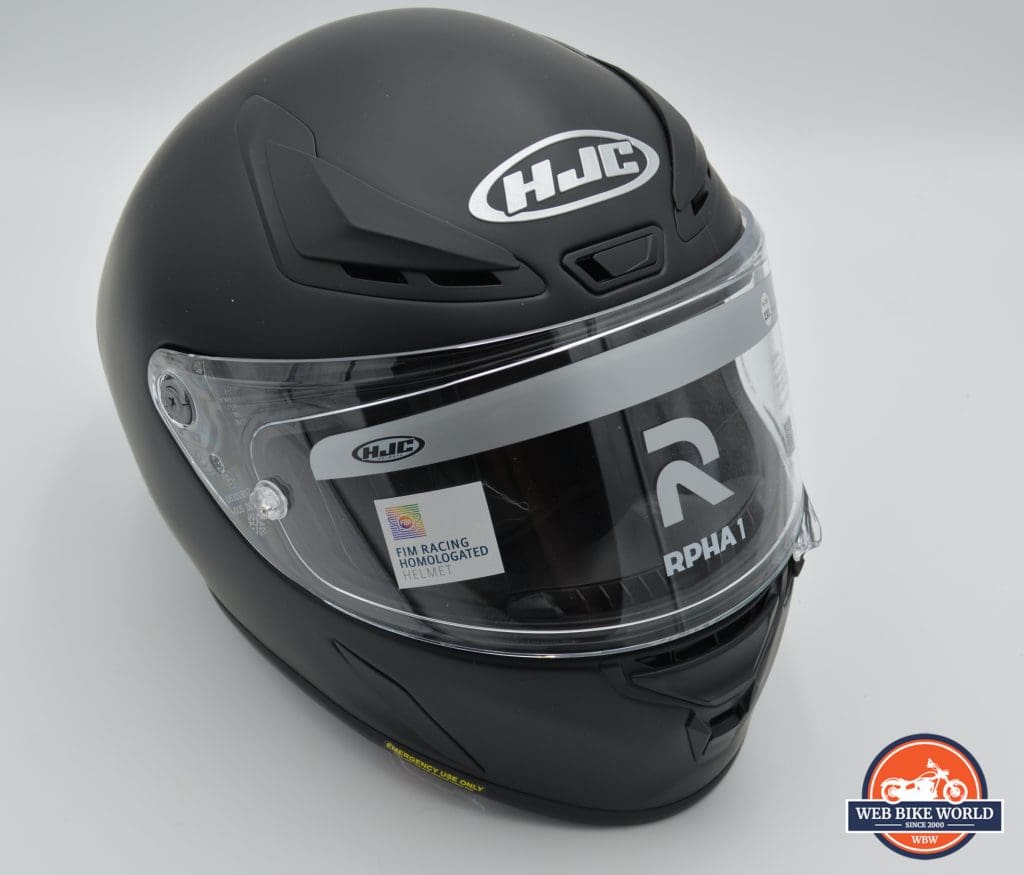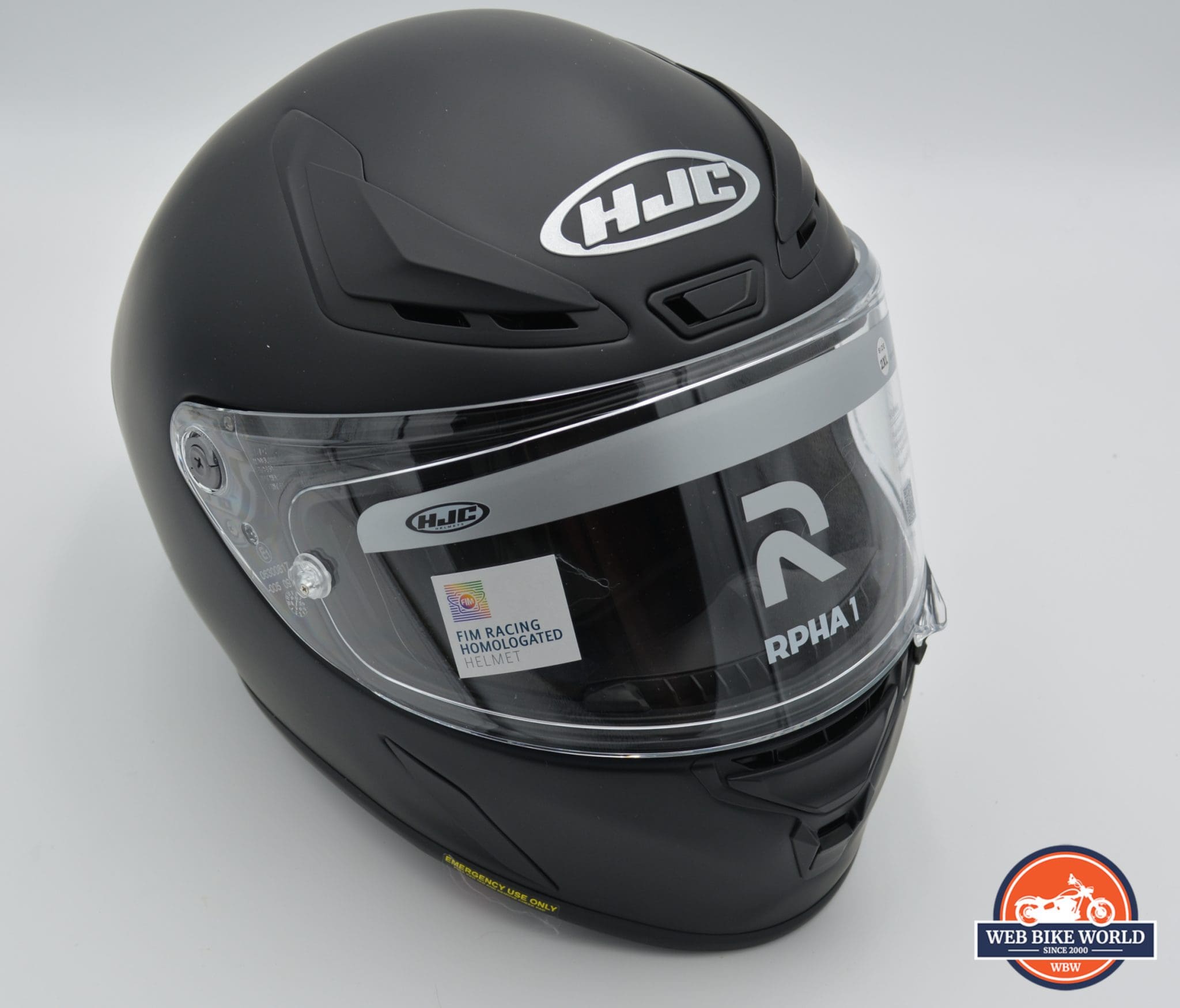 I explain all of this wear in so that I can explain that once it was broken in it fit very well. It is important to highlight that as if you try the helmet on at your local gear store or after buying it online and receiving it, it will feel too tight for the first few hours. It does wear in, it just needs time to do so.
In terms of fitment after the break in, there is still very light pressure against my forehead, thanks to my cranial ridge, but it is not distracting in any way.
The breath guard also comes a decent way up my nose without touching it, something I've had issues with in other helmets as I have a rather large olfactory sensor. It hovers about a millimeter above the skin, and it really does deflect away a lot of my breath, from my nose or my mouth, keeping it down in the chin area to be sucked out by the side exhausts. 
My eyes are almost dead in the middle of the visor, and it is a big, tall, wide visor. The top of the viewport is present in the edge of my peripheral vision, but the chin bar is low and tucked back, and the sides pull back far enough that both sides and the chin bar seem to just melt away from my vision, almost as if I wasn't wearing a full face helmet. 
The helmet kept breaking in over the first month of wearing it, so do be aware that the padding is extremely stiff out of the box. Now that I consider it fully settled, the helmet is still tight but comfortable on my head, and even if I shake my head as vigorously as I can, it does not budge or slide at all. The only nagging point is that very slight pressure on my forehead still, but it's not enough to be distracting, and I also blame my anatomy of having a pronounced cranial ridge and rather thick brow for that way more than the helmet.
Ventilation
Short version first: This is the best ventilated helmet I've ever worn. Period.
Okay, now the long version.
HJC likes to give you ventilation options on almost all of their helmets, one of the things that trickles down from racing. The RPHA 1N is no exception, but the ventilation here is designed to keep a MotoGP or World SBK rider cool in the heat of competition, and WOW does it work. 
The top two crown vents are binary, as in open or closed. When they are open, they intake air through two intake ports, not just one, behind each vent. These ports feed directly into their own independent channel in the helmet, and this is where a triumph of ventilation design shows.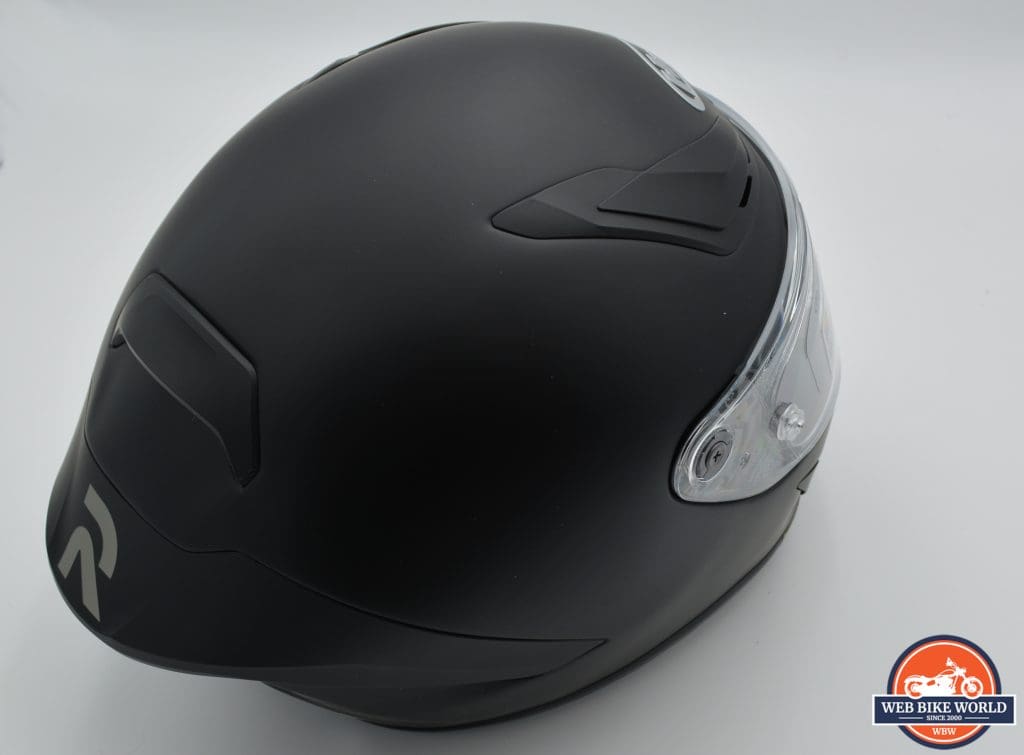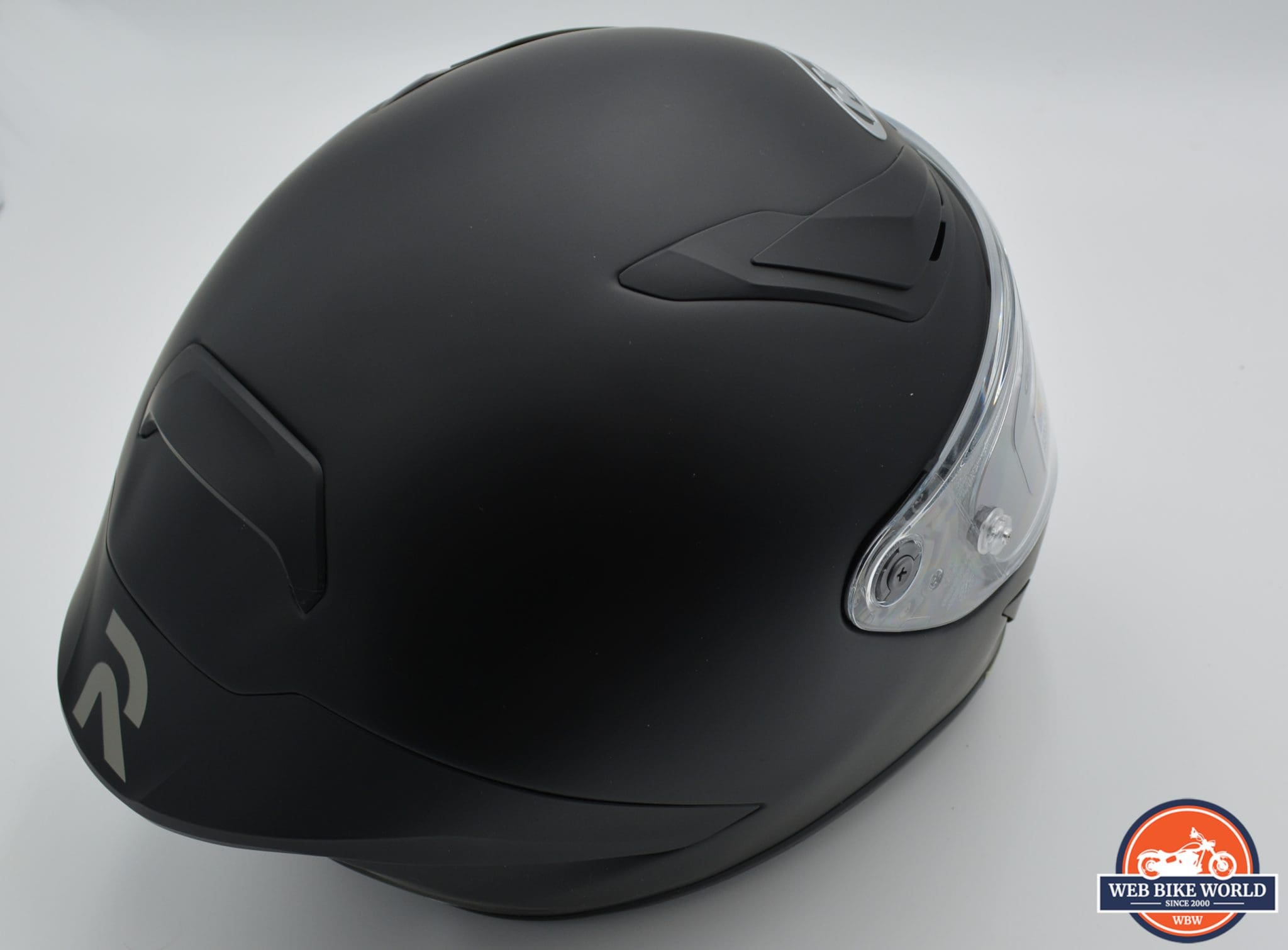 The inner two channels, the ones closest to top dead center, are ported to use the upper exhaust vent, above the rear spoiler. The outer two channels are ported to use the second vent, below the rear spoiler. The forehead vent, which feeds air across your brow and along your temples, also joins into the lower exhaust vent.
It seems like a simple thing, but by stacking the exhausts and separating them, it moves a hell of a lot more air than all the channels feeding out of one exhaust. I have never actually felt wind across my scalp in any helmet, even my the Sedici Strada II MIPS I tested right before this one, but I did in the RPHA 1N. I could quite literally feel the heat being evacuated and the light breeze across my skin, and it was quite an amazing thing to feel.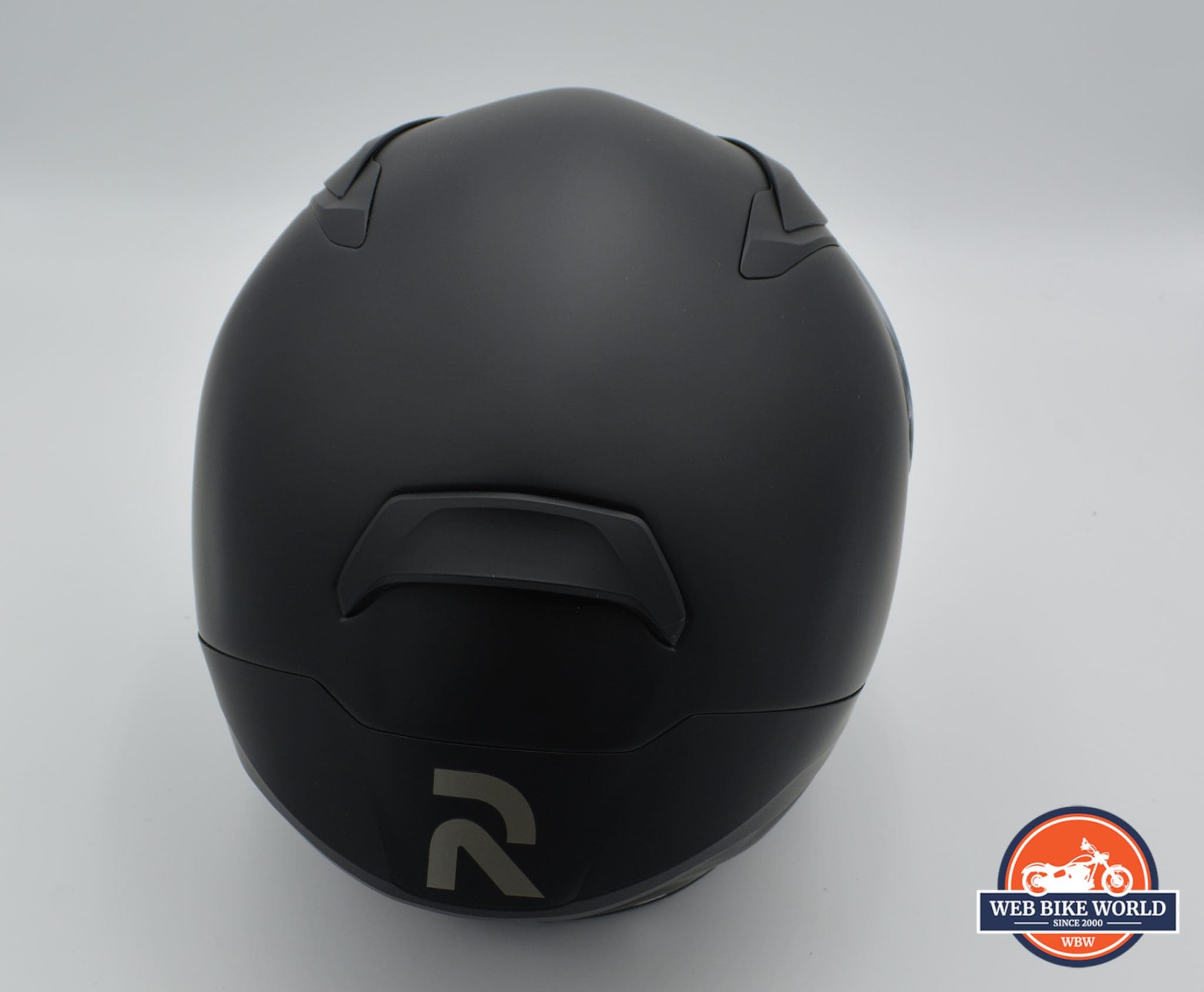 Then, of course, there are the two side vents, below and just before the visor pivot mechanism. They are tiny in comparison to the main intakes and exhausts, but HJC obviously spend hundreds of hours in a wind tunnel and with their test riders, because it provides just enough vacuum to suck any and all hot breath from your nose and mouth out from under the breath guard area. 
The chin vents are also interesting, in that the upper vent is a split vent, with about 30% of the air directed up into the visor area for cooling and anti-fog, the rest to your nose and mouth. The smaller lower vent, on the other hand, if open, seems to direct a tight stream of cool air right into your mouth. It's tiny, but very effective!
Basically, the ventilation overall felt like someone had pointed a leaf blower at me while I was wearing goggles, and any and all hot air had no chance whatsoever of staying in the helmet. This is quite possibly the first helmet that I've been able to take off after a ride on a hot day and not be sweating at all, as you'll see in just a few moments.
The HJC RPHA 1N Helmet In The Real World
During the timeframe I was testing and reviewing the HJC RPHA 1N, Calgary experienced the hottest temperatures of the summer for 2023 in early August. The temperatures reached 30 C (86 F) and beyond, and that is considered pretty damned hot for a Canadian! 
So, what better temperatures to go riding in than the hottest days?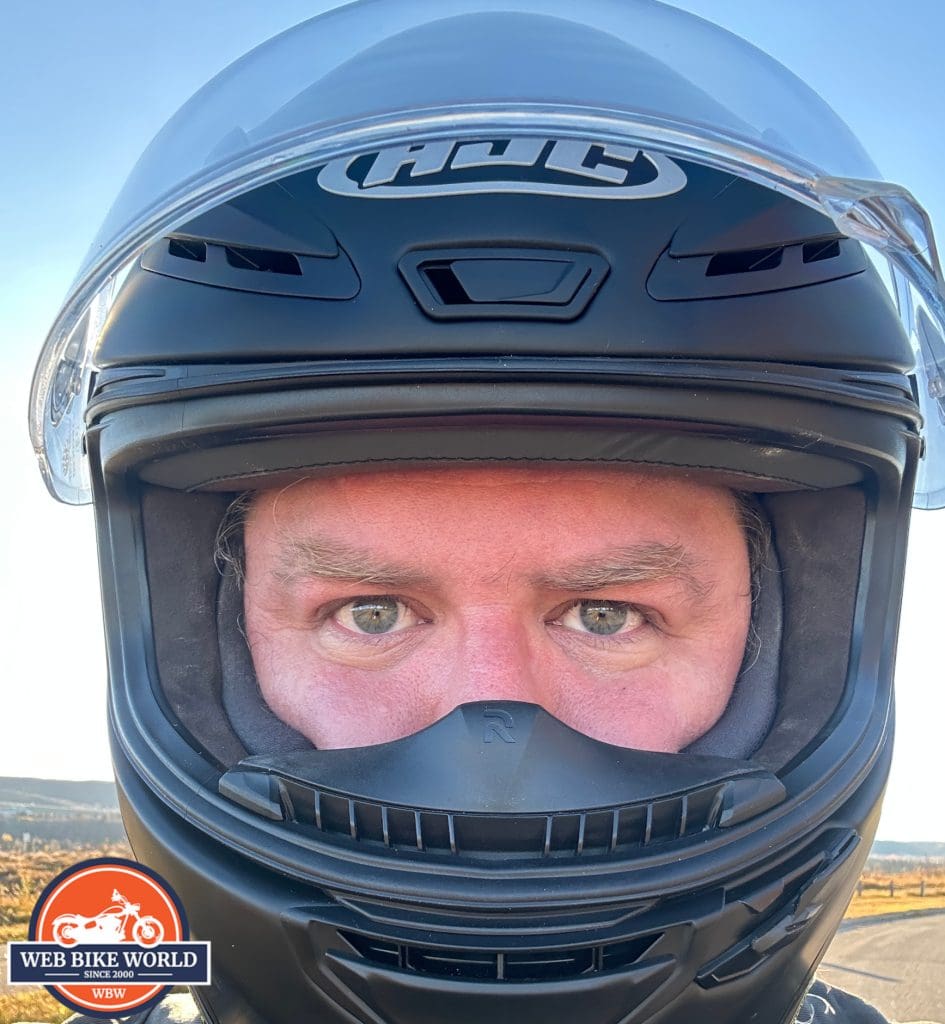 It was during these rides that I really appreciated the ventilation options that the RPHA 1N provided, as well as the fact that it came with an included Pinlock Pro lens. After fitting the lens and donning the helmet, I did start to sweat before I even swung my leg over. No fogging at all.
Once I backed the bike out of the garage and got moving, even at 5 MPH I immediately felt airflow across my face and scalp. Most helmets, I have to get going at about 30 MPH (~50 KPH) to start to get heat evacuated. Not so here.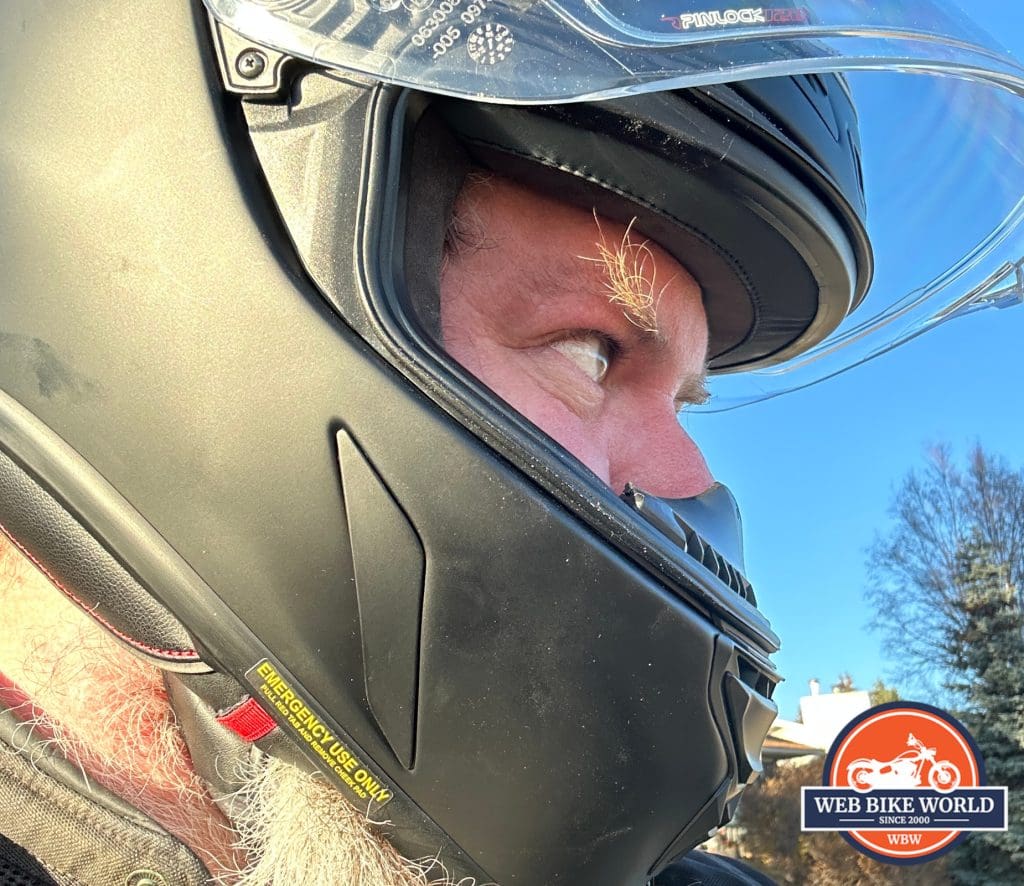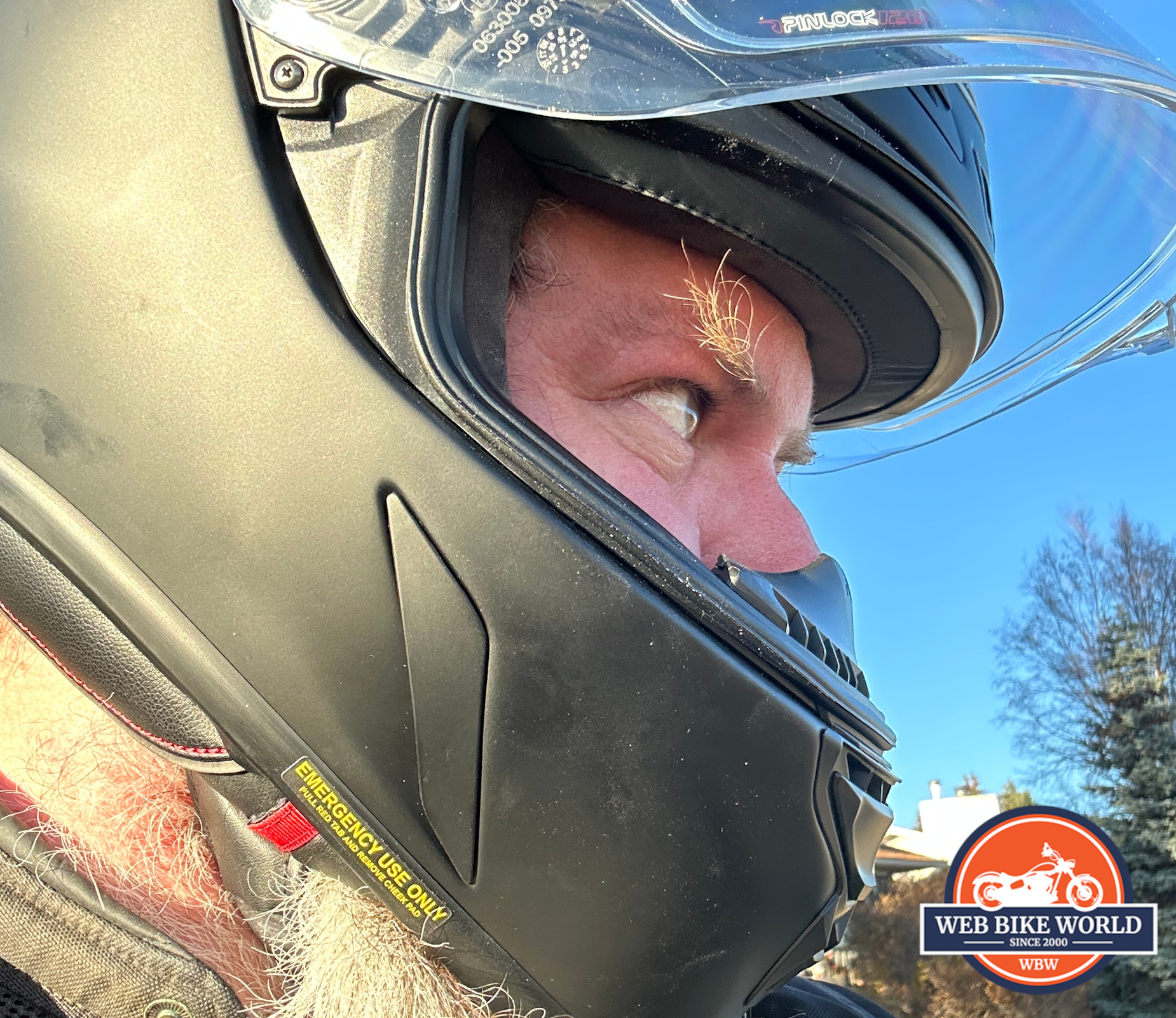 By the time I was up to 30 MPH, about 30 seconds into my ride, all of the stagnant heat in the helmet was gone. It was such a surprise that even though I had done up my chin strap before donning my gloves, I pulled over to verify that my chin strap was, indeed, done up, and that the helmet was snugly down on my  head.
The ventilation just kept getting more and more effective the faster I went. Around 50 MPH (80 KPH), I was able to feel the wind flowing across my scalp and face, and a gentle cooling breeze from the visor vent in the chin intakes was just enough to keep my face cool. When I got on the closest we have to a freeway, the Stoney Trail ring road, and was up to 70 MPH (~110 KPH), my scalp and face were getting a ton of air, but my eyes and face were still getting a gentle breeze, nowhere near enough to dry the eyes out or make one blink from the airflow.
As I received a clear visor with the RPHA 1N, I did wear my motorcycle-specific sunglasses (polycarbonate so if I needed to, I could ride with the visor up for extra cooling). The helmet has grooves for glasses, and the sunglasses slid home without issue. They also had just enough squeeze from the padding to stay in place, even over bumps and during maneuvers, so A+ work there as well.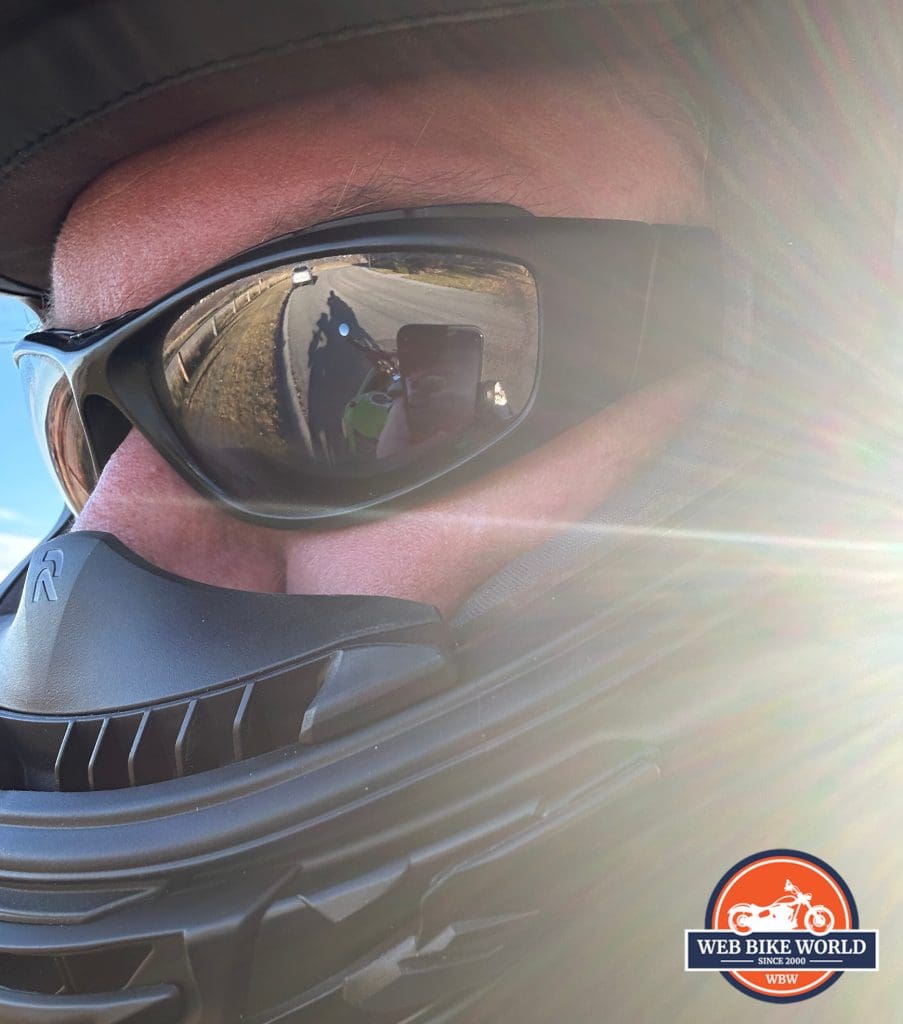 However, what took me a good few rides to notice, simply because of the lack of it, was noise. I'm pretty sure that at 200 MPH down the mighty straight at Mugello, there'd be some wind noise, but there was almost none during my rides. 
The fastest I went was 70 MPH, as that is the fastest road we have in Calgary, so when I noticed the lack of noise, I headed straight for the ring road and got back up to speed and… nothing. Literally just a slight whooshing of the ventilation.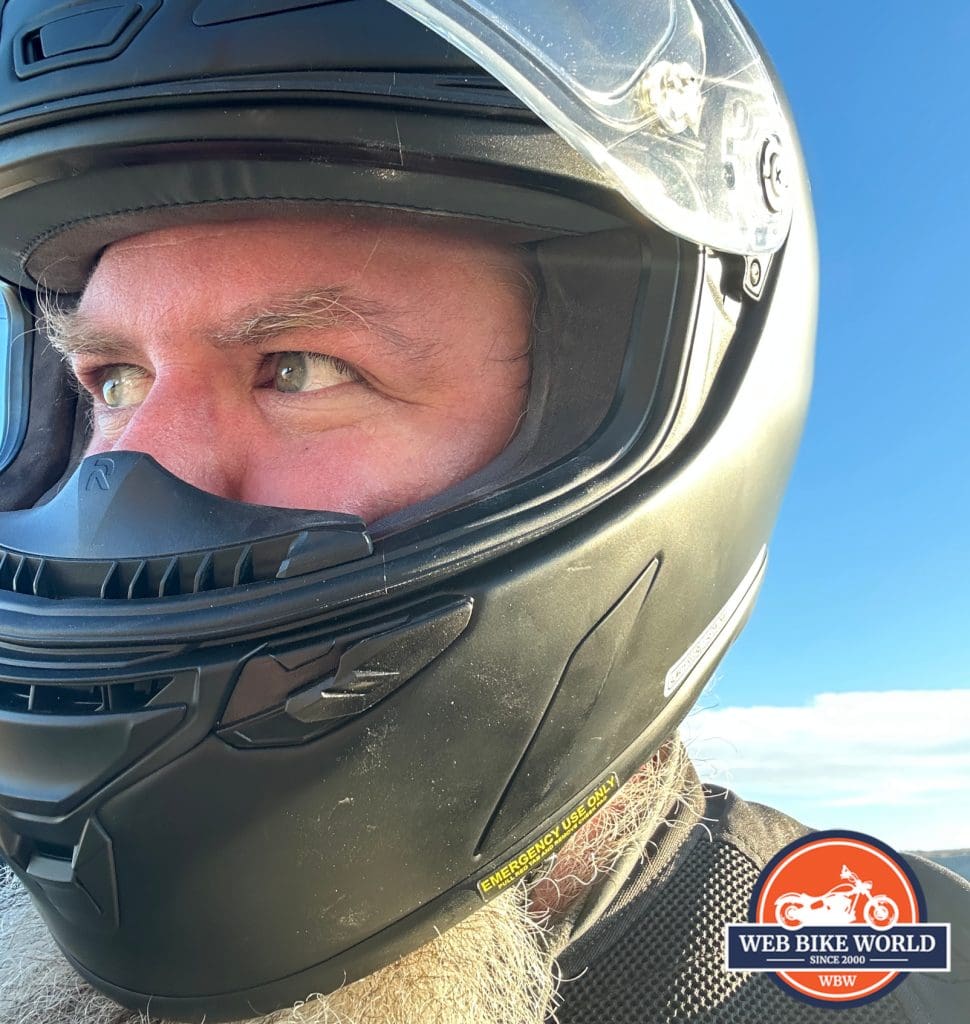 There was no visor whistle, there was no buffeting roar from the air being disturbed around the side of the helmet. Even when turning my head to do a shoulder check, the most I heard was a dull white noise that was barely audible over the standard exhaust of my bike, which is still rather quiet.
HJC have worked absolute wonders with this helmet in terms of aerodynamics. From any angle that I can think of, and keep in mind I don't ride backwards, there is no roar. There is no lift. There is no high speed buffeting. There is simply the sound of air coming through the vents, and that's it.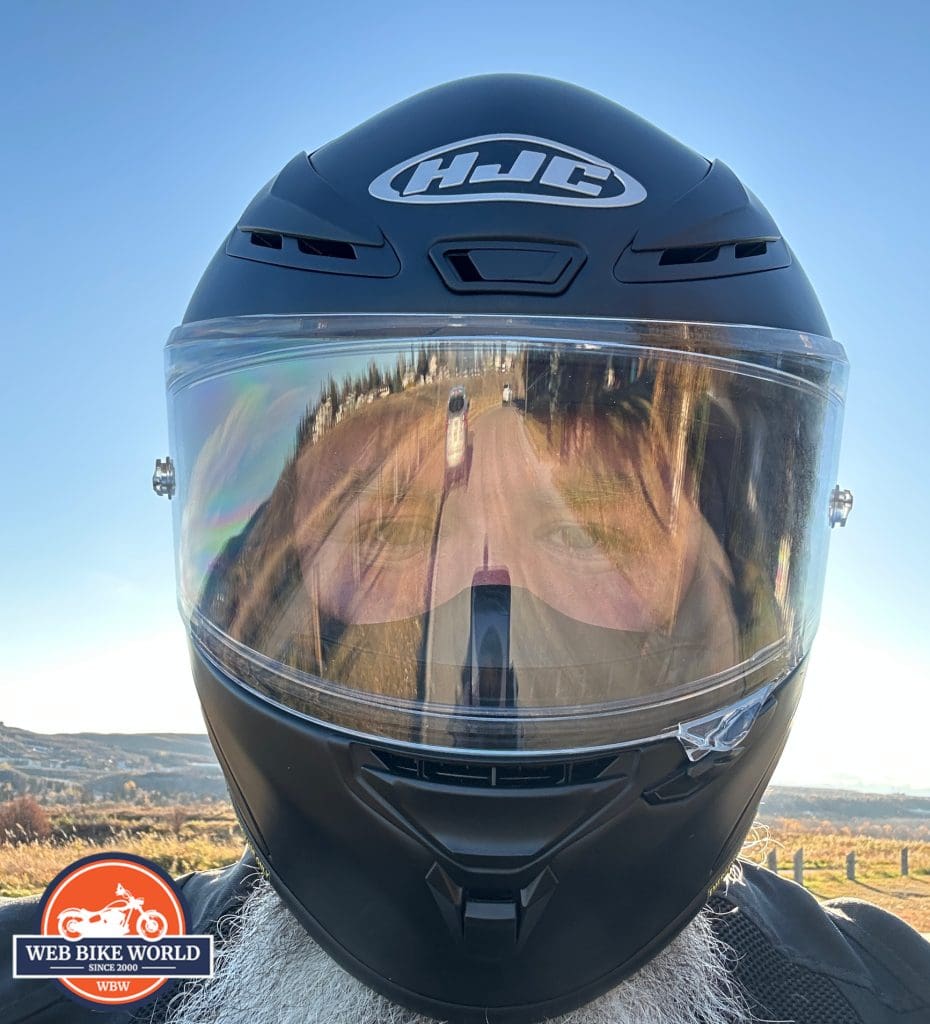 Put simply, the RPHA 1N is unbelievably quiet. 
This was confirmed time and again with every ride I went on. Cold weather, warm weather, hot weather. Windy conditions, overcast, even threatening to rain with a howling cross wind. Absolutely whisper quiet.
On the coldest day I rode, which got down to about 5 C (41 F), I closed the chin vent and the forehead vent, but left the crown vents open, and even with that reduced intake noise, I still couldn't hear any wind roar over the engine and exhaust of my bike and my own breathing in the helmet.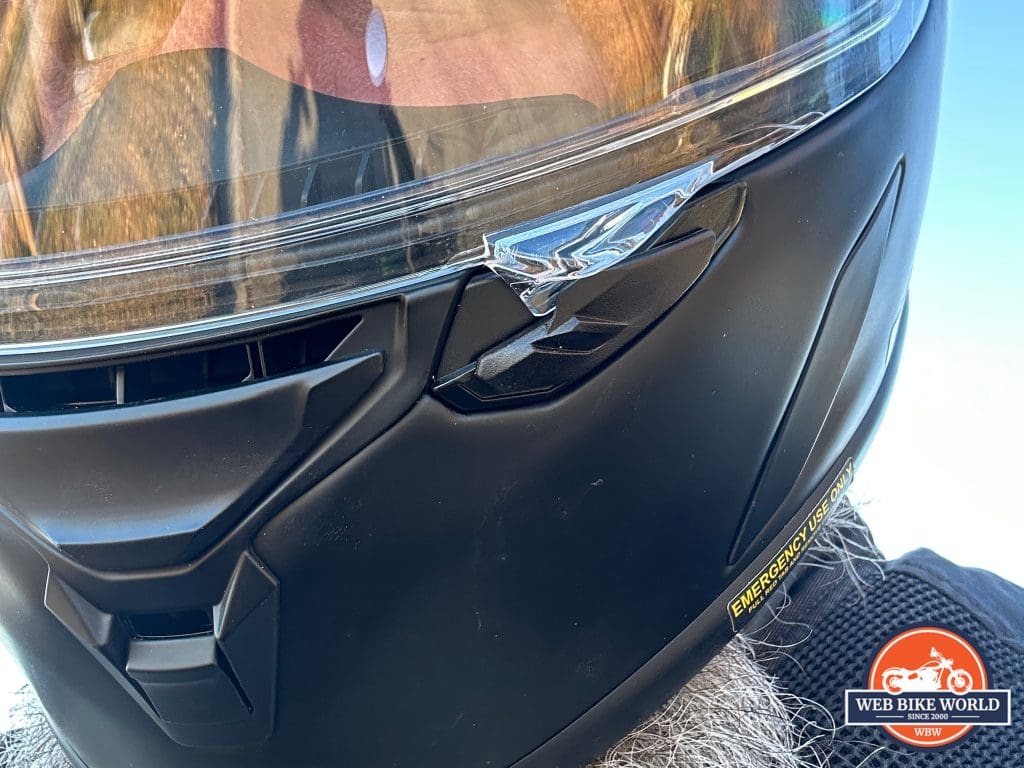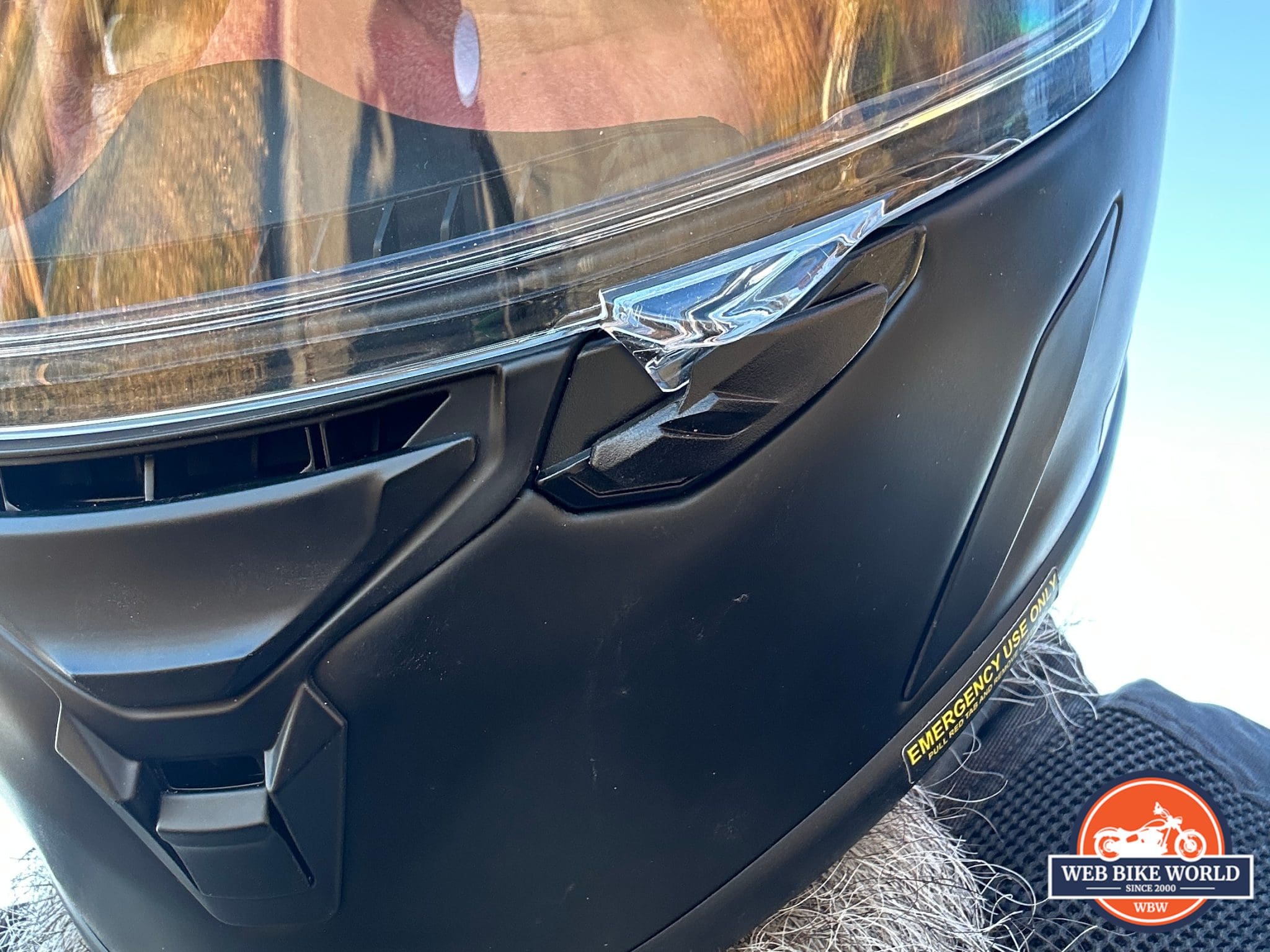 It honestly took some getting used to, as I am familiar with the dull roar of wind mixing with my breathing and the engine of my bike. I even held my breath for about 10 seconds while riding just to make sure I wasn't going completely deaf, and even then, the noise of air coming in the vents was louder than the sound of wind around the helmet. 
Absolutely. Stunning. Those are the only two words I can use to describe the HJC RPHA 1N. There's definitely a reason it is priced as it is, as you are getting one of the quietest, most aerodynamically perfect helmets I have ever had the joy to put my head in. 
Final Thoughts: If You Can Afford It, It Is A Solid Investment
I've had carbon fiber helmets and fiberglass helmets on my head. I've had helmets that cost $150 to ones that cost over $600 on my head. I've tested no less than 7 helmets in my years of reviewing for webBikeWorld and associated sites. I will say that I am not a helmet expert, but I do have a good frame of reference.
So, with that said, the RPHA 1N, while not being the absolutely most comfortable helmet I've worn, is by far and away the quietest. As I mentioned before, the Sedici Strada II MIPS helmet I reviewed just before this one was extremely quiet, but it sounds like standing in front of the speakers at a metal concert compared to the HJC.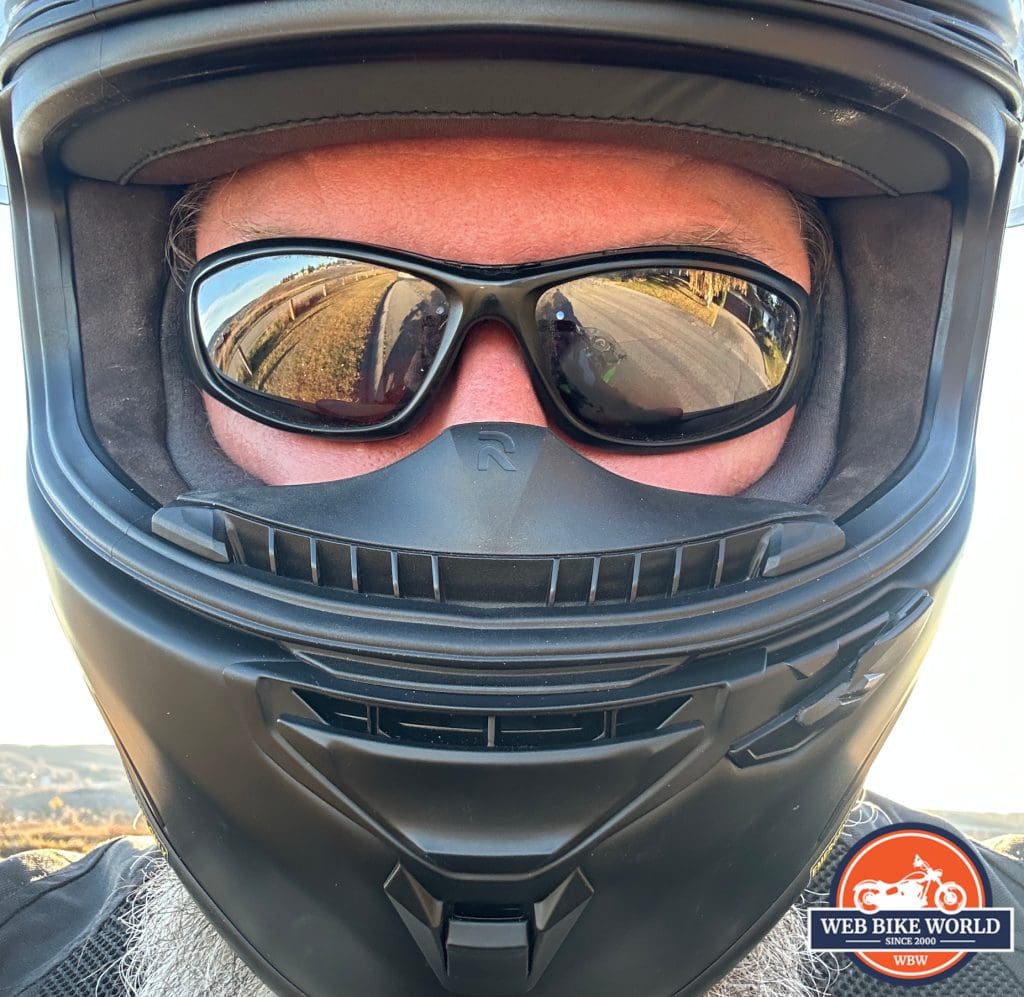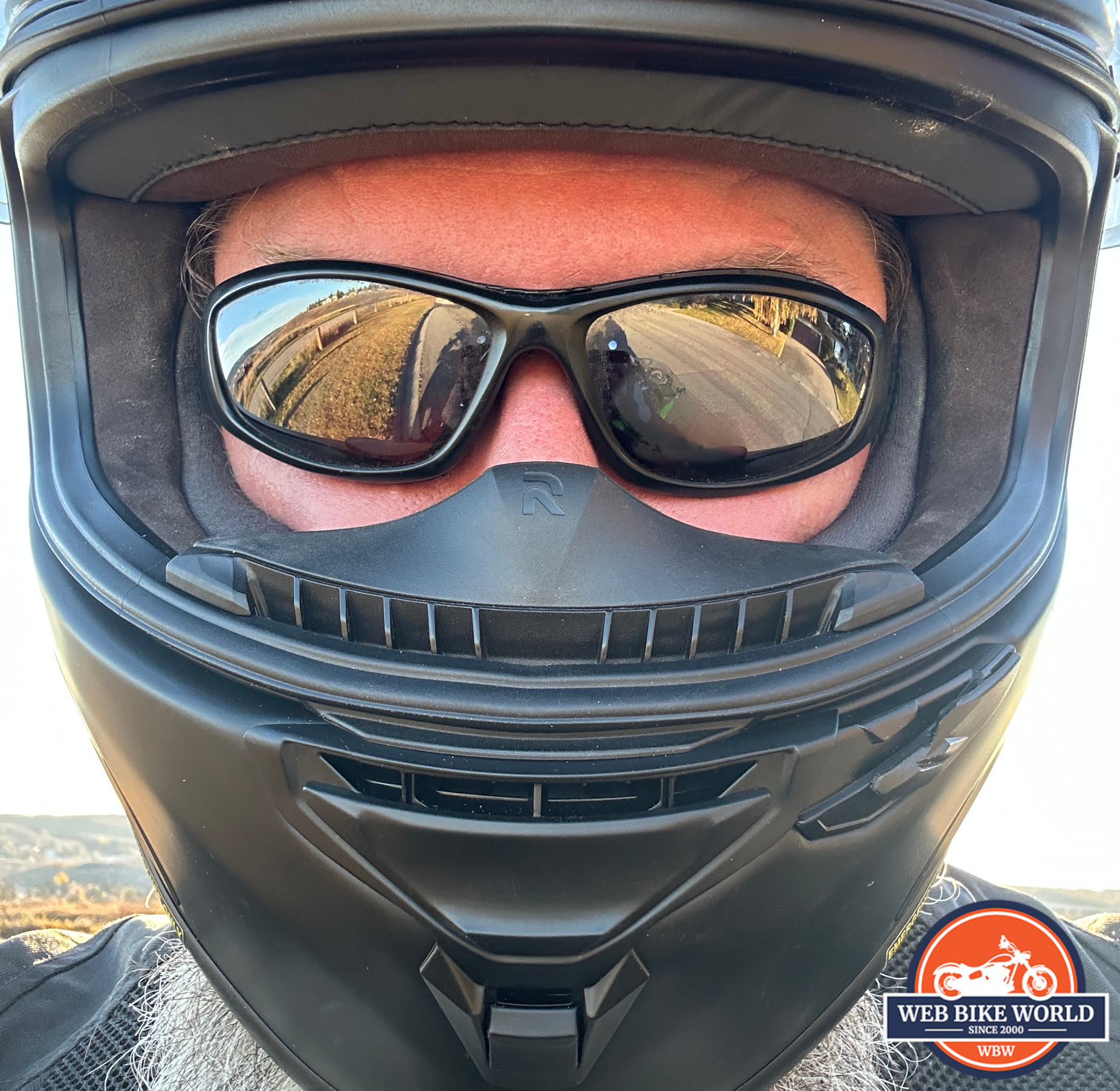 Even when I held my breath to prevent bone conduction interfering with my hearing, and I was wearing noise-attenuating earplugs, the noise of the air coming in the vents is louder than the wind passing around the shell of the helmet. 
The fact that the helmet also weighs about as much as a decently large bag of potato chips helps as well. The only way you remember you're wearing a helmet is because the cheek pads are tight to your face, and for me my cranial ridge at my forehead was pressing gently against the visor rim.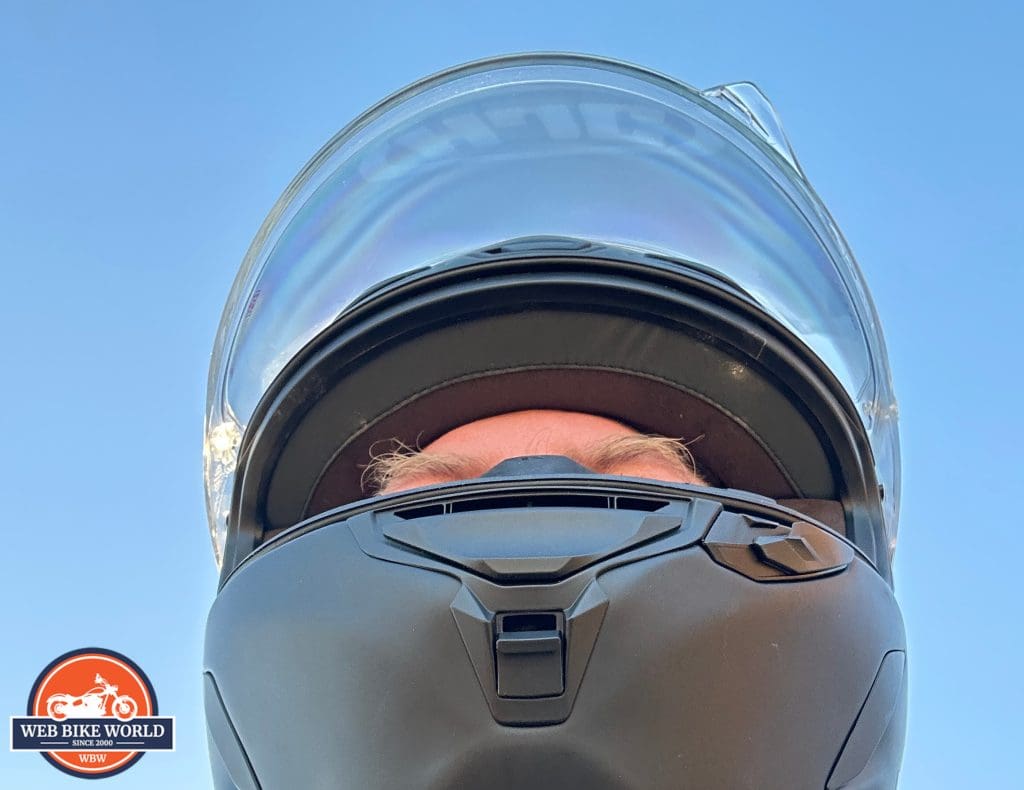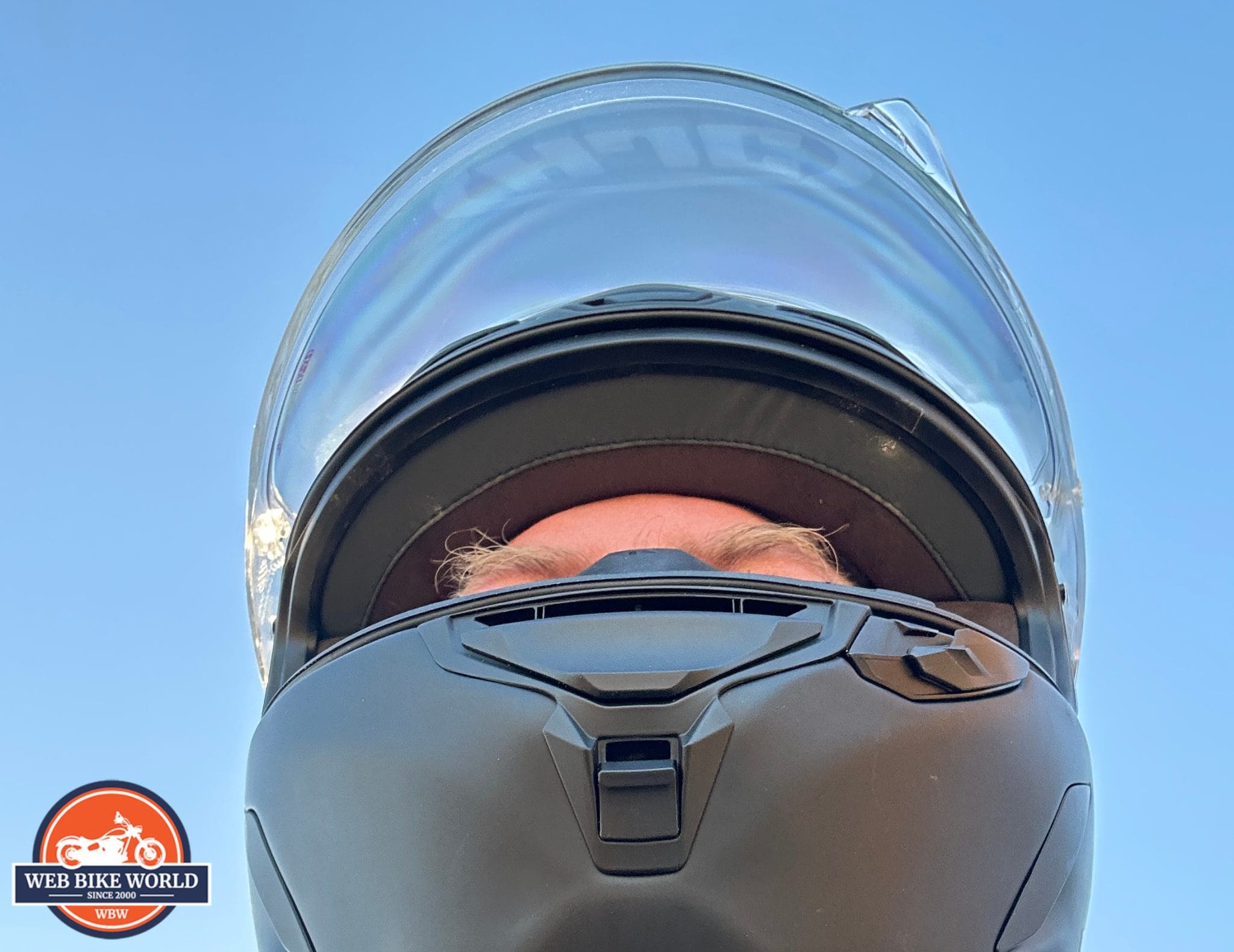 I do realize that the RPHA 1N, and by extension the entire RPHA range of helmets, are not what you would call budget helmets, and maybe not even mid-range. They are expensive helmets, but with the RPHA 1N, damn what a helmet you get. 
FRHPe-01 FIM Homologation, meaning it's one of the safest, most protective helmets out there. Quiet as a whisper even at 70 MPH, where your own breathing is louder than the air passing around the shell of the helmet. It takes some breaking in, but once it is, it conforms to your head and face and remains tight but comfortable. A massive viewport with only the top entering into your peripheral vision.
I rarely call something perfect, because I never give perfect scores, and nothing is ever 100% perfect. I can say, however, that the HJC RPHA 1N is about as close to a perfect helmet I've ever had the joy to test.