GM Delays Start Of EV Truck Production At Michigan Plant Due To Lack Of Demand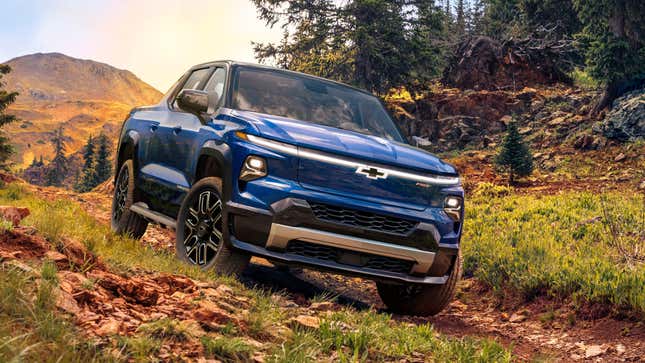 General Motors is kicking production of its electric pickup trucks at its Orion, Michigan factory down the road for a year as it deals with "evolving EV demand," according to Reuters. The move may be a sign that EV demand in the near future just isn't as strong as automakers were predicting.
I Need A Delightful Daily Driver | What Car Should You Buy?
Originally, GM had scheduled production of its Chevy Silverado EV and GMC Sierra EV to start in late 2024 at the plant, but now those plans have been pushed back a whole year to late 2025. The shift is reportedly being due to a need for "better manage capital investment while aligning with evolving EV demand," a GM spokesperson told Reuters. Basically, that means there isn't enough interest in those two vehicles yet. However, the automaker says the move won't impact its battery plant plans.
About 1,000 employees at the Orion Assembly plant will be able to transfer to other assembly plants in Michigan, including GM's Detroit Factory Zero which already builds the Silverado EV and Hummer pickup and SUV. Next year, it'll start making the Sierra EV as well.
Back in August, we reported that the early adoption era is pretty much over for EVs – and those are the sort of folks who would probably want these 11-million pound mega trucks. Now, automakers are sort of scrambling to figure out what to do as unsold EVs begin to pile up at dealerships. Perhaps if they were making electric vehicles folks like you and I could afford, there wouldn't be such an issue. Perhaps perhaps, if our charging infrastructure wasn't dogshit folks would be more inclined to adopt, but what do I know?
Anyway, a spokesperson for GM told Automotive News that the decision wasn't related to ongoing contract talks with the United Auto Workers union. The EV transition has been a big point of contention during labor negotiations. Some analysts reportedly worry that a more costly deal with UAW members could impact the company's spending plans.
Despite the news about truck production pushbacks, GM says it still plans to significantly raise EV production in 2024 by including a new shift at Factory Zero. That being said, its most popular and cheapest EV offering, the first generation Bolt EV, is going to way of the dodo bird at the end of this year.