BARRETTO: From 17-year-old rookie to three-time champion – what next for Max Verstappen?
Three and a half hours after Max Verstappen crossed the line to win his third F1 title with second place in the Qatar Grand Prix Sprint, he bounces into a room top of the F1 hospitality unit in the Doha paddock and takes his place on a chair adjacent to the world championship trophy. He gazes at the silverware with a smile that has been emblazoned on his face since the moment he took his helmet off.
"I have a bit more space in my place," he says when I ask where he'll put it. "I have got one on my fridge next to the simulator and one in my display case next to my TV in my living room. It's a good view!" He then relaxes back into his chair and takes a deep breath. There's barely been time to take in what he's just achieved.
F1 NATION: Verstappen makes it three titles on the bounce and McLaren shine under the lights – it's our Qatar GP review
Fourteen wins in 17 Grands Prix, 10 pole positions and a monstrous 211-point lead over his nearest rival and team mate Sergio Perez. If Verstappen was a team, he would be leading the constructors' championship as a one-car operation. It has been an absolute demolition, the kind never seen before in Formula 1.
The previous few hours had been a whirlwind from chatting to 2016 champion Nico Rosberg in Parc Ferme just moments after climbing out of his car and embracing his mechanics to receiving the Sprint medal for second place.
Thereafter, he strolled over to the FIA press conference as photographers, social media managers and fans tried to capture a snap of F1's newest triple world champion.
Then it was onto the TV pen for more interviews with the world's broadcast media before heading back to the Red Bull garage to soak up the love of his team all bedecked in special world championship t-shirts and baseball caps. You couldn't hear the corks popping, so loud was the music blaring.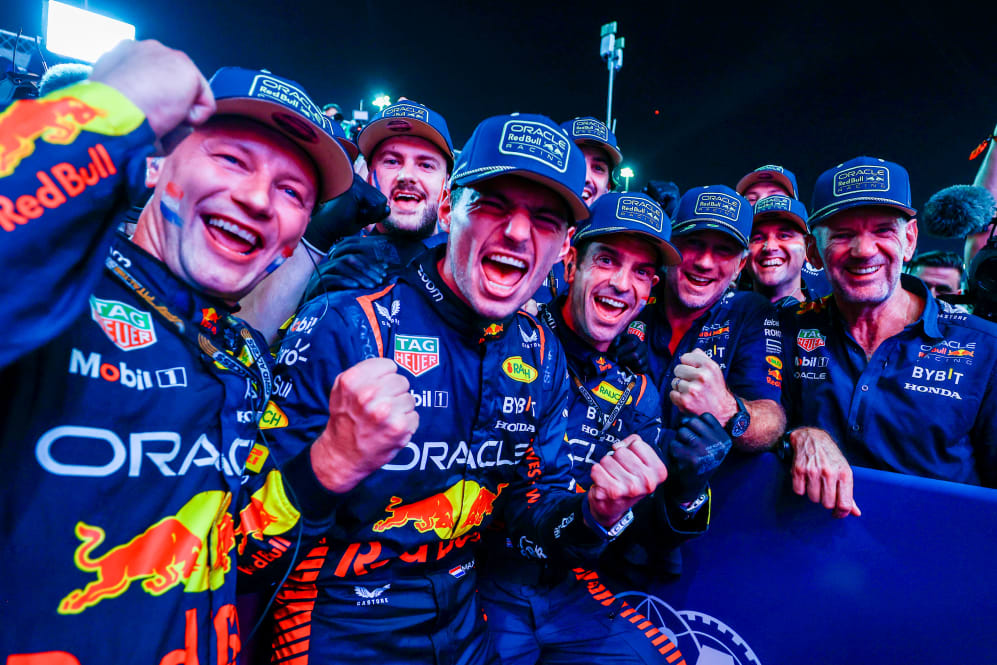 Verstappen went from one squeeze to another, only getting some air when the team presented him with a special gold helmet to commemorate his triumph. They then moved a few hundred metres down the pit lane for a team photo where the typical Red Bull spraying celebrations began.
Then it was back for a shower and it was here that Verstappen carved out a few moments to FaceTime his mum Sophie, a former racer herself. "I could see she was already on the champagne so that was a good thing," he says with a smile.
READ MORE: 'I'm very proud' – Emotional Jos Verstappen heaps praise on son Max after latest F1 title win
"She is very proud, also very nervous every single race. But it's beautiful because my mum really understands. She was a racer herself so it's easy to relate. My dad was here, I think he was more fired up than me throughout the whole weekend in terms of wanting to perform which is great."
And then a couple of other one-to-one TV interviews before he made it to our studio. Just our chat stood between him and a few (and only a few, because the Grand Prix still lay ahead the following day) celebratory drinks with his team.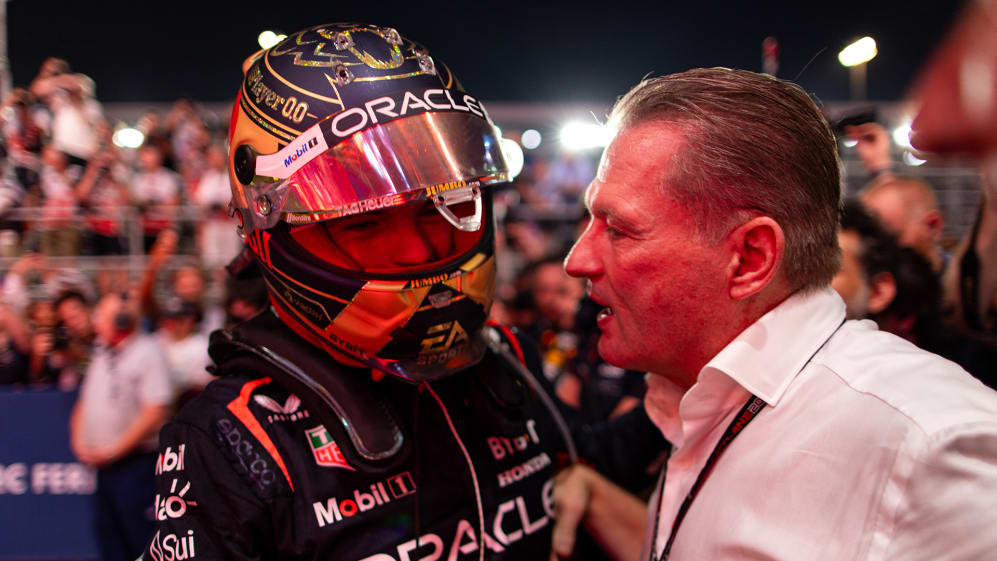 "I'm very proud to sit here talking about the championship," he says. "[All my titles] feel very different. The first one is very emotional, I think this one has been the best one in terms of performance and dominance as a team, so a lot of different feelings from all three of them."
He joins an illustrious list of F1 greats as a three-time world champion including Jack Brabham, Sir Jackie Stewart, Niki Lauda, Nelson Piquet and Ayrton Senna. "It was something that I never imagined was possible for myself," he says of the feat.
READ MORE: 'You're joining a special group of champions' – How the F1 paddock responded to Verstappen's third title win
"My dream was to get to F1, maybe win a race or be on the podium so to sit here as a three-time world champion and be in that list is incredible – I'm very proud of that."
Verstappen has changed a lot since he first entered Formula 1 with Toro Rosso in 2015 as a fresh-faced 17-year-old. Once a fast but at times flawed racer who would struggle to control the red mist, the Dutchman has learned to harness his immense skill.
His mental toughness under pressure is remarkable and he's pulled back a few per cent in the heat of battle to yield consistency – and that combination has unleashed a relentless run of success.
Max Verstappen reflects on momentous hat-trick of world titles
"I always try to be better but it won't be a case of suddenly I'll pick up pace," he says. "It's more about the general experience in the racing environment. Every year you learn a lot, but also in life you learn a lot so when you can combine these things together, you become a better driver, a maybe more complete driver, and in a more pressured environment, you can make better decisions."
Verstappen has also mastered the art of the work-life balance, like his rival and the last serial F1 champion Lewis Hamilton. In the build-up to a race and throughout the weekend, he is laser-focused on the job in hand. Then the moment he's on the plane home, he flicks a switch and forgets about F1 so he can focus on his family.
READ MORE: Our writers on Verstappen's mighty season, where he ranks amongst the greats – and who will challenge him in 2024
"I think it's important to be able to switch off between races, to go home and live your life or to work in the factory and then come home and switch off," he says. "I have always been like that, I'm quite laid back in terms of being able to quickly switch off from stuff. For me it's important to not think about F1 sometimes and just live a normal life, as much as you can."
So, when does the attention turn to winning title number four in 2024? "We'll see next year when we hit the track," he says. "Everyone is working hard for next year already. But I won't focus on that now though."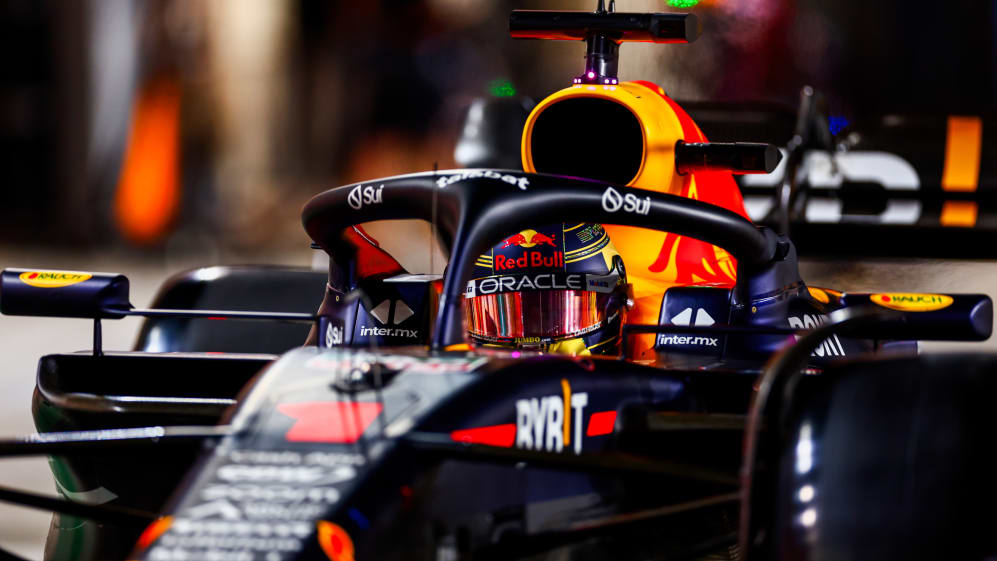 Only Michael Schumacher, Juan Manuel Fangio, Sebastian Vettel and Alain Prost lie ahead in terms of most championships won. If Red Bull maintain their dominance through this rules cycle – which ends ahead of 2026 – Verstappen could be a five-time world champion, just two away from Schumacher and Hamilton.
He has a contract until the end of 2028 – and if Red Bull get their power unit – which they are working on in conjunction with new partner Ford – right from 2026, Verstappen has every chance of challenging that target.
ANALYSIS: Why have Ford decided to come back to F1 now – and what does it mean for Red Bull?
But he doesn't appear to be bothered about chasing records. You get the impression he's content with focusing on winning in the moment and when the day comes when he doesn't fancy it anymore, he'll leave – no matter where he stands in the records books. What does the future hold, I ask?
"To be honest, it doesn't matter. I'm already very, very happy. I never thought I would achieve something like this. Anything else that comes, I'll happily take it – but I'm already very happy."
Max Verstappen: The DNA of a Champion