PALMER: The three key elements that made the race in Qatar such a test for the drivers
Sunday's Qatar Grand Prix became one of the most physical races in Formula 1 history, in conditions and circumstances that provided the perfect storm.
There are various factors that challenge the drivers physically and necessitate their rigorous training programmes. Ambient conditions are obviously a critical factor, so too are the track layout and the tyre degradation levels. All of these factors were in play on Sunday and conspired to make this the greatest challenge for them in a long time.
F1 NATION: Verstappen makes it three titles on the bounce and McLaren shine under the lights – it's our Qatar GP review
Firstly let's look at the ambient conditions. This element has obviously taken centre stage in the Grand Prix debriefs. It was officially 31 degrees on the timing screens throughout the race which is extremely hot, especially for a night race – but is actually lower than we've seen on other occasions this year.
What made the conditions on Sunday harder than usual was the extreme humidity and stillness. Humidity was over 75%, which is an intense level, and with very little wind there was no natural ventilation either.
Even from early on in the race the heat was taking it's toll. Esteban Ocon vomited in his helmet at the start of his second stint, while George Russell was seen repeatedly lifting his visor as he was taking pit stops to try to generate some air flow.
Others even resorted to lifting the visor at racing speeds in between stops, which obviously carries its own risks, especially with so much sand and dust around on the track surface which can flick up through the tightest of open slots on the visor. But when conditions are tough the drivers must do what they can to get by.
Ocon reveals he was vomiting in the car during his run to P7 in Qatar
The second factor that compounded woes in the cockpit is the track layout in Qatar.
It's not just high temperatures that can strain drivers, but also sheer g force loads that go through the body. Circuits like Silverstone or Suzuka have plenty of long, fast corners and stress the drivers physically as well, even in cooler conditions.
With g forces of up to 6g acting on the body for long durations, you are working up a sweat even before you add in other factors.
READ MORE: 5 Winners and 5 Losers from Qatar – Who impressed under the lights in Lusail?
Lusail has snuck onto the calendar without the fanfare of legendary corners like Copse, Spoon Curve, Pouhon – or even Turn 8 in Turkey – but it's also naturally a brutal layout with it's long, loaded corners.
Turns 12-14 needed tightening slightly on Friday night because they were putting too much stress through the tyres, but that also means it's putting huge effort through the human bodies inside the car as well. In fact Lusail is ranked as the hardest circuit on the calendar for tyre stress, which gives you an indication of the amount of load going on around the lap.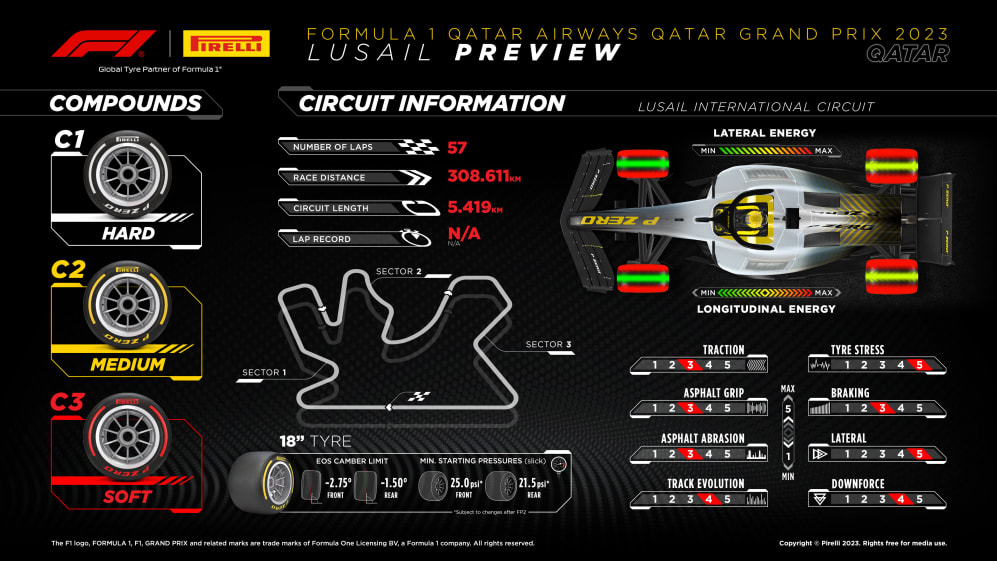 Some 14% of the lap is spent at over 3.5g lateral. For perspective the second highest tyre stress of the season comes at Suzuka where only 5.5% of the lap is spent above 3.5g lateral. It's low key but the circuit in Qatar is ruthless. Drivers would have a sweat on even were it not taking place in ferociously high temperatures and humid conditions.
Finally, the icing on the cake came with the introduction of a mandatory three-stop race. Nobody was able to run a tyre beyond 18 laps as a precaution on such a challenging high speed circuit – particularly with the 'pyramid' kerbs used extensively at this track.
READ MORE: How the mandated tyre limits shaped an unusual Grand Prix in Qatar
What this meant for the drivers was that they could push flat-out in each stint. The race was effectively broken down into four quarters of qualifying lap sections with no need to look after the tyres at all, which is often a function in Grands Prix, particularly in the case of hot conditions or high lateral loads.
On Sunday, there was no knife edge balance between trying to eke out extra laps on a set of tyres to avoid an additional stop. Because the stops were enforced, saving tyres in the race became pointless.
Race Highlights: 2023 Qatar Grand Prix
The medium tyres could comfortably last their 18-lap distance without degrading, while the hard actually had negative degradation, whereby the tyre was getting quicker the more drivers were pressing on.
On Sunday, the field was on average only 0.69% slower than their qualifying pace once fuel and tyre corrections are taken into account, compared to when Formula 1 raced in similar climatic conditions in Singapore, where the field were running 5.84% slower, on a relative tyre management cruise.
READ MORE: HINCH'S HEROES – Who make's Hinch's list after the Sprint weekend in Qatar?
Inevitably the harder you push, the harder work it is on the human body.
All of this accumulated to make a unique Grand Prix, held in ambient conditions that were tougher than the famously hot and humid Singapore, on a circuit more physical than the wickedly quick Suzuka or Silverstone with circumstantial conditions that meant drivers had to attack 100% of the time.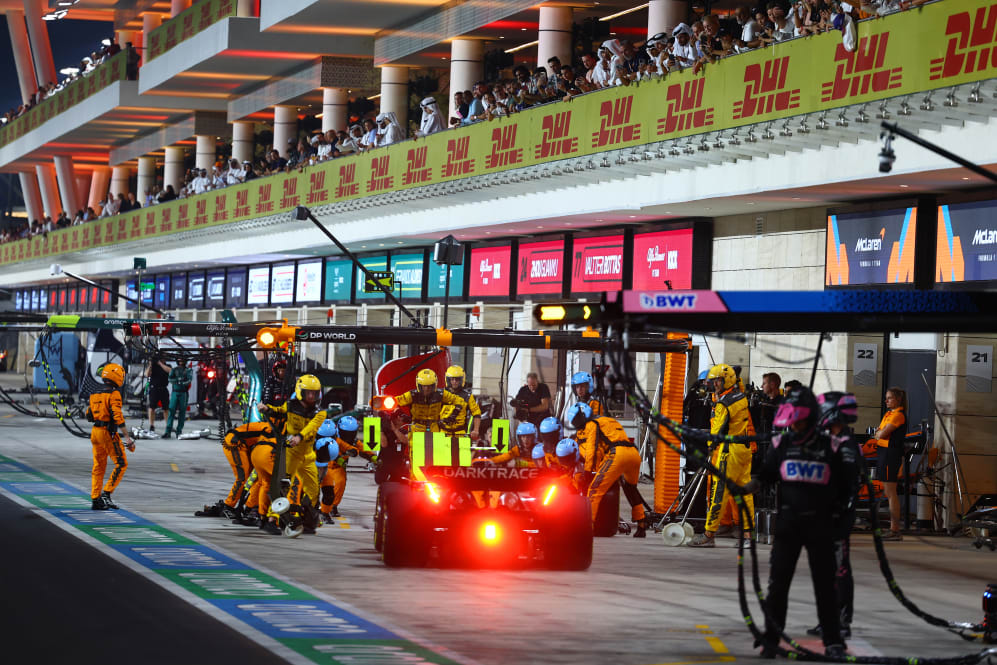 Even pit stops don't offer respite when they are completed in 1.8 seconds.
It's no wonder the drivers were struggling so much at the end of the race. I have so much respect for them for their efforts and they've really proven what athletes they are.
READ MORE: FIA begin analysis into competing in extreme weather conditions following Qatar Grand Prix
Clearly having drivers struggling needing assistance to extricate themselves at any time in a Grand Prix isn't a good situation to be in, and the amount of drivers in that position on Sunday demonstrates that this isn't a one-off case of a driver being sloppy in their training programmes.
This was a seriously arduous Grand Prix that will take place later in the year next season – and it's good news that the FIA have already announced they have begun an analysis into the conditions and have promised to work with F1 to look at solutions to these problems should they arise again.