KLIM Maverick Down Jacket Review
10 Oct2023
Written by J.M. Staelens | Photos Provided by KLIM. Posted in Gear
Compiling my kit for a long-distance off-road solo trip exploring the Trans Euro Trail network across France, Spain, and Portugal, my gear selection had to cover a wide range of climatic conditions. Spring weather in the Alps, Pyrenees, and Sierra Nevada is notoriously unpredictable and one better come prepared for inclement weather. A lifetime of adventure riding has taught me that compromising on gear quality not only doesn't pay off but risks jeopardizing safety and wellbeing. The value of having good gear was again demonstrated on this trip when I misjudged the time needed to cross a Pyrenean pass. I got stranded at night in freezing temperatures at the top of the pass due to thick fog reducing visibility to zero. When safety and survival depend on technical gear, quality and performance are of paramount importance.
My old down jacket had shed quite a bit of its feathers over the years, and hence I was in the market for a new "technical" mid-layer. Within the typical layering system, the mid-layer fulfills the vitally important function of thermal insulation. The insulating properties of various mid-layer material technologies vary, but among the commonly used options goose down is still at the pinnacle of thermal efficiency (although synthetic down technology is catching up fast). Goose down's exceptionally high insulating performance lies in its ability to trap more air than any other material, maximizing the prevention of convective heat loss.
Offering the highest warmth-to-weight-and-volume (when packed) ratio, the KLIM Maverick Down Jacket ticked off all my desiderata: warmth/insulation performance; lightweight; compressibility; construction quality; and durability.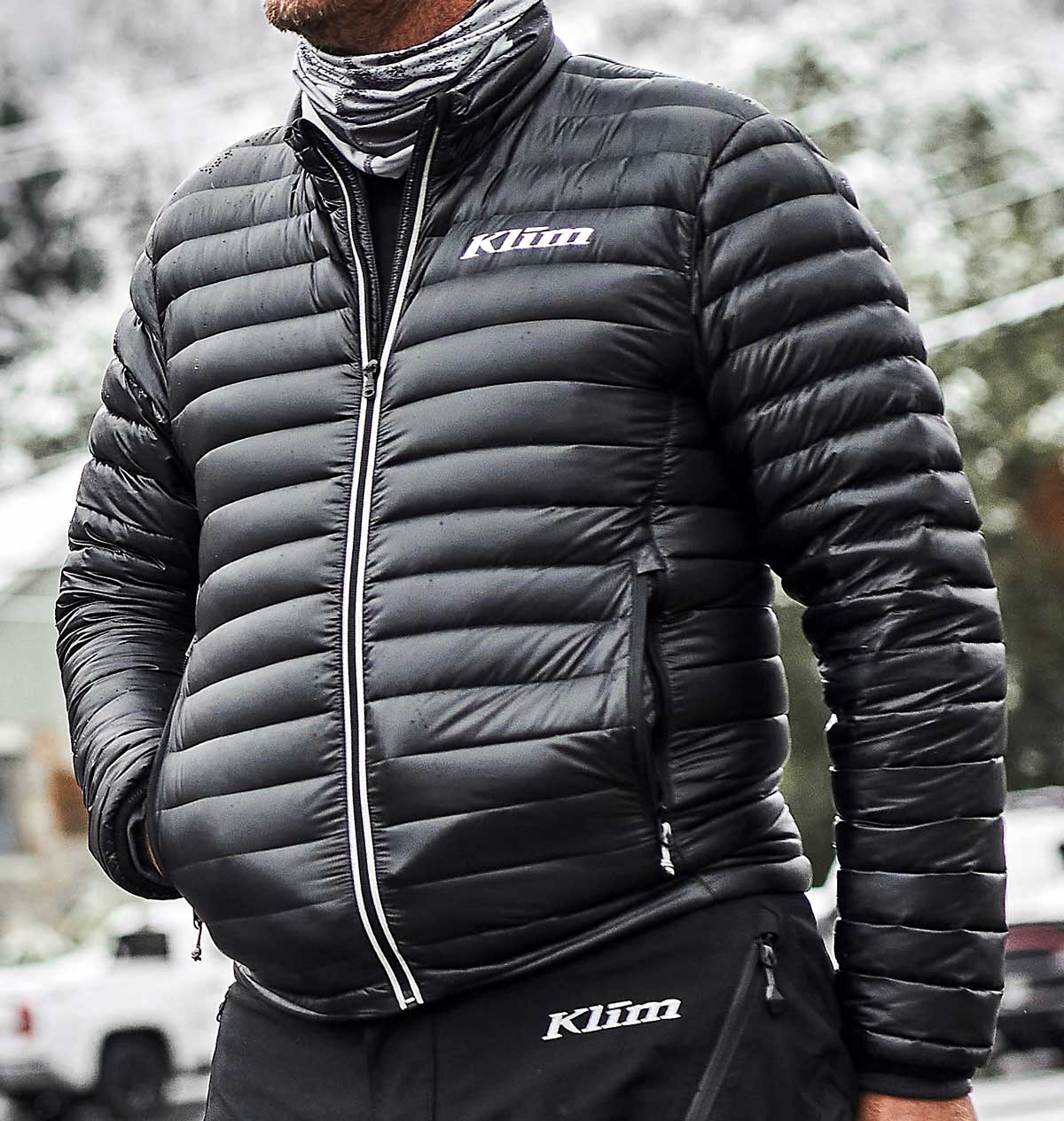 The Maverick's superior design/construction quality is exemplified by the down's containment in seamless "box" baffles. This enhances both performance and durability by avoiding cold spots at the seams (in contrast to cheaper "sewn through" pocket construction); reducing the risk of snagging on Velcro, and preventing down loss through the stitch holes. The latter caused the deterioration of my old jacket that shedded feathers through the stitches from day one.
Another reason for choosing the Maverick was its very high 800 fill-power down rating, which indicates how many cubic inches of loft one ounce of down produces. A higher rating means more warmth per ounce of down since more loft allows trapping more air. Apart from augmenting insulation, the wind-resistant and durable water repellent 20D nylon fabric increase versatility as it enables using the Maverick as a stand-alone jacket. I also frequently used the in-pocket bottom hem drawcord adjustment system for a snug fit. The Klim Maverick Down Jacket turned out to be an excellent mid-layer choice and combined perfectly with both my Klim Traverse and Badlands Pro Jackets.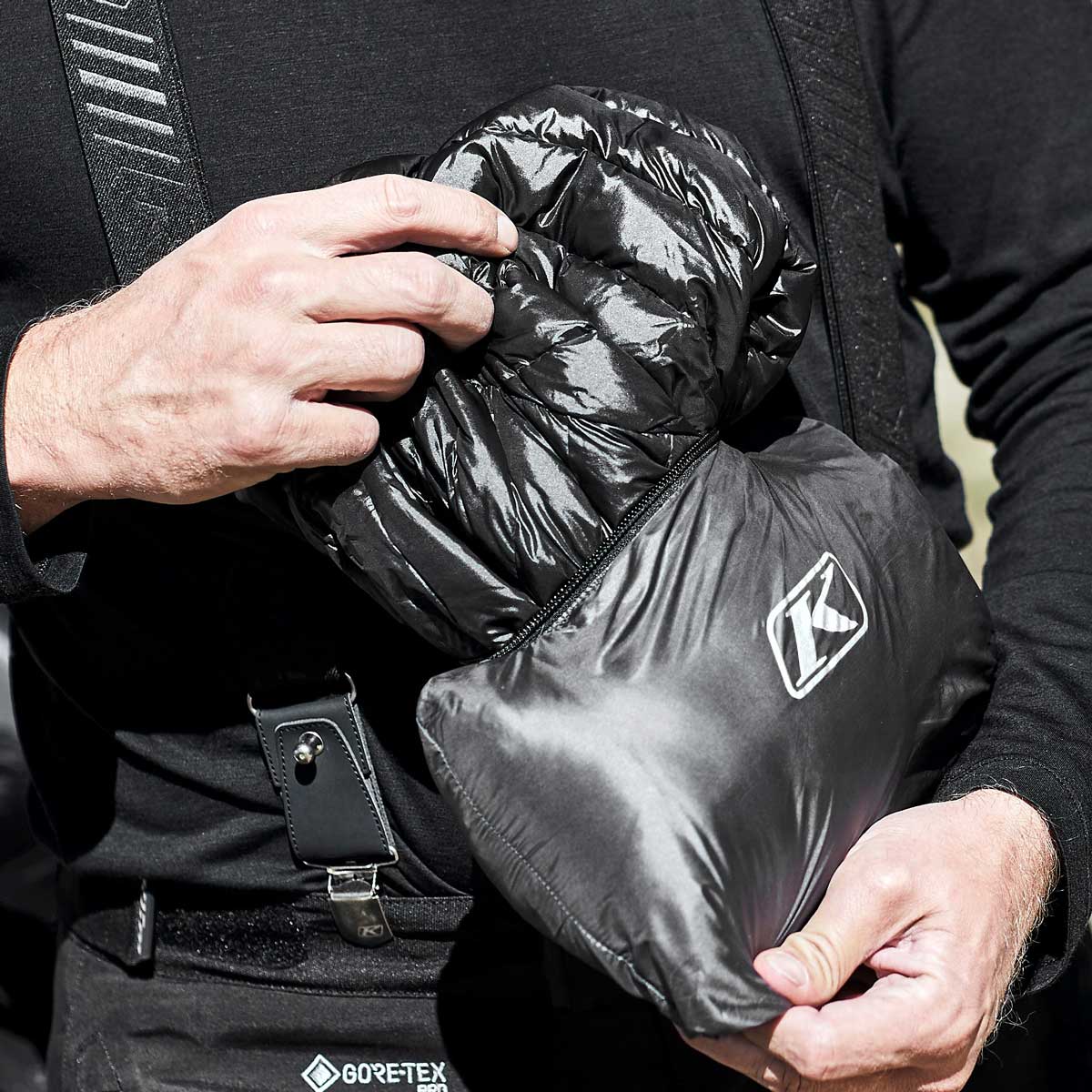 KLIM.com
MSRP: $249.99
PROS:
Ultra-lightweight
Excellent thermal insulation
Highly compressible/packs small
Highly wind resistant
Durable water repellent
One hand pocket serves as its stuff sack
Seamless baffles prevent down loss
In-pocket bottom hem draw-cord adjustment
Four colorways available
CONS:
The lack of a hood (in the collar)