At $99,999, Is This 1983 Toyota Land Cruiser A Good Deal?
Restoring any old vehicle is hard, and rarely is it profitable. That's why buying a turn-key restoration like today's Nice Price or No Dice Land Cruiser appeals to many. Let's see if its price tag dulls that appeal.
2024 Chevrolet Colorado ZR2 Bison | First Drive
With over 190K on the clock and a number of visual blemishes across both body and interior, yesterday's 1990 Porsche 944 S2 cabriolet offered an appeal that, metaphorically, lay somewhere between that of a pair of comfortable old jeans and someone else's well-chewed wad of bubble gum. The Porsche's $9,500 asking price was also of questionable comfort. At least based on the 76 percent No Dice loss the car took home.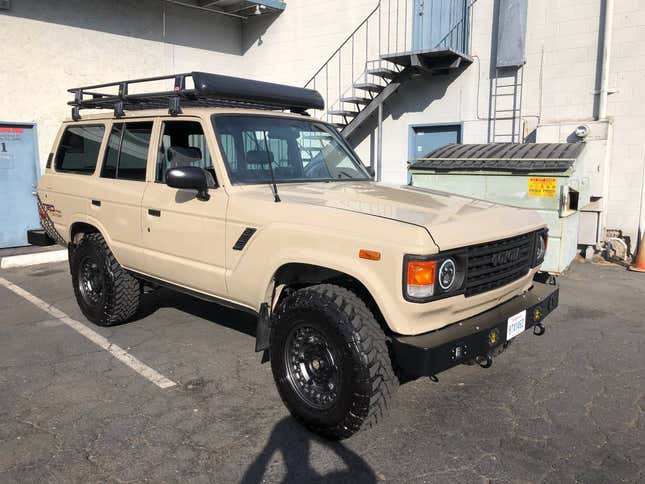 Yesterday's Porsche needed a good bit of sweat equity to bring it back to full force. And that wasn't even considering whatever mechanical landmines might live beneath the bodywork. For the right person — perhaps a recent retiree or someone under long-term house arrest — that work might hold much appeal.
Most people don't have that kind of time on their hands, nor the ambition, or skill to successfully pull off an automotive restoration. Thankfully, some people can and do, and the resulting fruits of their labor often come up for grabs as turn-key cars.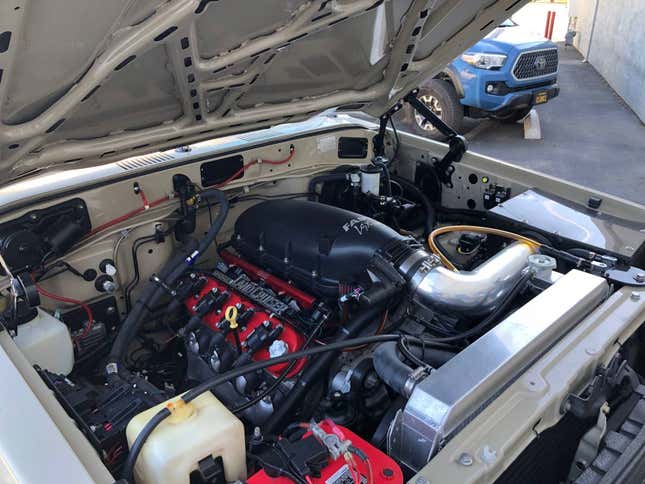 This 1983 Toyota Land Cruiser FJ60 is one such car. According to the ad, it sports an odometer reading of '1′, which, obviously, is to be considered its travels since the stem-to-stern restoration it has enjoyed.
This FJ hasn't just been restored; it's also been upgraded with an LS3 V8, late of a 2015 Chevy Camaro SS. Along with that comes a brand new Toyota H55F five-speed manual gearbox said to be up to the task of the V8's power. A rebuilt transfer case joins the party, sending the power to equally renewed front and rear axles sporting air lockers.
How much power does the drivetrain need to handle? Well, per the seller, the LS3 makes upwards of 450 horsepower, a sizable jump from the 415 horses in its Camaro life. The bump is owed to some additional mods bolted on for Toyota time. More about that in a minute, though.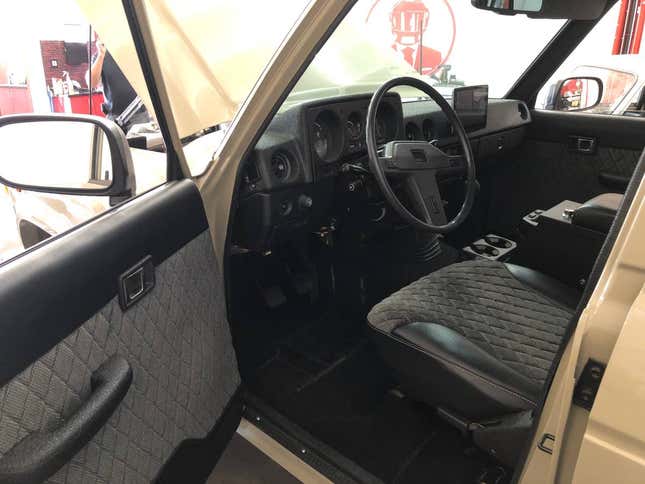 Everything else on the FJ has seemingly seen equal attention, from the cooling and fuel systems right down to the door hinges and the addition of a non-U.S. market incline-o-meter to the dash. The builders didn't stop there either. The exterior wears fresh paint, new wheels and tires, and bespoke bumpers on both ends. TRD decals, dual jerry cans in the back, and a full-length roof rack up top add to the custom visual cues. Also, where did they get those side-view mirrors?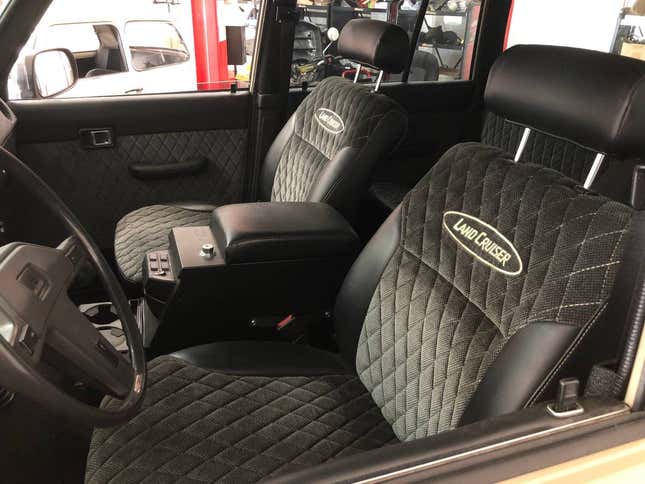 There's a lot of custom work in the cabin as well. The ad notes monogrammed seat backs and a loud sound system with a hidden subwoofer as noteworthy upgrades. There's also a massive center console with switchgear and cupholders and a bedliner-sprayed dash cap to take in. Amazingly, it's all very tastefully done and doesn't appear to have any loose ends.
In fact, if any criticism can be laid on this build, it's that the beige and gray color combo isn't the most flattering and that, with its mods, the LS3 swap makes the FJ persona non grata in the great state of California due to its devil-may-care attitude toward emissions.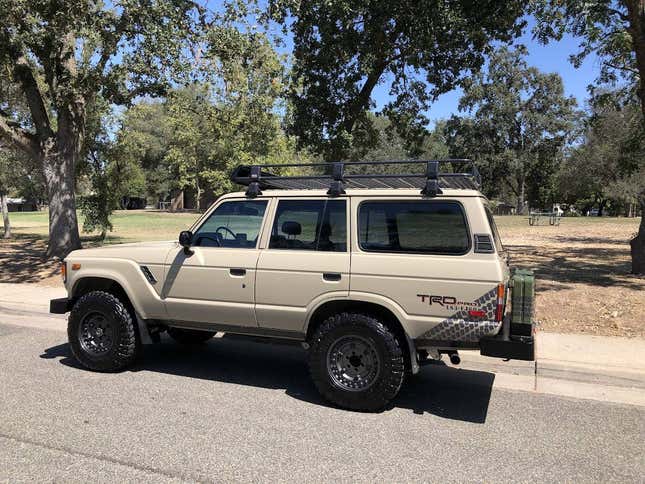 On the plus side, it truly does seem to be a turn-key restoration and should be a hoot and a half to drive — just not in California or other places that use California's emissions standards. What should something like this reasonably be worth? The seller seems to think $99,999 and tempers that big number by claiming, "Complete builds like this are done by TLC and others starting at $200-250k and higher."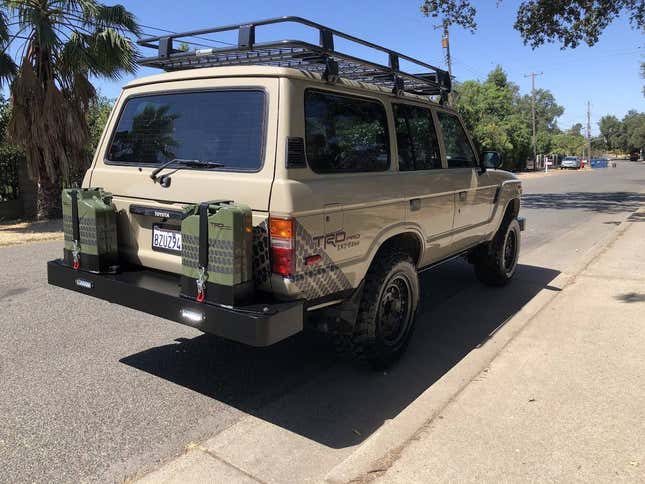 With that in mind, let's all now discuss this LS-swapped FJ's presentation and the $99,999 cost to make it a new owner's plaything. What's your take on that scenario? Does that make sense, considering all the work undertaken to get the Toyota to its present state? Or is the price as over the top as the restoration?
You decide!
Los Angeles, California, Craigslist, or go here if the ad disappears.
Help me out with NPOND. Hit me up at remslie@kinja.com and send me a fixed-price tip. Remember to include your Kinja handle.