Electric Boogaloo: Loose Screw X Black Tea Bonfire E
There were many great things about the eighties that are worth remembering, and equally as many that we'd happily forget. The eighties was a time of unrestrained expression and design exploration exemplified by the era's fashion, films, and design trends. The automotive industry followed suit and had its fair share of stand-out models and four-wheeled faux pas.
One of my favorite things from the '80s auto scene was the trend of using outlandish decals to zhuzh up a new model. From pink sunsets to teal paint splashes and ostentatious graduated pinstripes. They were bold and outlandish and no matter how mundane the car they were applied to was, they made it appear a bundle of fun.
German workshop Loose Screw embraces eightie's styling.  Their builds all feature livery reminiscent of the era and their latest project is no exception. Unlike their past builds, this bike is based on a thoroughly modern platform. The donor was a Bonfire E, an electric motorcycle by German manufacturer Black Tea Motorbikes.
Marketed as an affordable electric motorcycle for the masses, the Bonfire E is available in both a restricted version for riders without a full motorcycle license and a full power version. Designed for urban commuting or short weekend off-road jaunts the full-power version has a top speed of 80km/h and a range of 55km. Stylistically the Bonfire E was designed to have the look of a retro scrambler and while they did a decent job of it, the Loose Screw crew knew they could go one better.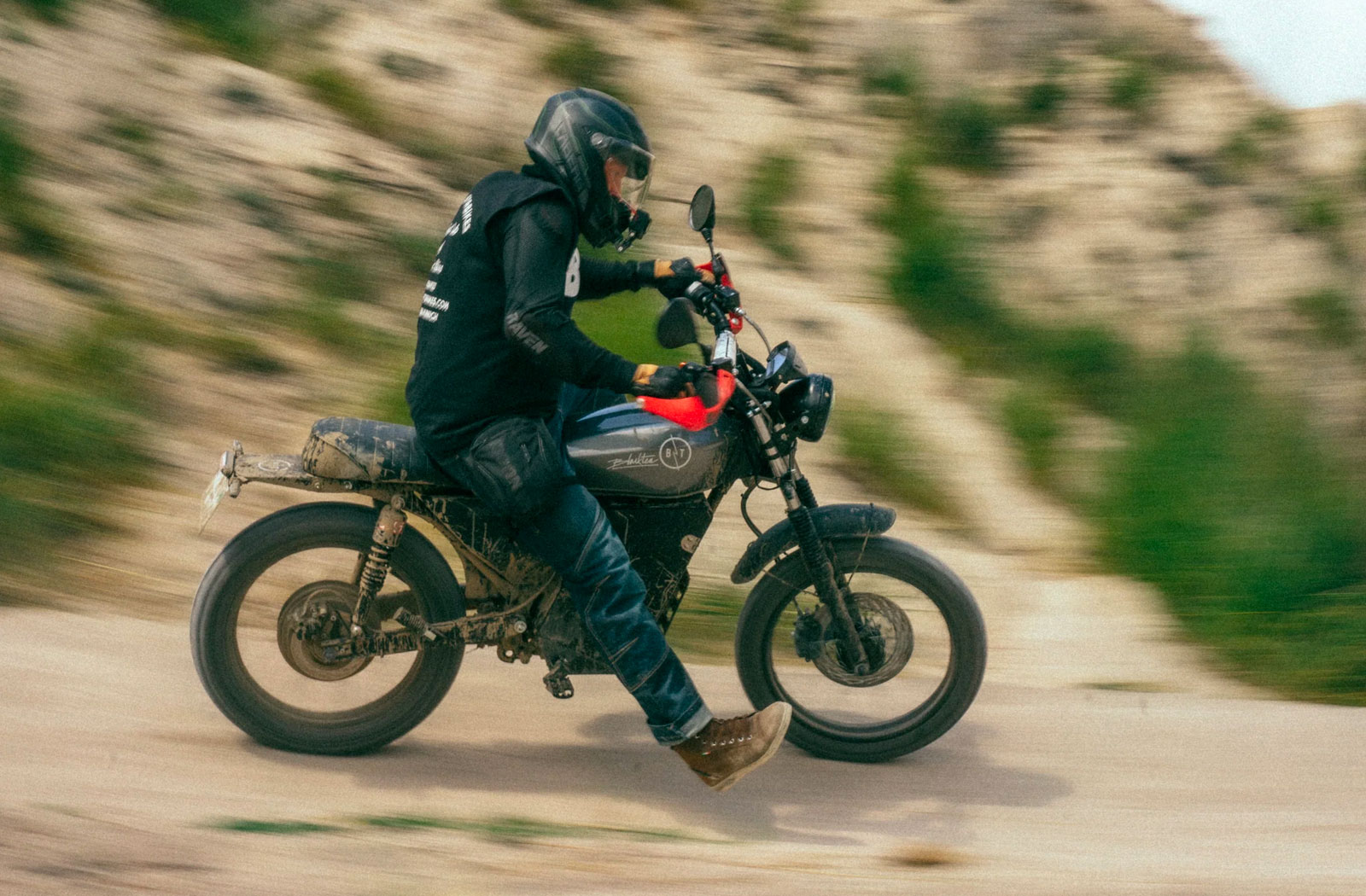 The transformation began with some light modifications to the Bonfire frame. The chassis now features a revised rear loop which better suited Loose Screws vision. Sitting atop the subframe is a custom-made seat pan and a white and purple leather upholstered saddle with purple stitching. The new fuel tank is a more angular unit lifted from a KTM moped. Of course, it doesn't contain any fuel, but by lifting a panel on top you can access a handy storage compartment big enough to stash a pair of gloves and a few essential EDC items.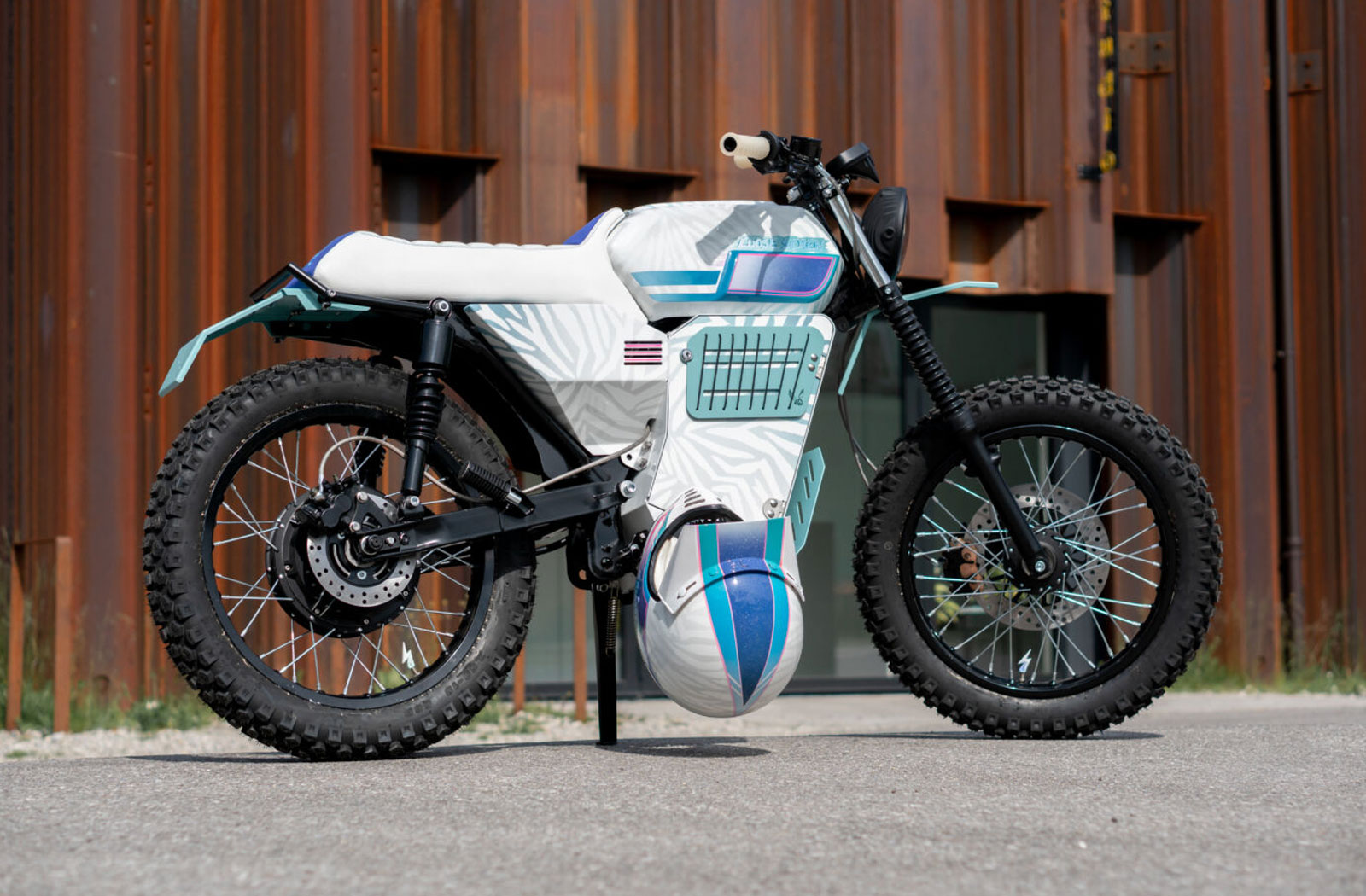 IMHO one of the less appealing aspects of the Bonfire E design is the battery box. Filling the space where an engine would typically reside the large black box is devoid of any kind of design detail. This leaves it looking a bit like an afterthought and does nothing for the bike's aesthetic aerodynamics. To remedy this Loose Screw has added visual interest to the box and side panels. Filling the void at the top of the box are laser-cut guards with asymmetrical patterns cut into them. These are accompanied by a similarly styled belly pan and angular mudguards on the front and rear.
Loose Screw has also made several changes to the Bonfire's accessories. These include a compact LED Thunderbolt headlighting by Koso and discrete Kellermann Atto dual-function indicators. The handlebars are LSL items and they're wearing transparent grips by Hookie Co. And the accessories have all been rewired using an AxelJoost control unit. The ignition is now keyless too thanks to the inclusion of a Motogadget mo.Lock unit and the tires are wrapped in purposeful Kenda 3.5 x 18 rubber.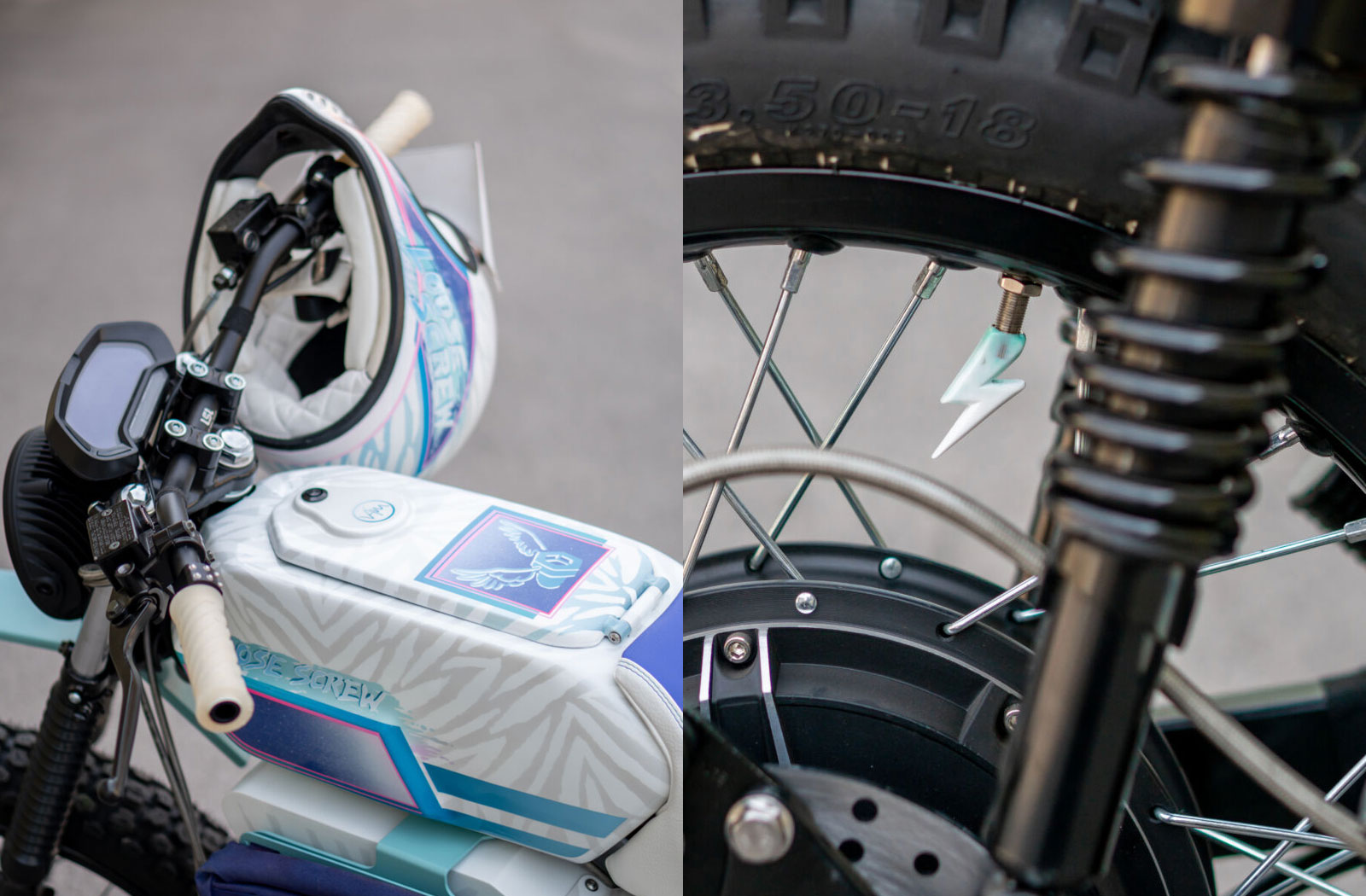 See also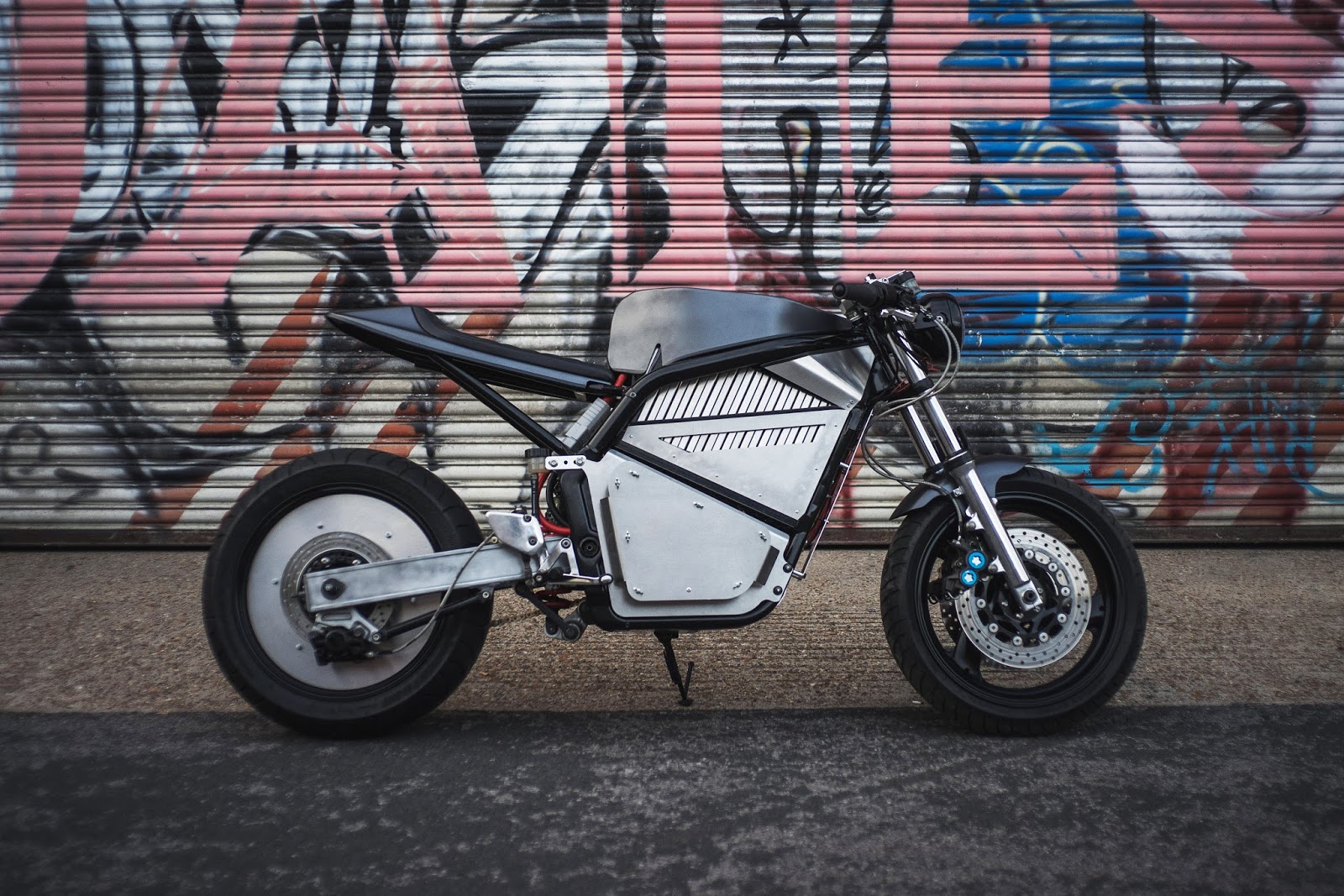 The standout feature of this bike is without a doubt its new 80s-inspired paintwork. The audacious white, pink, purple, and teal scheme is the work of painter Viktoria Greiner. Loose Screw commissioned Greiner to paint both the motorcycle and a Bell Moto 3 helmet to match. The undeniably 80s scheme features a raft of 80s-inspired patterns including zebra stripes, pinstriped gradients, and Loose Screws' own winged nut emblem. To top it all off, the new paintwork glows when exposed to a black light that's been built into the underside of the tank. The final result is a modern retro mashup that would have looked right at home on the set of  Miami Vice.
LOOSE SCREW MOTORCYCLES
Photography by Manuel Schäfer