Abandoned Superyacht Is Still Burning $2,000 A Day In Just Fuel Costs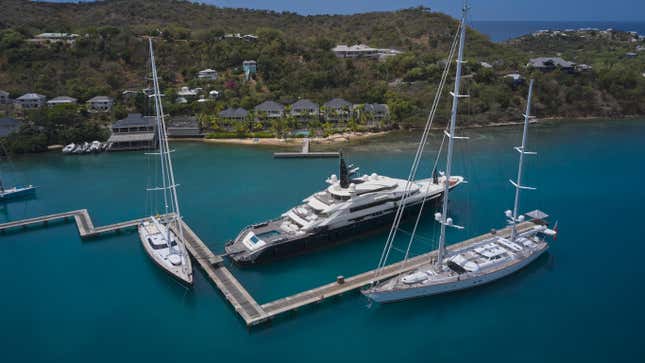 You remember the Alfa Nero, right? The superyacht abandoned by a Russian oligarch, seized by Antigua, and later sold to a former Google CEO for four percent of the island nation's GDP? Well, unfortunately for Antigua, that sale fell through earlier this month — leaving the country on the hook once again for thousands of dollars a month in maintenance.
EV Racing In Italy | Jalopnik Visits
The Alfa Nero may not be allowed to leave port, but that doesn't mean the ship is sitting vacant in its slip. The boat needs to be constantly air-conditioned in order to keep the hardwood floors and leather interior pristine which ensures Antigua receives top dollar when — if — it ever sells. That means its diesel generators must constantly be running, burning through $2,000 in fuel every day. The boat also requires a skeleton crew on hand to keep it shipshape. Luxury Launches spoke with the Antigua Yacht Club dockmaster, who provided some insight:
The Alfa Nero motoryacht cannot go two days without air conditioning due to her hardwood interiors, and without it, mold will spread through the decks faster than Antiguan officials can manage. "You can't even open the doors on Alfa Nero without diesel," said Tom Paterson, the dockmaster at the Antigua Yacht Club. "These boats, from the day they launch to the day they die, are burning fossil fuels."
Well, if you needed another reason to hate oligarchs, here you go. The Alfa Nero is burning through Antigua's treasury for maintenance (not to mention the ongoing suit from the ship's crew for lost wages) when it was supposed to be a boon, adding four percent to the country's GDP with the sale. This boat can't even sit without fossil fuels. Can oligarchs truly not live with traditional boat materials, vinyl and teak, like the rest of us?