2023 Volvo XC90: A Luxury SUV That Ticks The Right Boxes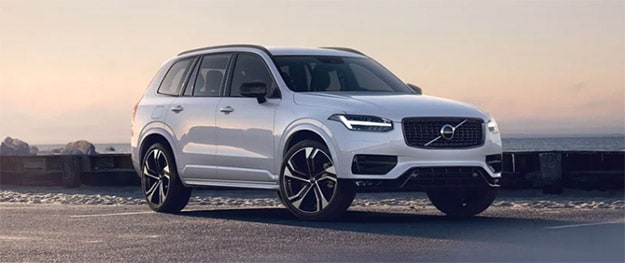 There is a new Volvo sibling to the S90 and the V90; it's the 2023 Volvo XC90! The XC90 has an advanced modular product platform and drives with confidence. You can expect a new-aged luxury SUV with the classic Volvo look but keeps to the sustainability commitment.
All 2023 Volvo models will be electric or hybrid vehicles, if you are unaware. Therefore, the XC90 is no exception. For a Volvo vehicle to tick the right boxes, they need excellent performance, comfort, agility, entertainment, and safety features.
We will share the highlights of the XC90 for Hawthorne, NJ, car buyers to learn more about this revolutionary addition to the 2023 Volvo lineup. You can always count on Volvo Cars Ramsey to inform you and help with car buying. Your experience matters to us. Contact us today!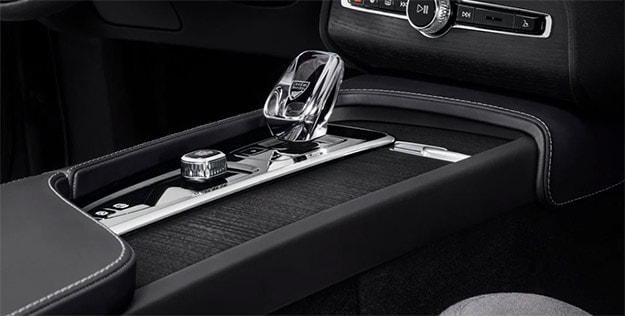 2023 Volvo XC90 Highlights & Luxury Features
Let's go through some of the highlights of what the 2023 Volvo XC90 has to offer, and Westwood, NJ drivers, will quickly see how the XC90 ticks all the right boxes for families looking for a superior SUV.
Quick Volvo XC90 Highlights:
Powered by Volvo's plug-in hybrid powertrain that produces 455hp
An 18.8kWh battery pack
Choose from wood, crystal, and high-end metal materials
Refined Scandinavian designs
Thor's Hammer LED headlights
Seven seater
Various seating configurations (choose a seven, six, or five-seater)
Lavish non-leather interior options
A tailored steering wheel and crystal gear shift
Lots of areas for personalization
Comes equipped with Recharge tires
And more!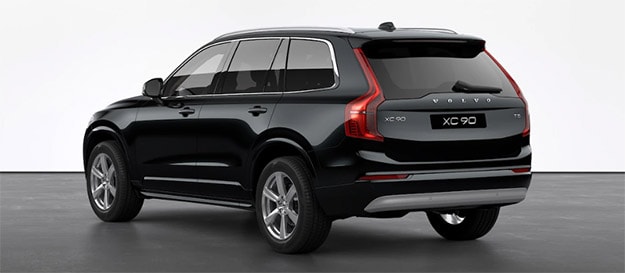 2023 Volvo XC90 Trim Levels 
The latest lineup includes seven trim levels for the mid-size luxury SUV, the Volvo XC90. See the trims in person at Volvo Cars Ramsey. Which of these XC90 trims ticks all of your boxes?
             – B6 AWD Core 7P
             – B5 AWD Core 7P
             – B6 AWD Plus 7P
             – B6 AWD Plus 6P
             – B5 AWD Plus 7P
             – B6 AWD Ultimate 7P
             – B6 AWD Ultimate 6P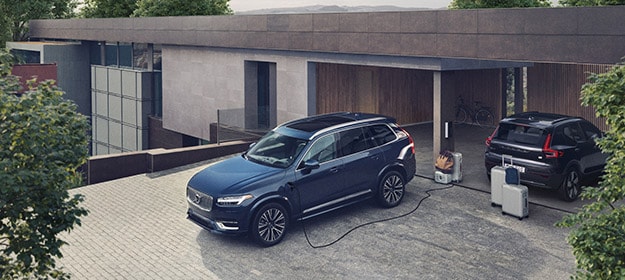 2023 Volvo XC90 Performance
The 2023 Volvo XC90 keeps the last-generation plug-in hybrid powertrain, which produces 455hp. You will feel empowered by the mighty 107kW motor for the XC90 Recharge supplies a pure electric range of up to 73 km* (WLTP Combined). Volvo has created an upgrade for Nanuet, NY commuters to drive daily on electricity with the help of the electrifying 18.8kWh battery pack.
You can opt for a 48 Volt mild-hybrid for both petrol and diesel powertrains, and there are various output ranges from 235hp to 300hp. The XC90 provides 15% fuel savings and reduces real-world emissions when looking for fuel-efficient options.
Not to mention that the 2023 Volvo XC90 rids the two pedals we know when driving and stopping a vehicle. The XC90 has a revolutionary One Pedal Drive is available in the XC90 Recharge version. As the driver, you can accelerate and brake; press to accelerate and lift your foot to brake the vehicle.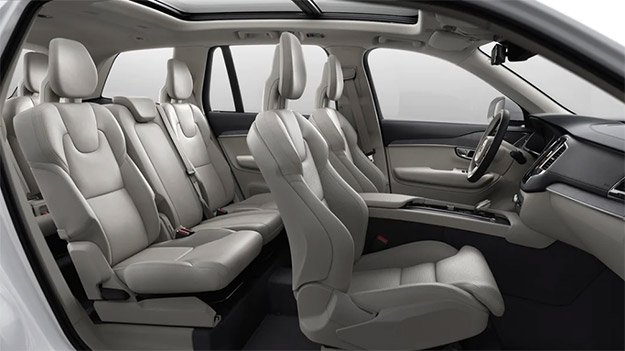 Volvo XC90 Interior and Exterior
Inside the cabin of the XC90, innovation explodes with lavish interior textures. You can have the new exclusive Tailored Wool Blend upholstery in the Recharge models. The wool is 30% responsibly produced and 70% polyester with differing white piping. Volvo continues to stay on track toward using more sustainable products.
The interior has an advanced air purification system that removes PM 2.5 particles from within the cabin. The system reduces particles and pollen from entering the vehicle. It doesn't matter what the outdoors throws at it; you and your passengers will breathe clean air.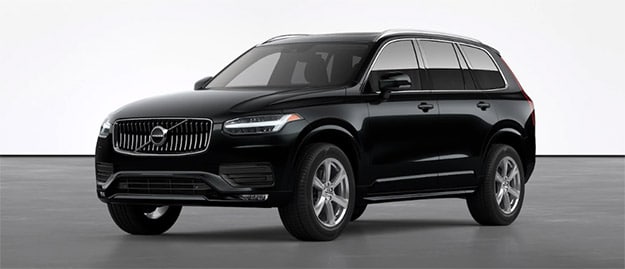 The exterior 4-door design is smooth and sleek with buttery curves that glide your eyes from its grille to its back bumper. You can't help but wonder where the XC90 can take you. Well, the 2023 Volvo XC90 comes fully equipped with XC90 Recharge year-round tires that are A-class in energy efficiency so your daydreaming can be a reality.
You can also personalize your XC90 with customization and accessories for your 248.0-hp, 2.0-liter 4 Cylinder Engine (Gasoline/Mild Electric Hybrid).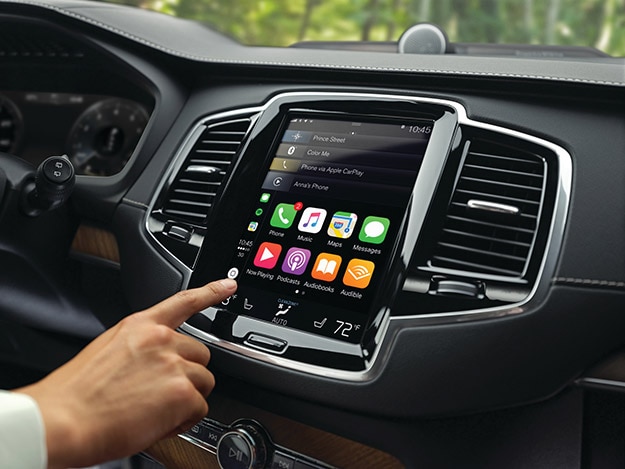 Volvo XC90 Entertainment and Technology
The XC90 infotainment system features built-in Google apps and services, and convenience increases comfort due to its intuitive abilities. You remain connected without distraction through the Digital Services package that allows personalization and unmatched connectivity. Use the hands-free option and Google assistant for easy navigation.
The entertainment connectivity will update during 2023 to keep the XC90 current without inconveniencing you.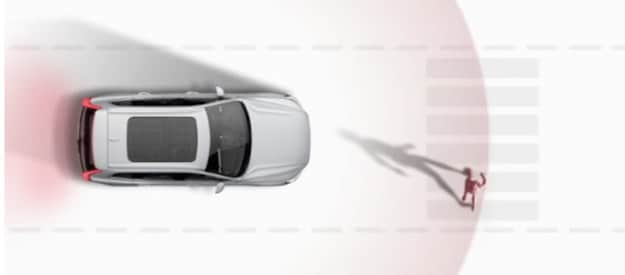 2023 Volvo XC90 Safety Features
Volvo takes safety features seriously with a dedication to automotive safety. Current Volvo vehicles are the most robust yet, and its frame is built with boron steel on the SPA platform. Safety increases with the driving assistance such as the following:
Advanced Driver Assistance Systems (ADAS)
Sensor Platform
An Array of Radars, Cameras, and Ultrasonic Sensors
Road User Detection
Automatic Braking
Collision Avoidance
Pilot Assist
And more!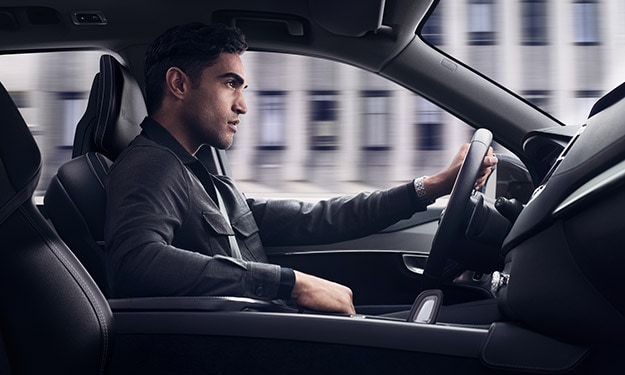 Choose Your 2023 Volvo XC90 at Volvo Cars Ramsey
See the 2023 Volvo XC90 (Gasoline/Mild Electric Hybrid) at Volvo Cars Ramsey. We can help you choose which trim will lighten up your commutes and off-time. You can apply for financing with our friendly finance department to see if you qualify and save time at the dealership.
Our team is happy to do oil changes, tire rotations, engine checks, and more. Be sure to check out our service specials to help you save more.