Workers At Non-Union Auto Plant Trump Visited Say It Sucks
Former President Donald Trump decided to (somewhat) follow in current President Joe Biden's footsteps on Wednesday by speaking to auto industry workers in Michigan, something Biden did the day before. However, Biden spoke with striking United Auto Worker union members at a GM picket line, and Trump pretty much held a standard rally at a non-union parts manufacturer called Drake Enterprises.
EV Racing In Italy | Jalopnik Visits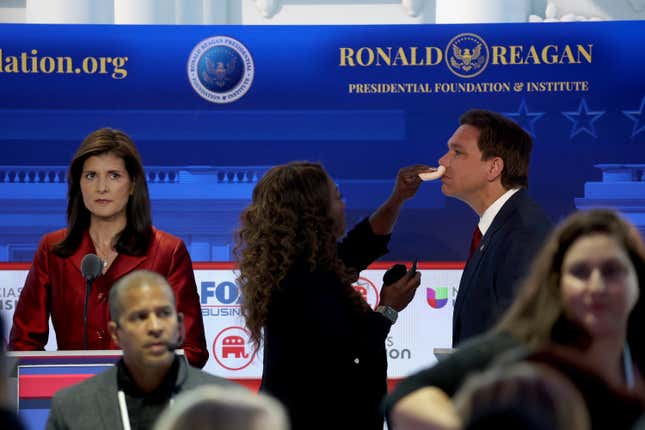 Trump did this on September 27th rather than participating in the second GOP Presidential debate with candidates he's handily beating the shit out of. It may not come as too much of a surprise, but as it turns out, there may be a lot of unhappy workers at Drake Enterprises, according to Slate. The outlet dove into just what employees are saying about the non-union shop.
"Crabs in a bucket mentality," someone who said they were a firmer production worker reportedly wrote on Indeed.com. "Nothing about this job is good longevity wise and McDonald's pays more." Despite this, the person still gave Drake three out of five stars.
Someone who reportedly identifies as a current technician called Drake the "worse [sic] place to work," and gave the company two stars. Slate says that across 35 total reviews, Drake got its lowest marks for "management" at just 2.8 stars out of a possible five.
Over on Glassdoor, Slate found the company has an overall rating of three out of five stars across 12 elevations, and only half of them said they would recommend the job to a friend.
"Beware. Management is clueless. Shop is completely dirty," someone reportedly wrote on Glassdoor in January of this year. "The truly good people leave after a short time as there is no culture."
Put even more bluntly, one person identifying as a former employee simply said "DON'T WORK HERE," according to Slate, and someone else wrote "Dead end."
There's reportedly one outlier post that's extremely positive, but it feels weird given everything else we've seen from current and former Drake employees.
Slate also took a look at some online reviews for automakers like Stellantis, a union shop, as we all know.
It's not that the Indeed and Glassdoor reviews on, say, Stellantis, one of the auto manufacturers with unionized workers that are currently on strike, fare so much better. (We're talking about jobs after all.) But "fair pay for job" is one of the top comments in the Indeed reviews of Stellantis, across 1,223 survey responses. And that kind of says it all, doesn't it? The unionized work places can at least boast that the jobs pay mostly fairly—in large part because of the efforts of organized labor.
You will not be shocked to find out that Drake's president, Nathan Stemple, is not a fan of the UAW strike and did not offer support for striking workers.
"We're still producing parts to create inventories and things like that and to keep our people working," he reportedly said on Fox News.
UAW president Shawn Fain did not seem too upset that Trump snubbed striking UAW workers.
"I find a pathetic irony that Trump is going to hold a rally at a non-union business," Fain reportedly said on CNN. "He serves a billionaire class, and that's what's wrong with this country."
During Trump's speech at Drake, he lamented the adoption of EVs in America, saying they'd "spell the death" of the U.S. auto industry since they cost too much and consumers don't want them, in his eyes. He also said Ford and GM are "either stupid or they're gutless" for their transition to electric vehicles. He added that UAW talks won't actually matter because of this shift to EVs. He told the room that they were killing jobs.