The All-New Mercedes-AMG GLC 43 And 63 Coupes Launched In The US
When it comes to combining style, performance, and innovation, Mercedes-AMG has consistently delivered. The latest additions to their lineup in the US, the AMG GLC 43 and 63 Coupes, continue to uphold this legacy, offering a blend of dynamic elegance and unmatched power. In this article, we explore the remarkable features and groundbreaking technology that define these two SUV coupes, setting them apart in the world of high-performance vehicles.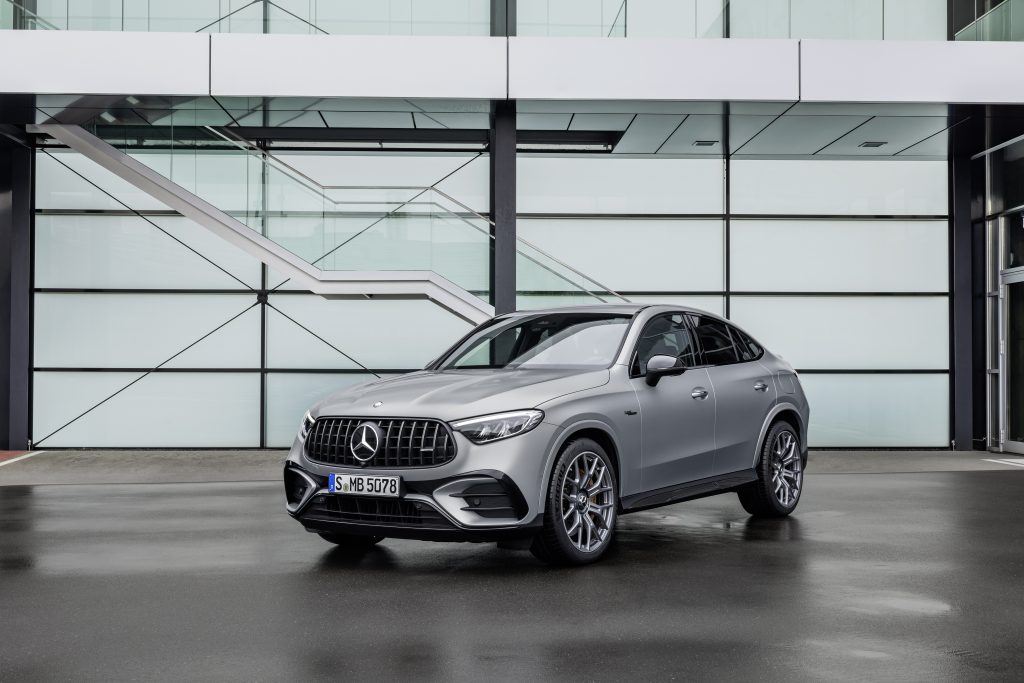 Elegance Meets Athletic Prowess
The Mercedes-AMG GLC 43 and 63 Coupes make a lasting first impression with their striking proportions and expressive styling. Based on their grand reveal via press release, these vehicles redefine modern luxury, featuring headlights seamlessly integrated into the AMG-specific radiator grille.
The front fascia boasts large air inlets, vertical fins, and additional flics, adding an aggressive touch to their already commanding presence. With harmonious wheel arch trim painted in body color and AMG side sill panels, these coupes exude confidence and style.
Available in 19-, 20-, or 21-inch sizes, their flush-fitting wheels emphasize their wide track and athletic stance.
An Interior of Opulence and Sportiness
Step inside the Mercedes-AMG GLC 43 and 63 Coupes, and you're greeted by an interior that seamlessly blends sportiness and luxury. The AMG seats, available in MB-Tex/microfiber with unique graphics and upholstery, or optional leather and Nappa leather with an embossed AMG crest, provide a sporty touch.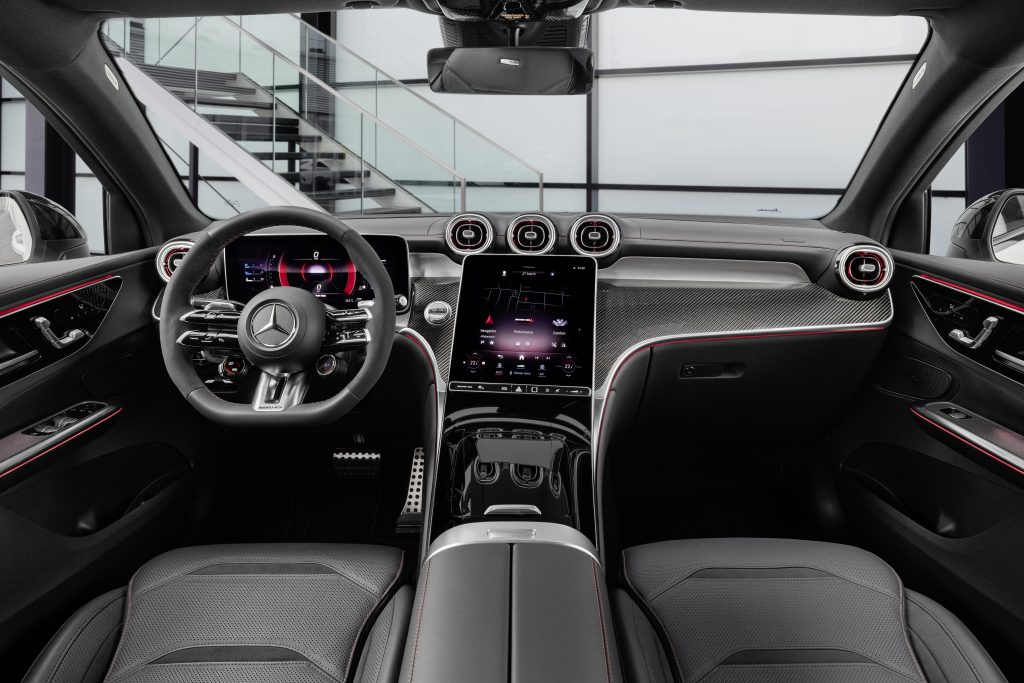 Meanwhile, the AMG Performance steering wheel, flattened at the bottom and perforated in the grip area, feels comfortable in hand. Equipped with aluminum shift paddles and two round AMG DRIVE UNIT buttons, it enables precise operation of dynamic driving functions and AMG DYNAMIC SELECT driving programs.
To enhance the sporty, luxurious atmosphere, AMG sports pedals, floor mats, and illuminated door sills are also part of the package. The MBUX infotainment system in the GLC 43 and 63 Coupes boasts AMG-specific displays and functions, including a vertical "Supersport" style setup that allows the driver to monitor various vehicle parameters.
Innovative Engine Technology
Under the hood, both the GLC 43 and 63 Coupes are powered by hand-built AMG 2.0-liter four-cylinder engines. These engines are a true marvel of engineering, incorporating an electric exhaust gas turbocharger that provides rapid response across the entire speed range. The electric exhaust gas turbocharger, a technology derived from Formula 1, offers instantaneous acceleration, higher torque at low rpms, and continuous boost pressure maintenance.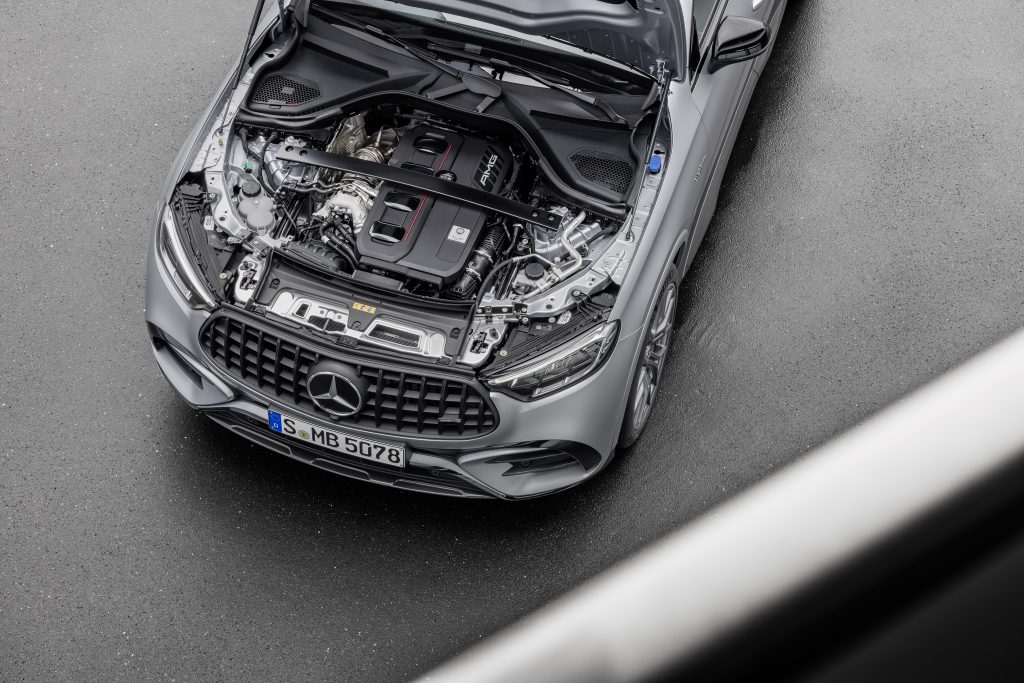 In the AMG GLC 63 S E PERFORMANCE Coupe, this engine is combined with a permanently excited synchronous electric motor and a high-performance battery. This setup results in an impressive system output of 671 hp and a maximum system torque of 752 lb-ft. With an acceleration time of just 3.4 seconds from 0 to 60 mph and a top speed of 171 mph, it's clear that the GLC 63 S E PERFORMANCE Coupe means business.
For those who consider the power of the GLC 63 too much for their liking, there's the GLC 43 has 416 hp and 369 lb-ft of torque. The figures are enough to propel the auto from 0 to 60 mph in just 4.7 seconds on the way to its top speed of 155 mph.
Electrifying Performance
What sets the AMG GLC 63 S E PERFORMANCE Coupe apart is its hybrid technology, allowing for precise control of traction and dynamic handling. The electric motor is positioned on the rear axle, providing extra power during acceleration and enabling the redistribution of drive power to the front wheels when needed for added traction.
This combination of electric and combustion power delivers a thrilling driving experience, whether you're on the track or the open road.
Unmatched Handling and Control
To harness the incredible power of the AMG GLC 43 and 63 Coupes, Mercedes-AMG has equipped them with cutting-edge technology. Both models feature AMG RIDE CONTROL suspension with adjustable damping and rear-axle steering. This suspension setup ensures optimal handling and comfort, adapting to the road surface and driving conditions in real-time.
In the AMG GLC 63 S E PERFORMANCE Coupe, the AMG ACTIVE RIDE CONTROL active roll stabilization takes things a step further. Instead of traditional anti-roll bars, this system adjusts electromechanically, enhancing ride comfort during everyday driving and providing stability and precision when pushing the limits.
Final Thoughts
The Mercedes-AMG GLC 43 and 63 Coupes represent the pinnacle of luxury performance SUVs. With their striking design, opulent interiors, and innovative hybrid technology, they offer an exhilarating driving experience that few can match. Whether you're seeking a sporty lifestyle or thrilling performance, these coupes deliver on every front. Mercedes-AMG has once again proven that they are at the forefront of automotive innovation.