Carlos Sainz wins nail-biting Singapore F1 GP to end Max Verstappen's streak | Formula One
Were Formula One considering quite what a show it would have without Red Bull's dominance this season, the Singapore Grand Prix delivered a glimpse of this much-anticipated future, a spectacle beyond even the sport's most wishful thinking.
Transforming from sedate to sensational as Ferrari's Carlos Sainz hung on for a mighty victory, it was fitting that the curtain should fall on Red Bull's relentless winning streak with a thriller in which the world champion elect Max Verstappen was but a bit-part player.
Sainz's win from pole, the second of his career, was hard fought and deserved after a frenetic denouement, impossible to call until the flag fell. He won from McLaren's Lando Norris and Mercedes' Lewis Hamilton as the three teams went wheel to wheel with one another.
When Sainz crossed the line only a second separated the top three, a finish such as we have not seen all season since Red Bull made a flying start in Bahrain. Sainz acknowledged quite what a battle it had been. "Wins never come easy and today we had a bit of everything," he said.
"We had to fight for it, we had to be strategic, we had to nail everything and commit to our plans. We managed to bring home a win that was never easy but that feels incredible."
Indeed the intensity of said fight could not have been better illustrated than by the heartbreaking conclusion for George Russell who had led the late Mercedes charge, when the team took a gamble on switching to fresh tyres 17 laps from the end and chased down the leaders.
Refusing to ease up, harrying Norris he clipped the barriers and went off on the final lap and Hamilton took the last podium place.
It was a very human drama at the heart of this technological arms race and all but impossible not to feel for the 25-year-old, who was visibly upset afterwards. "I have no words," he said. "Such a long race, a physical race, we were half a car's length from winning if I had got past Lando. A millimetre lapse of concentration and it was game over. It was heartbreaking. I feel like I let myself down and the team down."
Inevitably he was furious with himself but it was nonetheless a bravura performance – a driver willing to give his all, pushing to the very limit and the last. The team principal, Toto Wolff, said the driver deserved only sympathy and "an arm around the shoulder" after a magnificent effort.
Behind him Red Bull and Verstappen had been off the pace all weekend in Singapore, their car hard to balance and struggling for grip. Race day was an improvement but there was to be no repeat of the world champion simply sashaying through the field, with overtaking so hard at Marina Bay.
The 14 consecutive wins for Red Bull this season and Verstappen's 10-win record run were brought to an end then by Ferrari as Verstappen had a taste of scrapping in the midfield for the first time this season. Ultimately his fifth place from 11th on the grid was better than might have been expected and has extended his lead in the world championship over teammate Sergio Pérez to 151 points.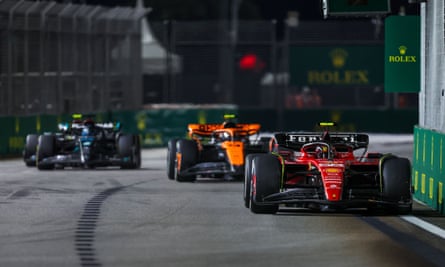 Yet while he languished in unfamiliar territory, at the front of the field everyone else was playing their part. F1 wanted closer racing when it brought in the new regulations last year and with Red Bull out of the picture they might consider that in Singapore they had nailed it.
While the pace of the frontrunners was closely matched, in the opening 40 laps the leaders played a tense, tactical game, unwilling to show their hand until Mercedes threw the dice. With a late safety car and knowing they had a new set of medium tyres in hand, they pitted both drivers and set them loose to chase down the lead.
Under the arclights of Marina Bay Russell and Hamilton were dazzling. Both banged in fastest lap after fastest lap until they passed Ferrari's Charles Leclerc, who finished fourth, and with three laps to go had caught Sainz and Norris.
In a gripping finale Russell threw everything at Norris, who defended brilliantly in a three-team fight. At the very height of intense pressure in the dying moments of a race Norris was indomitable.
Yet there was more than just raw talent on display, too: Norris was able to take advantage of his old friend Sainz, who with no little tactical nous just allowed him to stay within DRS range to hold the place against the Mercedes. Every skill, every edge was on display in a gladiatorial finale from which Sainz emerged as a worthy winner. Red Bull are likely unseated for this race alone but in such style it will stand out in the memory long after they have claimed both championships.
Pierre Gasly was sixth for Alpine, Oscar Piastri seventh for McLaren and Pérez eighth for Red Bull, with Kevin Magnussen in 10th for Haas. Liam Lawson did superbly to score his first points in only his third GP, finishing ninth for AlphaTauri where he is sitting in for the injured Daniel Ricciardo.
Aston Martin withdrew Lance Stroll from the race after a high-speed crash in qualifying, with the driver needing to recover and the car severely damaged.