Carlos Sainz: 'An Incredible Feeling. An Incredible Weekend'
Incredible is the perfect way to describe the 2023 Singapore Grand Prix for Carlos Sainz.
An incredible qualifying performance saw the Spaniard take pole, and he then followed up with an incredibly controlled drive to take the win and snap the Red Bull streak.
'Yeah, an incredible feeling. An incredible weekend. I want to thank everyone in Ferrari for making this huge effort to turn around and manage to win this season after a  tricky beginning – but now this weekend, we nailed the race, we did everything that we had to do. We did it perfect and we brought home a P1 that I'm sure all Italy, all Ferrari is going to be proud and happy today. 
'Given our limitations with tyre wear and degradation, all about managing the beginning of the stints to make sure I made it to the target laps that we wanted to do on each compound. Obviously a Safety Car forced us to pit even earlier than we wanted and I knew it was going to be a long stint on Hard. I had to give George… I had to get him slowing down, don't give him a Safety Car or a Medium tyre opportunity – and it worked to perfection. It was just quite tight at the end – but we gave Lando a bit of DRS to help him and in the end we made it P1. 
'I always felt like I had the head space and the pace in hand to do whatever I wanted to do. I'm not going to lie, you're under pressure and you obviously are very close to making any kind of mistake but I felt under control, I felt like I could manage well and we brought it home. That was the best feeling. I'm over the moon right now.'
Ferrari Finally Put A Perfect Weekend Together
Ferrari have been criticised throughout the season for continually botching their strategy calls, however, under the bright lights of Singapore they put it all together, and delivered their first win of 2023.
'We have to be extremely proud of the weekend that we've put together. We've had one opportunity this year to win the race, which was here in Singapore, and we nailed it. We didn't put a foot wrong all weekend and yeah, there was a lot of moments out there where we were a bit under pressure and we kept it calm, we kept our plan, our strategy. We had to play with tyre degradation, with pit-stop gaps, with DRS, and playing with all that, and managing to keep everything under control, we managed to bring home a win that was never easy, but that definitely feels incredible.  
'It was very difficult to tell before the race whether we would have the race pace to win but I felt like even if we didn't, by managing and controlling the gaps and controlling the pace and the tyre degradation, I could create myself the opportunity to win. Obviously keeping P1 at the start and then from there controlling the race. It was a whole plan and that Safety Car came a bit too early and going into a Hard tyre on Lap 20 wasn't my preference, especially because I had managed very well the Medium and I felt like we could have gone a lot longer. But it was the right call and then yeah, that stint on Hards was always under control until the VSC came out and gave the Mercs the opportunity to two-stop. And we were clearly under a lot of pressure there at the end.'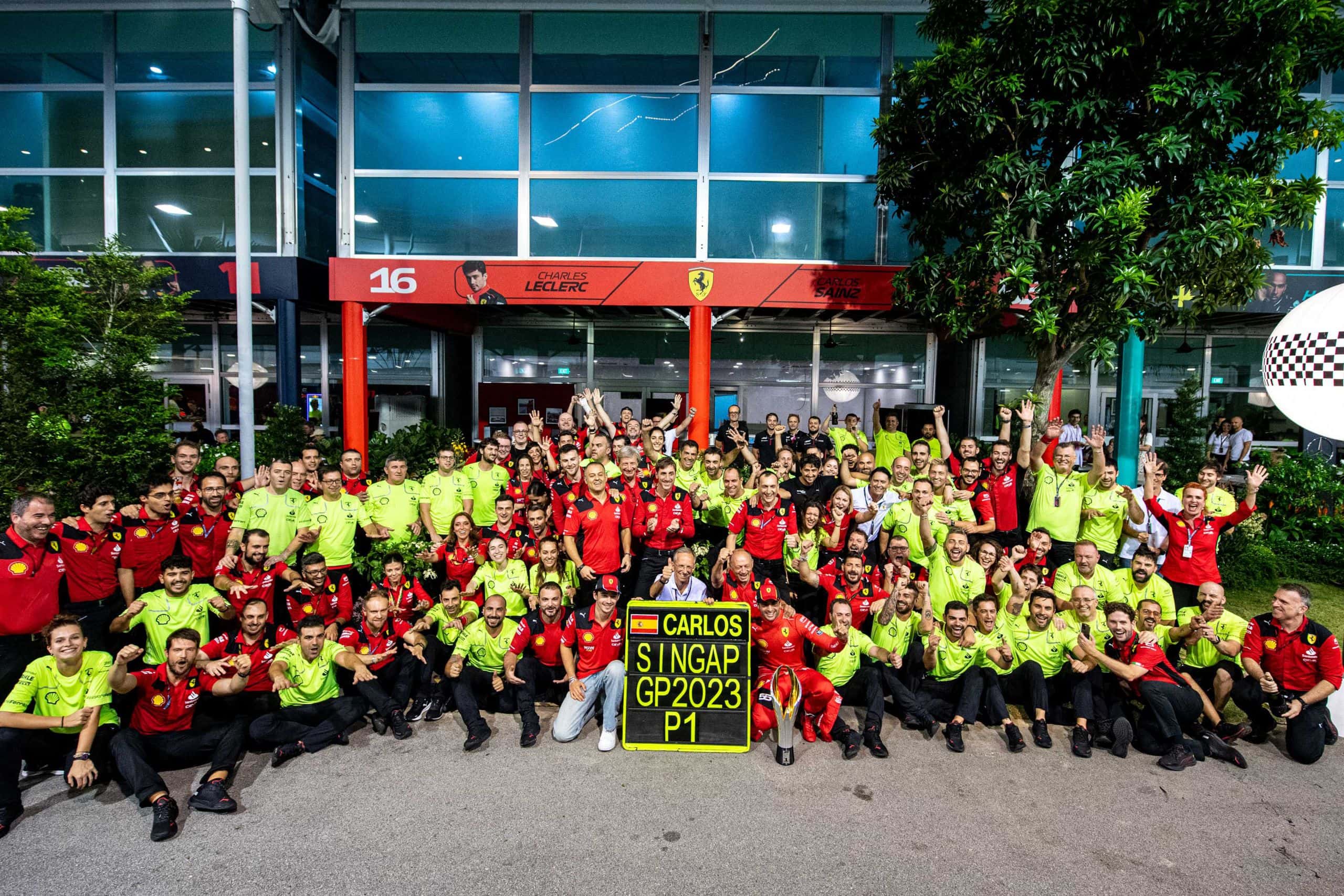 No Nerves For The Smooth Operator
Sainz controlled the race from the start, however, after the virtual safety car on lap 43, he had his hands full keeping Lando Norris, George Russell, and Lewis Hamilton at bay.
'At the beginning, I was not so nervous because I felt like I had a lot of pace in hand to push the last 12-15 laps. But immediately, I felt like as soon as I started pushing, my tyre degradation started to kick in. And I think Lando and I were sliding a lot, then it surprised me quite a lot how quickly the Mercs managed to pass Charles and close the gap on Lando and me. And at that point, I thought okay, it's not going to be easy and these last five, six laps is going to be a fight. And at that point, obviously I had to change a bit the strategy. I had to give Lando a bit of a cheeky DRS boost, and that helped us to keep them behind and win the race and get the get the win for Ferrari that feels great.
'It's always tricky. Because you always put yourself under extra pressure, no? Because then you know that then you cannot have a lock-up. You cannot have a single mistake or a snap because it means that then Lando's going to have a chance to overtake you if he's on DRS. So yeah, at that point you decide to give him the DRS, hoping that that's going to be enough to keep the Mercs behind. There was in particularly one lap that I think Lando defended into 16-17, and then I had to slow down a lot into T1-2-3 to give him DRS again. I think that move actually, saved my race, saved also Lando's P2 because I feel like there, if not, I would have been also dead meat, if the Mercs would have passed Lando, I think they could have got passed me pretty easily.
CarLando Reunited
With Sainz giving Norris a DRS assist towards the end, the former teammates were quick to heap praise on each other after sharing a special podium.
'It always feels a bit better when you have someone that you get on well with and that you respect, both as a driver and as an athlete.  As a person, it always feels better to share those good moments. And don't get me wrong, I think if he would have had a chance to pass me at any point he would have gone for it, for the win, but I just knew that that 0.8s/0.9s gap was enough to know that we could play smart. But yeah, what was obviously a great moment and we were joking about it and having a good laugh about the weekend and yeah, enjoying the moment.'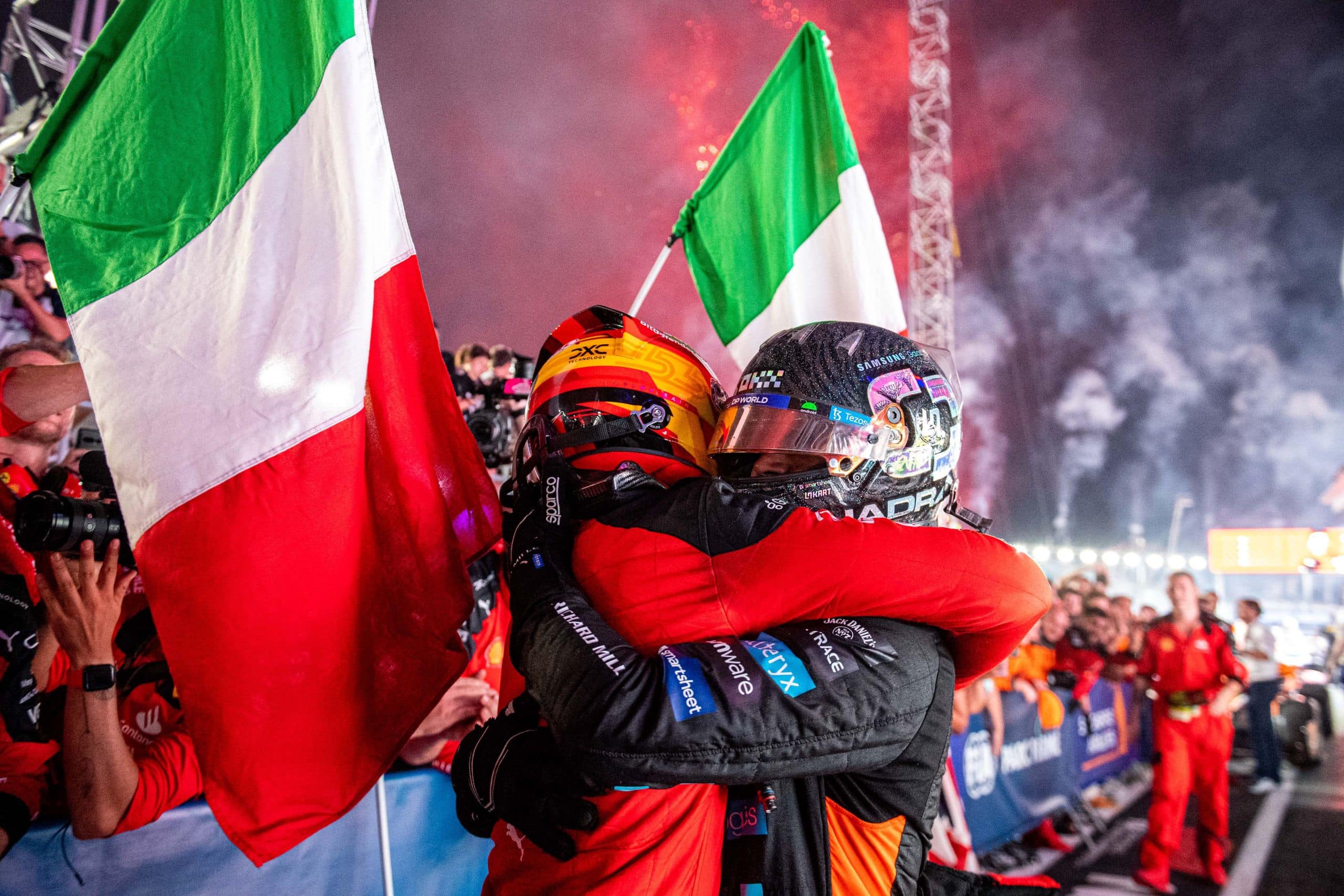 Suzuka Success?
Despite putting in a strong showing at Monza then taking the top step in Singapore, Sainz is expecting Red Bull to bounce back quickly next time out at Suzuka…
'Honestly, I don't think today means much, I think this year, it's going to be a bit like this. We've had two great weekends in a row, but I think the two tracks that we've been to have suited our car. In particularly this one, a high downforce track.
'I'm incredibly proud of the effort that the team has done to bring a much better high downforce package here, and be much more competitive than in Zandvoort – but I still think there's going to be tough weekends out there where we're not going to be fighting for podiums, and we're going to get P5s, P6.
'We just need to make sure we keep getting those if that's the maximum that the team and the car can do those weekends. But what I'm more proud of is that we had one chance to win this year, and the team under pressure responded. I also responded and we managed to put together a perfect weekend in the one chance that the Red Bull and the situation gave us, and that speaks well of the progress that Ferrari is doing, we are doing in terms of race execution,' concluded Sainz.