25 years and counting! Nissan sales controller rewarded for his loyal service
A sales controller at a Nissan dealership in Somerset is celebrating 25 years of service to the business.
Father-of-two Dan Cook, 44, has worked at F J Chalke, Wincanton, since 1998, when he started his career there as a valeter. Three years later, he was given a trainee sales executive role – before rising steadily through the ranks to reach his current position.
Dan is a key member of the three-strong retail sales team at the dealership. As it's a Nissan business centre, other colleagues handle fleet and corporate clients.
And he's seen a few developments in the Nissan line-up since the turn of the millennium: ''The cars have changed beyond all recognition and the technology available these days is incredible. ARIYA in particular is a truly special car and I'd have to say it's my pick of the range.''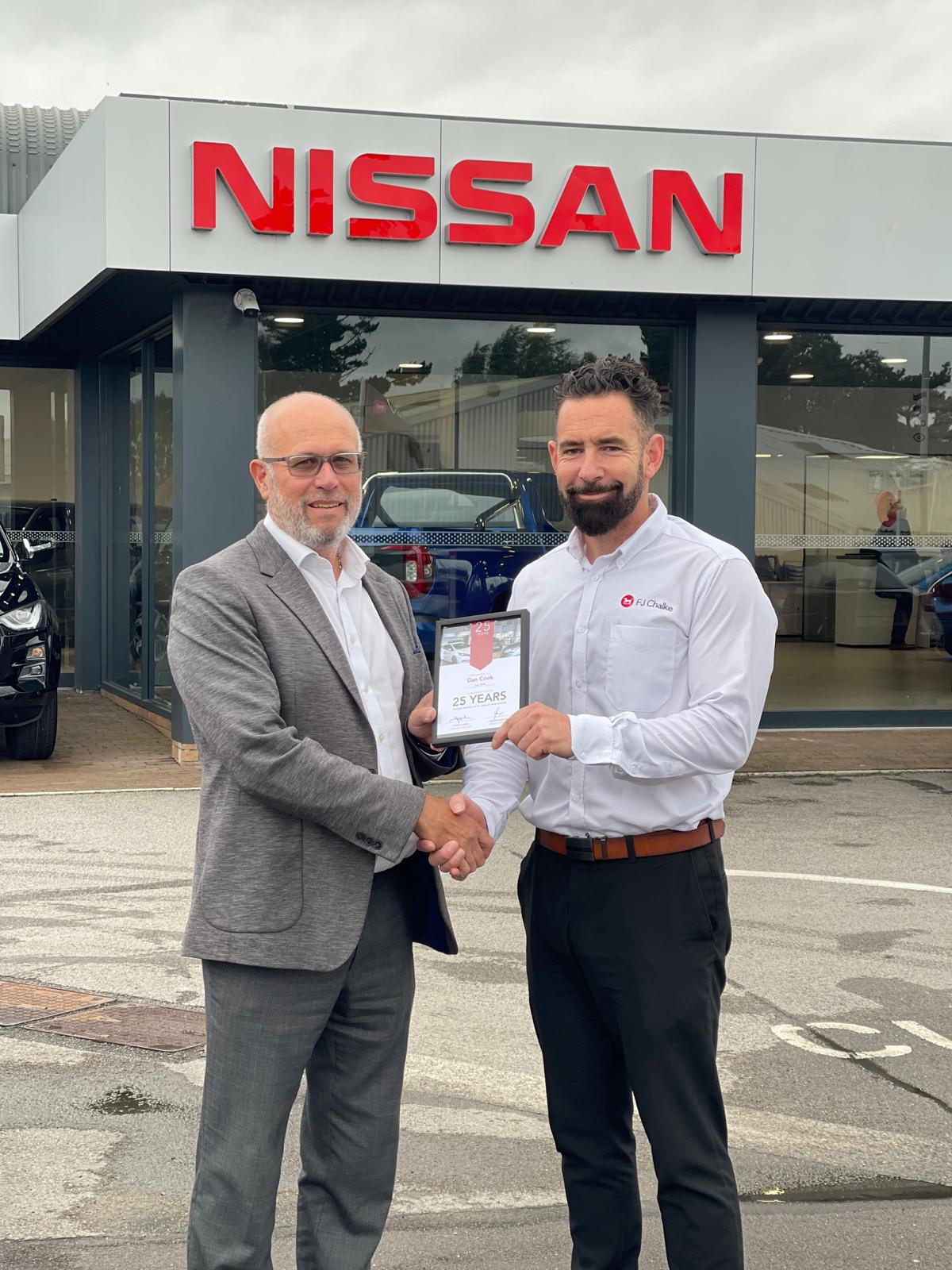 To mark his quarter of a century of service, Dan was presented with a special certificate by the Managing Director of F J Chalke, Steve Fowler, who himself completed 25 years with the company last year. 
The company, which operates a sister Nissan dealership in Yeovil, has a reputation for impressive levels of staff retention and rewards loyal colleagues with regular bonuses. Earlier this year, the firm divided the sum of £165,000 between its employees.
Relationships are key
When he's not working, Dan enjoys the gym and bodyboarding and will soon be hitting the open road in quite a distinctive vehicle – a 1957 split-screen camper van.
Steve Fowler said: ''Colleagues such as Dan are invauable to our business and the relationships they forge with customers over the years are the bedrock on which our success depends. We have many team members who have been with us a long time and we're grateful for their loyalty.
''I'd like to congratulate Dan on his 25 years with the company and wish him all the very best for the future.''