Next-gen Porsche Panamera gets reveal date, another hybrid
The electric Taycan might be getting a lot of attention, but Porsche is getting ready to launch a new generation of its petrol and plug-in hybrid Panamera.
The next-generation limo will be revealed on November 24 at the Icons of Porsche Festival in Dubai.
As testing wraps up for the latest Panamera, Porsche has touted the new suspension and hybrid powertrains of the new car.
Porsche is adding a fourth, performance-focused hybrid option to the Panamera line-up.
"After already offering three E-Hybrids for the second Panamera generation, we will be adding a fourth plug-in hybrid in the new Panamera. This is our response to the enormous demand from our customers," said Dr Thomas Friemuth, head of the Panamera product line.
"In some countries, the proportion of E-Hybrids in the Panamera is almost 100 per cent.
"The new derivative is a high-performance model that fits perfectly into the versatile line-up"
All hybrid variants of the new Panamera will have a completely revised drivetrain.
Headlining these changes is a new electric motor which will sit behind the engine in a new dual-clutch transmission.
The new electric motor is more power-dense, with Porsche claiming it offers higher performance and recuperation values than its predecessor while also being lighter.
This is powered by a new high-voltage battery with a capacity of 25.9kWh, up from 17.9kWh. An 11kW onboard charger helps reduce charging times over previous Panameras.
The internal-combustion engines have also seen revisions, and have been "completely upgraded" to facilitate increased efficiency and performance.
Porsche has been busy fiddling with the Panamera's suspension for the new generation as well.
In a first for the Panamera, a new "high-end" chassis with active damper control is optional.
"With the active chassis we are setting new standards. We could feel this on every metre of our test drives – very comfortable on the cobblestones in Barcelona harbour, and highly dynamic and agile on the winding country roads outside the city. An incomparably wide range," said Mr Friemuth.
As standard, the new Panamera will be equipped with a semi-active chassis with new two-valve shock absorbers.
The air shocks afford the Panamera greater capability over varied surfaces, with the shock absorbers able to regulate compression and rebound stages separately.
The Panamera is currently completing final testing and evaluation before its upcoming launch.
Drivetrain, cooling and air-conditioning systems were tested at high altitudes in the US, low temperature testing was conducted in Scandinavia, durability testing was performed in South Africa and stop-start endurance was tested in the humid environments of Asia.
Porsche hasn't revealed any pictures of the interior, however it has previously been spied with little internal camouflage.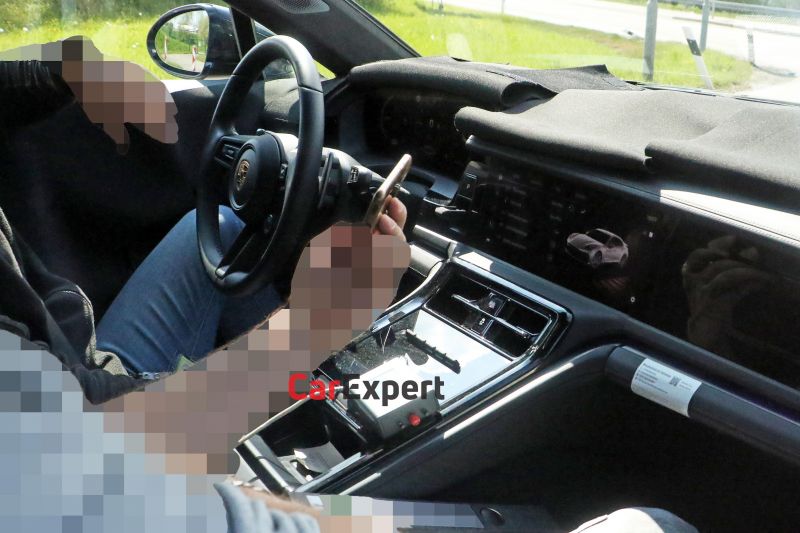 The new Panamera has taken strong inspiration from the Taycan.
There is now a fully digital instrument cluster, while the layout of infotainment screens across the dash suggest the Panamera could gain an optional passenger display, like its Taycan stablemate.
Design features that appear to have carried over from the current-generation Panamera to this next-gen prototype are the climate control knobs and touch-sensitive buttons on the central tunnel, although they aren't flanking the gear lever.
The current Panamera is offered in a sprawling range of variants across both liftback and wagon body styles.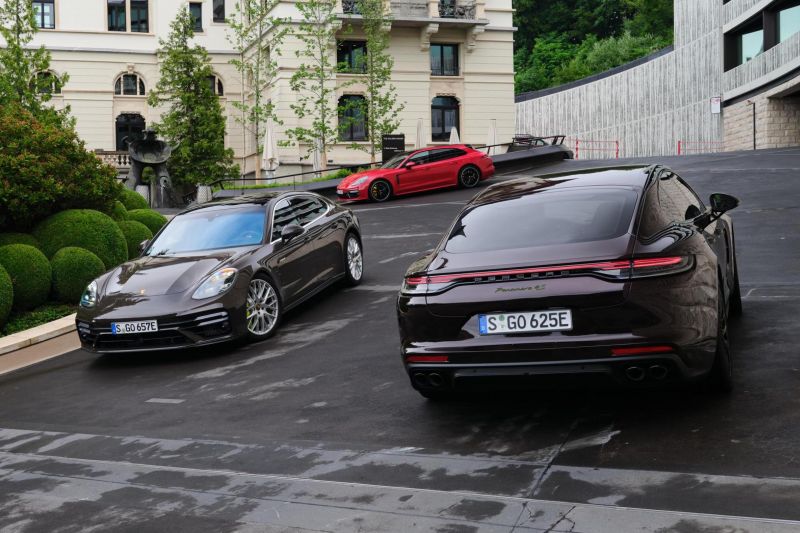 Its base engine is a 2.9-litre twin-turbo V6 producing 243kW of power and 450Nm of torque.
There's also a plug-in hybrid (PHEV) version of this powertrain that adds an electric motor and a 17.9kWh lithium battery pack, good for a combined power output of 340kW or 412kW, depending on the variant.
A 4.0-litre twin-turbo V8 engine is available, producing 353kW and 620Nm in the GTS and 463kW and 820Nm in the Turbo S.
Sitting atop the range is the Turbo S E-Hybrid, using a PHEV version of the V8 powertrain with total outputs of 514kW and 870Nm.
MORE: Everything Porsche Panamera