German team crowned champions in 2023 ARAMCO F1 in Schools World Finals
A team of six 16-18-year-old students from Marie-Therese-Gymnasium in Erlangen, Germany, lifted the Aramco F1 in Schools World Champions trophy in Singapore this week as the global STEM (Science, Technology, Engineering and Math) competition held its 18th World Final.
A record 350+ students from 26 countries competed at the World Finals, held at Resorts World Sentosa in Singapore, but it was Recoil Racing that beat the 67 other teams who had all progressed from their respective regional and national contests.
READ MORE: Discover more about F1 in Schools here
Khalid Al Zamil, Public Affairs Vice President at Aramco, presented the trophy to the champions at an awards ceremony on Wednesday evening. The world champions will receive a full bursary scholarship to UCL Mechanical Engineering and an exclusive Singapore Grand Prix experience, which will see them once again be presented with their trophy atop the podium at Marina Bay Circuit in front of a grandstand audience on Saturday.
Recoil Racing also came away with the Alfa Romeo F1 Team Stake Verbal Presentation Award, as well as the McLaren Formula 1 Team Research and Development Award. The panel of judges was chaired by former Jordan and Jaguar F1 Technical Director Gary Anderson, who noted the passion, creativity, and skill Recoil Racing put into their project.
"The judges and I were incredibly impressed by all the entries in this year's F1 in Schools World Finals, but the members of Recoil Racing are worthy world champions," said Anderson. "Speed is not everything in this competition: project management, marketing, teamwork, innovation and communication all matter. Congratulations to Recoil Racing."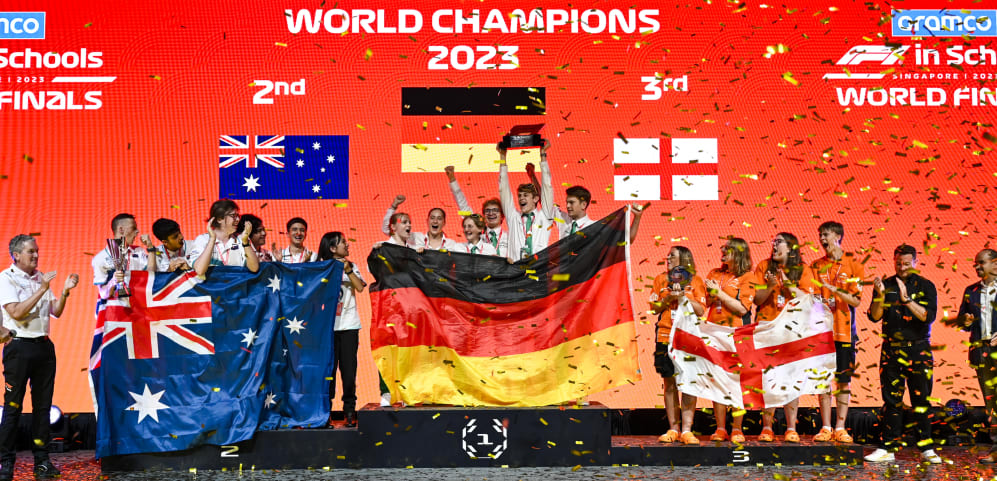 Stefano Domenicali, President and CEO of Formula 1, added: "On behalf of everyone at Formula 1, I want to congratulate all the winners and participating teams at this year's World Finals. F1 in Schools is a fantastic initiative, igniting a passion for STEM subjects in the next generation and every year I am amazed at the standard of competition. I have no doubt I will see many of the competitors working in the F1 paddock in the near future."
F1 in Schools is a not-for-profit social enterprise aiming to change the perception of STEM subjects. The competition allows students aged 9-19 worldwide to participate in a multi-disciplinary challenge where they must use professional CAD software to design, analyse, manufacture, test, and race miniature air-powered cars.
Propulsion from Australia secured second place, with Nightingale from England completing the podium.
The World Finals also featured 19 additional awards, with all 10 Formula 1 teams individually supporting an accolade. Among these, Intercosmic from China was awarded Mercedes-AMG PETRONAS F1 Team Fastest Car Award, while Propulsion was awarded the Williams Racing Best Engineered Car.
Oops! Error retrieving Twitter post
F1 in Schools' key aims are to improve educational opportunities in STEM subjects globally, increase diversity in motorsport and promote the importance of sustainability. In recognition, Panteras Racing from Mexico received the Formula 1 Sustainability Award and Greece's Athena Racing won the FIA Women in Motorsport Award.
New for this year was an award for an optional challenge in which teams could develop a car with a replaceable nose cone that could be dismantled and replaced in the shortest possible time, mimicking an F1 pit stop. The inaugural F1 Manager 23 Nose Cone Challenge was won by Romania's Ford Celeritas.
Andrew Denford, Founder and Chairman of F1 in Schools, said: "Once again, I was blown away by the level of innovation and quality at the 2023 Aramco F1 in Schools World Finals. Recoil Racing fought off the fiercest competition we have seen, with a record number of entries and new countries participating. I can't wait to see how the next generation uses their knowledge to improve the sport."