[VIDEO] Jay Leno's 2002 Z06 Tiger Shark
Every car enthusiast has heard of the Corvette Z06, but how many know about the 2002 Z06 Tiger Shark?

In the latest edition of Jay Leno's Garage that dropped on YouTube today, Paul Rivera, global director of business at Tecstar-Wheel2 Wheel, takes a stroll down memory lane to talk about and then roll down the highway in the only Tiger Shark Corvette in existence.

The car started as a stock Z06 with the 405-horsepower LS6 engine, but then Tecstar-Wheel 2 Wheel, an aftermarket company that worked closely with General Motors in the late 90s and into the late 200s, got hold of it – upgrading the powertrain with a 4-inch bore and 4-inch stroke and adding a special crankshaft and exhaust system, all of which wound up boosting the horsepower to 525.

"We almost achieved what the C8 has done back in '99, 2000," a proud Rivera tells Jay.

Outside, the changes continued with a unique front fascia with a chin spoiler (Jay jokes that he's ripped three of them off the car and went ahead and bought two more to have in reserve "just in case") and a Tiger Shark tail on the rear end along with European-style taillights.

Inside, the interior has a carbon fiber door sill, along with a special upgraded leather package, all adding up to create a "very, very different vehicle," according to Rivera. In fact, the Millenium Yellow Tiger Shark Z06 is the only one in existence today, as a few other vehicles owned by company executives had some of the special parts but not all of them like Jay's car.

Therefore, "it's tough to put a value on this car," Rivera admits, not a very comforting thought as they were roaring along on old tires that really should be replaced.
Since the original LS6 engine has been blown up already, under the hood now is an LS7 engine from the sixth-generation Z06.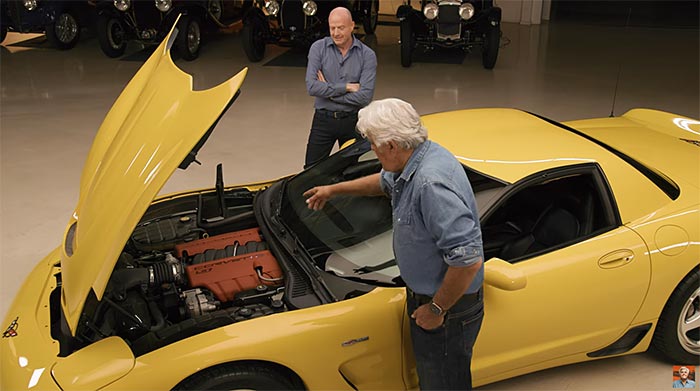 Jay jokes that he did have to park the car for a couple of years while his team figured out what was causing evap error codes and forcing it into limp mode. Turned out to be a simple loose connector in the door, and the love affair driving this very special Z06 has resumed again.

"Now it's a wonderful car," he says. "I really enjoy it now. It's fast, it handles, it's that classic front-engine Corvette with all kinds of torque. It's amazing the bottom end on this car – it's really incredible."

Source:

Jay Leno's Garage / YouTube


Related:

[VIDEO] Tony Hawk Shares His Electrified 1964 Corvette on Jay Leno's Garage

[VIDEO] Jay Leno Takes a Spin in an NCRS Duntov 1954 Corvette

[VIDEO] Jay Leno Takes His First Drive in the New 2023 Corvette Z06


Subscribe Now: