2023 Ducati MotoE V21L Electric Bike Review Specs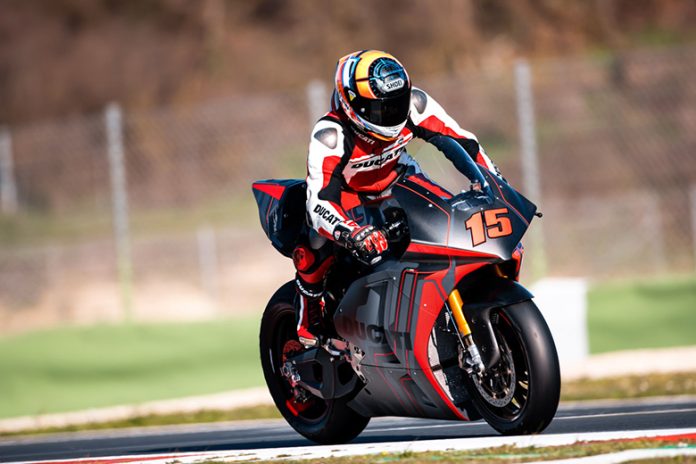 As with the 2023 season, Ducati will be the only official manufacturer of MotoGP World Championship motorcycles fielded in the electric FIM Enel MotoE World Cup. Its intriguing technical challenge will determine the future of electric two-wheeled transportation and add a new and thrilling chapter to Ducati's legendary racing heritage. In 2023, Ducati will make history as the first and only official supplier for a world championship. It will use a fresh new motorcycle, the first of its kind in racing history, powered entirely by electricity. The review of the 2023 Ducati MotoE V21L Electric Bike with its price and specifications is written below.
2023 Ducati MotoE V21L Electric Bike – Features and Specs
An Unparalleled Challenge
The development of an electric motorcycle presents different technical and engineering obstacles. However, Ducati's engineers and designers have collaborated closely over the last several months to develop effective solutions.
An Unprecedented Motorbike
Ducati has always used the racing scene to test its innovations and new techniques. What's emerging is a one-of-a-kind electric motorcycle that utilizes cutting-edge battery pack, motor, and inverter technology.
On-Track Testing
Testing of the MotoE on the track has continued with development at the Ducati plant. Professional Ducati and test riders rode the prototype across some of Italy's most prestigious racetracks. Check out this clip from Vallelunga Circuit!
Zero emissions, pure technology
The world's first fully electric Ducati is unlike any other zero-emission racing bike. Its battery pack, motor, and inverter all include innovative technological solutions developed in tandem by Ducati and Ducati Corse experts.
The "V21L" at Borgo Panigale is the identifier for Ducati's first electric motorcycle, a prototype that will begin racing in the FIM MotoETM World Cup in 2023. Ducati, based in Bologna, will be a partner and sole supplier of the 18 motorcycles that will compete in each race weekend.
Battery pack
The battery pack, which on the Ducati MotoE has a form meant to follow the natural path of the central part of the bike, is the most binding and defining element in terms of masses and proportions.
The battery pack has an inbuilt 20-kW charging outlet and weighs a hefty 242 pounds—the "21700" type cylindrical cells number 1,152 within.
Chassis
Like the Ducati Panigale V4 engine, the battery pack's carbon fiber housing is a stressed component of the chassis; an 8-pound aluminum monocoque Front Frame supports the region upfront.
The rear section is an aluminum swingarm that weighs 10.5 lb and has a similar geometry to the MotoGP-racing Ducati Desmosedici. The carbon fiber rear subframe connects the tail to the rider's seat.
Powertrain
Maximum power and torque for the Ducati MotoE are 110kW (150hp) and 140Nm, respectively, and the bike weighs in at a mere 496 lb (26 lb less than the minimal standards required by Dorna and FIM for a motorcycle capable of finishing the race distance).
With such numbers, we hit 275 kilometers per hour on a track like Mugello. Maximum power and torque figures for the Ducati MotoE are 110kW (150hp) and 140Nm, respectively, which allowed it to reach a speed of 275km/h on a circuit like Mugello (Italy), 26 lb less than the minimum requirements imposed by Dorna and FIM for a motorcycle capable of completing the race distance.
The motor (46 lb weight and maximum rotation speed of 18,000 rpm) was manufactured by a partner following technical requirements supplied by Ducati. In comparison, the inverter (11 lb weight) is drawn from a high-performance type used in motor racing for electric cars. To maximize the output of an electric powertrain and, by extension, performance and range, the whole system is based on a voltage of 800V.
Cooling system
To accommodate the battery pack and the motor/inverter unit's dissimilar thermal requirements, the prototype has a very complex and efficient liquid system with a double circuit.
It ensures very consistent temperatures, which is helpful not just in terms of performance reliability but also charging speed. The Ducati MotoE can be set as soon as it enters the garage; it takes only 45 minutes to recharge it to 80% of its range, and there is no need to wait for the battery pack to cool.
2023 Ducati MotoE V21L Electric Bike – Technical Specifications
Power backup
| | |
| --- | --- |
| Battery Pack | The battery pack weighs 242.5 lb and offers a capacity of 18 kWh, including a 20kW charging socket integrated into the tail. Inside, there are approx—1,152 cylindrical cells of the "21700" type. |

Motor
| | |
| --- | --- |
| Power | 110kW / 150cv. ( 150 hp and 103.3 ft-lbs) |
| Torque | 140 Nm. |
| Maximum rotation speed | 18.000 rpm |
| Weight | 46.2 lb. |
| Inverter Efficiency | Up to 99%. |
| Weight | 11 lb. |
| Cooling System | The prototype mechanisms are cooled by a remarkably sophisticated and highly efficient liquid system featuring a double circuit designed to meet the various thermal needs of the battery pack and the motor/inverter unit. |
Chassis
Frame
Aluminum monocoque Front Frame for the front area weighing 8.15 lb.
Suspension
Front: Ohlins NPX 25/30 pressurized fork featuring 43mm diameter upside-down tubes
Rear: Öhlins TTX36 shock absorber
Braking System
| | |
| --- | --- |
| Brakes | Brembo: At the front, it features a steel double disc including a diameter of 338.5mm of increased thickness currently being selected between 6.8mm and 7.4mm, which has fins on the inner diameter to enhance the heat exchange surface and improves the disc cooling under extreme track use. Two GP4RR M4 32/36 calipers including a PR19/18 radial master cylinder, operate on this double disc. At the rear, the P34 caliper utilizes a 220mm diameter, 5mm thick single disc unit featuring a PS13 master cylinder. |
Electronics
| | |
| --- | --- |
| Electronics | The Electronic controls developed by Ducati Corse, such as Ducati Traction Control, Ducati Slide Control, Ducati Wheelie Control and throttle/engine brake maps, are indistinguishable from those of the racing bikes that Ducati riders are used to. |
Dimension
| | |
| --- | --- |
| Total weight | 496 lb. |
| Wheelbase | 1,471 mm. |
Others
| | |
| --- | --- |
| Maximum recorded speed | 275 km/h, recorded at Mugello Circuit. |