Charles Leclerc: 'I want to bring Ferrari back to where it deserves to be – on top' | Charles Leclerc
There is an admirable spirit to Ferrari's Charles Leclerc and, as you would expect from a highly competitive Formula One driver, he is feisty. Yet there is also refreshing honesty. In a sport where self-belief and ego are equal and often the noisier, undeserving senior partners to talent and touch, Leclerc has a distinctively mature attitude.
"There is this legend that some people have infinite confidence," he says. "But there are moments that are difficult for everybody and you go through a period where you are asking yourself questions. I have always had the approach where I am asking myself: 'Is this the right approach, Charles?'"
Relaxed and at ease, his answers are considered but he hesitates rarely. Assured rather than arrogant, there is a charm to him and clearly a sharp mind behind the still-boyish visage. He has done thousands of interviews in his career, not least since we first spoke in 2017 when he was still in F2, but there is no sense it is tiresome; there is still the same desire to best express himself that there was six years ago.
"I am very self-critical when I make a mistake but as part of a team I try to be very objective and very straight with them," he says. "I try to push everybody to have the same approach, to be self-critical and try to learn from it and improve."
Leclerc's attitude reflects the sharp assessment that drives the greats onward. The 25-year-old Monégasque harbours hopes of joining them and is right to do so. Great things have been expected of him since he burst into F1 with Alfa Romeo in 2018 before promotion to Ferrari a year later. He has since had five wins but is yet to be given a car capable of fighting for the title. Leclerc has handled it with a composure that suggests when his chance comes he will not be found wanting.
For the moment, it is about closing a gap. At Silverstone he is hopeful Ferrari can move closer to the dominant Red Bull but he is unfazed by the task. He has good form here, revelling in the fast, sweeping challenge of the old airfield, and has enjoyed some mighty runs, notably a gripping battle with Max Verstappen in 2019 and a mighty drive in 2021 where, even with engine trouble, he almost held off a charging Lewis Hamilton.
This year, however, with Ferrari struggling to tame a peaky, unpredictable car, the task is all the harder – a challenge to which Leclerc has one approach. "My mentality has always been to push at the maximum and not leave anything on the table," he says.
"When you have a trickier car to drive, as is the case for the first part of this season, mistakes happen. I know this. Whenever there is something missing I am trying to find something that is not there, I will always try to push the limit."
This is one of the reasons Leclerc is so compelling. At Baku, he took pole, the only time Red Bull have been denied this season, with a breathtaking lap between the walls of the city. As the Ferrari performance engineer, Jock Clear, noted, drivers want to make the difference themselves and Leclerc did so. But at the next round in Miami it was too much and he finished qualifying in the wall.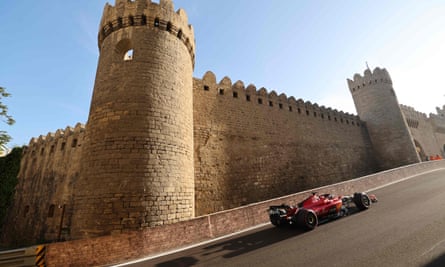 Better this than accepting a mediocre fate and Enzo Ferrari would have admired the fighting attitude. Ferrari's shortcomings of late would be less well received. Last season, Leclerc's strong start fell away because of strategy and reliability issues and the team was unable to keep pace with Red Bull. This season they are even further away.
Leclerc has not been shy in expressing his exasperation with Ferrari, on occasion on team radio mid-race, but is insistent transparency is key if they are to progress. "We disagree sometimes as we are very honest with one another," he says.
"I say to the team what I think and the team say what they think. This is the way to move forward. I don't think the trust has ever been an issue. We have a very different vision inside the car than what the team has on the pit wall, so these things happen."
It is the sophisticated take of a man who has weathered far more serious travails. Leclerc's father, Hervé, instrumental in guiding his career, died during that 2017 F2 season and he had already lost his godfather, the F1 driver Jules Bianchi, who died a year after crashing at Suzuka in 2014.
It probably informs his ability to deal with a disheartening time at the Scuderia. Now in his fifth year at Ferrari and still not a real contender in a title fight, one would expect a level of frustration, but he contends it is only incentive.
"I am the first one who wants to be in a title fight," he says. "But it's not frustrating, it motivates me a lot. I am even more motivated to change that, to bring Ferrari back to where it deserves to be, which is consistently on top. Once we get there I am sure it will be a very, very special moment."
There is a calm equanimity that makes it hard not to warm to him, clearly a trait that serves him well in one of the highest pressure gigs in F1. In Italy, he is referred to as "Il Predestinato", the predestined, who would return the glory days to the Scuderia. The spotlight is intense, but Leclerc places greater demands on himself.
"This year is far away from where we expected it to be but being a Ferrari driver is something very special," he says. "I don't feel the outside pressure but I am putting myself under a lot of pressure in order to succeed, the responsibility of bringing Ferrari back to the top.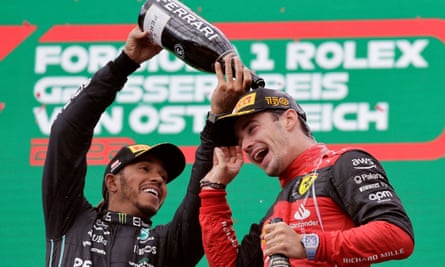 "The passion people have for the team is like nobody else. This comes with the good side that there is so much enthusiasm but it comes with things more difficult to manage, that because of this passion people are quite impatient."
He is once more being patient this season, working through the problems, so where does he turn when he needs to talk things through? Unsurprisingly, family remains very close to his heart.
"My father was this figure for a very, very long time," he says. "Since then, my older brother is the person I refer to the most and my younger brother as he is becoming older. My mum, of course, is always there for me for personal advice. I always know I can call my mum, she is always there for me but she lacks the technical side. She's not too much into motorsport."