Nelson-Rigg Hurricane 2.0 Backpack/Tail Pack Review
Written by Andrew Nguyen. Posted in Gear
Tail, tank and saddle bags are some of the most useful and popular accessories for dual-sport and adventure motorcycles. Affordable, innovative options that work across multiple platforms are popular for riders that own multiple bikes. Nelson-Rigg understands this and continues to develop solutions that think outside the box, making cost-effective products that work in an array of situations.
There are many tail bags on the market that convert into backpacks, but Nelson-Rigg flip-flops their approach with the Hurricane Backpack/Tail Pack. I've spent three years traveling and camping with the original Hurricane Backpack 20L. My Hurricane primarily stays in "backpack mode" except for the occasional motorcycle trip from TX to VA, or when it's mounted to my SUV's top carrier.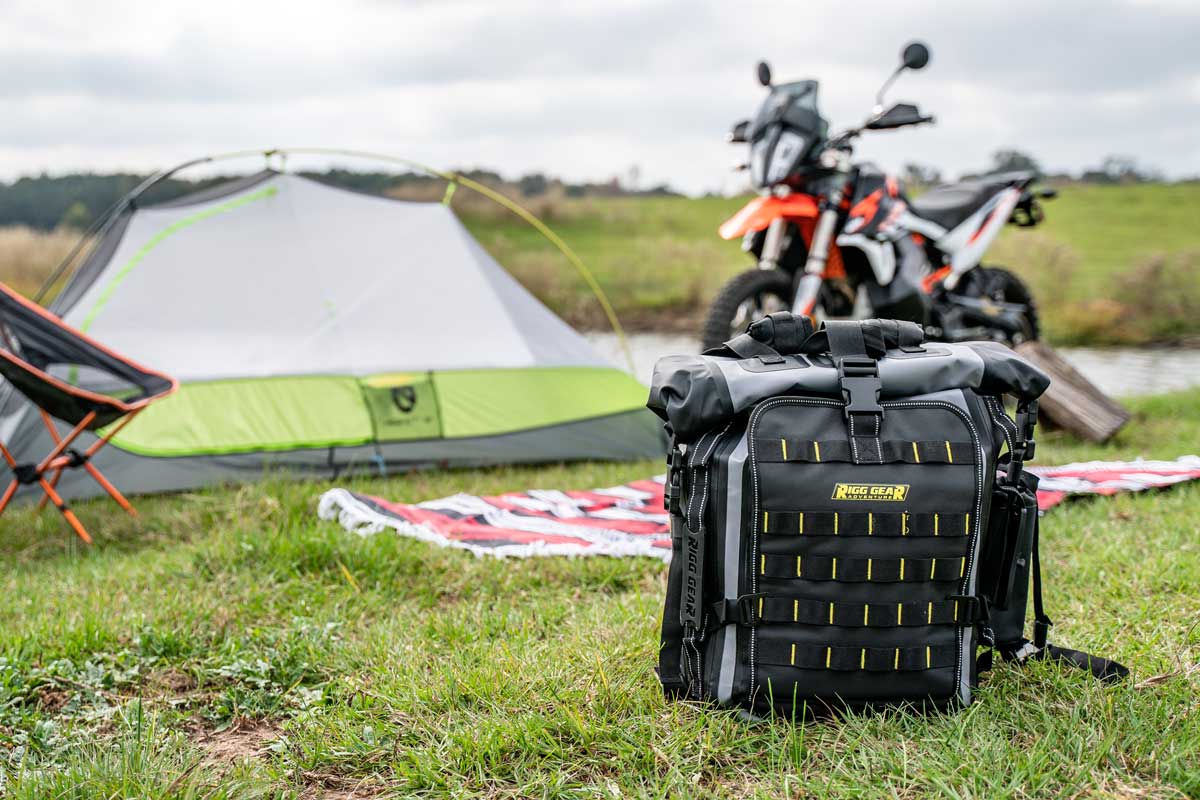 So, what's new in the Hurricane Backpack 2.0? It's now available in a 30L whereas the previous models were 20L and 40L. I praised the older 20L version for its ideal capacity, as it was able to hold a weekend's worth of clothes. Capacity wise, the new design sits squarely in the middle of the previous options, making it just big enough to hold camping gear—mainly a tent, sleeping pad, and a sleeping bag. But in order for all that to fit you'll need to opt for the most compact options on the market. It's also compact enough to use as a regular backpack and will squeeze into an overhead bin on flights. The previous 40L option was a bit cumbersome to backpack with and worked best as a "haul everything" tail bag. Nelson-Rigg's decision to remove it from their line-up makes sense, since they also offer Hurricane Dry Duffle Bags that can attach to luggage racks.
The Hurricane 2.0 Backpack/Tail Pack features improved ventilation panels against the back and straps. The MOLLE webbing front panel is a standout feature. On the inside of the panel, you'll find a mesh pocket and a clear plastic pocket, while the older design had a removable, "flippable" panel (MOLLE on one side, plastic sleeve in on the other).
One of my favorite updates is the carry handles on the bag's sides. They're "beefy" and really make it easy to carry or throw on/off a bike. Inside the main compartment, there's a laptop slot and some pen holders. The roll top is easy to use with multiple buckles to keep it closed, and a purge valve allows air to escape so the bag can stay as compact as possible. There's also a bottle holder harness on the side.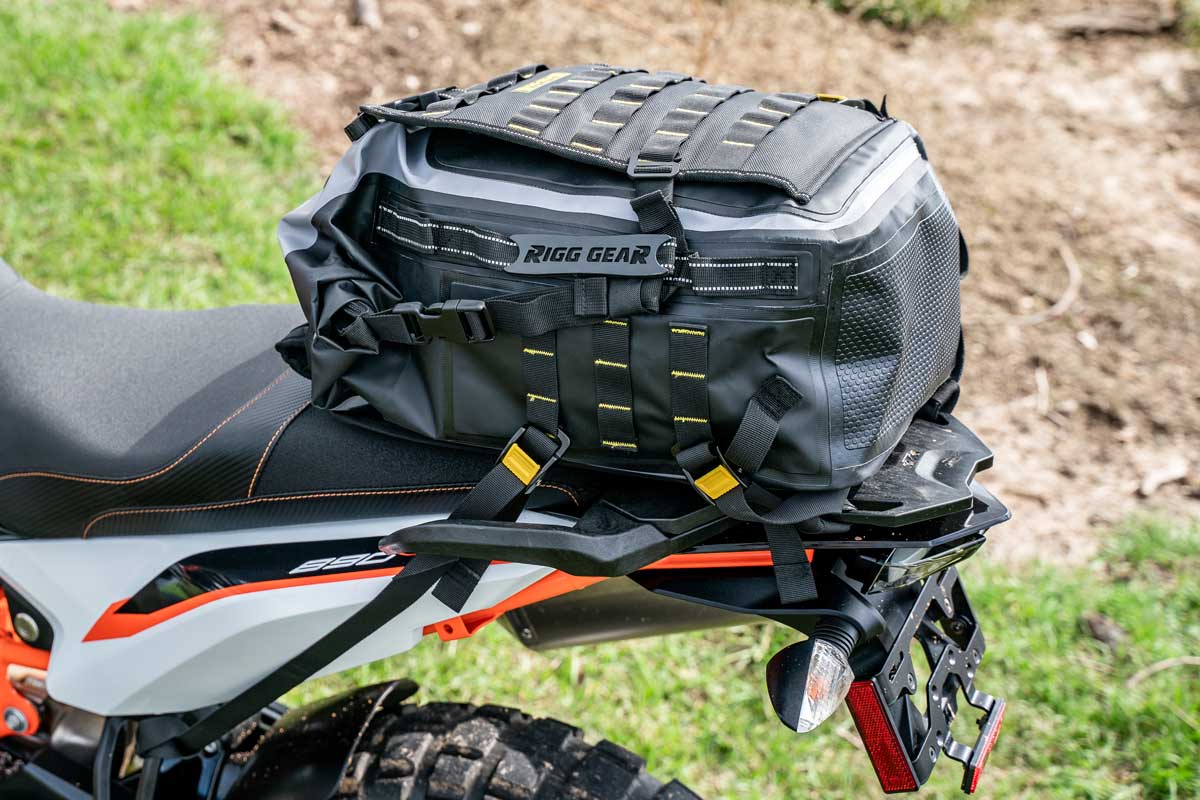 The Hurricane 2.0 also features a new, patented RIGG STRAP system for secure mounting to luggage racks. When cinched down, the clamps have significant bite, reducing the chances of the system coming loose. And the shoulder straps can now be tucked away behind Velcro panels on the back of the bag for a clean look and a flat base.
Hurricane bags offer industry-leading waterproofing thanks to their UV-coated PVC tarpaulin construction, which can be hosed off when dirty. And the new design delivers all the ruggedness and versatility that the adventure motorcycle world can throw at it, yet it's easier on the wallet than many others. Of all the motorcycle gear, gadgets and gizmos I've acquired over the years, I can't think of another product I've used more than these bags. Whether by adventure motorcycle, overlanding SUV, flights or floating down a river in an inner tube, the Hurricane Backpack/Tail Pack reliably gets the stuff you need to the places you're going.
NelsonRigg.com  MSRP: $169.95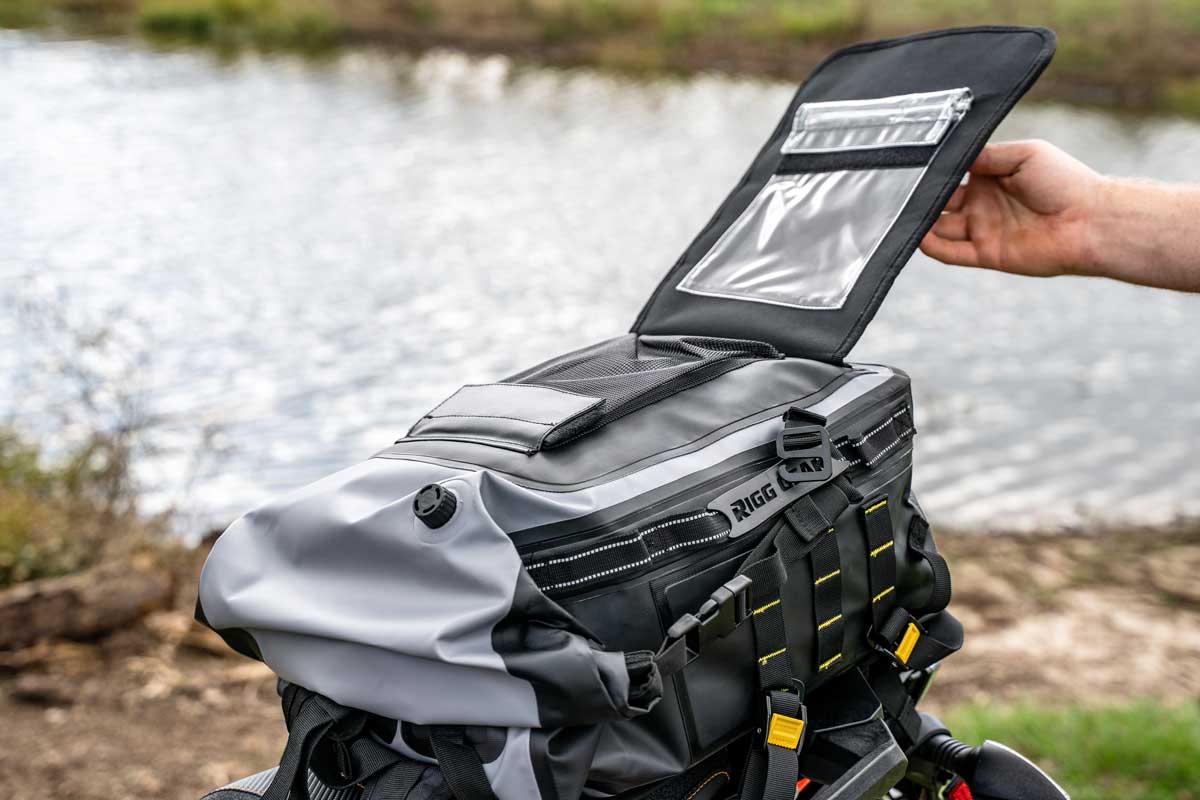 ---
PROS:
Interior compartment is 100% waterproof
One of the most useful bags I own
Affordable compared to the competition
CONS:
Could use a few extra stitches for extra durability on the Velcro back panels
30L is a bit large for a dual-sport