2023 Honda CRF125FB Big Wheel Dirt Motorcycle Review Specs Price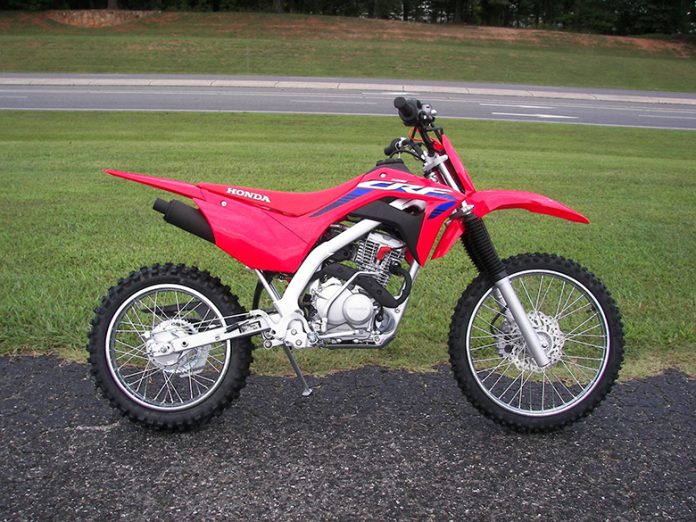 The 2023 Honda CRF125FB Big Wheel Dirt Motorcycle is a bike that every rider, from novices to young trail riders, can feel safe riding. The CRF125F, in either its standard or Big Wheel iteration, is street-legal in all 50 states and hence allows riders to explore trails throughout the nation. The Keihin electronic fuel injection system contributes to its low-maintenance nature by providing responsive, user-friendly power that holds up well under a wide range of trail conditions. Both models take design cues from the CRF Performance series, and the results are remarkable. The CRF125F, as the middle option in the CRF trail portfolio, is perfect for taking along the whole family.
2023 Honda CRF125FB Big Wheel Dirt Motorcycle – Features and Specs
Reliable four-stroke engine
The four-stroke, single-cylinder engine in the CRF125FB is reliable. It produces powerful performance throughout a broad power band, making it suitable for various riders from novices up. Adding fuel injection boosts performance and efficiency even more.
Fuel-injection
Since it has fuel injection, the CRF125FB can be started immediately, even when it's chilly outside. Emissions are reduced, performance is improved, fuel economy is increased, and the bike is simpler to ride and maintain than one with a carburetor because of the constant power flow.
LED indicators
Convenient LED lights reveal the PGM-FI, low fuel, and ignition states. Another method Honda simplifies motorcycle use is with a feature that alerts the rider if they have left the key in the ignition or are low on fuel.
Rugged steel frame
Taking cues from the CRF-R series, the CRF125FB's sturdy twin-spar frame provides increased stiffness with the ideal amount of calibrated flex for precise control in every environment. Strong but lightweight, it gives a secure base for riders of all ability levels.
Proven manual clutch
The Honda's heavy-duty clutch is built to last and works with the four-speed gearbox to provide effortless gear changes. The rider has the same degree of command as on a standard motorbike.
Higher seat height
Having a bike that is appropriately sized for the rider is crucial. The CRF125FB's seat height of 785 mm (30.9 in) promotes early self-assurance.
Electric starter
Starting a CRF125FB is as simple as pushing a button. You won't have to worry about attempting to kick-start the bike after a spill if the engine is turned off.
Keyed ignition switch
With the keyless ignition switch, you may restrict who and when you can ride, which is especially useful if you have small children in the home.
Miniature Wheel version available (CRF125F)
Need something more compact? Check out the CRF125F, a smaller version of the same fantastic bike.
Front disc brake
The front disc brake offers superior stopping power, and the disc rotor is drilled to save weight and enhance performance in wet conditions.
Suspension
The Honda CRF125FB's leading axle Showa forks and Pro-Link Showa shock significantly compromise spring and damping rates, making them suitable for various terrains and situations.
Engine / Drivetrain
The 124.9 cc SOHC engine is back, and it linearly provides power. Keihin fuel injection system with electronic control. At every point in the power band, FI's power supply is linear and without hiccups. The transmission's four gears match the wide range of power. To supplement the electric starter, a kickstarting is also provided for emergency purposes.
Chassis / Suspension
The seat heights of the CRF125F and CRF125F Big Wheel are 29.1 and 30.9 inches. The front wheels of the CRF125F are 17 inches and the back are 14 inches. There are 19-inch and 16-inch wheels on the CRF125F Big Wheel. The CRF Performance Line inspired the twin-spar steel frame's rugged construction, which strikes the ideal mix between stiffness and suppleness for trail-bike comfort. The gasoline pump and filter for the tank's one-gallon capacity are built in. When the gas tank becomes low, a light on the handlebar will glow redistills have 2 gallons left. The tank is protected from drops thanks to its sturdy frame. All-new graphics and paint scheme complement the sleek look of the CRF Performance Line. The low fuel warning light, the condition of the fuel injection system, and the ignition "key on" indicator are all integrated into a single, handlebar-mounted switch. Half-waffle grips are ideal for smaller hands because of their narrower radius.
The length of the front brake lever may be altered to suit different users. The front suspension is quite comfortable, thanks to the 31 mm fork. The Pro-Link® rear suspension uses a single, high-tech shock to provide repeatable performance. Braking power is supplied by a 220 mm rotor on the front hydraulic brake and a 95 mm drum on the back.
Comfort Bigger Wheels
The CRF125F Big Wheel, with its 19-inch front wheel and 16-inch rear wheel, is a bit more comfortable for riders of greater stature. Having a bike that fits properly is just as crucial as having the perfect size boots or helmet.
Half-Waffle Grips
The CRF125F Big Wheel has professional-grade half-waffle design grips. Why not set the bar high from the beginning?
Intermediate Seat Height
A dirt bike that fits the rider properly is crucial. The 30.9-inch seat height of the CRF125F Big Wheel makes it easier to get on and off the bike with confidence.
Performance Reliable Engine
The CRF125F Big Wheel is equipped with a reliable four-stroke single-cylinder engine that provides strong performance throughout a broad power band, making it an excellent choice for various riders. Adding fuel injection boosts performance and efficiency even more.
Pro-Link® Rear Suspension
A superb balance of spring and damping rates is maintained over various riding circumstances via a single heavy-duty shock connected by progressive linkage to the swing arm.
Handle Proven Manual Clutch
The Honda clutch is robust and aids in facilitating easy gear changes.
Engineering Four-Speed Transmission
The four-speed transmission is standard on full-size motorcycles and gives riders complete command.
Steel Frame and Swingarm
Less-experienced riders, particularly novices, may be rough on gear. For this reason, we equipped the CRF125F Big Wheel with a sturdy steel frame and swing arm in the form of twin spars, making it suitable for off-road use.
Clean-Running Engine
Adding fuel injection to the CRF125F Big Wheel has further advantages. It's excellent news for everyone that it complies with California's strict CARB emissions rules for off-road bikes.
Front Disc Brake
The front disc brake, with its drilled rotor for reduced weight and improved performance in wet conditions, offers outstanding stopping power.
Fuel Injection
The CRF125F Big Wheel's fuel injection system makes it easy to kick start, even in freezing temperatures. It's more efficient and powerful than a bike with a carburetor and produces less pollution. When you store this motorbike, you can also stop worrying about blocked pilot jets.
Tough Bodywork
Taking a tumble is an integral part of learning, and riders may be rough on gear. But don't worry, and the CRF125F Big Wheel is built to take a beating and keep rolling thanks to its robust plastic fenders, tank, and other bodywork. We've also improved the visuals for this year.
Convenience Electric Starter
The economical design adds very little weight, and the push-button starting makes it easy to start in any weather.
Keyed Ignition Switch
If you have young riders in the home, the keyed ignition switch will provide you peace of mind by allowing you to restrict access to the bike at certain times.
Sealed Battery
The CRF125F Big Wheel is ready to go whenever you are, thanks to the sealed, maintenance-free battery.
2023 Honda CRF125FB Big Wheel Dirt Motorcycle – Price
The new 2023 Honda CRF125FB Big Wheel Dirt Motorcycle is available at $3,799 only.
2023 Honda CRF125FB Big Wheel Dirt Motorcycle – Technical Specifications
Engine
| | |
| --- | --- |
| Type | 124.9 cc air-cooled 25º single-cylinder four-stroke |
| Valve Train | SOHC; 2 valves |
| Bore x Stroke | 52.4 mm x 57.9 mm |
| Compression Ratio | 9.0:1 |
| Induction | Fuel-injection system; 22 mm throttle bore |
| Ignition | Full transistorized |
| Starter | Push-button electric starter/kick |
| Transmission | Constant-mesh 4-speed return; manual |
| Clutch | Multiplate wet |
| Final Drive | #420 chain; 13T/49T |
Suspension
| | |
| --- | --- |
| Front | 31 mm conventional telescopic coil-spring fork; 6.7 in. stroke |
| Rear | Pro-Link system w/ single shock; 6.6 in. travel |
Brakes
| | |
| --- | --- |
| Front | Hydraulic; single 220 mm disc |
| Rear | Mechanical 95mm leading trail drum |
Tires
| | |
| --- | --- |
| Front | 70/100-19 w/ tube |
| Rear | 90/100-16 w/ tube |
Measurements
| | |
| --- | --- |
| Rake (Caster Angle) | 27.5° |
| Trail | 94 mm |
| Length | 73.1 in. |
| Width | 30.3 in. |
| Height | 42.1 in. |
| Ground Clearance | 10.3 in. |
| Seat Height | 30.9 in. |
| Wheelbase | 49.4 in. |
| Fuel Capacity | 1.0 gal. |
| Curb Weight | 199 lbs. |
Other