Toyota Plans To Win Le Mans With A Hydrogen-Powered Hypercar
Toyota's had the 24 Hours of Le Mans virtually on lock for several years now, ever since Porsche left the scene. Porsche has now returned of course, as have Peugeot, Ferrari and Cadillac, to the highest level of global endurance racing. In case you were worried Toyota might sweat the competition and bail, don't worry: it actually has a different plan. It wants to field a hydrogen combustion-powered prototype to win it all in the latter half of the decade.
Jalopinions | The Best Type is Jaguar's E-Type
This announcement came in the run up to this weekend's 24 Hours of Le Mans — the 100th running, we should add — where Toyotas will start third and fifth, split by a Porsche 963 and led by two Ferraris at the top of the grid. Toyota brought a concept called the GR H2 indicating how this hydrogen Hypercar could look. Safe to say, it's a lot more svelte than the quick-and-dirty mockup Scuderia Cameron Glickenhaus posted to the 'gram two years ago.
The GR H2 isn't just for show. Gazoo Racing's top brass really seems to believe that once the Automobile Club de l'Ouest (ACO) that oversees Le Mans hashes out its hydrogen class plans to take effect in 2026, a future version of the GR H2 could vie for overall victory. That's something you'd figure Toyota executives would be very keen on, considering how they just can't let the hydrogen thing go. Courtesy Motorsport.com:
"Everything is possible with a technological push," [technical director of Toyota Gazoo Racing Europe Pascal] Vasselon told Motorsport.com.

"There is no roadblock if the technological level is allowed — it should be feasible.

"In most cases, the level of performance of a racing car is determined by the regulations."

Vasselon's comments have come after ACO president Pierre Fillon firmed up plans for a new hydrogen class at the Le Mans 24 Hours and in the WEC at Fuji last month.

He made several key announcements about a class that has been in planning since 2018 ahead of the Fuji 24 Hours, in which Toyota was competing with the latest version of its hydrogen-powered Corolla H2 Concept.

They included the opening up of the category to hydrogen-powered combustion-engined cars as well as fuel cells for which it was originally conceived, while he also stated a desire to see all cars in the Hypercar class running on Hydrogen by 2030.

Vasselon said that combustion made more sense for racing applications than using a hydrogen fuel cell.

"This technology is lighter, simpler and a bit better suited to racing applications," he explained.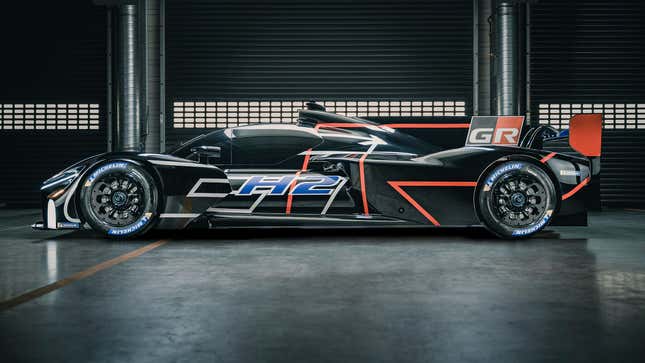 The ACO seems to envision all prototypes employing hydrogen in some capacity — either direct combustion or by way of fuel cells — by the end of the decade. That seems somewhat presumptuous, given that no major players in the sport have seriously backed the gasoline replacement with any enthusiasm until today. Aside from Toyota, BMW will contest Le Mans starting in 2024 with its M Hybrid V8, and BMW is similarly invested in hydrogen. Hyundai's also been long rumored to join the top class, and it does offer a hydrogen fuel cell-powered car of its own called the Nexo.
All we can do now is wait patiently and see how the potential H2-burning category takes shape. If anyone's going to make this work, you'd figure it'd be Toyota, the manufacturer that sold about 2,100 Mirai fuel-cell EVs to Californians last year, the state with 54 of the country's 55 hydrogen refueling stations. That's dedication.