Pembleton Motor Company T24 Review (2023)
Drop into the narrow cockpit and your right arm falls naturally outside the bodywork. You sit behind a simple four-spoke, leather-rimmed steering wheel facing an elegant dash of turned aluminium, inset with a scattering of small dials and an extra-deep cubby. So far, so vintage. The leather-trimmed two-seat bench (behind which is 155 litres of stowage space) can be adjusted fore and aft and you sit low inside the car with your legs more or less straight in front of you.
Thumb the starter and the V-twin thumps into life. Pedal controls are light – perhaps a little too light – and it takes a few miles to acclimatise to the push-pull, aluminium-topped Citroën gearshift sprouting from the dash, with its narrow gate and dog-leg first.There's no hood, so the curved scuttle and tiny Perspex screen are your only protection against the elements. At 5ft 7in, I had to hunker down to avoid being in the airflow, so anyone taller would need goggles.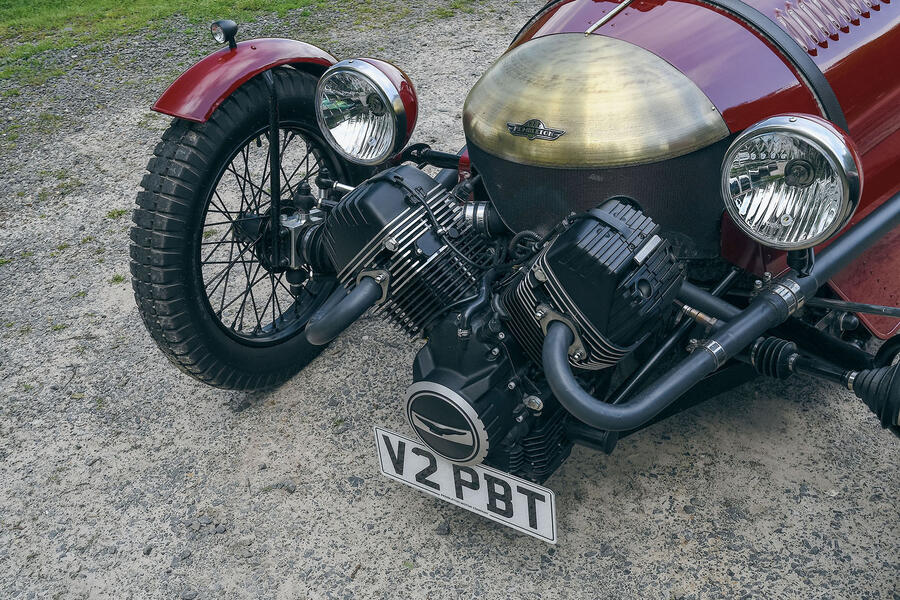 But make no mistake: the T24 is an absolute hoot to drive. You watch the skinny, 18in, spoked front wheels, shod with proper vintage cross-ply tyres, working away in front of you, but the ride is genuinely sublime: supple, controlled and quiet.
The engine, which sends old-school vibrations through the body at lower revs, soon smooths and from 3500rpm pulls enthusiastically up to its 7750rpm redline, accompanied by a vocal but utterly infectious soundtrack. The rack-and-pinion steering is fairly low-geared, so you find yourself working quite hard through tighter bends when you're up to speed. But the benefits of that low centre of gravity mean tight and very unvintage body control, with only front grip limiting your ultimate cornering velocity.