Mercedes and Ferrari left fuming over punishment for Red Bull budget breach | Formula One
Mercedes and Ferrari have firmly rejected Red Bull's claims that the FIA's penalty for exceeding the cap was "draconian", stating that the impact on the team will likely be minimal.
On Friday Red Bull were given a $7m (£6.05m) fine and a 10% reduction in aerodynamic testing for breaching the 2021 cost cap. The fine is not part of a reduction in a future budget cap. The FIA adjudged they had exceeded the £114m limit by £1.86m and Red Bull accepted an agreed breach agreement with the governing body, admitting culpability and accepting the penalty.
The Red Bull principal, Christian Horner, was clearly unhappy, stating that the punishment had been lobbied for by his rivals and that it would have a huge impact on his team's ability to remain competitive, despite their dominance this season. He equated the reduction in aerodynamic time in the wind tunnel and in computational fluid dynamics to losing up to half a second in lap time.
Other rivals were far from sympathetic as the row rumbled on at the Autódromo Hermanos Rodríguez before qualifying for the Mexican Grand Prix which saw Red Bull's Max Verstappen claim pole position ahead of Mercedes duo George Russell and Lewis Hamilton.
Hamilton was narrowly beaten to the driver's championship by Verstappen in 2021 and has stated that his team could not keep pace with the upgrades Red Bull were bringing to the Dutchman's car.
The FIA noted that Red Bull incorrectly applied a notional tax credit worth £1.4m. Had it been removed, they would have been in breach by only £432,652. However Mercedes's engineering director, Andrew Shovlin, insisted Red Bull's punishment was far from severe and emphasised the vital importance of every penny.
"Describing it as draconian is an exaggeration," he said. "Day in, day out we are making decisions of what we don't do that are of the order of one, to two to three thousand pounds. We have to weigh up what we spend versus what performance it is going to give us. We simply don't have enough money, you have to choose where it goes very carefully. It is difficult to put a lap time on it but the reality is, money buys performance. In terms of the cost of an update kit that [£432,652] could easily be a major update kit."
Shovlin was supported by the Ferrari sporting director, Laurent Mekies, who derided the punishment as likely to have very little impact on Red Bull. "We feel it is low, we don't see it on the same scale to compensate the overspend that was done," he said. "If it is not combined with any budget-cap reduction for them, you are completely free to spend your money elsewhere. You will spend less in the wind tunnel so you will spend it somewhere else. Altogether what will remain of the real impact of the penalty will be very small."
The budget cap was imposed in an attempt to bring parity in spending across the teams and improve competitiveness. However, the widespread disquiet with the process has led to serious questions about how it was handled; not least the time it has taken, Red Bull's complaints of adjustments to financial rules being made mid‑season and the suggestion that their deal was worked out behind closed doors with the FIA president, Mohammed ben Sulayem. Its implementation and enforcement is now under scrutiny by teams unhappy on many levels with the outcome this year.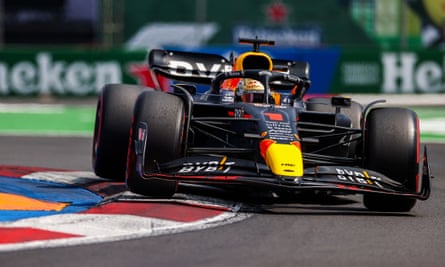 Verstappen, meanwhile, remains on course to surpass the record for wins in an F1 season as he produced a crushing lap to seal pole position in Mexico City. Russell and Hamilton underlined the improvement Mercedes have made by claiming second and third with Sergio Pérez fourth for Red Bull and Carlos Sainz fifth for Ferrari.
Verstappen has 13 wins already this year and will eclipse the record he equalled last week in Austin, achieved previously by Micheal Schumacher in 2004 and Sebastian Vettel in 2013. He could yet go further with two meetings remaining after this one.
Verstappen had not enjoyed the best build up to qualifying, struggling with bringing his tyres up to temperature, but when it mattered he was on fine form. In what was a highly competitive session the first hot laps in Q3 were tightly contested. Verstappen set the pace with a time of 1min 17.947sec. He and Hamilton were hard to separate, trading sector times, although Hamilton ultimately had his first time deleted for exceeding track limits.
On the final runs Verstappen was once more immense, he was quickest through the first sector but Hamilton and Russell hit back on the second with the Dutchman having the edge in the final run to the line. Verstappen finished with a 1:17.775 and his advantage was ultimately more than three-tenths of a second. Mercedes will be pleased with second and third but the gap to Verstappen remains a significant one.
This is Verstappen's 19th pole position and his first in Mexico, despite having won here three times since the meeting returned to the calendar in 2015. It is his seventh this year and Red Bull's first in Mexico since Daniel Ricciardo last took the top spot here in 2018.
Mercedes will be optimistic for Sunday. Their car is working very well in the thin air at altitude and both drivers felt there may be more to come on race day, especially on the long run into turn one.
Valtteri Bottas was sixth for Alfa Romeo and Charles Leclerc seventh for Ferrari. Lando Norris was eighth for McLaren and Fernando Alonso and Esteban Ocon ninth and tenth for Alpine
Daniel Ricciardo was 11th for McLaren. Guanyu Zhou was 12th for Alfa Romeo with AlphaTauri's Yuki Tsunoda and Pierre Gasly in 13th and 14th. Kevin Magnussen was in 15th for Haas but has a five-place grid penalty.
Mick Schumacher was 16th for Haas. Sebastian Vettel and Lance Stroll were 17th and 18th for Aston Martin but the latter has a three-place grid penalty. Alex Albon and Nicholas Latifi were 19th and 20th for Williams.