Porsche 356C | Spotted | PistonHeads UK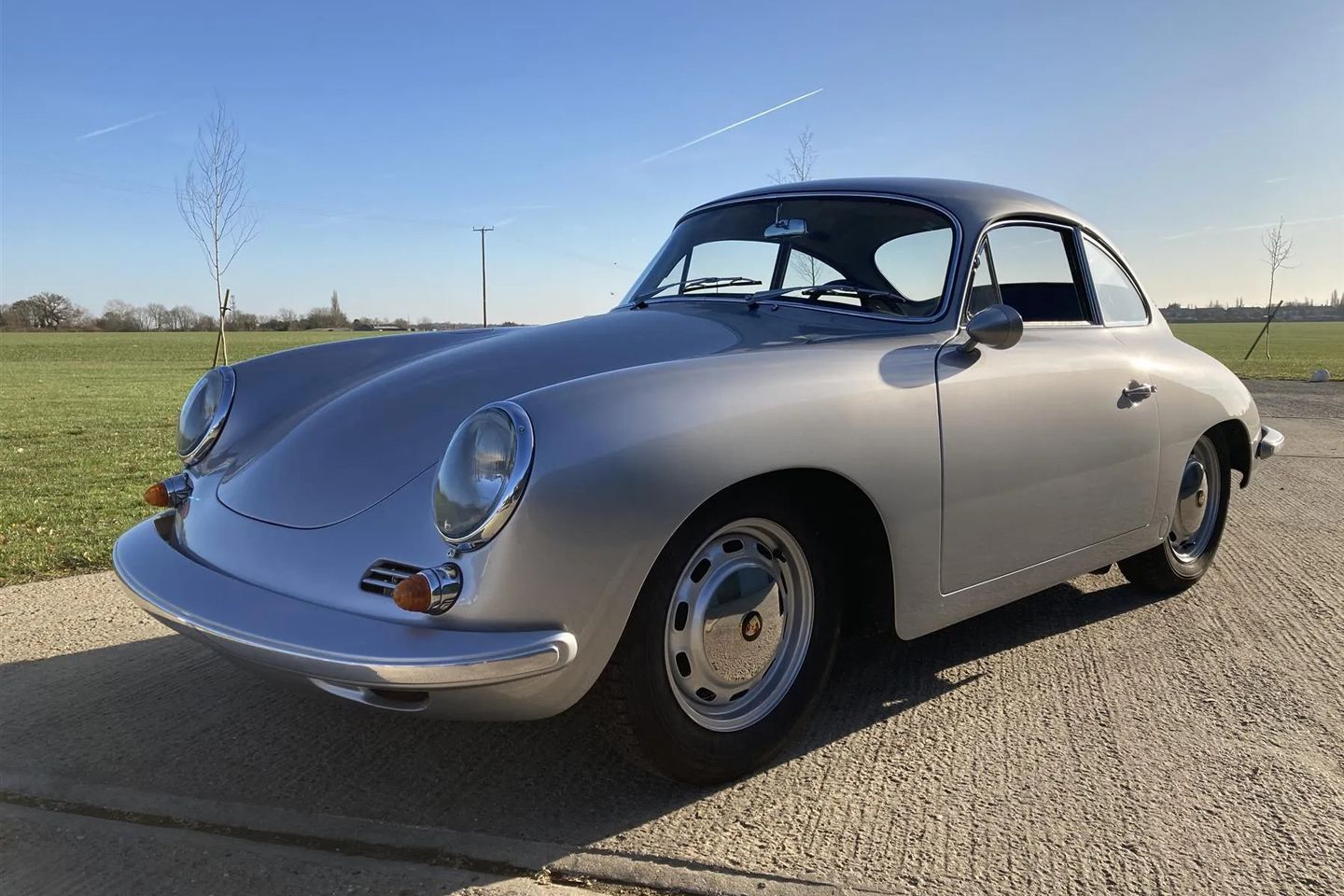 The sniping about 911s being nothing but a Volkswagen Beetle is mostly made tongue in cheek, but the 356 is a little harder to separate from its ubiquitous and humdrum cousin. Let's look at the facts: the 356's original flat-four was lifted straight from the Beetle, and it had the same all-independent torsion-bar suspension and plenty of other carryovers, including the headlights. Oh, and it was, of course, designed by the same man who was behind the Beetle, one Ferdinand Porsche. And yet…
This was plainly a very different era. Post-war Europe was on its knees, so for most people, the idea of owning any car was a long way off reality, and an exotic, fully bespoke sports car was for a select few only. This was a time, remember, that spawned the Citroen 2CV. Most of rural France was back to using the horse and cart at this point, and Pierre Boulanger's brief to create a car to mobilise the French peasants was considered a necessity. It was about as glamorous as the tray of eggs it could transport unbroken across a roughly ploughed field. Don't forget that the 2CV was launched with a 375cc, 12hp air-cooled twin, which starts to make the Porsche's 1,131cc motor – with twice as many cylinders and a heady 40hp – look somewhat extravagant.
Like the 2CV, the 356 arrived in 1948. And yes, its engine was fundamentally a VW unit, but Porsche had not left it stock. He added twin Solex carbs and made many modifications to help boost performance, including using his own exhaust system. All that may have released just 10hp, but the percentage gain was substantial. It also changed the character of the flat-four considerably. It was much revvier thanks to the increased fuelling and breathing, and that made the 356 more exciting to drive than the numbers suggested. The seamless body was also stiff. The only panel gaps you'll find on a 356 are around its two doors, front boot lid and rear engine cover. That was a solid base for its stiffly sprung suspension to operate successfully from, and the 356 was generally a well-balanced car. Having less mass hanging behind its rear axle meant it didn't suffer from the oversteer issues that the six-cylinder 911 carried on battling so famously throughout much of its life.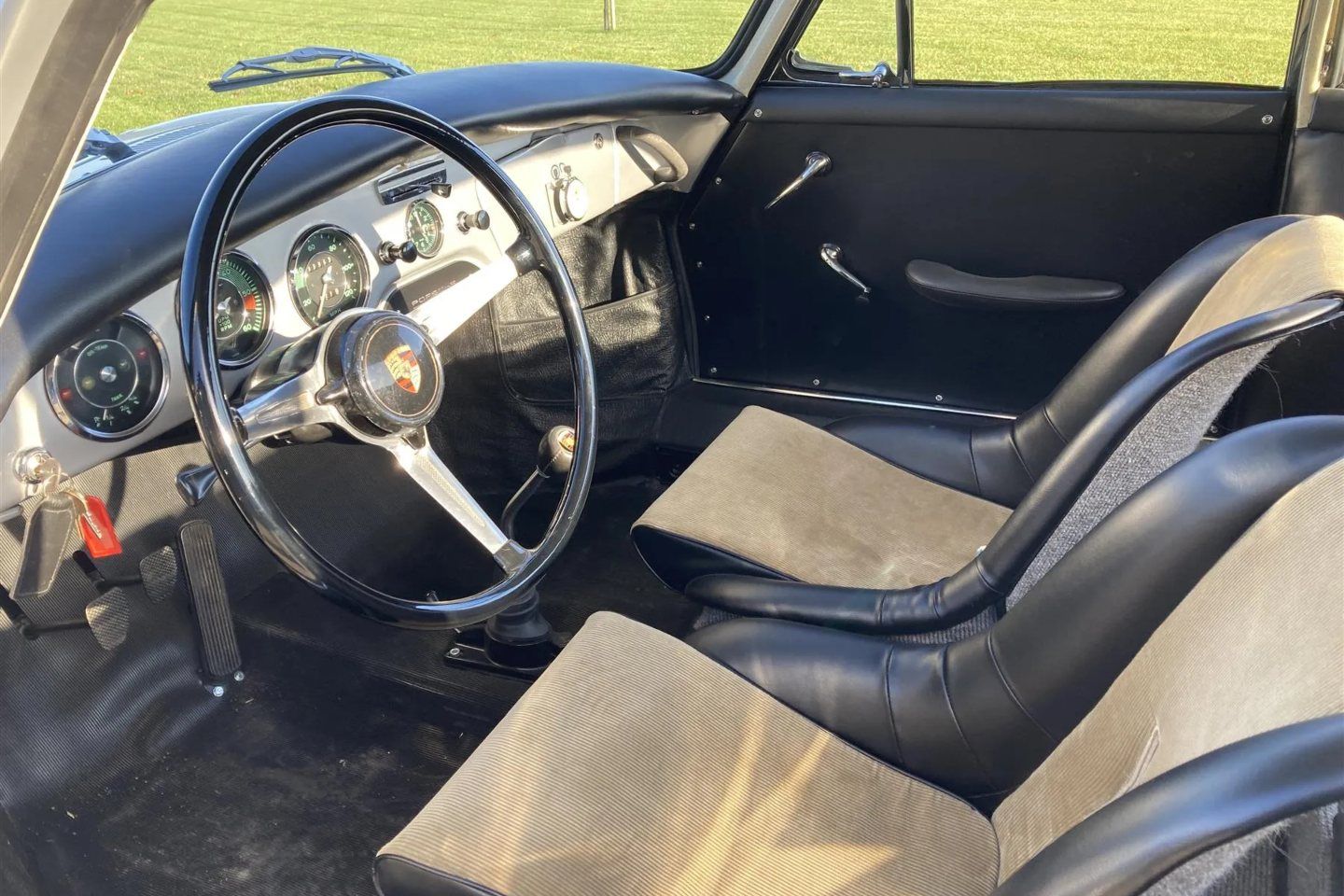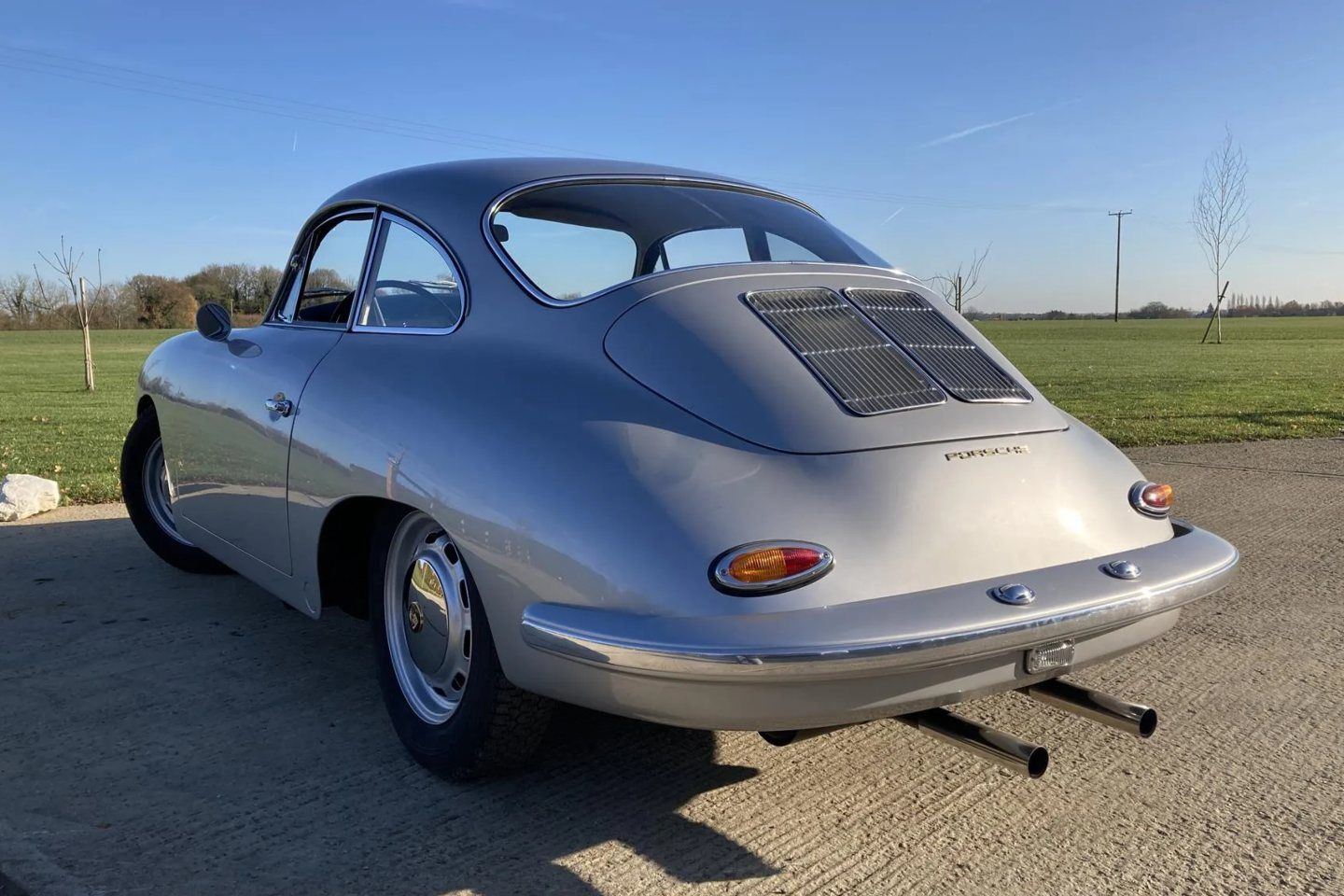 The 356's development was rapid, too. First, a 1,290cc engine was offered in 1951, and the following year it had grown to 1,498cc with an all-synchromesh gearbox (for the forward gears) added the same year – that was a first for a series production car. By 1955 the sum total of the changes was deemed so substantial that the little Porsche became known as the 356A, now sporting 1,582cc engine. At around this time the four-cam Carrera was produced, with a dry sump, hemispherical combustion chambers, twin ignition coils and four camshafts. That delivered 100hp at 6,200rpm.
This car is a 356C, which was the final iteration before the model gave way to the 911 after 17 years in production. It was delivered originally to the States in 1964, where the vendor says it lived a large part of its life in the perfect climate of California. It's since come to the UK and been restored, and judging by the pictures, it's been carried out to a very high standard indeed. It's been modified to give it the style 'of the desirable and considerably more expensive 356 GT,' and the classic silver with the part-black trim of the Speedster buckets is a fine combination in my book. It has plenty of period details, including the elegant steel wheels, a pair of gorgeous stainless pipes jutting out beyond the rear bumper, and the attractive green-on-black dials synonymous with early Porches. It should go pretty well, too, thanks to a 356 Enterprises 1,720cc conversion, fuelled by twin-choke Webers on each bank.
So there you go. Yes, the 356 begin life as a low-budget sports car that owed much to the Kraft-durch-Freude-Wagen, but it was developed way beyond that. It was also the car that made Porsche a recognisable global brand with a reputation for producing well-engineered road and racing cars. It's way more than a Beetle in drag, that's for sure.