Bi-Directional EV Charging May Become Requirement in California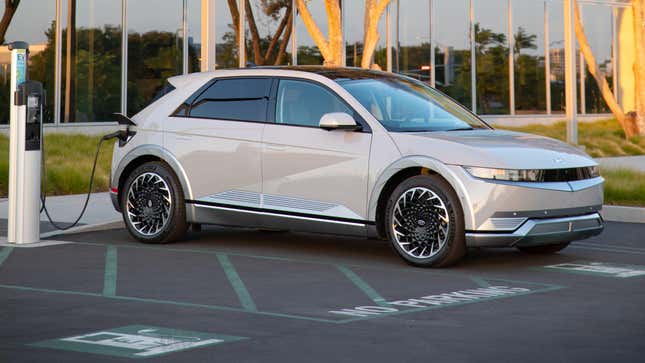 Officials are starting to realize the power potential that EVs have. As global warming brings more extreme weather, EVs can potentially be used to bolster the power grid in some states with blackout-prone grids. One state that has recognized the potential for this is California; KTLA reports a bill is being proposed that would require bi-directional charging capability on EVs in a few short years.
Racing Tech | How Formula E's New Front Powertrain Extends Battery Life on its Race Cars
In case you missed it:
Bi-directional charging is an EV's ability to both take power from the grid and to give power back to it. Only a handful of EVs are currently capable of bi-directional charging: the Hyundai Ioniq 5, Kia EV6 and Ford F-150 Lightning to name a few. California has already experimented with the technology. In the summer of 2022, GM partnered with Northern California energy company PG&E to deploy a fleet of EVs to bolster the power grid there.
The bill, SB 233, is being proposed by State Sen. Nancy Skinner. Under the bill, all new EVs sold in the state would have to have bi-directional charging by 2027. The bill would also establish a fund for bi-directional charging infrastructure and establish a set of goals for the charging.
With the California Energy Commission estimating that EVs will have 60,000 megawatts of stored energy by 2030, state officials see big possibilities for the technology. Skinner said that the energy stored in EV batteries shouldn't be wasted.
"EVs are energy storage on wheels. Why waste that battery, given how few miles most people use the vehicle in any given day," she said. But she noted that the ability to do so would need to be as easy as possible and that the potential to use an EV as a battery for one's home may make EVs more attractive.
But using EVs as essentially backup power generators won't be easy, and experts, including energy companies like PG&E, say the state isn't ready to do that yet. Experts from Northern California-based energy storage company The Mobility House says steps are needed like regulatory and procedural changes as well as tools to keep utility workers from being injured by EVs. Luckily universal standards are being drawn up so that all automakers and their EVs can be on the same page when it comes to bi-directional charging.
If the bill passes, EVs will starting making the shift to bi-directional charging by July, 1 2024.