[VIDEO] Emelia Hartford Adds a Nitrous Kit to Her 2023 Corvette Z06 and Hits the Nines
We got a interesting video this afternoon from YouTuber Emelia Hartford who is back at the track with the new 2023 Corvette Z06. She's chasing the non-stock Z06 world record held by Will Farmer who drove a Z06 with racing slicks to a quarter mile time of 9.986 seconds at 135.50 mph!

The description to Emelia's video said this was her "reaction" to the news of the new world record, so she opens with her installing a Nitrous kit to her 670-hp LT6 before heading to the track. Once at the track, she says "Yeah we all saw this coming. There's a good chance that this car blows up today, but if we don't find out…who will? On behalf of my poor car, you're welcome!"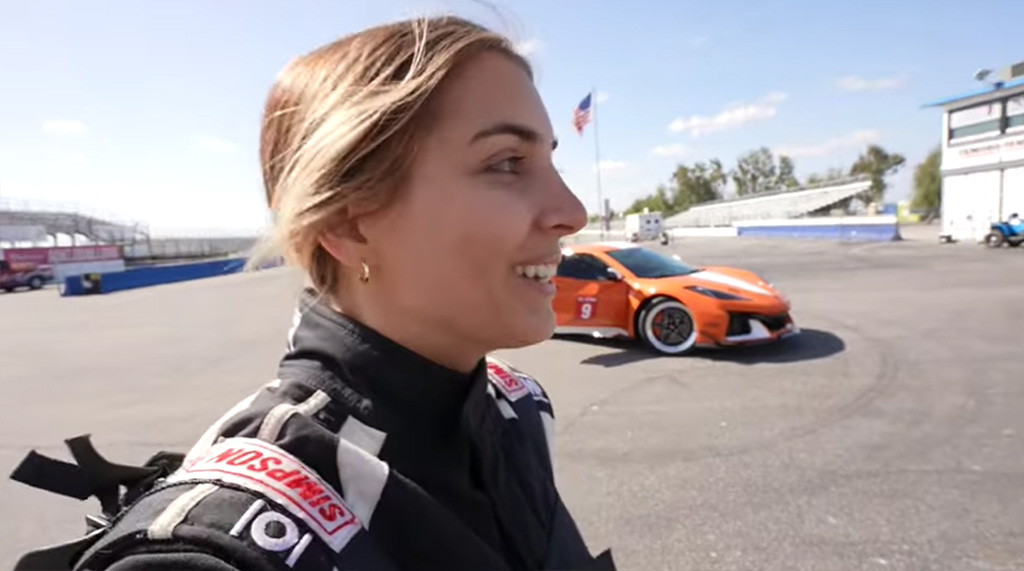 Sharing more of the prep work that had been done, Emelia shows us that the Z06 is wearing 20-inch race slicks from her Stingray Phoenix and has also put some skinny tires on the front. We also learned that after she pulled the passenger seat, it weighs 58 lbs. And finally, she removed the Z06's high wing for less drag.

Emelia makes her first run in the car without nitrous and the car runs a 10.26 in the quarter. With car running well, she does another run without nitrous and hits 10.17.

Now it's time for the moment of truth and the car is prepped for a shot of the go-fast juice. Her launch was great, and we did see the car sort of hesitate between 3rd and 4th gears, but she still managed a 10.075 at 138.74 mph. On the next run, the car slipped again at 3rd gear and the run the aborted.

After another cool-down session, it was time to make another run and this one didn't disappoint as she hits 9.988 seconds at 140.80 mph to (nearly) tie the world record! After another aborted run and back to the pits, the crew attempts to remove more unnecessary weight from the car, pulling out the carpet where they could. However, they are still seeing the slippage occur in 3-4 gears and with one final run at 10.136, they decided to call it a wrap for the day.

During one of the breaks, she shares a potential nickname for her Z06: Nemo

Source:

Emelia Hartford / YouTube


Related:

[VIDEO] Special Delivery as Emelia Receives Her Refreshed 1500-hp LT2 Engine for her C8 Stingray

[VIDEO] Emelia Hartford Goes for a Wild Ride in the 2024 Corvette E-Ray

[VIDEO] First Drive and Launches for Emelia Hartford's Twin Turbo 2023 Corvette Z06