2024 Cupra Tavascan revealed with 335bhp and 341-mile range
Cupra's breakaway success from Seat looks to strengthen with the Tavascan coupe-SUV, its third bespoke offering and second all-electric model.
Launched alongside the tagline "the brand's dream comes true", the SUV is only subtly distinguishable from the rather bold-looking concept that previewed its design in 2019, something the young Spanish brand is key to emphasise.
Put them side-by-side and the key carry overs are shown, albeit slightly less radical: a sharp, hammerhead-style, angular front end, with large grille and distinctive three-triangle light signature joined by a raked roofline and boot-width rear light bar.
These design cues – which Cupra hopes will help the brand build on last year's record 150,000 sales – will shape future models, such as the upcoming Terramar hybrid SUV (the brand's final combustion car) and UrbanRebel city EV, Cupra confirmed.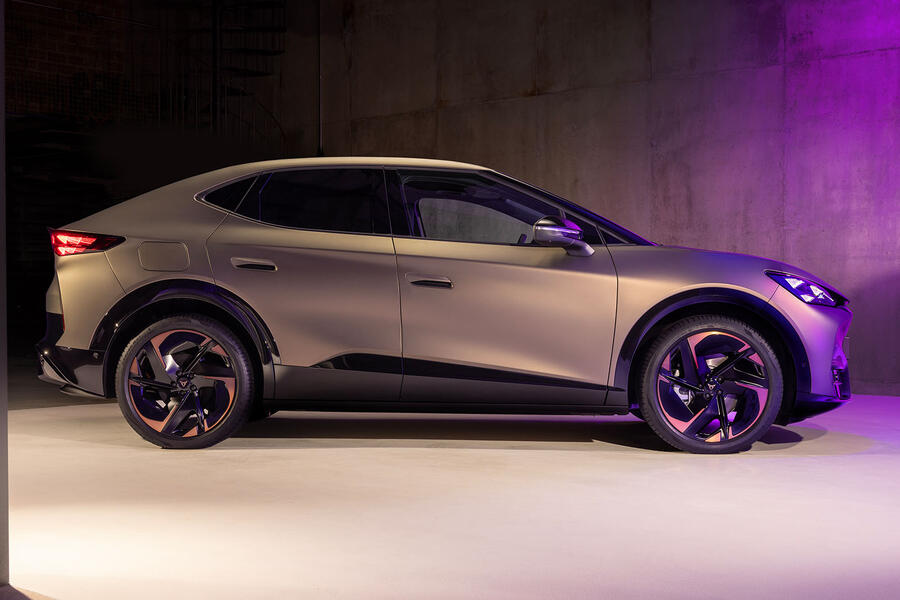 "There are so many purely rational electric cars coming to the market. That's not what Cupra is about," said boss Wayne Griffiths, likely hinting at the designed-for-purpose Tesla Model Y, which, with over 30,000 sales in the first three months of 2023 already, is dominating the premium European electric SUV segment the Tavascan will compete in.
"In 2019, we had a vision to reinvent electrification: we wanted to show the world that electric cars could be fun and sexy, with a great design, while providing unique sportiness.  Back then maybe it was only a dream. Now with the Tavascan, our dream comes true."
It's this bold look that Cupra hopes will entice buyers away from the likes of the Audi Q4 E-tron, Genesis GV60, and Model Y – which, at between £40,000-55,000, it is expected to match on price – in the ever-growing and competitive premium EV segment.
When it arives in late 2024 – a few months after LHD models enter Europe next summer – this would also allow parent company Volkswagen Group to push for a better portion of the segment, for which it already offers the Volkswagen ID 5 – the car the Tavascan is twinned and shares noticeable visual cues with, especially side on.