Cupra Leon vs BMW 118i vs Mazda 3: 2023 group test review
Picture the scene: you've got 30 grand to spend on a new car. You're not a fan of SUVs, so a five-door hatchback will suit you fine, and you want something that has a whiff of sportiness about it, but without the hefty running costs that come with a full-blown hot hatchback. What choices are there?
Well thanks to Cupra, the options have just grown by one. The Leon, previously available with either an expensive plug-in hybrid powertrain or as a 306bhp hot hatch, has a new entry point with a modest 1.5-litre turbocharged petrol engine. Yet it retains the sporty looks to satisfy hot-hatch fans. 
For similar money, BMW gets in on the act with the 118i, which in M Sport guise is almost indistinguishable from the range-topping M135i, but costs far less to buy and to run.
Then there's the Mazda 3. There's no hot version of the Japanese hatch, but then the brand has always focused on making its entire range simply great to drive. 
All cost similar money and offer similar performance, so which is best?
Cupra Leon
| | |
| --- | --- |
| Model: | Cupra Leon 1.5 eTSI V1 DSG |
| Price: | £32,985 |
| Engine: | 1.5-litre 4cyl turbo petrol, 148bhp |
| 0-62mph: | 8.7 seconds |
| Test economy: | 40.7mpg/9.0mpl |
| CO2: | 136g/km |
| Annual road tax: | £155 |
The arrival of the 1.5 TSI powertrain creates a new entry point to the Cupra Leon line-up. In V1 trim with a DSG gearbox it costs £32,985 before options, and the only extra for our test car is Graphene Grey paint (£870), which brings the total to £33,855. 
Design & engineering
Originally a sporty trim level for SEAT, Cupra was spun off into its own brand in 2018. While some models, like the Formentor, are unique to Cupra, cars such as the Leon take a sportier slant over the SEAT version. 
Sharper bumpers, new wheel designs and lots of copper-coloured highlights set Cupra cars apart, with the latter also extending to the cabin. Here, you'll also find a flat-bottomed steering wheel and a largely uncluttered dashboard, but one that suffers from a major ergonomic flaw. 
We've banged on before about the Volkswagen Group's touch-sensitive sliders for the audio volume and cabin temperature and how, unfathomably, they don't have any back lighting so you can't see them at night. And although the Group will roll out fixes as each model with the system is updated, this doesn't stop it being irritating right now. 
While the specific Cupra details and seat fabrics add some uniqueness and a feeling of sportiness, the overall quality doesn't quite feel up to scratch, considering the car's asking price. But on the plus side, the driving position is comfortable and the seat has a wide range of adjustment.  
Under the skin, the Leon uses the VW Group's tried-and-tested MQB platform, which accepts a wide variety of powerplants and fuel types. Here, the new base Leon features a 1.5-litre turbocharged petrol with mild-hybrid assistance, which allows for the engine to be stopped and started seamlessly to save fuel. Cylinder deactivation and neutral coasting also add to its clever fuel-saving tech.
While more potent Cupra Leons use a sophisticated multi-link rear axle set-up, the 1.5 TSI has a simpler torsion beam arrangement. The front MacPherson struts are carried over from other Leons, but the 1.5 TSI gets smaller 288mm diameter brake discs.
Driving
Out on the road, the Cupra Leon drives perfectly acceptably. The steering is reasonably light and precise, body roll is kept in check through the turns, and there's a decent amount of grip to go with a neutral balance. 
The ride is a little firm, though. While it isn't overly harsh (even though larger bumps thump loudly into the cabin), the main issue is a fairly pronounced amount of fidget. It's even present at motorway speeds, so this is a hard car to relax in, because it never wants to completely settle down. 
But while that hard edge might suggest that it'll be a hoot in corners, the fun never fully materialises. For a sporty brand such as Cupra, we'd like to see a little more excitement from the chassis side – some playfulness or extra feedback to make even mundane drives seem like more of an event. 
It's especially important when the car is powered by an engine which isn't meant to be a snarling performance monster by design. In everyday use, the 1.5 TSI gets the job done adequately. With 250Nm of peak torque available from 1,500rpm, the Leon rarely feels caught out when you demand a little shove, and a 0-62mph time of 8.7 seconds is similar to its rivals here. It's smooth even when being worked hard, and settles down nicely at a cruise. 
The fuel-saving cylinder deactivation is almost imperceptible in its operation, too. Only a small logo on the dash, and the subtlest of jolts when the two sleeping cylinders wake up again, let you know it's happening at all. The automatic gearbox
is fine for the most part, but it can be a little jerky when manoeuvring at low speeds.
Practicality
Sharing tech with other VW Group MQB models has compromised the Leon's infotainment, but the platform does at least offer decent cabin and boot space. At 380 litres, the boot is a useful size for the segment. Fold the seats down, and that volume grows to 1,200 litres. 
Both of those figures are identical to the BMW's, but the Cupra's load lip is a few inches higher, so it's easier to load large items into the 1 Series. As with its rivals here, the Leon's seat back splits in a 60:40 configuration. 
Ownership
While Cupra wasn't part of our most recent Auto Express Driver Power satisfaction survey, its parent brand SEAT came a below-average 17th out of 29 manufacturers. BMW didn't fare much better, though, pipping SEAT by just one place. Both brands lagged far behind Mazda, which took an impressive seventh place in the standings.
A service plan takes the hassle out of annual maintenance. While all three cars are available with similar plans, the Cupra's is the priciest over three years, at £33.99 per month. However, this also includes some consumables, such as a replacement set of brake pads and front wiper blades, one MoT test and, for those who really want to engross themselves in the brand, includes a 20 per cent discount on all Cupra merchandise.
Running costs
When you consider that these three cars are supposed to offer a sporty edge, they should prove to be fairly economical to live with on a daily basis. The Cupra averaged 40.7mpg on test, which was more efficient than the 37.5mpg that the BMW achieved. 
While our Mazda's mpg figure must be taken with a pinch of salt because it was recorded with our manual-equipped car rather than the equivalent auto for this contest, an overall figure of 42.5mpg was the highest number of this trio.
Tester's notes: "Heated steering wheels are great in winter, and this V1 model gets one as standard. However, heated seats only come with the top-spec VZ3 version."
BMW 118i
| | |
| --- | --- |
| Model: | BMW 118i M Sport |
| Price: | £32,015 |
| Engine: | 1.5-litre 3cyl turbo petrol, 134bhp |
| 0-62mph: | 8.8 seconds |
| Test economy: | 37.5mpg/8.2mpl |
| CO2: | 134-150g/km |
| Annual road tax: | £165 |
At £32,015, the BMW 118i costs less than its Cupra Leon rival, but only if you're careful with the options, because many of the extras fitted to this test car send the price skywards very quickly. Leather seats add £1,150, and metallic paint £595, a panoramic sunroof is £1,000, the Comfort Pack (a powered tailgate, electric front seats, keyless entry and a heated steering wheel) costs £1,500, and the Tech Pack (wireless smartphone charging, a head-up display, assisted parking and on-board WiFi) another £1,500. You can pick and choose which of those add-ons you need, but our test car here comes to £37,760.
Design & engineering
The third-generation 1 Series went against BMW convention when it arrived in 2020 by ditching a rear-wheel-drive layout. The reason for the switch was to improve interior packaging relative to its competitors. 
Being a BMW, however, buyers still expect it to be fun to drive, which is a harder challenge than with rear-driven models, because steering feel can be corrupted by the engine's torque, and the weight distribution is likely to be more nose-heavy.
So, BMW packed the 1 Series with engineering ideas to ensure that it behaved the way we hoped it would. This mix includes a more responsive stability control system working alongside a yaw moment distribution system – that's tech which nips the brakes on the inside wheels to improve turn-in.
Under the bonnet, the 118i gets a 1.5-litre three-cylinder turbocharged petrol engine manufactured at BMW's Hams Hall plant near Birmingham. It's down on outright power when compared with its two rivals, with 134bhp and 220Nm of torque, while drive is sent to the front via a seven-speed dual-clutch automatic gearbox. 
Inside, the BMW feels like the most expensive car here, thanks to its mix of tech and the general sturdiness of the dash and the centre console. The steering wheel has the greatest range of adjustment in this company, and the electrically adjustable seats fitted to this test car allow for easy and precise tweaks to the driving position.
Driving
While the Cupra doesn't quite manage to hit the mark for driving fun, the BMW proves that modest power doesn't need to be an obstacle as long as the chassis is up to the job. First impressions suggest that the suspension is similarly stiff, but the damping feels more sophisticated here, so on sections of road where the Leon jiggles, the 118i rounds off the high -frequency bumps much better. The suspension itself is better insulated from the cabin, too, so it's quieter when cruising. 
When you want to drive more keenly, the BMW is the more engaging choice. The front end turns in more enthusiastically, the car is lighter in direction changes, and the front-to-rear balance feels more even overall than in the slightly nose-heavy Cupra. 
The one area where there's room for improvement is the steering. While the rack is certainly direct, the combination of a fat, squishy steering wheel rim and little impression of the front tyres loading up through corners means that it doesn't quite offer the detail to make the BMW's good chassis a great one. 
The engine has a little less torque than the Cupra's, so it doesn't feel quite as effortless at higher speeds, but the pleasing three-cylinder note and the unit's willingness to rev means that it's still more fun to use. At 8.8 seconds, the 1 Series is one tenth of a second slower from 0-62mph than the Cupra and three tenths behind the Mazda. 
However, the BMW's case is helped by a decent dual-clutch transmission, which can be overridden by a sequential-style shifter on the centre console. Here there are also three driving modes, which adjust the responsiveness of the gearbox and throttle pedal.
Practicality
While the BMW and Mazda are evenly matched for cabin space, they both have to play second fiddle to the Cupra Leon when it comes to carrying passengers. 
The 1 Series concedes roughly 10-15mm of headroom to its rival and a similar amount in kneeroom in the rear, too. The main issue is with the seats themselves, though; the bases feel closer to the floor, which forces occupants' legs off the ground and gives less under-thigh support as a result. The centre seat is also narrower, so it's a less comfortable place when travelling three abreast.
Once you've got past the doors, which are marginally narrower than the Cupra's, loading a child seat into the BMW is a fairly simple task, because the Isofix points are easily accessible behind plastic covers. The same can't be said for the Leon, which places them within some awkward fabric slots. A 60:40 split for the BMW's back seats is standard, but a more versatile 40:20:40 arrangement is a £150 option.
Ownership
All three of these cars come with a three-year, 60,000-mile warranty from new, while extended warranties are available as an option. Both the Cupra and BMW benefit from two years of breakdown cover, but the Mazda gets a more generous three-year package.
Running costs
As conventional petrol vehicles, none of these cars will be an obvious candidate for company users. High Benefit-in-Kind tax brackets mean each faces deductions of around £4,000 per year. Thanks to its lowest 31 per cent banding, the BMW offers the smallest costs of this trio, just undercutting the Mazda in the 32 per cent band by less than £10. The Cupra is the priciest, at £4,186, because of its higher P11d value.
Tester's notes:  "If you'd like to travel further on a tank of fuel in the BMW, then another £50 gets you a 50-litre tank in place of the standard 42-litre capacity."
Mazda 3
| | |
| --- | --- |
| Model: | Mazda3 e-Skyactiv X GT Sport |
| Price: | £31,105 |
| Engine: | 2.0-litre 4cyl petrol, 183bhp |
| 0-62mph: | 8.5 seconds |
| Test economy: | 42.5mpg/9.3mpl |
| CO2: | 137g/km |
| Annual road tax: | £155 |
The Mazda 3 we have in these pictures is the GT Sport Tech equipped with a manual gearbox. In order to keep parity with the other two here, we're testing it as priced with an automatic gearbox. Before options, that means it costs £31,105, while the Platinum Quartz metallic paint adds another £570.
Design & engineering
Mazda has a history of going its own way when it comes to its engineering choices. While almost every other mainstream manufacturer has spent years developing downsized turbocharged petrol engines, the Japanese brand has stuck with larger-capacity non-turbo units. The 2.0-litre e-Skyactiv X has a 500cc advantage over both rivals here. 
While it doesn't have a turbo, the e-Skyactiv X does feature a tiny supercharger, which helps force more air into each of the four cylinders. It's part of a system that Mazda calls Spark Controlled Compression Ignition. This uses traditional spark ignition for maximum power – and at 183bhp, this engine is 35bhp up on the Cupra's 1.5 TSI – but combines this with compression ignition, made possible by the supercharger, to help deliver diesel-like efficiency. 
What it can't compensate for is the low-down torque that a turbo provides. At 240Nm, the Mazda's peak is only just behind the Leon's, but it arrives at 4,000rpm, some 2,500rpm later than in its rival.
Still, Mazda's tech has been boosted with a mild-hybrid system, represented by the 'e' in e-Skyactiv X. This 24-volt belt-driven starter/generator helps in much the same way as the Cupra's: recovering energy under deceleration which can then be used to reduce load on the combustion engine under acceleration and provide a near-instantaneous stop-start system in traffic.
In design terms, the Mazda 3 looks sporty yet quite understated inside and out. Its cabin quality runs the BMW's close, and while the minimalist appearance has some compromises, the simple buttons and logical layout allow the driver to focus on the road.
Driving
Even though the BMW is fairly enjoyable to drive, there are some areas where the Mazda proves to be even better. The weighting and precision of the steering are spot on, and the feel through the pedals is fantastic – these are things that you can appreciate even when you're shuffling along in traffic or going for a relaxed drive. 
As with its rivals here, there's a certain firm edge to the 3's ride over smaller bumps, but otherwise the overall set-up feels like the softest here. It's not so soft that it's at sea in corners, though. In fact, the body roll is very well judged, giving you just enough of a feeling about how the car edges towards the limits of its grip through the corners. The Mazda
is neatly balanced, grip is strong and overall it's great to drive for a car of this type – it's even a shade more fun than the BMW. 
However, those drivers that have become used to the torque of the turbocharged petrol engines that most of the Mazda's rivals use these days will be left a little lukewarm by the car's e-Skyactiv X engine. Against the clock, the 3 is the quickest model here, but it doesn't feel that way in the real world. With peak torque so high up the rev range, it takes a lot more throttle and a lot more revs to make similar progress to its rivals. 
That's less of a problem if you've chosen Mazda's brilliant six-speed manual gearbox, but the auto isn't so enjoyable to use. It will leave you feeling as if the Mazda is rather gutless when compared with any of the other similarly priced cars on the market. 
Practicality
When it comes to cabin space, the Mazda brings up the rear of this group. While kneeroom is just about a match for the BMW, headroom is a little tighter. 
The roof has quite a pronounced curve above the doors, which means that headroom is as much compromised to the sides as it is by the roofline above. The centre seat is hard and narrow, too. 
At 330 litres, the boot is also the smallest here, and the load lip, like the Leon's, is quite high. The rear seat backs fold completely flat, revealing a total volume of 1,022 litres – a figure that's also behind its rivals here. On the plus side, the Mazda has a huge central bin between the front seats, and it has the largest glovebox of this trio.
Ownership
The Mazda 3 was assessed by Euro NCAP in 2019, and scored fantastic individual category results within its five-star rating. Its 98 per cent adult occupant protection score matched that of the Tesla Model X, and only one car scored more highly all year, which was the Mazda 3's SUV stablemate, the CX-30. 
The 1 Series was tested in the same year. Its child occupant protection score matched the Mazda's 87 per cent figure, but it scored 83 per cent in the Adult category – although that was still good enough for a five-star rating. The Leon was tested one year later, and also achieved a top five-star rating.
Running costs
One of the few black marks against the Mazda's running costs comes if you're a private cash buyer. Over three years or 36,000 miles of ownership, the 3 is expected to hold on to only 47.9 per cent of its original value, translating into depreciation of £16,206. 
The Leon is expected to maintain 54.2 per cent, which means a smaller £15,114 loss, despite the fact that it's more expensive to buy in the first place. The BMW has the strongest residuals though; it will be worth 57.6 per cent of its £32,015 retail price, which means buyers would only lose £13,590 over the same period.
Tester's notes:  "The 3's curved window lines look sporty from the outside, but they mean you get quite big over-the-shoulder blind spots."
Results
First place: BMW 118i
A premium brand at a fairly mainstream price – what's not to like? The BMW 118i offers enough for the keen driver who doesn't want to break the bank with high running costs, yet backs that up with great fit and finish, superb in-car tech and a spacious boot. Strong residuals and competitive monthly figures – as long as you go easy on the pricey options and packages available – make the 1 Series very hard to fault. 
Second place: Mazda 3
The Mazda 3 is often overlooked in the family car class, and this test proves that it deserves more success. It's genuinely
engaging to drive, the cabin is smart, and you get loads of equipment for your money. The non-turbocharged engine won't suit everyone, nor will the lack of cabin space. As a result, the Mazda isn't quite capable of toppling the BMW – but it does come tantalisingly close. 
Third place: Cupra Leon
If you want a sporty-looking hatchback that is roomy enough and a little bit different, then the Cupra Leon is worth a go. However, this test shows there are options that are not only more fun to drive and more comfortable (or both), are more luxurious and have better ergonomics, but are also potentially a little cheaper based on the finance deals currently available to buyers. 
Other options in this category
Ford Focus EcoBoost mHEV ST-Line auto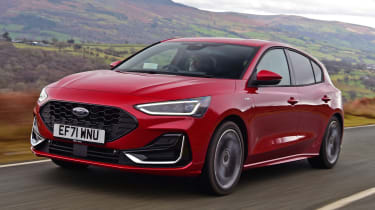 Price: £30,450 
Engine: 1.0-litre 3cyl, 153bhp
Our test cars aren't the only modest hatches that over-deliver on fun. The Focus has always offered sharp dynamics, while the current model offers great value and is more spacious inside than the alternatives here. The cabin tech is slick, too.
Vauxhall Astra 1.2 Turbo Ultimate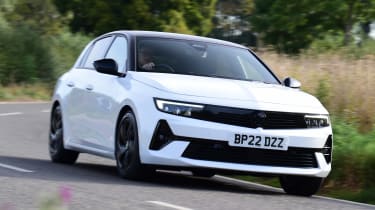 Price: £32,840 
Engine: 1.2-litre 3cyl, 129bhp
The latest Astra moved the game on a huge amount over its predecessor, with a smart, well built cabin, plenty of passenger space and lots of kit for the money. What matters in this company is that it's fairly sharp to drive, too, even if it's a touch down on power.
Figures
| | | | |
| --- | --- | --- | --- |
|   | BMW 118i M Sport | Mazda 3 e-SkyactivX auto GT Sport | Cupra Leon 1.5 eTSI V1 DSG |
| On the road price/total as tested | £32,015/£37,760 | £31,105/£31,675 | £32,985/£33,855 |
| Residual value (after 3yrs/36,000) | £18,425/57.6% | £14,899/47.9% | £17,871/54.2% |
| Depreciation | £13,590 | £16,206 | £15,114 |
| Annual tax liability std/higher rate | £1,967/£3,935 | £1,972/£3,945 | £2,093/£4,186 |
| Annual fuel cost (12k/20k miles) | £2,191/£3,651 | £1,933/£3,222 | £2,019/£3,364 |
| Insurance group/quote/VED | 20/£540/£165 | 22/£538/£155 | 21/£533/£155 |
| Cost of 1st/2nd/3rd service | £802 (3 years) | £799 (3 years) | £1,224 (3 years) |
|   |   |   |   |
| Length/wheelbase | 4,319/2,670mm | 4,460/2,725mm | 4,398/2,689mm |
| Height/width | 1,434/1,799mm | 1,435/1,795mm | 1,444/1,799mm |
| Engine | 3cyl in-line/1,499cc | 4cyl in-line/1,998cc | 4cyl in-line/1,498cc |
| Peak power/revs | 134/4,500 bhp/rpm | 183/6,000 bhp/rpm | 148/5,000 bhp/rpm |
| Peak torque/revs | 220/1,500 Nm/rpm | 240/4,000 Nm/rpm | 250/1,500 Nm/rpm |
| Transmission | 7-spd auto/fwd | 6-spd auto/fwd | 7-spd auto/fwd |
| Fuel tank capacity/spare wheel | 42 litres/repair kit | 51 litres/repair kit | 45 litres/repair kit |
| Boot capacity (seats up/down) | 380/1,200 litres | 330/1,022 litres | 380/1,200 litres |
| Kerbweight/payload/towing weight | 1,395/550/1,300kg | 1,522/441/1,300kg | 1,395/485/1,400kg |
| Turning circle | 11.4 metres | 11.4 metres | 11.2 metres |
| Basic warranty (miles)/recovery | 3yrs (60k)/2yrs | 3yrs (60k)/3yrs | 3yrs (60k)/2yrs |
| Driver Power manufacturer/dealer pos | 16th/15th | 7th/N/A | 17th*/N/A |
| NCAP: Adult/child/ped./assist/stars | 83/87/76/72/5 ('19) | 98/87/81/73/5 ('19) | 91/88/71/80/5 ('20) |
|   |   |   |   |
| 0-62mph/top speed | 8.8 secs/132mph | 8.5 secs/134mph | 8.7 secs/133mph |
| Auto Express economy/range | 37.5/8.2/346 miles | 42.5/9.3/477 miles | 40.7/9.0/403 miles |
| WLTP combined | 47.9-42.8mpg | 47.1mpg | 47.1-44.1mpg |
| WLTP combined | 10.5-9.1mpl | 10.4mpl | 10.4-9.7mpl |
| Actual/claimed CO2/tax bracket | 174/134-150g/km/31% | 154/137g/km/32% | 160/136g/km/32% |
|   |   |   |   |
| Airbags/Isofix/park sensors/camera | Six/yes/yes/yes | Seven/yes/f&r/yes | Six/yes/f&R/yes |
| Auto box/lane-keep assist | £1,350/yes | £1,550/yes | Yes/yes |
| Blind-spot assist/AEB | Yes/yes | Yes/yes | No/yes |
| Climate control/cruise control | Yes/yes | Yes/yes | Yes/yes |
| Leather/heated seats | £1,150/yes | Yes/yes | No/no |
| Metallic paint/LED lights | £595/yes | £570/yes | £580/yes |
| Keyless entry & go/powered tailgate | £500/£500 | Yes/no | Yes/no |
| Sat-nav/digital dashboard | Yes/yes | Yes/no | Yes/yes |
| DAB radio/connected services | yes/yes | Yes/yes | Yes/yes |
| Wireless charge/CarPlay/Android Auto | £350/yes/yes | £241/yes/yes | Yes/yes/yes |
Now read our list of the best hatchbacks to buy…