MG Cyberster revealed ahead of UK debut in 2024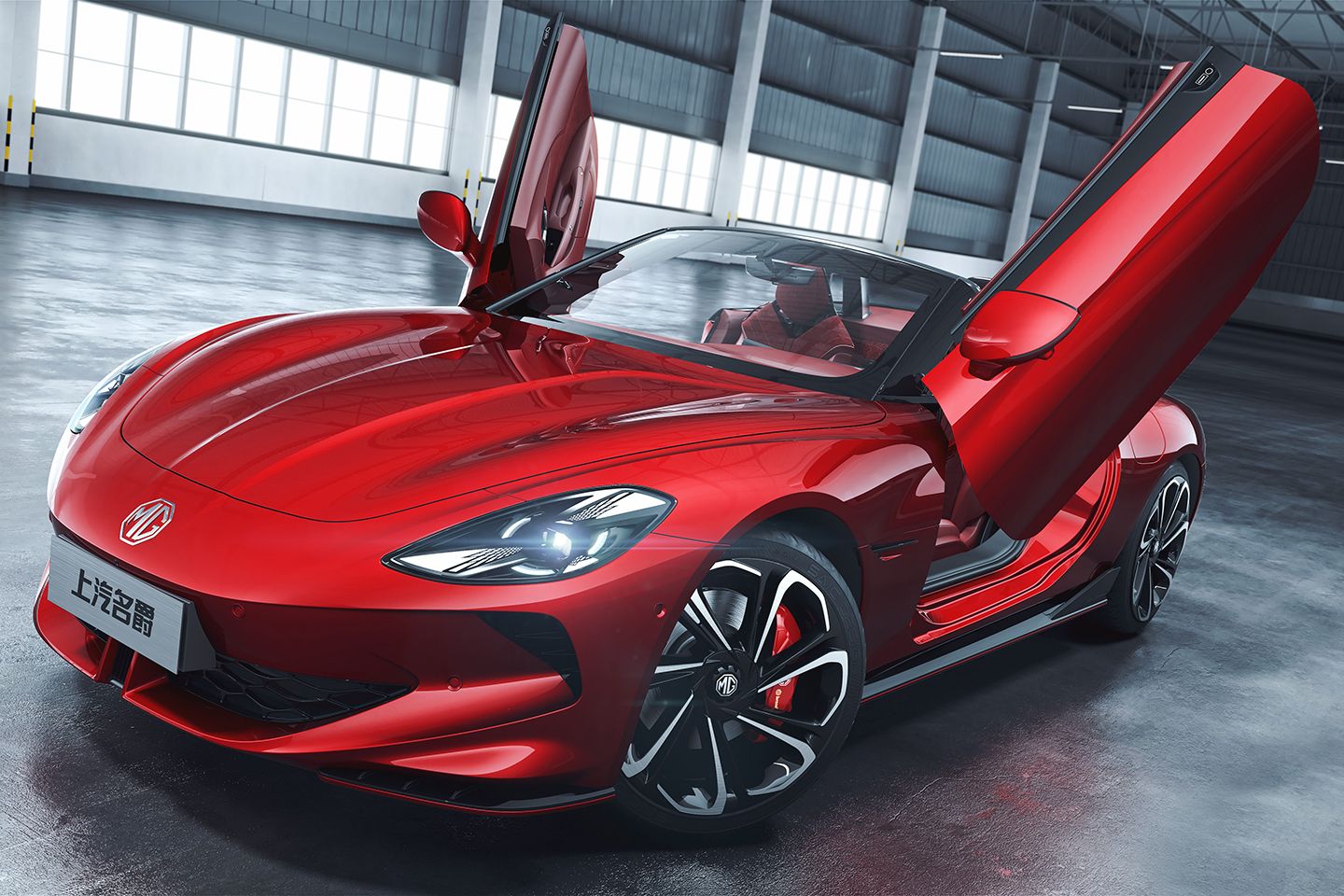 It feels like the story of the MG sports car has been floating around for a while now, as exciting as it was unbelievable from a company making so many dreary electrified SUVs. But now we live in a world of the MG 4, turning expectations on their head for the brand – and now it's time for the halo sports car. This is the Cyberster, the first two-seat MG sports car since the TF. Which makes it quite a big deal for PH.
Just revealed at Shanghai – and following a leak last week – this is the actual thing, all classic proportions, smart details and doors that really go up like it's a junior supercar. It must look even better at a motor show seemingly populated only by chubby SUVs. There's a link back to Britain, too, with design input from MG's Marylebone studio. Carl Gotham (real name), Advanced Design Director, said of the Cyberster: "The focus… was to create a design that was respectful of the brand's illustrious past and to bring back that sporting bloodline, while also being absolutely clear that it should be modern and forward-facing like the MG of today, completely in-tune with the rapid transition to electric vehicles." We all suspected that the concepts and teasers might be toned down a bit for production, but this is it. And it looks great
For the moment, there's not much additional information from MG – early word from China suggests there will be an entry-level model offering around 315hp from a single motor, alongside a dual-motor version with as much as 545hp – and apparently the firm has endeavoured to keep the Cyberster under two tonnes. MG is also promising 'a contemporary cabin featuring cutting-edge driver technology'.
Of course, even without concrete details, the fact that a proper little electric sports car is a reality – an MG sports car, no less – feels like very significant news. MG reckons a 'compelling new chapter' in its story will be opened with the launch of this car, which should be in the UK by next summer. Certainly, it's about a million times more interesting and relevant to enthusiasts than anything recently turned out, and that includes one of Britain's most popular cars. Guy Pigounakis, MG UK's Commercial Director, added: "This is the perfect time to introduce an MG that completely reconnects with our performance DNA and is designed to enthral the driver on every level. MG is all set for an electric, sporting future and it is the perfect way to start celebrating our 100th anniversary." Count us in as very, very interested.