Tata Nexon EV in Pune caught fire: passengers sa
Tata Motors is currently one of the leading car manufacturers in the country, with petrol, diesel, and electric cars in their line-up. The manufacturer entered the passenger electric vehicle segment in 2019 and has since become a leader in the industry. Tata Nexon EV is currently the best-selling electric SUV on the market. Recently, a video of a Tata Nexon EV from Pune catching fire for unknown reasons surfaced online.
The video was shared by nakulbhandari149 on their YouTube channel, showing firefighters using pressurized hoses to put out the fire under the bonnet of the Nexon EV. Several images of the burning Nexon EV are also available online. Fortunately, according to various reports, the passengers of the Nexon EV escaped from the vehicle unharmed, and firefighters were able to extinguish the fire completely upon arrival.
Also read: Hyundai Ioniq 5 electric car: New TVC released
Based on the video and available images, it appears that the fire originated under the bonnet of the SUV in front of Reliance Mart, Katraj Chowk in Pune on April 16, 2023. The details surrounding the incident are currently unknown, but it does not appear that the battery pack of the SUV was the cause of the fire. The battery pack of the Tata Nexon EV is situated under the floor, and had it caught fire, the car would have burned down entirely. As seen in the video, the fire was limited to the bonnet of the car, which suggests that any of the components under the bonnet could have caused the fire. It is hoped that Tata will inspect the vehicle to determine the root cause. A registration number search revealed that the SUV was only 9 months old.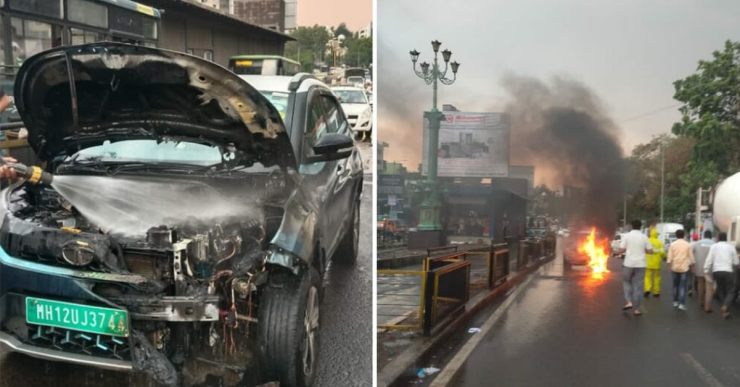 In June 2022, a Tata Nexon EV parked outside a restaurant in Mumbai caught fire, with the fire starting from under the car. In this case, it was believed that the battery of the SUV was damaged and had somehow caught fire. Following the incident, Tata Motors issued an official statement, promising to investigate the matter in detail. The manufacturer also emphasized that the product is thoroughly tested and that this was an isolated incident.
This is not the first time an electric vehicle has caught fire, as there have been numerous incidents involving electric scooters from various brands such as Ola, Okinawa, and Ather. In most cases, the battery is the cause of the fire. However, the recent case in Pune appears different. There is a possibility that a wire under the bonnet was cut by a rodent or damaged. It is also possible that the owner installed some aftermarket accessories that resulted in fire due to low quality or improper wiring.
Other than the Nexon EV, we have come across couple of incidents where Tata cars have caught fire. We came across reports where two Tata Punch SUVs had caught fire while driving. One of them happened in Gujarat while the other one was in Assam. We also came across reports where a 11 month old Harrier had caught fire in Mumbai in the middle of the road. In another case, alert security guard extinguished the fire under a Tata Nexon SUV
Also read: Tata Nexon price increased; Diesel variants discontinued