2023 Ferrari Purosangue | PH Review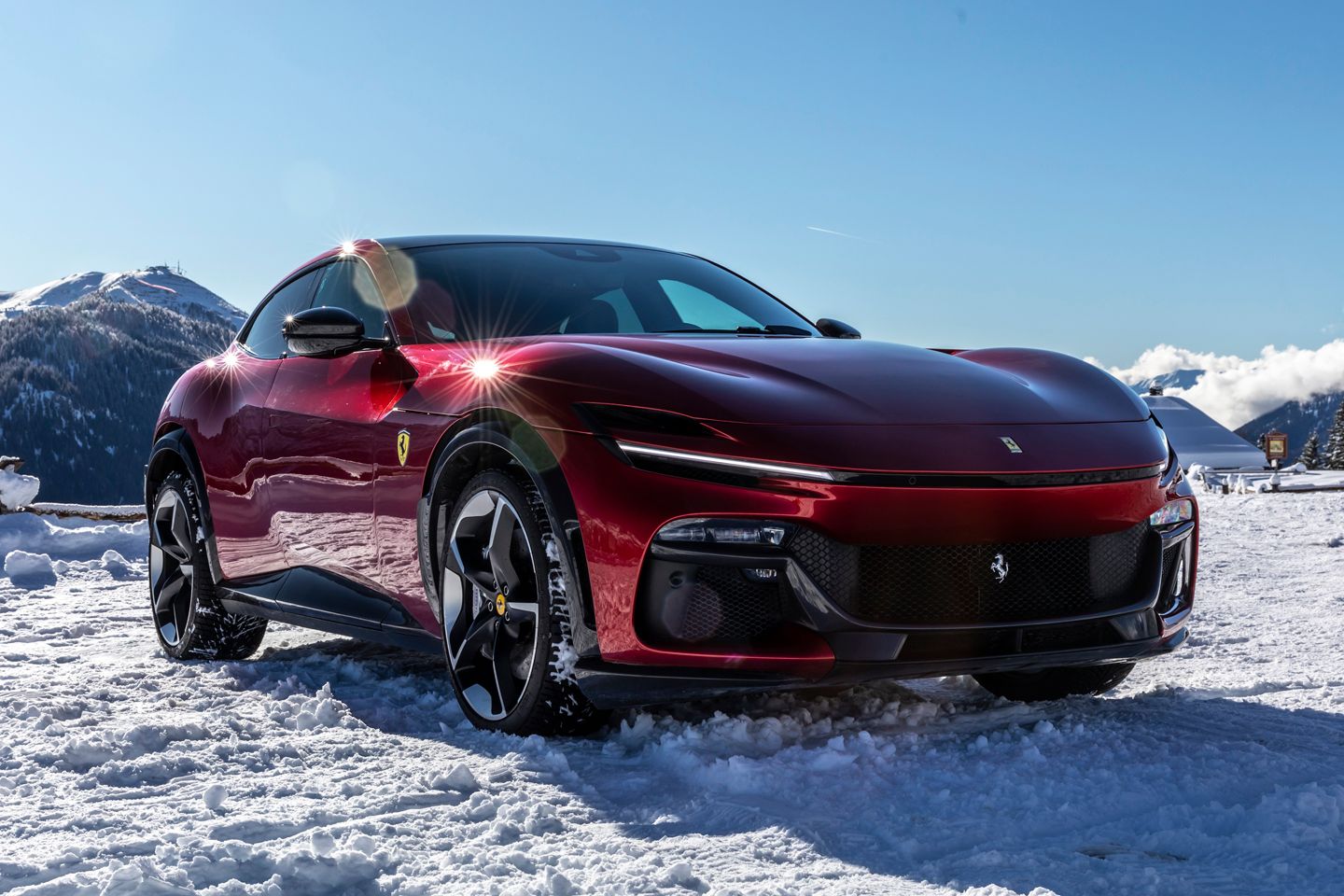 A new Ferrari of any description will always get people talking. It's hard to discuss cars for very long without mentioning the Prancing Horse. So when Maranello decides to evolve its time-honoured 2+2 tradition into the very first four-door Ferrari, interest is guaranteed. The PH reveal story had more than 250 votes and almost 400 comments, because it's impossible not to have an opinion on a four-seat, four-door, V12 Ferrari that looks how it does. As cars seem to get ever more indistinguishable from each other, so something as bold as the Purosangue deserves to be celebrated – doesn't it? 
It's worth recapping a few key details. The Purosangue sits on an all-new, bespoke chassis, just the design of which took a year, being lighter yet stiffer than the GTC4's; it has Ferrari's first active suspension system, built with Multimatic; there's the independent four-wheel steer system evolved from the 812 Comp; and the incredible 6.5-litre V12 featuring a revised intake and exhaust system to optimise the torque curve, as well as 350 bar fuel injection. 'It was designed', says its maker, 'to produce the highest amount of torque at low revs possible without losing the feeling of linear, never-ending power typical of Ferrari's naturally aspirated V12s'. And who wouldn't want one of those powering their four-door car? The important number is 528lb ft at 6,250rpm, 80 per cent of which is available from 2,100rpm. For reference, the old GTC4 Lusso, with an earlier evolution of the same V12, made 508lb ft at 5,750rpm, with 80 per cent available from 1,750rpm. That car might come up in discussion again later. 
Anyway, once presented with a Purosangue, the heated discussion won't stop. Ferrari talks of 'brawny muscularity' and a 'sinuous, athletic upper section'. It's an utterly fascinating car to look at, in isolation, alongside other Purosangues and in normal traffic. Its proportions and details are just like nothing else. Perhaps not classically beautiful, sure, but also impossible to take your eye away from. It's so big (those rear wheels are 23-inch) and yet also so squat and purposeful, it seems like there's something new to gawp at with every fresh angle.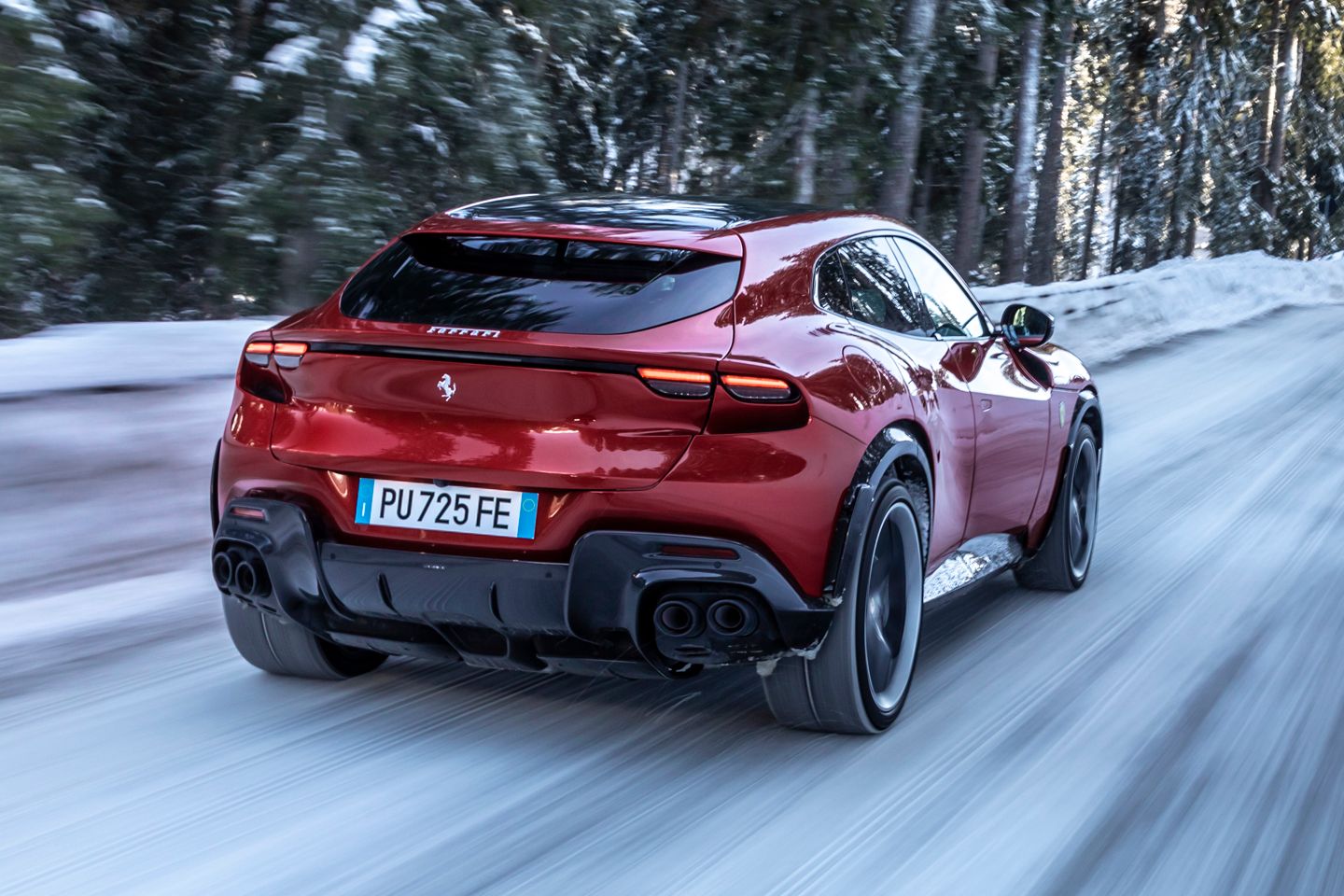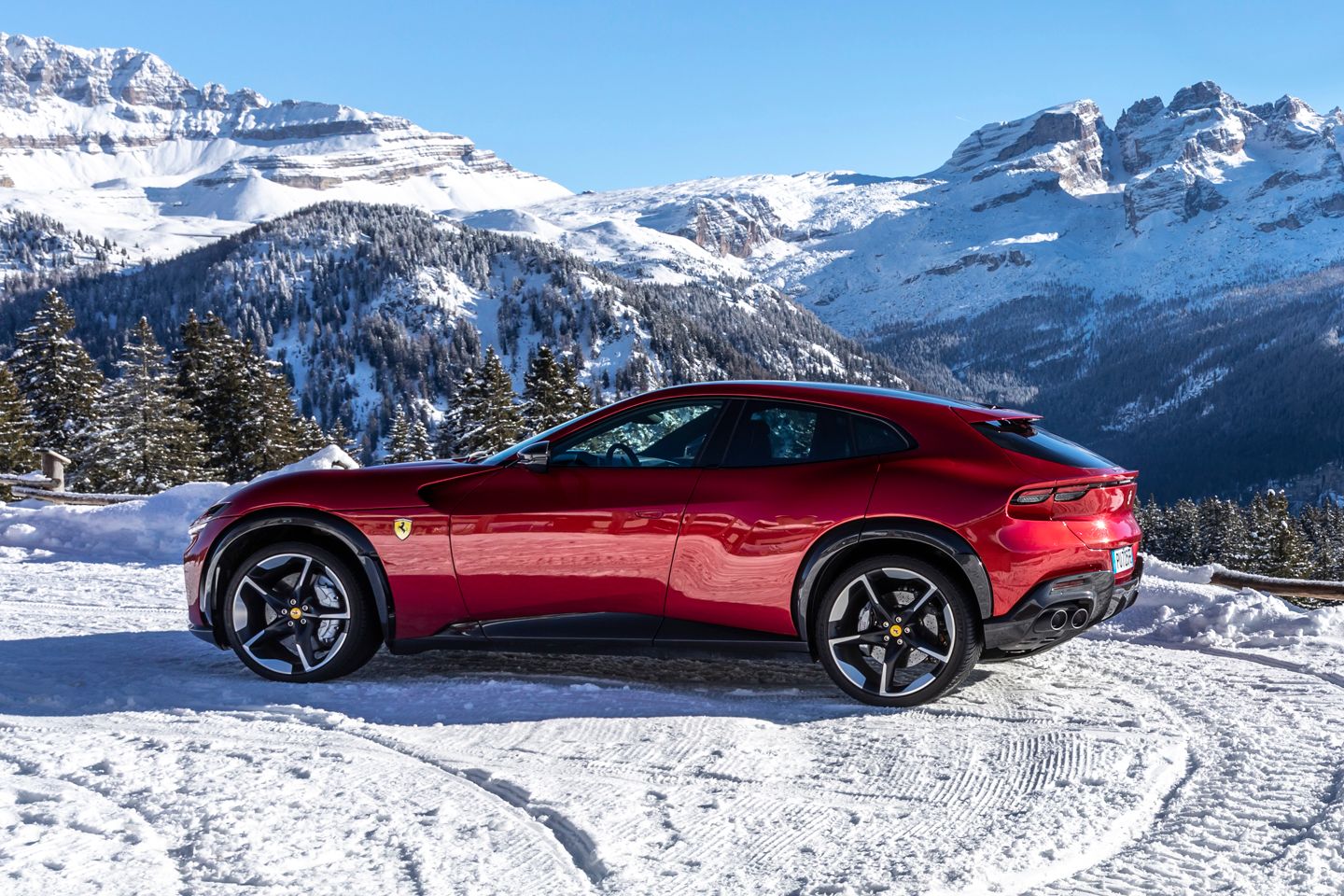 In the nicest possible way, there's an Allroad/Cross Country vibe to the Purosangue. It looks like a car – almost a front-engined 296, if you will – raised and with the cladding to deal with getting to the ski chalet, rather than a focused utility vehicle. It's certainly like no other model that comes to mind from any other maker, and is definitely cool for being so different. As far as off-roading goes, the biggest concession is probably the Hill Descent Control. There's an ice setting for the manettino but no off-road mode, and really very little mention of what the Purosangue can do away from the black stuff. In case you were wondering. The Lamborghini Urus appears like a Dakar racer by comparison. 
The interior, in best modern Ferrari tradition, is pretty great. This might be the best yet, in fact, as it adds proper luxury and the needs of passengers into the mix with everything that was already so good for the driver. It does that all with aplomb, even if the Ferrari methods (including haptic buttons) take a few minutes to reacclimatise to. The central HVAC rotary dial is a work of art, stylish and simple to use, the passenger display is better than ever, and to have five-mode massage seats in a V12 Ferrari is fairly glorious. The standard Burmester stereo might be the finest audio experience ever on four wheels. You'll never tire of the 'welcome' doors, either, with decent access to the rear – and, of course, nothing quite so ungainly as clambering behind a folded seat. 
The news from the back is more mixed, because while legroom is good, the materials sumptuous and the pano roof a real treat, headroom is limited in the rear of a Purosangue. More so than in any other four-door car that comes to mind, presumably not helped by the transaxle out back and that swooping roofline. Does that matter in a 725hp Ferrari? Perhaps not. And it'll be fine for anyone less than six feet. But don't expect any taller chums to be happy wedged into the expensive headlining for long. Don't have them bring much, either. The Purosangue's 473 litres of boot space is only 23 more than a GTC4 Lusso. High load lip, too.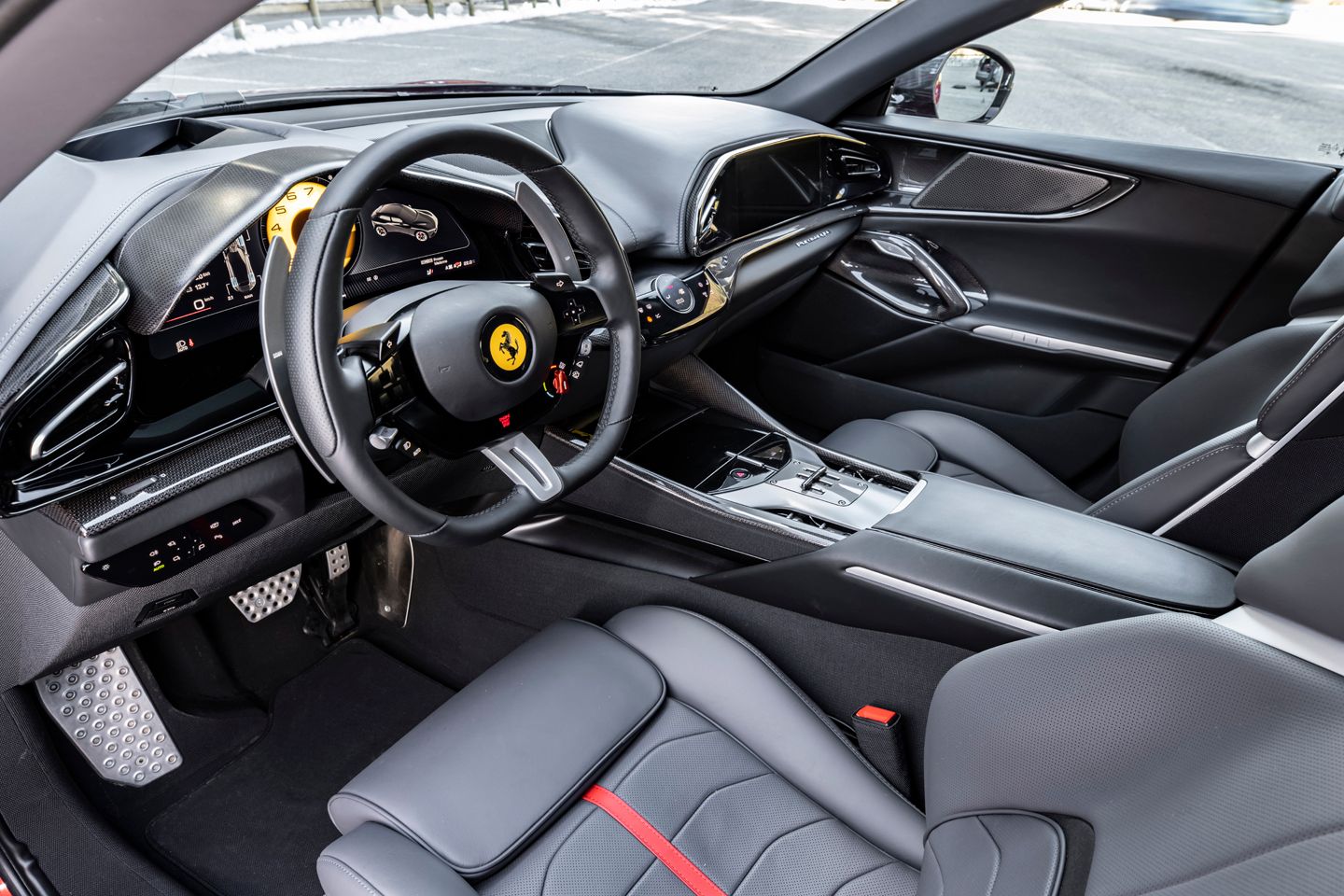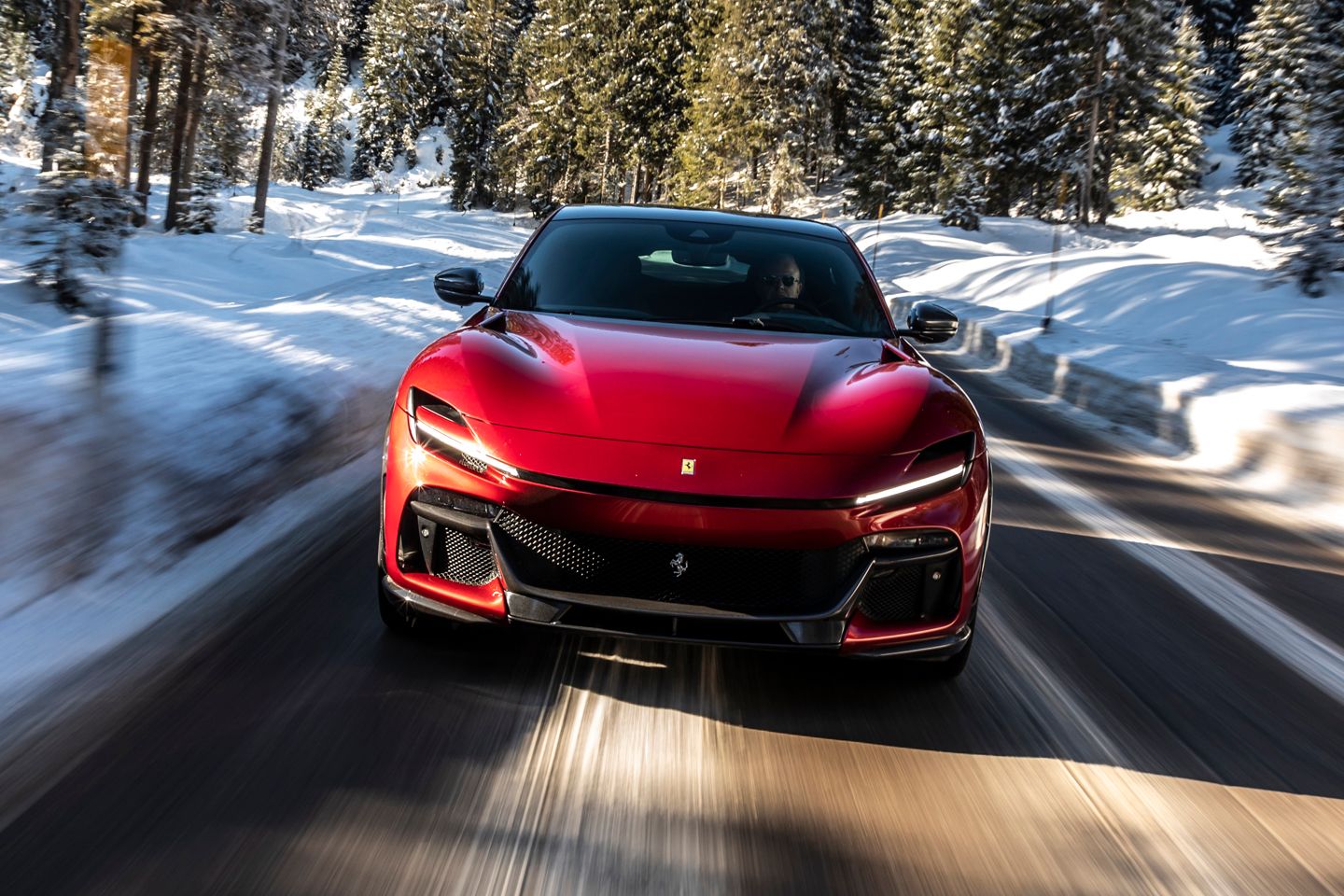 Which is more than enough of that. While it might not seem cricket from the rear bench, this is undoubtedly an authentic Ferrari experience from the driver's seat. A huge yellow tacho is right ahead, redlining at 8,000rpm and reading to 10, the carbon shift paddles feel wonderful, and the steering wheel is even better, just the right diameter and beautifully thin. The V12 starts with that expensive, gorgeous gargle, and, no matter where you're sitting, everything seems alright with the world. Whatever buyers choose to do with their Purosangue, getting in each day will feel like a privilege. 
There's more tangible Maranello magic there from the get-go, too. The Purosangue uses the Roma's eight-speed DCT, which must still be the best dual-clutch out there, faster than light when needed and imperceptible at any other time. The steering has that classic Ferrari light resistance and fast response, yet feels as natural here as in any other Ferrari, mainly because the whole car is tuned to sync with it. The ceramic brakes initially feel a little sharp, though are masterful with some temperature in them. And the V12, even in gentle use, is joyous, aristocratically purring and growling its way along. The sound is perfectly judged, never too overbearing but never too distant either. 
The active suspension deserves a mention, too, of course. It's fiendishly complex in the best Ferrari tradition; Multimatic's Trueactive spool valve system uses an electric motor and actuator to control the acceleration and deceleration of the piston in the damper very, very quickly. We think. It permits such a level of control that the Purosangue doesn't have anti-roll bars, and should cut roll and pitch by 30 per cent compared to a standard setup. 'Four jewels of advanced mechatronic engineering' is one of the more memorable press conferences lines, Ferrari very proud of the system's ability to independently manage (it reckons) wheel movement and body movement. Oh yeah, and the manettino now has damper settings as part of the jellybean, with soft and medium available all the time and hard on offer for Sport and ESC off.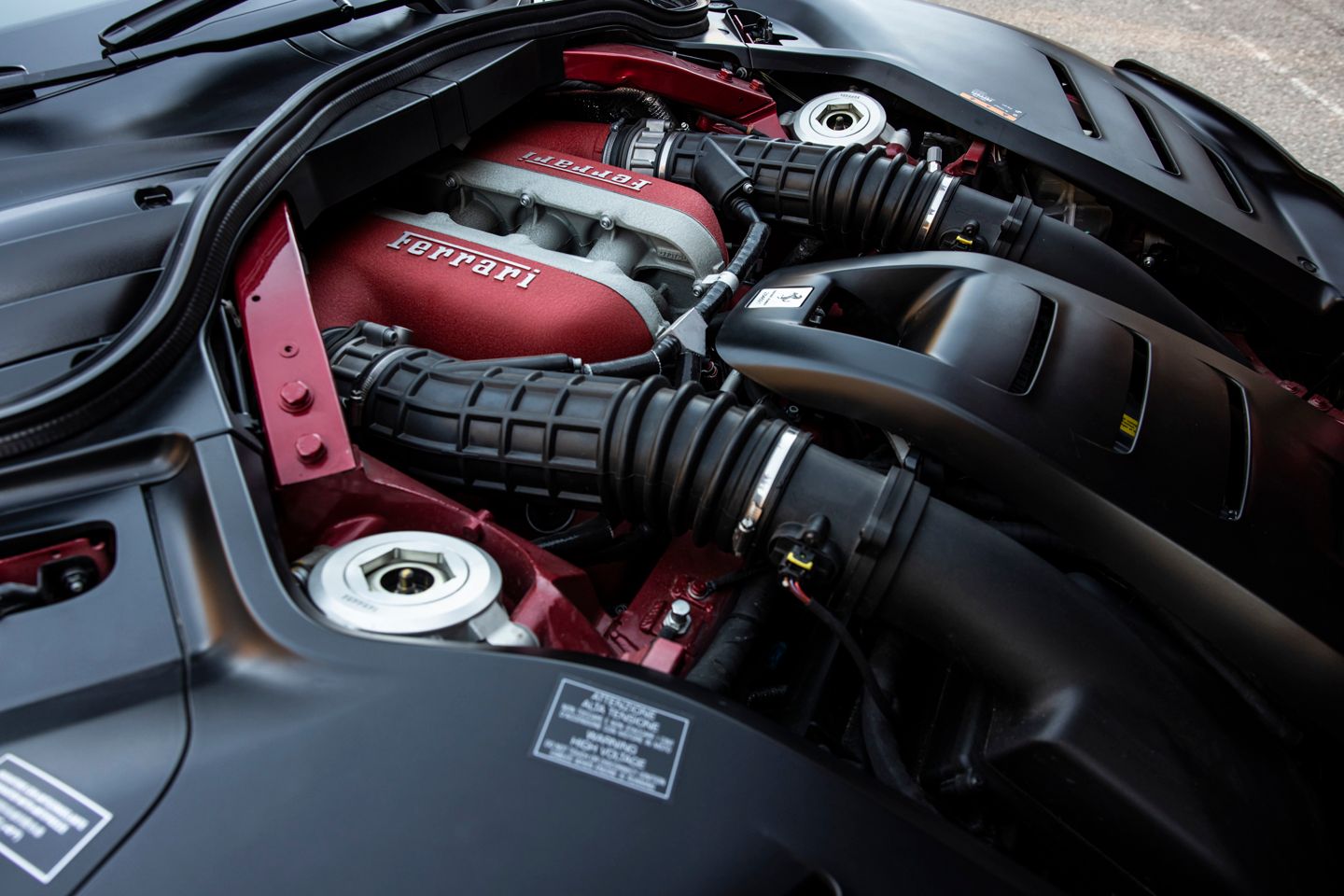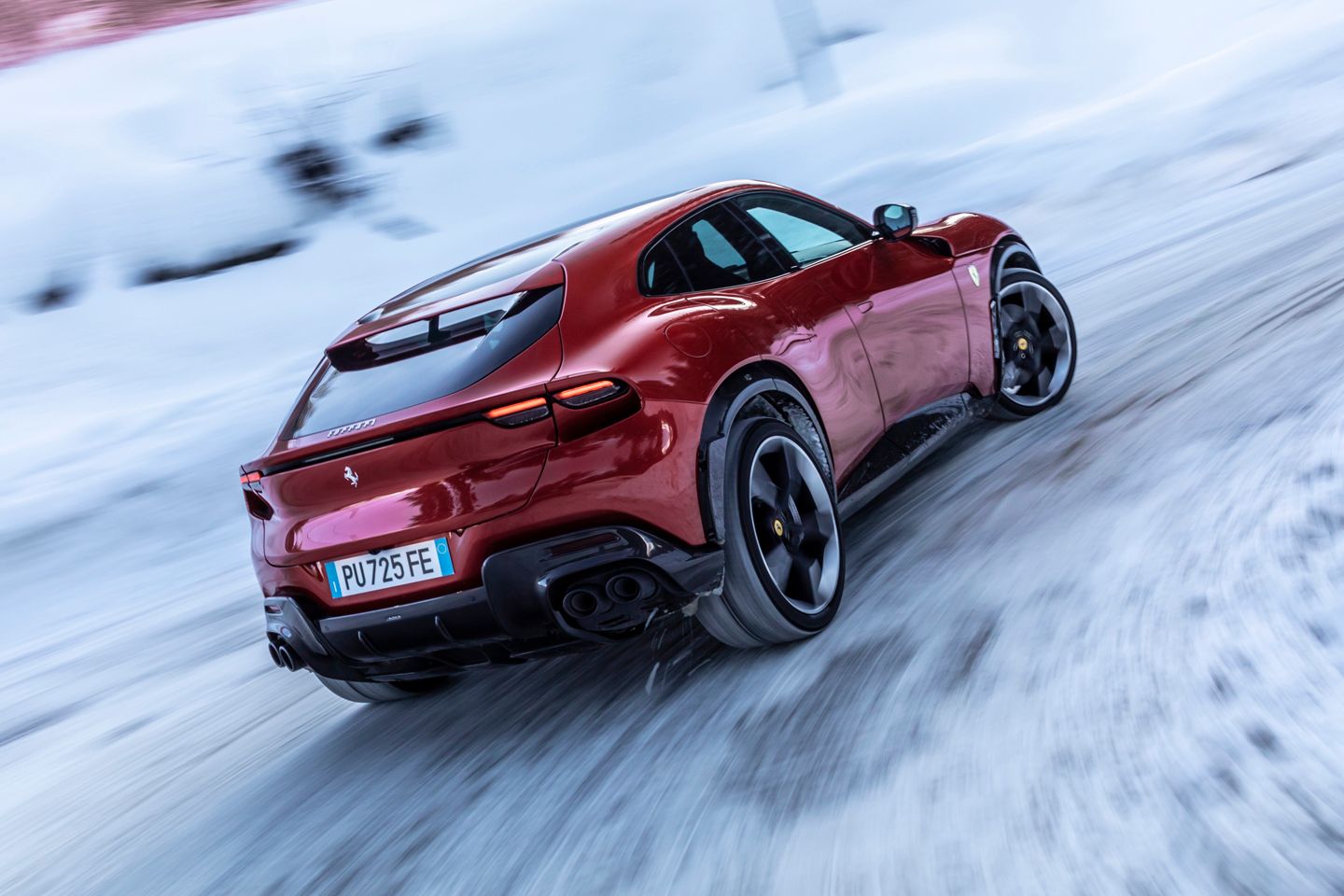 As might be expected these days from the latest Ferrari technical innovation, the active suspension works seamlessly and brilliantly. The ability of the Purosangue to manage 22-inch front wheels, 23-inch rear ones and a kerbweight getting on for 2.5 tonnes is little short of majestic. You won't drive with the dampers in hard without realising it, but even then there's a suaveness to every movement, that polish to the control that comes with having motorsport involvement. The capacity for its chassis to feel as plush as might be expected for a £350k luxury car and as agile as you'd want for a 725hp Ferrari might be the Purosangue's greatest achievement. It's a duality that borders on the freakish. Sport on the manettino with medium or soft dampers will see you right for anything.  
Normally it's at this point where we'd talk about what it's like to drive a new Ferrari V12 very quickly, but events rather conspired against that. A lot of the test route was busy with traffic and roadworks; many of the sections that didn't were as foggy as memories of Downing Street lockdown parties – so it wouldn't be fair to call this a comprehensive assessment. That said, the Purosangue offered much to be encouraged by. As astoundingly good as cars like the Porsche Cayenne Turbo GT have become, it might well have moved the game on in terms of both ability and engagement.
How Ferrari can make a car like this seemingly defy every rule in the book while remaining authentically gratifying to drive is mind-blowing. The Purosangue is urgent and incisive like a car far smaller and lighter, the four-wheel steer working its magic once more, yet also refined and soothing like the very best four-door saloons. The engine makes all turbo V8s feel decidedly flat as it shrieks through those epic last few revs, and the DCT shows up even the very best torque converters. There seems to be grip and traction in abundance (our test car was the only one on Michelin Pilot Sport 4S tyres, the rest on winters) without sidelining fun, rear-driven until the very last moment. If it felt like Ferrari around town, the impression is inescapable driving a bit quicker – it all points to a bonafide Ferrari experience. And a brilliant one. At least for a fleeting five minutes, it was.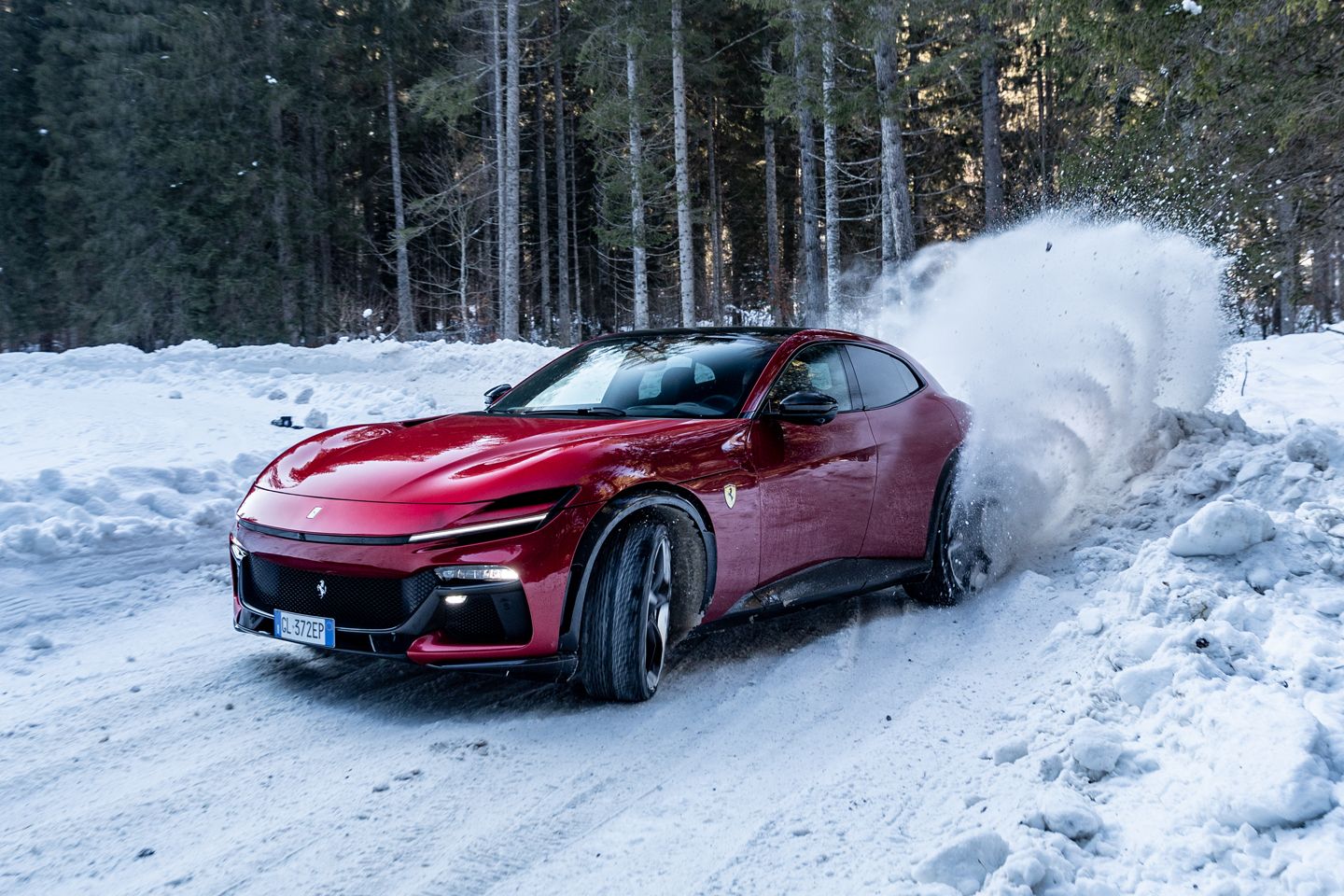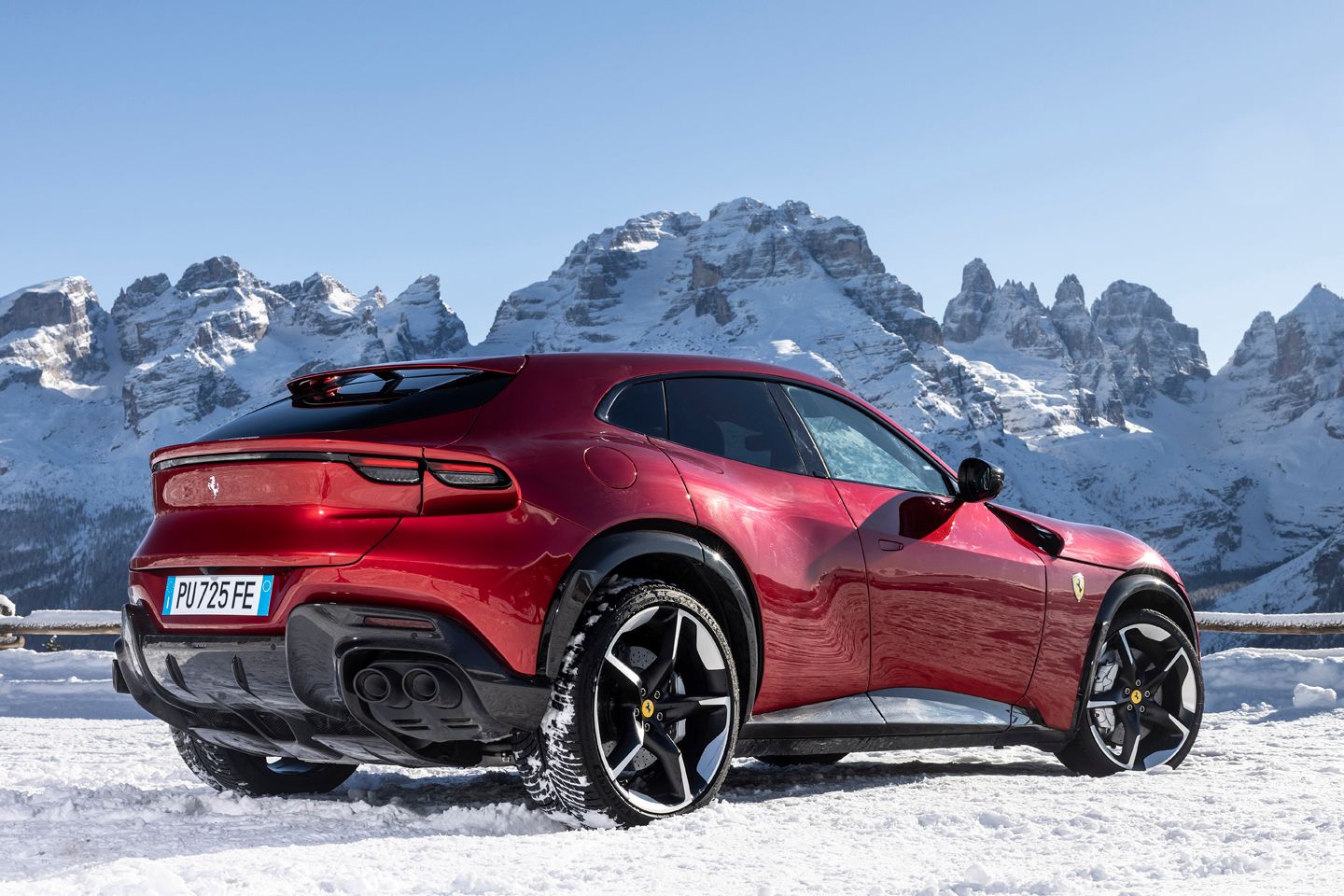 Problems? They seem rather academic with so much of its upcoming production already spoken for. But as dreadful old purists, it's hard not to bemoan the passing of the traditional 2+2 a little. For all the talk of the sustainable Alcantara used inside, a lighter structure and what feels like the world's busiest stop start system, fact is the old GTC4 Lusso was 243kg lighter (1,790kg dry against 2,033), faster to 124mph with one fewer gear ratios and emitted 27g/km less CO2. It's hard not to imagine what a car in that mould with some of the Purosangue's incredible innovations factored in could have been. Epic, most likely. 
Probably even mentioning any other high-riding, high-horsepower car in the same breath as the Purosangue is moot – because if you're buying one, you're capable of buying anything else on Earth the heart desires – but it doesn't do effortlessly fast quite like those twin-turbo V8 SUVs. Probably a model with the 3.9-litre engine will follow in time, as it did with the GTC4, or possibly a hybrid – Ferrari aren't saying for now. Fact is cars of a similar kerbweight with an additional 150lb ft are unavoidably and demonstrably faster in normal driving, which is arguably why practical cars from supercar makers even exist. There is that scintillating, 8,250rpm flipside to consider, of course, but not every passenger will appreciate that. And it does need revs on the dial – light lit up on the wheel, really – to feel 725hp fast. This is what we all want from a Ferrari, although its validity in a four-door model isn't nailed on just because it's present. 
There are two ways, it seems, of summing up the Purosangue from this first experience. One feels a bit mean, but also keeps nagging, is that it's not quite as thrilling to drive as the more traditional Ferraris while at the same time being less useful than the cars happy to identify as conventional (albeit hugely fast) SUVs – meaning you get the compromise of both without the very best bits. While costing more than either. The alternative, happier perspective – and one that feels no less true when you climb out of it – is that this is one of the most exhilarating four-door cars ever made, capable of things we never thought possible for a vehicle like this, powered by a mesmerising Ferrari V12. The popularity of the Purosangue already indicates which side of the debate prospective buyers fall on. They are unlikely to be disappointed.  
SPECIFICATION | 2023 FERRARI PUROSANGUE
Engine: 6,496cc, V12Transmission: 8-speed dual-clutch automatic, four-wheel drivePower (hp): 725@7,750rpmTorque (lb ft): 528@6,250rpm0-62mph: 3.4 secondsTop speed: 193mphWeight: 2,033kg (dry, with lightweight options, 2,100kg wet))MPG: 16.3CO2: 393g/kmPrice: £313,120