The C8.R Will Face Some Internal Competition from GM in its Final Trip to Le Mans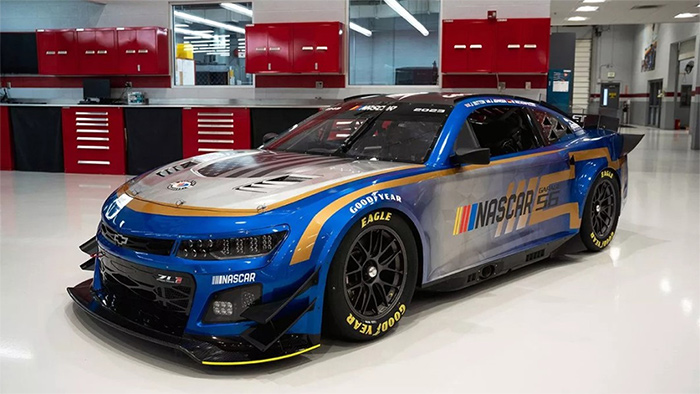 Photo Credit: Garage 56
When Corvette Racing followed the street version of America's Sports Car into the exotic mid-engine architecture of its eighth generation, it did so with the added challenge of testing/proving the viability of the brand's first-ever flat-plane V8. As awesome as the new powerplant and its high-RPM shriek are, it has left a lot of long-time "Yellow Team" fans – your author included – feeling nostalgic for the days when the C5-C7.R proudly roared their signature cross-plane thunder on the otherwise stuffy international endurance racing stage. Well, friends, you had better circle June 10th and 11th on your calendar because that glorious Porsche-scaring sound will be making a comeback at the 100th running of the 24 Hours of Le Mans, thanks to the crazy dream of a man named France.

Jim France is the chairman/CEO of NASCAR AND the chairman of IMSA, the sanctioning body behind the WeatherTech SportsCar Championship, where the C8.R competes. Having such strong connections to both series, France birthed one of those infectious ideas that simply have to be explored; let's do a crossover! Now, with the help of the winningest team owner in NASCAR history and the unique possibilities provided by the single-entry "Garage 56" showcase slot, we get to see a stock car compete on the Circuit de la Sarthe in the most famous race in the world!

News about the Chevrolet/NASCAR/Goodyear/Hendrick Motorsports endurance project has slowly been pouring in. Earlier this year, we learned that 7-time NASCAR Cup Series Champion Jimmie Johnson, Corvette Racing alum and former Le Man's winner Mike Rockenfeller, and, out of nowhere, 2009 Formula 1 World Champion Jensen Button had been tapped as pilots. With the parties involved, we also knew that the "stocker" in question would be a Camaro ZL1, but just before the Daytona 500, we got our first look at the finished product.

To transform a racecar that is used to competing on ovals during the daytime into an endurance machine capable of running at full steam for 24 hours, some necessary modifications were performed. Chief among these is a set of working headlights that would make Lightning McQueen jealous. Serious aero has also been installed, including a 2-inch taller rear spoiler and new rear canards, and dual front dive planes. The fuel cell has grown to 32 gallons, a 60% increase over the 47 car that Stenhouse Jr. drove to victory on Sunday. Stopping power is provided by ceramic discs à la the Z06's Z07 Package. Under the pinned hood lurks a Chevrolet "R07" 5.8-liter small-block V8 that is uninhibited by the BOP restrictions that plague the competition 'Vettes, thanks to the unique guidelines surrounding the Garage 56 spot. Hybrid tech was deemed too heavy for this project, and the finished product reflects its makers' attention to every gram of mass as it tips the scales at a lithe 2,960 lbs. vs. the "next-gen's" 3,485 fighting weight. Specialty tires from the team's partners at Goodyear are wrapped around similar 18-inch wheels to the ones found on your a-ver-age stock car. The five-speed sequential transmission in the Le Mans racer has been mated to a set of steering wheel-mounted shift paddles that are absent at NASCAR events.

From the onset, France stated that he wanted to bring a "true NASCAR stock car" to Le Mans, and, upon first glance, it looks like his impressive team has succeeded. More than 3,600 test miles have already been put on the rolling silver, blue, and gold Chevy and NASCAR billboard at legendary domestic tracks, including VIR, Sebring, Daytona, and Road Atlanta, with informal lap times, reportedly threatening those set by IMSA GT-class rides – like the C8.R! So, even though Garage 56 is at Le Mans on a strict exhibition basis, like LeBron hypothetically suiting up for the Dallas Cowboys for a preseason contest, it will be thoroughly entertaining to see how the Camaro fares for 24 hours in its mid-engine sibling's natural habitat!

Source:

TheDrive.com


Related:

[VIDEO] EXCLUSIVE: 2024 Corvette Z06 GT3R, C8.R, and NASCAR 'Garage 56' Le Mans Racer Testing at Sebring

Corvettes at Carlisle is Planning a Special 100th Anniversary Salute to the 24 Hours of Le Mans

WEC Drops GTE-Pro Class for 2023 and Introduces GT3 Premium Class for 2024