Hyundai Debuts "It's Time to Go Electric" Campaign with the 2023 IONIQ 6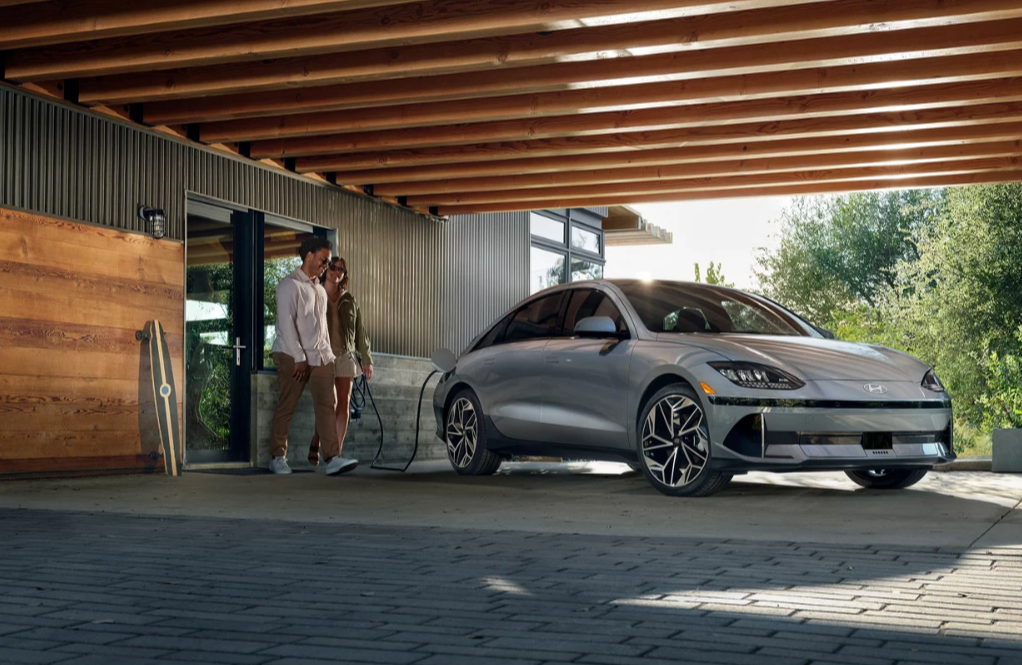 Get ready for new energy that's miles ahead. Fresh from its debut at the LA Auto Show, on its way to those who accept no compromise between form and function. The next evolution in the IONIQ family marries stunning design with ultra-fast charging technology. Introducing the Hyundai IONIQ 6. It's your journey. And now, the IONIQ 6 is the star of a new "It's Time to Go Electric" marketing campaign, which premiered during the NFL's Conference Championship Games in January. Check out more about the Hyundai IONIQ 6 now at Rosen Hyundai Algonquin!
"It's Time to Go Electric" Campaign
The 2023 IONIQ 6 steals the show in the "Your Dad Is Going Electric," ad, which features Keven Bacon, and his daughter, Sosie Bacon. Putting a humorous spin on the dynamic father-daughter relationship, the ad shows that even Sosie's "older" and less technologically savvy dad has made the leap to electric vehicles before most consumers. It shows off the IONIQ 6's excellent charging capacity—capable of going from 10% to 80% charge in as little as 18 minutes on a 350-kW, 800V DC ultra-fast charger and has a driving range of up to 361 miles for the IONIQ 6 SE RWD.
The ad debuted on January 29 during both of professional football's conference championship games. A 30-second companion spot, "Grandkids," continues to follow the Kevin and Sosie Bacon journey while highlighting the positive environmental benefits of going electric for future generations.
The IONIQ 6 is the Future of Electric
With this gorgeous newcomer, the evolution of the IONIQ family takes a leap forward. The all-new Hyundai EV features a streamlined silhouette that takes your breath away, technology that anticipates your needs, and ultra-fast charging capabilities that saves you more time.  
The Hyundai IONIQ electric will be among the most energy-efficient mainstream EVs available today. With a range of drive motors and battery packs to fit the needs of every driver, the Hyundai electric car features a long-range 77.4-kWh battery that can be paired with either rear-wheel-drive (RWD) or all-wheel-drive (AWD). The estimated IONIQ 6 price starts at just $44,000, and it will get you extended range, luxurious and spacious Hyundai IONIQ 6 interior, and speedy charging.
Visit Rosen Algonquin!
Looking for a Hyundai dealership near me? At Rosen Algonquin Hyundai, we have a full inventory of new and used cars Algonquin, IL. Our goal when you visit our new Hyundai dealership is to provide you with a superior experience satisfying your needs. Experience the Rosen difference when you shop or service with us! Stop by to learn more about the exciting new IONIQ 6 today! 


You may also like…