Corvettes for Sale: One-Owner 1969 Corvette Stingray Convertible on eBay
What are the odds that a 54-year-old car still has the same owner that drove it off the dealership lot when it was new?

We're no mathematician, but we'd say the odds are pretty high to find a one-owner 1969 Corvette Stingray convertible these days.

But believe it or not, that's the case for this red over red '69 currently being offered on eBay at no reserve, so that means it will have only its second owner by tomorrow when the auction finally comes to an end.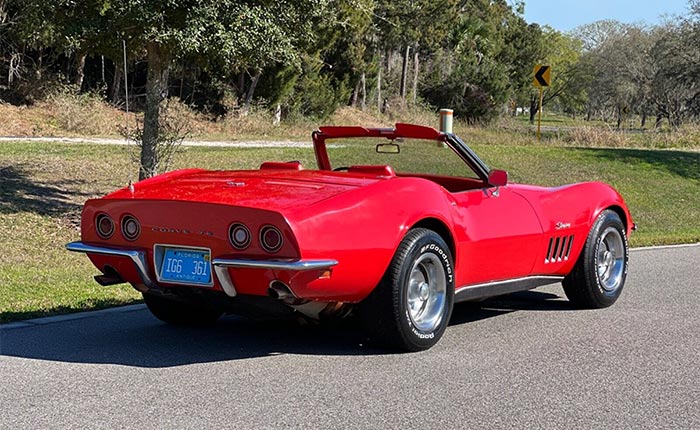 So far, 46 bids have climbed to a peak of $30,415.

The eventual winner of the auction will get an original Corvette that still has its original 350/300 horsepower engine hooked to the original 4-speed manual transmission.

Furthermore the car – described as a daily driver still – is said to "run and drive great."

"Engine starts right up and runs excellent," the seller says in the listing, with "no leaks or smoking or knocking" and the transmission "shifts perfectly fine in all gears."

That condition really isn't all that surprising since this vintage C3 has only 61,000 miles, though.

The undercarriage, birdcage, and body are all rated "excellent" by the seller, who says the body has no dings or cracks and the original paint still shines up nicely.

The standard soft top is complemented by a body-matching hardtop, while the interior is described as being in great condition with no rips or tears.

All the glass is rated excellent as well, and the manual windows are said to roll up and down nicely.

We think the seller meant to say the car is NOT (not NOW as published) showroom or perfect condition. "It's a 55-year-old car that's in great shape," he concludes.

This red-on-red '69 chrome bumper convertible especially holds a soft spot in my heart as a neighbor of mine had an identical Stingray that was my first up-close experience with a Corvette when I was growing up.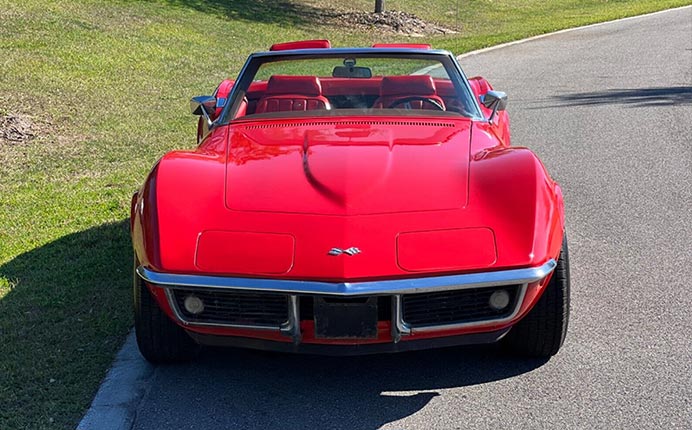 It's absolutely amazing to me that this example still has the original owner! How about you?

Source:

eBay Motors via BarnFinds.com


Related:

Corvettes for Sale: Bagged 2021 Corvette Stingray Show Car Offered at VetteFinders.com

The Top 11 Corvette Sales of Barrett-Jackson Scottsdale 2023

Corvettes for Sale: 2003 Corvette Guldstrand 50th Anniversary Z06