SpaceX Falcon 9 rockets set for Starlink double-header
A pair of SpaceX Falcon 9 rockets are on track to round out the first month of 2023 and kick off the second with a Starlink double-header.
"To complete pre-launch checkouts," SpaceX delayed its last launch of the month by 24 hours. The first Falcon 9 rocket will launch Starlink 2-6 and a D-Orbit rideshare payload no earlier than 8:34 am PST (16:34 UTC) on Monday, January 30th. The mission will lift off from SpaceX's Vandenberg Space Force Base (VSFB) SLC-4E pad and head southeast, skirting the California and Mexico coast. In case of bad weather or a minor technical issue, a backup window is available at 12:31 pm PST.
As few as 35.5 or 39.5 hours later, a second Falcon 9 rocket will lift off from SpaceX's Florida-based NASA Kennedy Space Center LC-39A pad around 3:02 am EST on Tuesday, February 1st.
Starlink 2-6
Kicking off the pair, Starlink 2-6 will be SpaceX's ninth Starlink rideshare mission since the company began manifesting third-party payloads on its internet satellite launches in June 2020. Falcon 9 will launch the mission's main payload – a batch of 49 Starlink V1.5 satellites – to a semi-polar orbit that will see them cross Earth's equator at an angle of 70 degrees. Ordinarily, the mission would carry 51 Starlinks, but SpaceX has removed a pair of satellites to make room for Italian space logistics company D-Orbit's ION SCV009 spacecraft.
ION weighs around 160 kilograms (350 lb) on its own and is roughly the size of a large oven. D-Orbit designed the spacecraft to host fixed payloads and deploy rideshare satellites in orbit. It also has a propulsion system that allows it to provide "last-mile delivery services," offering rideshare customers the ability to tweak the orbit their satellite ends up in. Space tugs like ION aim to give satellite owners some of the benefits of a dedicated rocket launch (custom orbit selection in particular) while retaining most of the cost savings rideshare launches enable.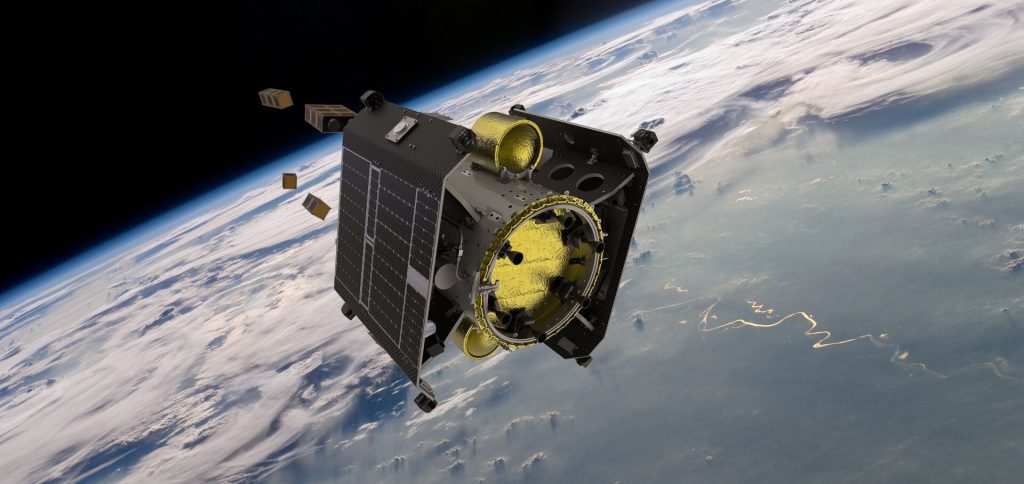 After reaching orbit, Falcon 9 will deploy ION first, use thrusters to spin itself end over end, and then release all 49 Starlink satellites simultaneously. The spinning stage's centrifugal force causes the satellite stack to naturally spread out within several hours. The satellites then use reaction wheels to stabilize their orientation, deploy solar panels to begin charging their batteries, and eventually use ion thrusters to climb to operational orbits.
ION SCV009 will attempt to test a new satellite separation system built by EBAD and demonstrate its ability to operate in very low Earth orbit (VLEO). The spacecraft will potentially lower itself to an altitude of 270 kilometers (170 mi).
Starlink 5-3
Starlink 5-3 will carry no rideshare payloads and will likely be nearly identical to Starlink 5-2, which SpaceX successfully launched on January 26th. The latest mission's stack of 56 Starlink V1.5 satellites weighed 17.4 tons and was the heaviest payload SpaceX has ever launched. Starlink 5-3 is targeting the same orbit and will likely also carry 56 satellites.
Pad 39A last supported SpaceX's fifth Falcon Heavy launch on January 15th and has been quickly converted back to its single-core Falcon 9 configuration for Starlink 5-3. After the Starlink mission, Pad 39A has at least two Dragon spacecraft launches scheduled before SpaceX will need to convert it back to a triple-booster configuration for Falcon Heavy's sixth launch.
SpaceX is scheduled to launch Crew Dragon's Crew-6 astronaut transport mission no earlier than February 26th, and Cargo Dragon's Spx-27 cargo delivery mission on March 11th. Falcon Heavy is scheduled to launch the giant ViaSat-3 communications satellite no earlier than March 24th.
Tune in below around 8:30 am PST (16:30 UTC) to watch SpaceX Starlink 2-6 launch live.
SpaceX Falcon 9 rockets set for Starlink double-header