Rob's Yamaha R1 Cafe Racer
I hate to say it but there is a downside to riding a classic British cafe racer. Sure you'll revel in the feeling of nostalgia each time you get on it, be intoxicated by the smell of oil and fuel permeating from the engine and find yourself awkwardly aroused by that unmistakable, twin-cylinder exhaust note. But your hopped-up Triton/Norvin/Tribsa will never be the street-dominating beast that the Rockers of the '60s wanted it to be.
Back then, riders would be lucky to crack 100mph and at those speeds, the suspension and brakes were barely capable of keeping up. These days 100mph is only a short twist of the throttle away on any motorcycle over 650cc. In fact, most modern 250s can comfortably crack the ton without the fear of them shaking themselves to pieces. Add to that the huge improvements we've seen in chassis design, suspension and brakes over the past 60 years and those old Brits simply can't keep up.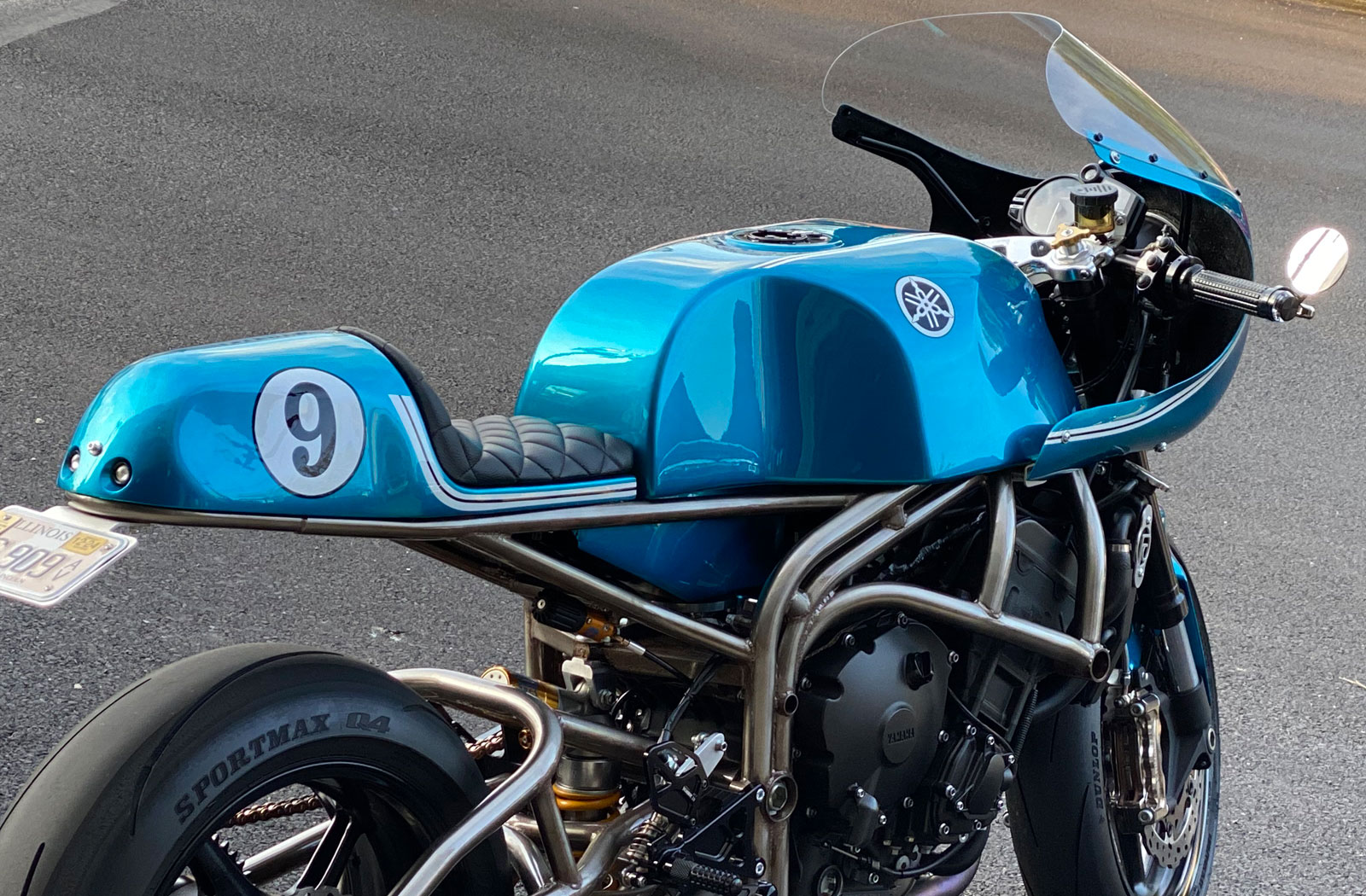 There are of course exceptions to the rule; like the heavily re-engineered motorcycles built by the pros, but those kinds of upgrades don't come cheap and neither do those motorcycles. So if you're an everyday motorcyclist whose addiction to speed ranks as highly as your love of retro styling you'll need to find yourself a more capable modern donor.
Robert Catanese of Chicago, Illinois faced such a conundrum when considering his own cafe racer project. The 53-year-old blames Evel Knievel for his childhood obsession with 2 wheels. Since then he's done everything from motocross to drag and street racing and says he's still as "bike-demented" as ever. Nowadays he's no longer obsessed with the death-defying stunts of Knievel though. Instead, it's legendary racers like Agostini, Roberts, Lawson and Rossi that he blames for his infatuation with GP bike and cafe racer culture.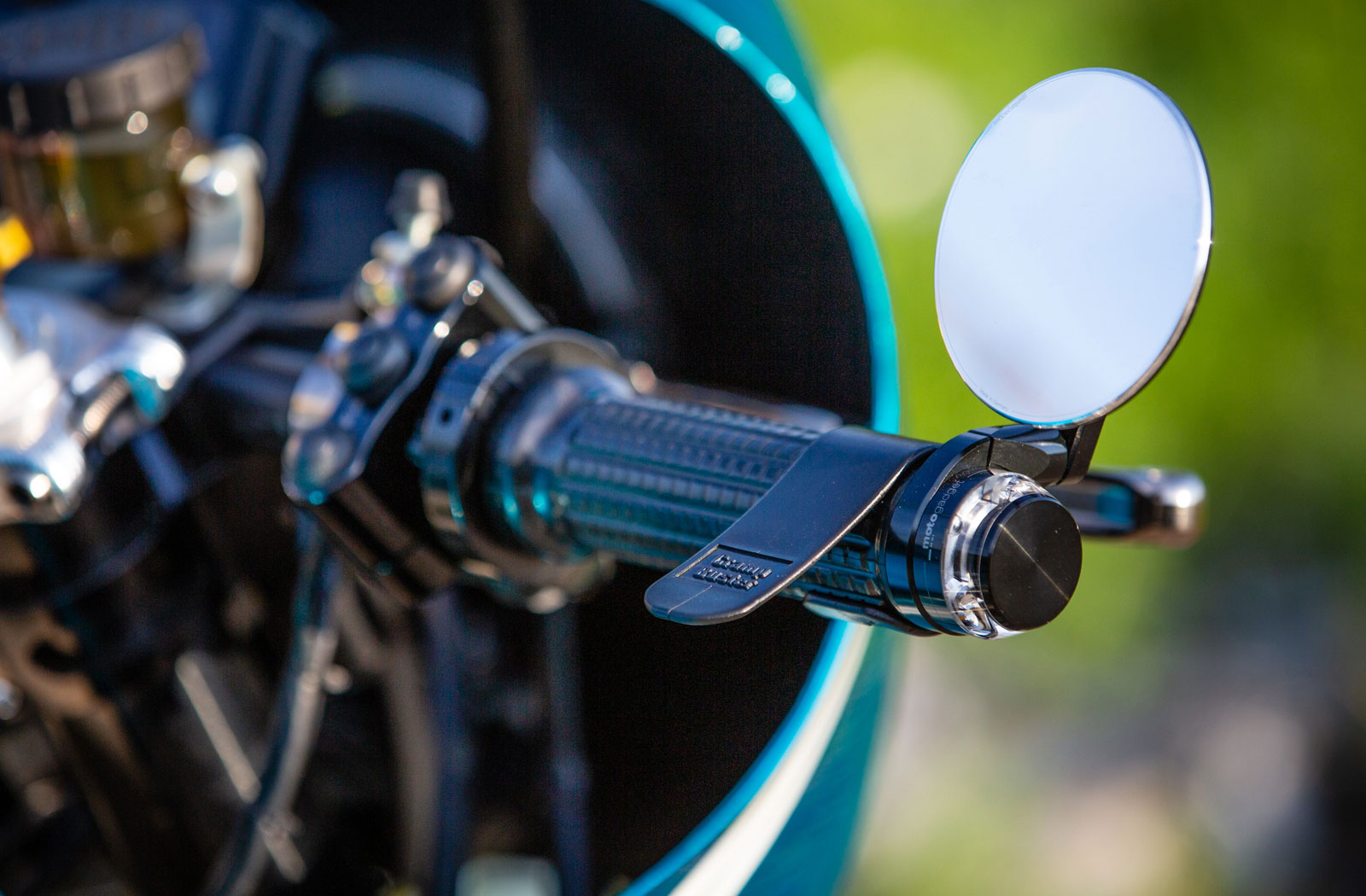 As a result of Rob's motorcycle affliction, he's built a close rapport with some very talented custom motorcycle builders. Amongst them is the father and son team behind Framecrafters with whom he teamed up to realise this somewhat unhinged cafe racer project.
"This bike was a personal project and built because I believe I watched Mad Max way too many times along with GP racing," says Rob. "It had to be retro-looking but mean as hell with all the technology that the 21st century offers. I needed one of the fastest bikes on the street disguised as a '70s cafe racer."
The donor Rob elected most suitable for his project was a 2012 Yamaha R1. With its full fairing bodywork, Deltabox alloy frame and 4-cylinder 1000cc engine the YZF-R1 has virtually nothing in common with the cafe racers of old. But with 182 hp on tap, the ability to complete a standing quarter mile in under 11 seconds and a top speed of 185 mph it offered precisely the kind of performer Rob had in mind. So while 1 of his requirements had been met achieving the other meant that the R1 would need to undergo a serious retro makeover.
"We just needed the donor bike for the motor, ECU and some geometry points. So I sold all the leftover parts on eBay," says Rob. "The gentleman that had owned this R1 treated it like more of a trailer queen than anything. He actually bragged that it had never seen rain. It was basically brand new and had been spoiled its whole life. When he found out what we were planning to do, he almost backed out of the deal!"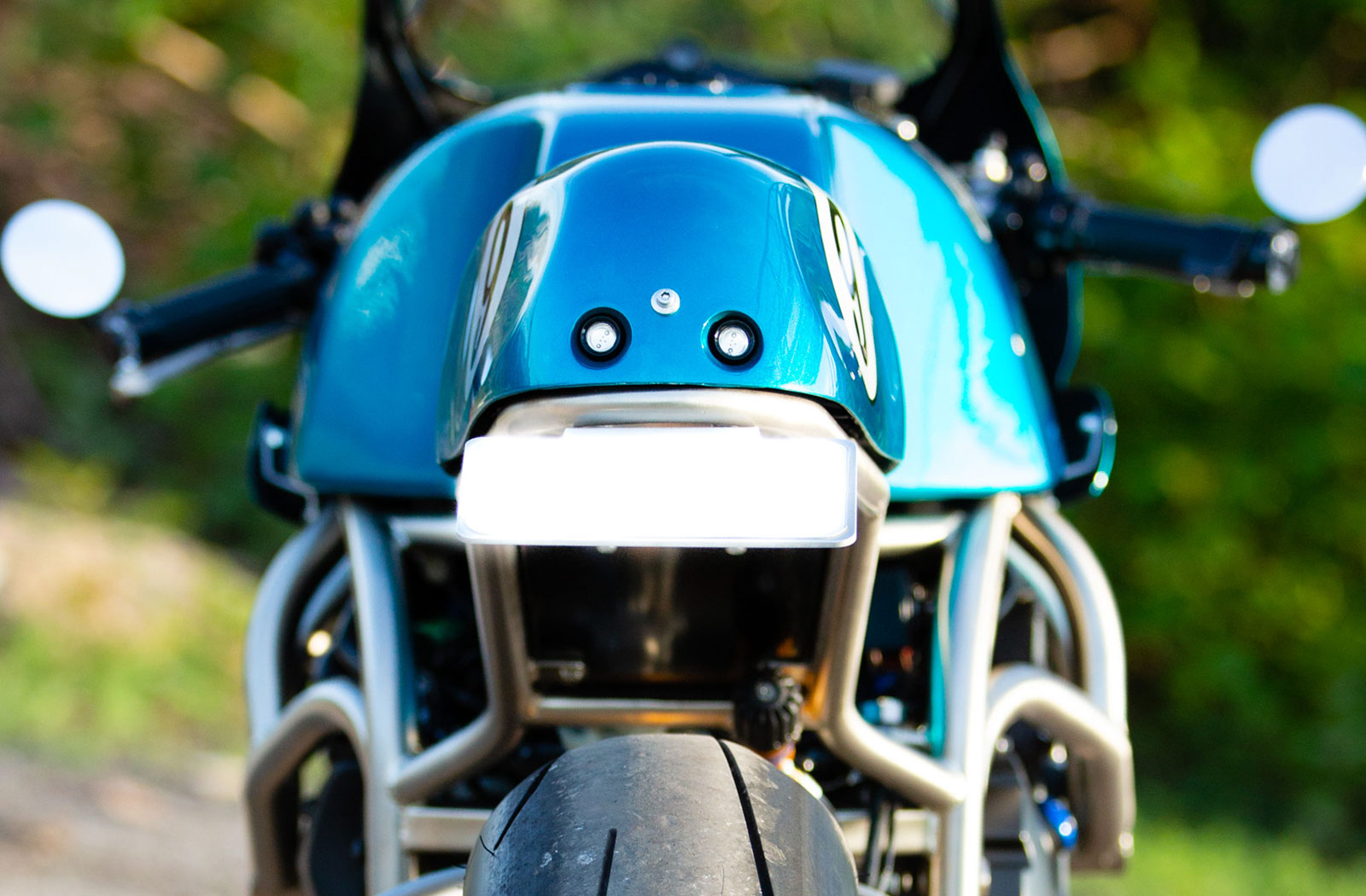 Rob's design approach to this cafe racer project was as unorthodox as its donor. "I'm a dinosaur when it comes to 3D or CAD but I could always draw freehand. One day my pal Walter and I designed the R1X on a napkin over a couple of beers," he recalls. "I look at that rough sketch today and honestly my bike looks just like it!"
After drawing up his dream and tearing down the R1, Rob headed to the Framecrafters workshop in Union, Illinois to share his vision with shop owners Randy and Karsten. The first step was designing a new chassis to house the R1 motor, which just so happened to be their speciality.
The 1000cc inline-four now sits in an entirely bespoke chassis. Framecrafters steered well away from using any boxed aluminium as you'd find on a modern sports bike. Instead, the entire structure is formed using Aviation Grade Chromoly Steel tube. Designed using a stressed member configuration, the new frame is built to race standards to ensure it can handle the output of the R1 motor and Rob's aggressive riding style. The swingarm is Chromoly too and the tubes have been bonded to billet aluminium axle carriers at the rear. To complete the classic look Rob, requested that the whole assembly be nickel plated as a hat tip to the frames produced by Rickman in the 1970s.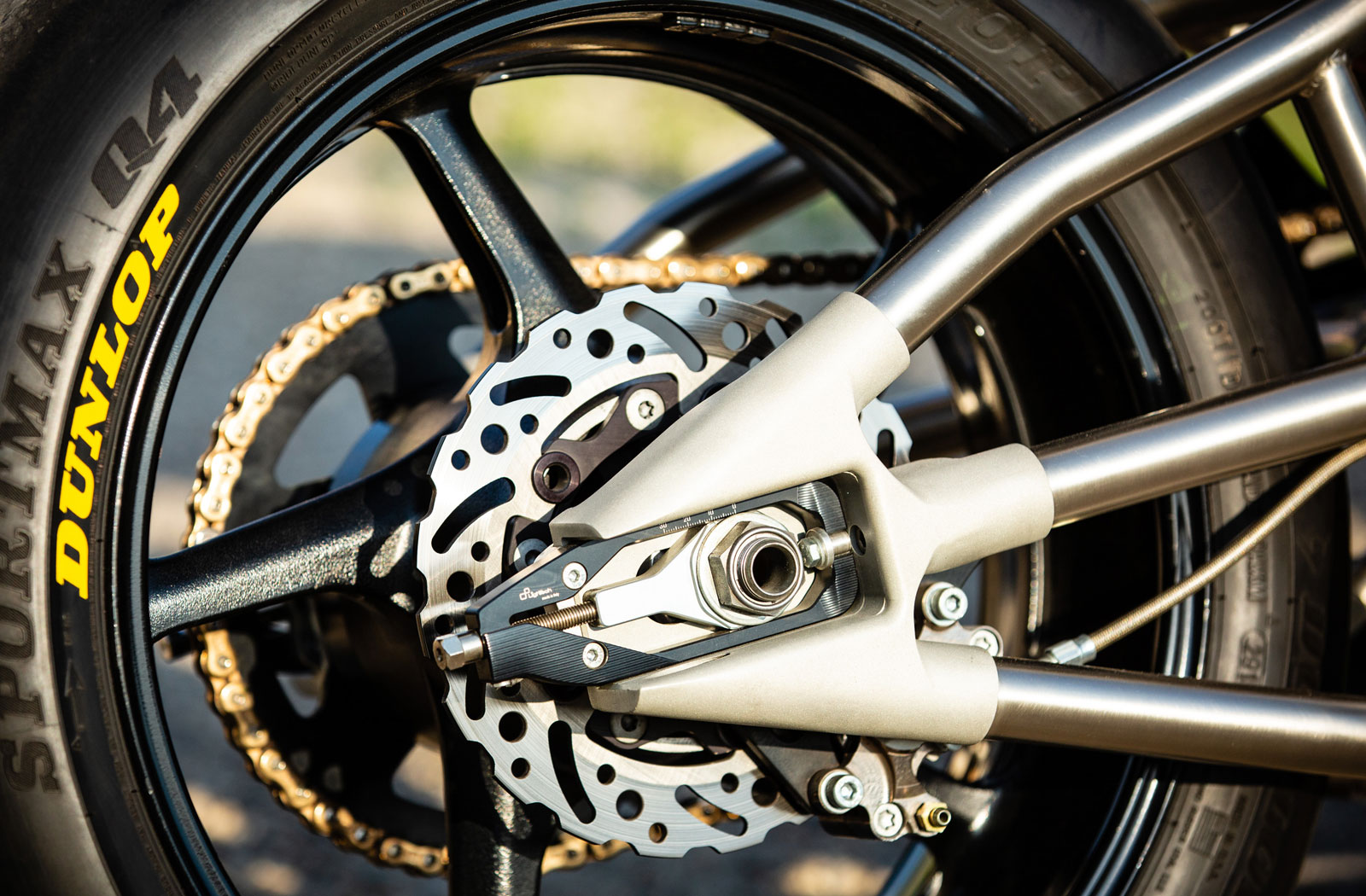 Next came the bodywork and once again there isn't a hint of modern sportbike styling to be found.
See also
Up front, Framecrafters installed an iconic bubble fairing. The Ducati 750SS replica unit sits level with the new bone line and has been modified the suit the R1's front-end geometry. The tail unit is a 750SS replica too fitted with custom rear-end lighting and a diamond-stitched leather saddle. As for the fuel tank, it's been hand-beaten from aluminium and holds an ample 5 gallons of fuel. Tucked away beneath it is an alloy air intake that feeds the airbox and there are countless hand-made alloy brackets and mounts holding everything in place.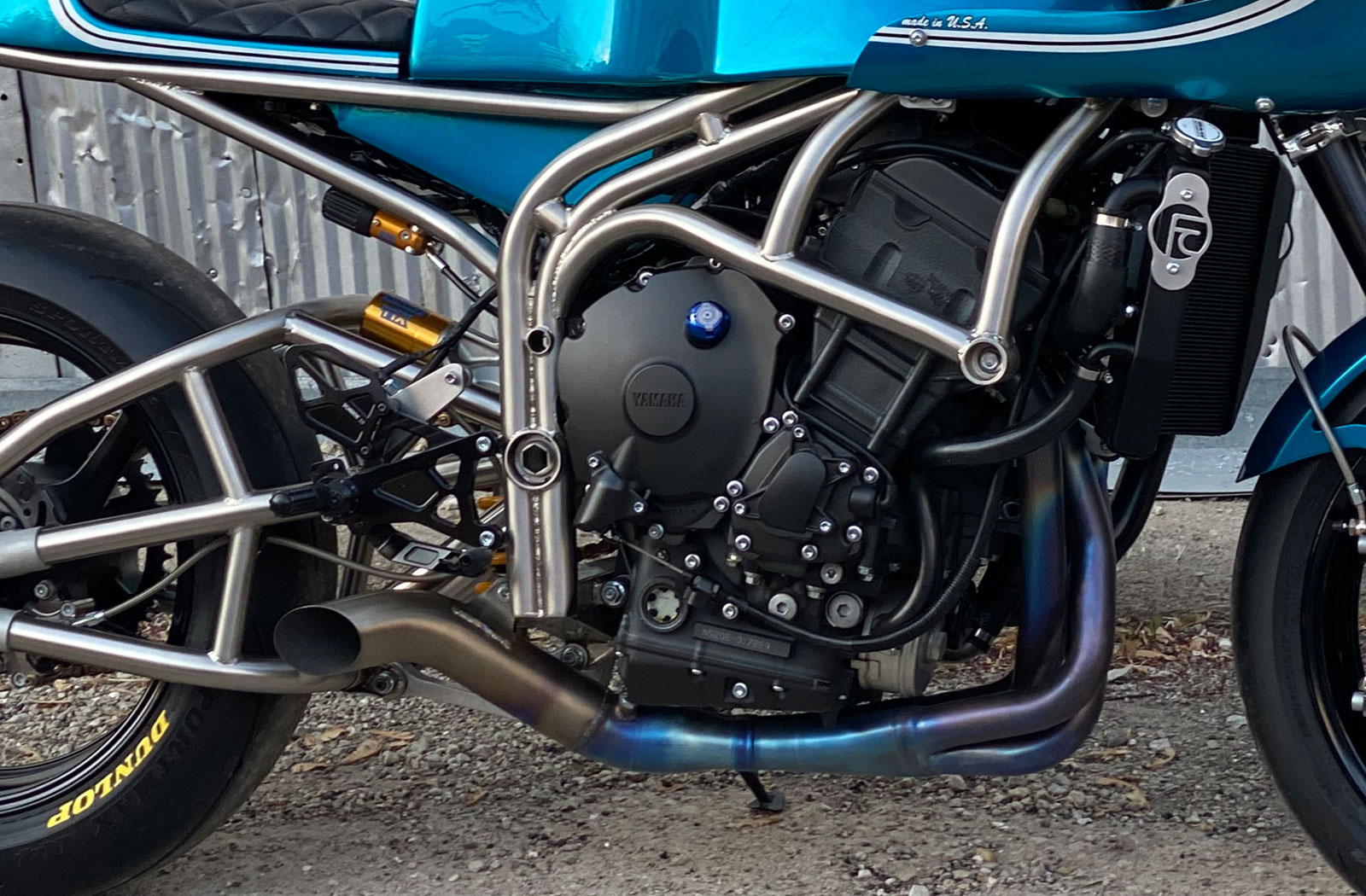 With the R1 confidently satisfying Rob's retro requests the build could have been called done, but he had bigger plans for its performance. "I was trying to use the same or similar parts as today's MOTO GP bikes but didn't want to sacrifice reliability. Basically, it's a street-going version of a Moto GP bike," he explains.
To greatly reduce unsprung weight Rob has installed a set of premium BST Diamond Tek carbon fibre rims. These have been wrapped in Dunlop Sportmax sticky Q4s and fitted with ceramic bearings. Stopping power comes via Berenger 6-piston front callipers and a single-piston rear and they all bite down on Brake Tech rotors. The rear-end suspension received an Ohlins upgrade in the form of a TTX fully adjustable mono-shock. The forks sit in an Attack Triple Clamp Kit and the clip-on bars wear Australian-made Moto GP controls. The GP Shift foot controls are by Vortex and there's a long list of upgrades from Lightech and Motogadget too. Then, as if 182hp wasn't enough Rob fitted a custom titanium exhaust with a Bologna mid pipe and had the ECU chipped and tuned for optimal output.
It'll come as no surprise that Rob's Yamaha cafe racer is a real performer. "The Chromoly steel frame has a nimble nature different from the stock frame which I believe helps to propel you faster into and out of corners. I'm sure the lightweight BST wheels have something to do with that too!" he jokes. "Basically, my bike is approx 50 lbs lighter than a stock R1. Power to weight is everything with just over 400 lbs and 200 HP. She's gonna be hard to beat, and I haven't lost yet!"
All-up Rob's R1X took 2.5 years to complete due to the simple fact that everything had to be custom-made or modified to fit this ground-up build. That's a long time to wait to get to appreciate all the hard work and money that's gone into the project, but Rob is now making the most of it. His R1 is no longer a fair-weather trailer queen. Instead, it has become his daily steed and gets put through its paces at every opportunity.
FRAMECRAFTERS MOTORCYCLES