The Stylish Exterior of the 2022 BMW 2 Series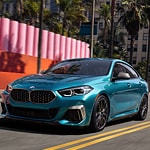 The BMW 2 Series is a compact executive car produced by the German automaker BMW. The 2 Series has been produced since 2013, and is currently in its second generation. It is available as a coupe or convertible, and is powered by a range of inline-four and inline-six engines.
The 2 Series' exterior is characterized by its sporty and aggressive design. The car has a wide stance, with a long hood and short rear deck. The front of the car is dominated by the large BMW kidney grille, flanked by sharp, angular headlamps. The car's suspension is tuned for performance, and the car sits on large alloy wheels.
The 2 Series is a stylish and sporty car that is sure to turn heads on the road. With its powerful engines and sharp handling, the 2 Series is a great choice for anyone looking for an exciting driving experience.