The BMW 7 Series plug-in hybrid
Growing demand for all-electric and hybrid vehicles has led to two plug-in hybrid versions of the new BMW 7 Series being unveiled.
Along with a high voltage battery that will deliver 36 miles on all-electric range there's also an in-line six-cylinder petrol unit to boost the overall distance.
The new plug-in hybrids go on sale in the spring and combine the comfort and sportiness of BMW's flagship luxury model.
The increased efficiency also deliver a 'feelgood ambulance' and excellent handling.
Choices for the new BMW 7 Series plug-in hybrid
There are two choices for the new BMW 7 Series plug-in hybrids: the 745e and the 745Le xDrive, which has intelligent all-wheel drive.
Compared to the previous plug-in model, the new versions have an advanced battery that helps to boost torque and power output as well as fuel consumption.
Under the bonnet, there's a 3.0 litre EfficientDynamics engine that produces 286 hp, while the electric motor delivers 113 hp and torque of 265Nm.
The best way of enjoying the latest battery cell technology is in Sport mode where the two outputs combine to deliver 394 hp and 600Nm of maximum torque which produces sports car-like acceleration in the 745e.
BMW 7 Series plug-in hybrid offers intelligent energy management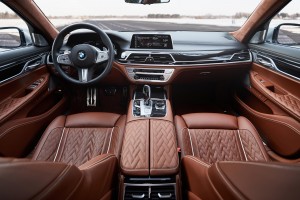 The new BMW 7 Series plug-in hybrid also offers intelligent energy management that works with the vehicle's GPS system, so it will use electric power in the most efficient stages of a pre-planned route.
There's no doubt that the power output will impress and despite the size and weight of the 745e, it will sprint from 0 to 62 mph in 5.2 seconds, with the xDrive doing this slightly quicker.
The hybrids have an electronically limited top speed of 155 mph.
Compared to the predecessor, in Hybrid mode the 745e can travel at up to 68 mph, which is 13 mph quicker and the petrol engine will not kick in until the car reaches the highest speed or when the engine comes under a heavy load.
Get this car on personal contract hire
In Electric mode, the top speed will be 87 mph and the overall fuel consumption for the BMW 745e is between 123 mpg and 141 mpg with emissions of just 48g/km. The 745Le xDrive will deliver between 105 mpg and 118 mpg with emissions of 52g/km.
BMW says that from the summer, there will be new digital services available to make charging the battery while driving more convenient.
The satnav system will also highlight nearby hotels, cafes and restaurants with charging facilities and predict whether the charging stations will be busy.
Prices for the BMW 7 Series 745e start at £76,815.