Auto Checklist for a Safe Vacation Road Trip » Ron's Garage
06 Jun

Auto Checklist for a Safe Vacation Road Trip

Posted at 14:25h

in Auto Maintenance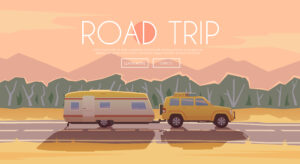 If you are like most of the country, you want to get out of the house and go somewhere on vacation this summer. Unfortunately, the pandemic has caused limitations on certain kinds of travel. Road trips are the least restrictive, and offer a lot of solutions to get out of town. The options are abundant, especially when visiting outdoor locales. If you are planning to go camping, fishing, hiking, or visiting some remote town's Giant Ball of Twine, then be wise and get prepared. To ensure a safe vacation road trip, make sure your vehicle is up-to-date on its auto maintenance, and follow these auto checklist & personal checklist suggestions.
Preparing Your Ride: Auto Checklist
Road trips can be fun and exciting. But they can also be hot, boring and expensive if your vehicle needs a major repair in the middle of nowhere. The best way to avoid unexpected repairs, is to make sure your vehicle is in top condition BEFORE you start off on your road trip. If you are handy under the hood, then you can go over the following checklist yourself. If you prefer to leave it to the professionals, then arrange for a service.
Auto Maintenance Service
Your owner's manual has recommendations for how often to have your oil changed, air filters replaced and tires rotated. If you will hit any of those milestones during your road trip, you should have them serviced before you go. Your service technician may also suggest to service certain items sooner, based on visible wear. The following items should be inspected, repaired, or replaced as necessary, before your road trip:
Oil and Filter Change

Air Filter & Cabin Filter Inspection

Windshield Wipers & Washer Fluid

Coolant Inspection

Brake, Transmission & Power Steering Fluids Inspection

Battery Test

Belts & Hoses Inspection

Check Headlights, Brake Lights, Turn Signals

Tire Inspection, Rotation & Alignment (if necessary)

Inspect Spare Tire Kit

Car Wash
Auto Interior
After you know your vehicle is as safe and ready as possible, it is a good idea to tackle the inside of the car. After all, you plan on spending a lot of time in there during your road trip. Starting off with a clean and organized interior, makes finding things easier, and will keep you ready for anything. A few things to consider:
Clean windows & mirrors

Vacuum seats & floorboards

Remove all trash & provide empty trash can or bag

Make sure the vehicle's owner's manual is in the glove box

Make sure your Insurance and Registration is up-to-date and in the vehicle
Preparing Yourself: Personal Checklist
Now that your vehicle is ready, take some time to get your personal needs covered. Obviously, you will be packing your personal items and having them in your suitcase, ready for you when you arrive at your destination. However, certain items may prove handy to have within arm's reach.
Helpful Items
When I am in the car for long periods of time, I don't like pulling over constantly because I need something from my suitcase. Therefore, I have a bag of handy items next to me, so I'm always prepared. Here are some things I always find helpful:
Sunscreen

Sunglasses, Reading Glasses

Lip Balm

Drinking Water

Lightweight Jacket or Windbreaker

Hat

Umbrella

Phone Charger & Mount

Paper Map or Printed Directions (I always seem to get lost when I have no cell service)

Snacks

Medications
Safety First Checklist
Accidents can happen when you least expect them. Having a first aid kit and a basic emergency kit is never a bad idea. This is what I keep in mine:
Basic First Aid Kit

Flashlight

Duct Tape

Jumper Cables

Blanket and/or Large Towel

Multi-Tool
COVID-19 Protocols
The situation with COVID-19 can change very quickly. Try to make yourself aware of the protocols in place at the locations you will be traveling through and to. Keep the following items available at all times while you travel:
Face Mask

Hand Sanitizer

Alcohol Wipes

Vaccination Record Card
Schedule A Road Trip Service
As you can see, having a vehicle that is ready to go on a safe vacation road trip is very important and should not be overlooked. Give yourself about 2-3 weeks before your trip to schedule your auto maintenance service appointment. This gives you time, in case parts need to be ordered, or more extensive work done. 
Ron's Garage for Your Auto Checklist
At Ron's Garage, we offer professional automotive services at a fair price with an emphasis on customer satisfaction. We have been serving Ann Arbor and surrounding communities since 1982. Let our ASE certified technicians get your auto Road Trip Ready so you can have a worry-free and safe vacation.
We are here and ready to help. Call (734) 961-4701 to schedule your service or visit us online to make your appointment.
Source link