Behind the wheel of the world's most advanced racing simulator
But "for ride inputs, bumps, rumble strips, sawtooth kerbs, a cat's eye, a sharp edge," explains Warne, "you need a high bandwidth platform or they all become like a sleeping policeman."
You need, basically, something that can vibrate you at high frequencies and, just as importantly, with as little friction as possible and no springing back or recoil when it stops, so that it's all as accurate and feels as close to the real thing as possible.
The stiffness of the drive mechanism, the friction in the motors and even the weight of the base all matter, and the DMG system gives a bandwidth here of up to 100Hz – claimed to be 50% better than competitors.
Why does it matter that much? I strap in to find out, which is when my greenness kicks in. Once the system is running, it kicks out again. I drive a few race tracks and it's as immersive a system as I've ever felt. 
The lower the latency, the quicker you know about handling changes. Sharp inputs from kerbs or snapping into oversteer feel wickedly sharp to me.
But what marks this system out as special is more prosaic: cruising down a simulated test track with no lateral forces and running over small surface imperfections.
There are 5mm steps in the asphalt, noises thudded gently into the headset and which I feel through the seat as I drive up them and then down them, the car pitching gently.
Luc Lacey, photographing, can't even see the rig moving, to the extent that an engineer comes over the headset to ask me if it's actually working. It is.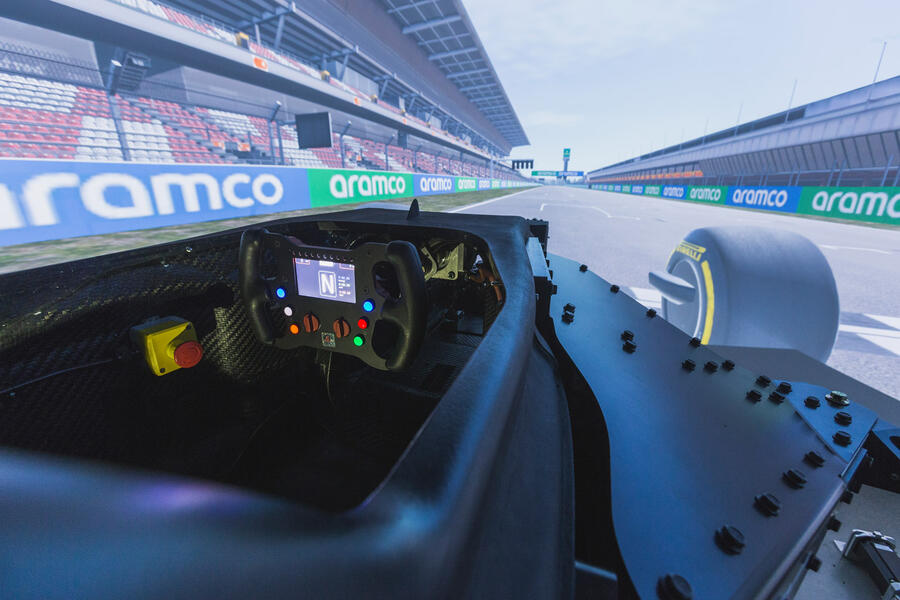 Source link