Lando Norris believes Max Verstappen 'is in the zone 24/7'
Having won a first World Championship at the end of a tension-fraught season, Lando Norris says Max Verstappen was "naturally born in the zone"
2021 heralded the best title fight that Formula 1 has witnessed in years, if not decades as Verstappen took on Lewis Hamilton, the Briton seeking a record-breaking eighth crown.
The two traded blows throughout the season, bagging 14 1-2s and entering the final race in a winner-takes-all situation.
That was Verstappen, the Dutchman passing his Mercedes rival on the very last lap of the championship to secure his maiden World title.
Despite the tension, and the off-track antics from their team bosses, Verstappen insisted throughout that he wasn't feeling any pressure, adding that he'd be okay if he came second as winning a title won't change his life.
Asked for his thoughts on that statement, McLaren driver Norris said in an interview with talkSPORT: "No, no I think he's in the zone 24/7 to be honest.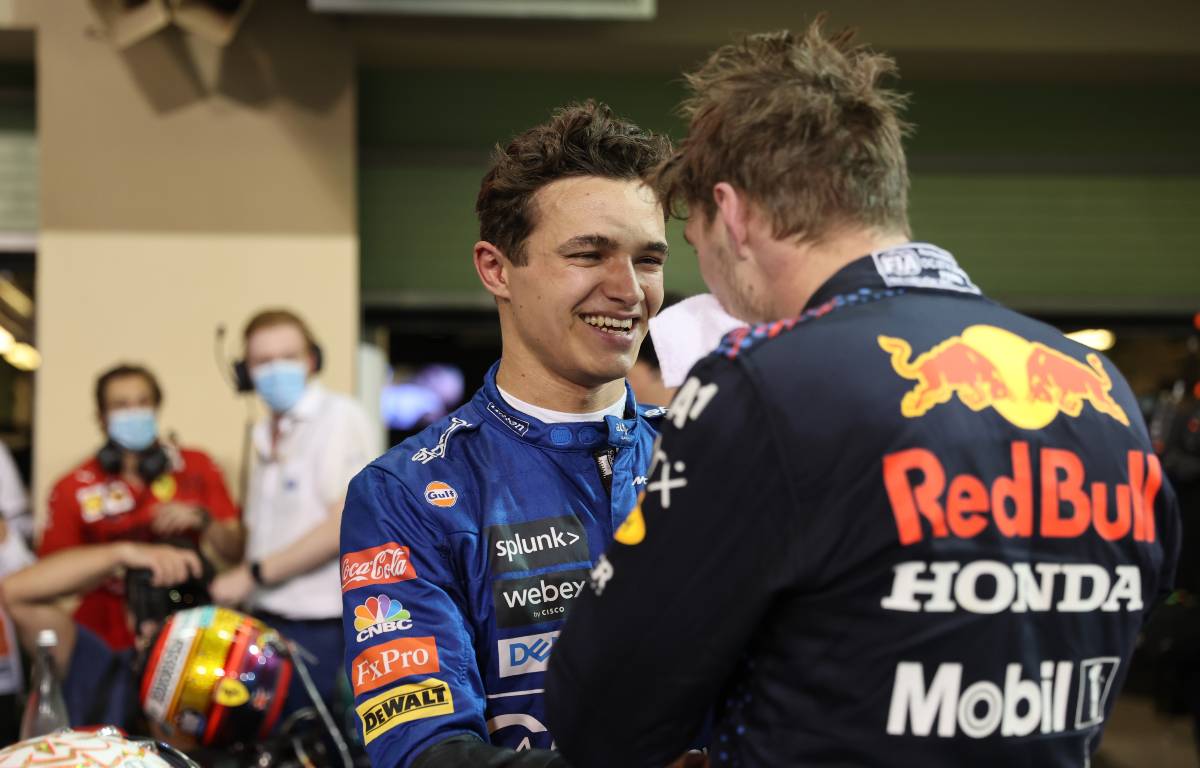 "He's just naturally born in the zone, that's just the type of guy he is, or there's just no zone for him, everything is just life.
"If he's second he's definitely not going to be as happy, but I think maybe in 10 or 20 years time he's not going to be thinking about if he was first or second.
"So yeah, it's tough to say, Max is Max so no one really knows."
But while 2021 was Verstappen's opportunity to bag his first World title, Norris reckons a first could be around the corner for a few other drivers.
At a time when F1 is stepping into the unknown with all-new ground effect aerodynamics car, it is anyone's guess who'll come out on top this season.
"You could say George [Russell]," Norris said when asked to name one rival who could be the next World Champion.
"Carlos [Sainz], Charles [LeClerc], you never know, myself or Daniel [Ricciardo].
"I think to be realistic we have a little bit of work to do. We'll see, I don't know, maybe ask me in two races and I can give you a much better answer!"
Norris, who finished second behind his team-mate Daniel Ricciardo at last year's Italian Grand Prix when McLaren recorded their first win in five years, says he is dreaming of the top step of the podium.
That, though, may have to wait a "few years".
"I want to win with McLaren," he said. "If you just want to look at winning races right now you probably wouldn't pick McLaren honestly.
"But I believe within the next few years there's much more of an opportunity and a chance to do so, and a little bit of that is down to being able to be more comparable, being able to have the chance to race against Mercedes a lot more, and Ferrari and Red Bull.
"Because of the last few years and the money and so on, we weren't able to keep up with what they were doing.
"So with that and with more of a chance it's part of the reason, but the reason is that I believe McLaren can win races in a few years time and championships in a few years time and I'm happy to stick with them until we can do so."