McLaren car launch 2022 LIVE: F1 news and Lewis Hamilton latest as drivers slam 'ridiculous' season finale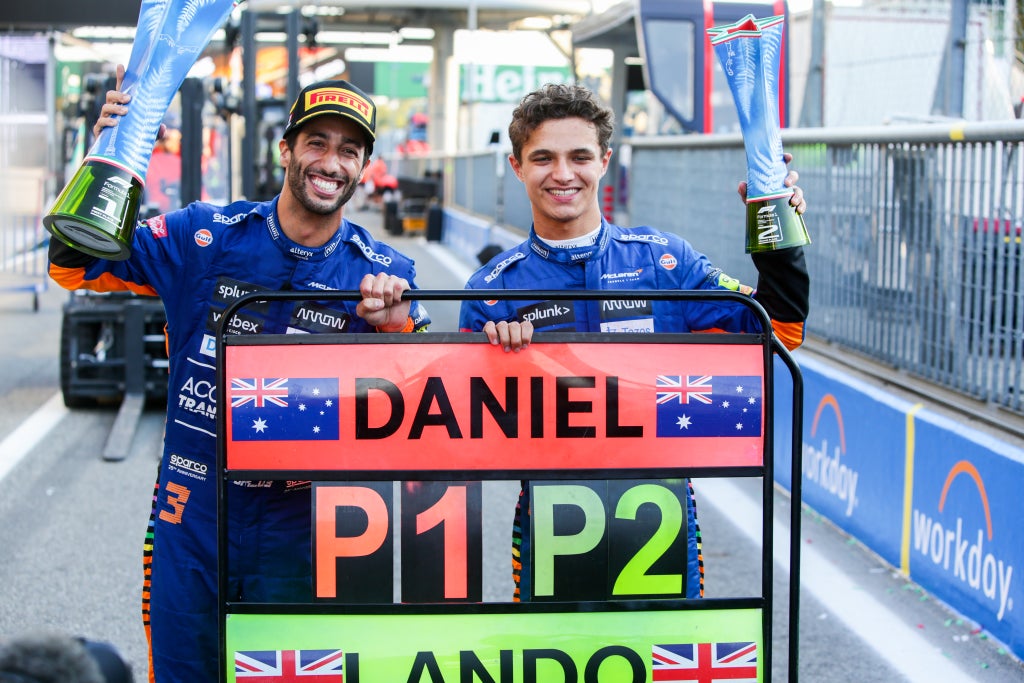 Aston Martin launch 2022 F1 car
The controversial end to the Abu Dhabi Grand Prix, which saw Max Verstappen beat Lewis Hamilton to the title on the last lap of the season, has been described as "ridiculous" as Formula One was accused of putting entertainment ahead of its own rules. At Thursday's Aston Martin car launch, Canadian driver Lance Stroll said race director Michael Masi's controversial decision to let some but not all cars pass the safety car was "not right" as the pre-season car launches continued to be dominated by the events of last campaign.
"The rules are the rules. You can't be modifying the rules for entertainment, it has to be sport first," Stroll said. "I don't think it's right what happened in Abu Dhabi." Stroll's team-mate and four-time world champion Sebastian Vettel defended Masi and sympathised with the difficult position he found himself in, but agreed that the Formula One had got its priorities wrong. Meanwhile, speculation continues to surround Hamilton's future in the sport amid an ongoing investigation into the season-deciding race.
Mercedes are set to launch their car next week but today it is the turn of McLaren, who announced that star driver Lando Norris has signed a new four-year contract with the team earlier this week. In doing so, McLaren revealed their ambitions of challenging for the world championship as Formula One enters a new era of rules and regulations, and the unveiling of their MCL36 car is another important step ahead of the start of the new season at the Bahrain Grand Prix on 20 March. Follow all the F1 news updates below:
1644585907
F1 news
Kevin Magnussen insists he won't be back in Formula 1 as he only wants to race "with a hope of winning".
The Dane spent six seasons in F1 with McLaren, Renault and Haas.
"The rest of my career will be only racing with a hope of winning," the 29-year-old told RACER. "Whatever I do, I won't go into anything if I know I can't win, ever again. I've been there, done that.
"Sporting-wise, as an athlete, it wasn't rewarding enough to be in the position I was in. It's really good to be here (in the US) and have that spark back. You can go into every weekend and you can smell blood, and it just gives an extra sort of energy I haven't had in a while."
Jamie Braidwood11 February 2022 13:25
1644584047
Stroll accuses F1 of changing rules in controversial title-decider
Lance Stroll has slammed Formula One's race director Michael for not applying the rules at the Abu Dhabi Grand Prix, accusing the sport of prioritising entertainment over correct procedures.
Masi's decision to let some but not all cars unlap themselves under a late safety car resulted in Max Verstappen beating Lewis Hamilton to the championship.
"My opinion is that it's ridiculous that we didn't go back racing the way that we should have gone back," said Stroll. "You can't change the rules halfway through, at the end of a race, and tell half the cars they can overtake.
"Unfortunately, I was part of the group of the other half of the cars and couldn't overtake on brand new soft tyres with the opportunity to pass and maybe do something.
"It's just never been done before and it's important that we keep rules consistent. I understand it's great to go racing and everyone wants to see the last lap of the race and the two drivers fighting for the world championship go head-to-head with one lap to go but we can't be making up rules at the end of a race, that has to be set in stone.
"If there was maybe an error where cars didn't pass soon enough when the safety car came out or backmarkers weren't allowed to pass the safety car early enough and the consequence is we won't get the whole lap of racing well, then that's how it is.
"That is the rule, the rules have to be consistent. In Formula 1 we've seen some inconsistency in penalties and decision making and I think this was maybe a little bit too much. It's important that those things are set in stone."
Jamie Braidwood11 February 2022 12:54
1644583027
Hamilton was 'really struggling' to deal with F1 title climax
Lewis Hamilton was "really struggling" on the podium at the Abu Dhabi Grand Prix after the controversial final lap which saw Max Verstappen snatch the world title away, Ferrari driver Carlos Sainz has revealed.
Hamilton was on course for a record eighth F1 championship before a safety car deployment saw his huge race lead cut. FIA race director Michael Masi then applied a controversial interpretation of the rules to create a final-lap showdown, which Verstappen won on fresher tyres.
"Losing the title on the last lap like that, it's just hard to accept," Sainz, who finished third, told Corriere Della Sera. "I respect [Hamilton] more than before for the way he managed to do it. We had a few words on the podium, he was really struggling."
Jamie Braidwood11 February 2022 12:37
1644581707
Hamilton fought Verstappen for F1 world title with 'one hand behind his back'
Lewis Hamilton was forced to fight Max Verstappen for the world championship with "one hand behind his back", says former F1 driver Mark Webber, who believes both drivers have "scars that need healing".
Hamilton and Verstappen fought a long and at times ferocious battle for the F1 crown which went down to the last lap of the last race, where a controversial application of safety car procedure cut Hamilton's lead and created a shootout between the pair, which Verstappen won on fresher tyres.
The 37-year-old Hamilton only re-emerged on social media last week, amid speculation that he has been considering his future in the sport before the new season.
The Australian former Red Bull driver Webber, now a pundit and analyst for Channel 4, says they need time to come to terms with the intense rivalry.
Jamie Braidwood11 February 2022 12:15
1644580765
Lando Norris reveals interest from rival F1 teams before McLaren contract extension
More from Norris: "I looked at all the best options for me… as a driver, the best for me as a person and in the longer term, what is the best thing for me. Of course, there will be opportunities for other drivers I am sure [to] maybe go to Red Bull or Mercedes. Who knows if I would have had those opportunities?
"I think the fact that it's known, or the fact I would have had those opportunities but I still chose to stay with McLaren, is the good thing about all of this – that I know those opportunities, or I am confident that those opportunities, would arise in the next few years.
"But the fact is, I still have chosen to commit to McLaren, so I think that's quite a strong message, it's quite a strong thing that this is still where I want to be, it's where I want to achieve race wins and podiums and championships, and that's all.
"It just shows it's a very strong message, I did weigh in all the factors for my own benefit and what I think could have come up in the next few years with drivers leaving and so on. But in the end, McLaren for me was still the best option, so that's why I am most happy to be here and commit to my team."
Jamie Braidwood11 February 2022 11:59
1644579943
Lando Norris reveals interest from rival F1 teams before McLaren contract extension
Lando Norris, following the announcement of his new contract on Wednesday:
"There were opportunities that I think we knew would be coming up in the future with various teams.
"This is a very strong message to put out [about] the faith we have in each other and how strongly I believe McLaren can recover still and get to the front in the next few years, even with those opportunities that could arise in one year, two years, three years' time.
"There were little chats here and there but that's all and nothing went far, As soon as something came up, that's when I would then continue going to Andreas and have a little conversation about what our future holds and so on.
"There were little things, no point lying about it, there were little things here and there with other teams, but nothing that went far at all."
Jamie Braidwood11 February 2022 11:45
1644578743
Bahrain Grand Prix to remain on Formula One calendar until 2036
Formula One has announced that the Bahrain Grand Prix will remain on the calendar until 2036.
The contract extension is the longest of F1 owners' Liberty Media's five-year reign.
The Sakhir circuit joined the schedule in 2004 during Bernie Ecclestone's rule, becoming the first F1 race in the Middle East.
The race was cancelled in 2011 amid civil unrest in the country but has been an ever-present on the calendar since.
For the second consecutive season, Bahrain will stage the first race of a record-breaking 23-round campaign, with Max Verstappen opening his championship defence in the Gulf Kingdom on March 20.
Jamie Braidwood11 February 2022 11:25
1644577543
McLaren set to launch 2022 car
It's a big day for McLaren, ahead of what they hope is another significant season for the team.
Under Zak Brown and Andreas Seidl, McLaren have made important steps forward in recent seasons and although they ultimately lose out to Ferrari in the battle for third last year, it was another campaign of progress.
Lando Norris secured four podium finishes, as well as his first pole position, while Daniel Ricciardo ended the team's long wait for a Grand Prix win with victory in Monza.
It was McLaren's first race win in 170 attempts, and Norris' second-placed finish also ensured they were the only team to secure a one-two last season.
Ultimately though, McLaren want to return to championship contention. That was the big statement from Seidl as they announced Norris' new contract this week.
Jamie Braidwood11 February 2022 11:05
1644576106
Red Bull confirm new title sponsor as they reveal 2022 F1 car
Red Bull have confirmed software giant Oracle as their new title sponsor as they revealed their car for the 2022 Formula 1 season.
The new deal, announced to coincide with the launch of Red Bull's 2022 car on Wednesday with which Max Verstappen hopes to defend his title, will see the team renamed Oracle Red Bull Racing.
The Milton Keynes-based outfit will also make greater use of Oracle's cloud infrastructure to hone race strategy and engine development, including work on the team's new 2026 power units, and help Red Bull drive greater fan engagement.
It will involve applying artificial intelligence and machine learning technology to groom its junior drivers and the setting up of gaming partnership Oracle Red Bull Racing Esports, the team said in a statement.
Oracle's scaled up partnership with Red Bull further boosts the profile of American companies in Formula One, which was acquired by U.S.-based Liberty Media in 2017.
Jamie Braidwood11 February 2022 10:41
1644575086
F1 to introduce mandatory Covid vaccination for all drivers and staff
Formula One staff must be fully vaccinated against Covid-19 under new FIA rules.
The policy drawn up by the sport's governing body will be written into the regulations for the new season and will apply to all drivers, teams, media and hospitality guests.
It is expected that no exemptions will be granted.
The sport hopes the rule will avoid a repeat of the Novak Djokovic fiasco which overshadowed the build-up to this month's Australian Open.
All of the grid's current drivers are understood to be vaccinated.
Jamie Braidwood11 February 2022 10:24
Source link