Triumph Exposes TE-1 Electric Prototype; Testing Begins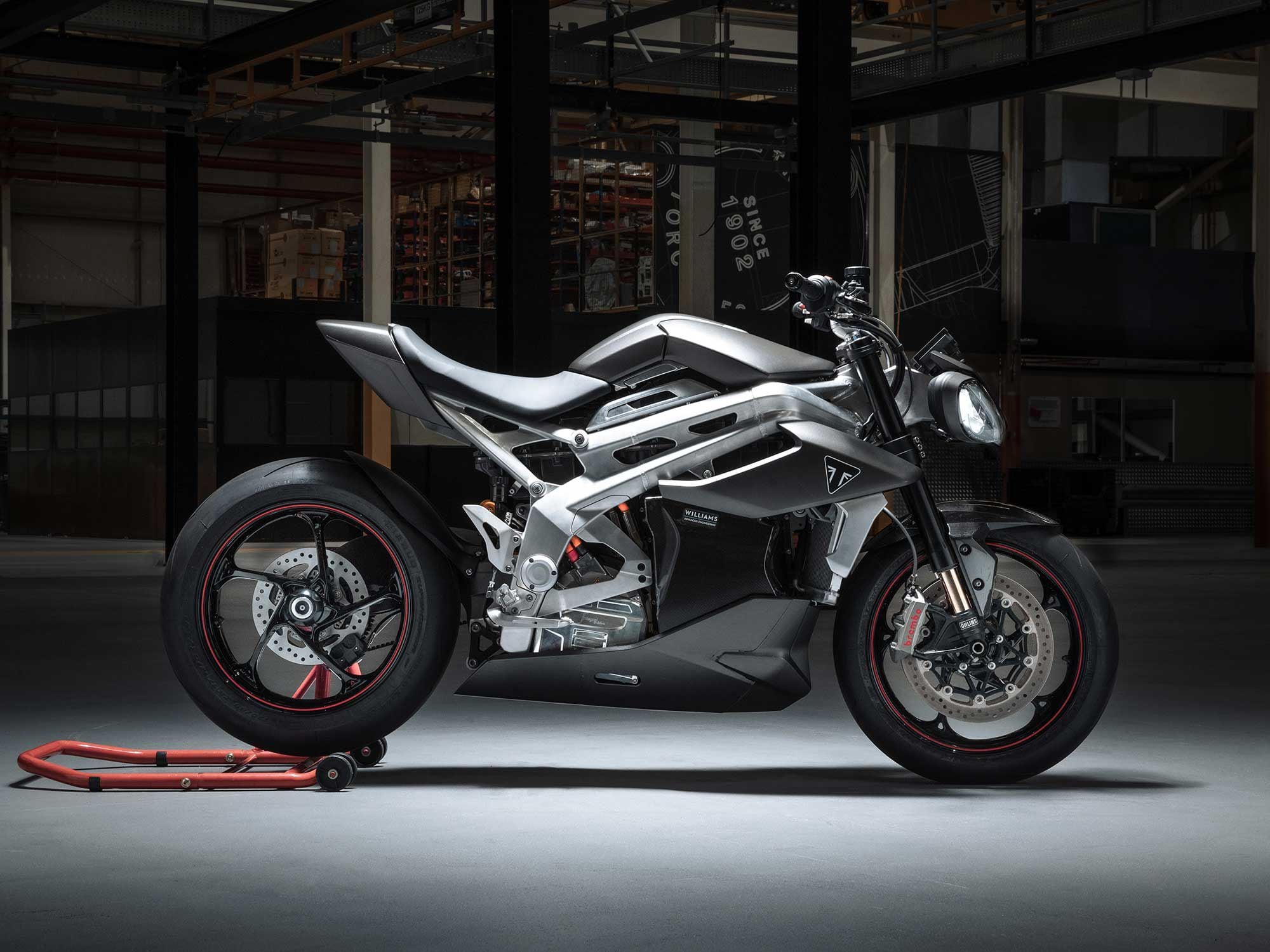 Now that phase 3 is complete, this Triumph TE-1 electric prototype enters six months of real-world testing before reviewing begins. (Triumph/)
Mockup drawings of Triumph's electric motorcycle prototype are no longer needed. What you see here is the real deal: official pictures of the TE-1 project.
That is, official pictures of what the project bike looks like. Before the TE-1 hits the market, expect changes in final colors and body panels. But most of the bike, including that gorgeous single-sided swingarm and frame, will remain the same.
Triumph announced the official end of "phase 3″ in its TE-1 electric sportbike project on Tuesday. The TE-1 is a collaboration between Triumph Motorcycles, Williams Advanced Engineering, Integral Powertrain Ltd., and WMG at the University of Warwick, funded by the Office for Zero Emission Vehicles through Innovate UK.
The bike now enters a six-month testing phase before its entry into the ever-exploding electric motorcycle market.
The familiar bug-eye styling allows immediate recognition of this Triumph TE-1. (Triumph/)
Triumph officially announced the TE-1 project, which was launched to create developments in "specialist electric motorcycle engineering and innovative integrated technology design," in May 2019 with a target two-year completion date. Unfortunately, the pandemic threw some metaphorical wrenches into the bike's belt drive, slowing progress.
"It has been truly exciting to see the progress made during phase 3 of Project Triumph TE-1 with the final prototype motorcycle now going into real-life testing," Triumph CEO Nick Bloor said. "Everyone involved at Triumph are proud to have been part of this innovative British collaboration.
"Personally, I am thrilled with the results we have already achieved with our partners and the exciting preview of the potential electric future to come. We look forward to continuing the ambitious and innovative work on the TE-1 demonstrator prototype through the live testing phase and sharing the outcome with Triumph fans across the world."
Triumph remains hush on the details, though Kevin Cameron reported on some of the new technologies used in his TE-1 project article.
Now we have the official details of what was used in the TE-1 prototype, integrating all of the "latest and final innovations from the project partner workstreams," as Triumph said, for the first time.
The unique frame and Williams Advanced Engineering battery pack are designed for a lower center of gravity to increase performance. (Triumph/)
Here's what each of the four collaborators contributed:
Triumph:
Final chassis, including frame, rear subframe, cockpit, panels, and wheels
Final drive system including transmission and Gates Carbon belt drive
Electronics
Öhlins USD cartridge forks and prototype Öhlins RSU
Brembo M50 Monoblock calipers
Triumph motorcycle control software
Williams Advanced Engineering:
Final iteration of prototype WAE battery pack incorporating dedicated cell packaging for optimum center of gravity
Vehicle control unit
DC/DC converter
Integrated cooling
Charge port
Styled carbon covers
Integral Powertrain:
Final prototype powertrain with scalable integrated inverter and combined motor with silicon carbide switching technology and integrated cooling
WMG, University of Warwick:
Final pre-live trial simulation completed, with all results indicating that the project is on course to deliver the intended performance and durability outcomes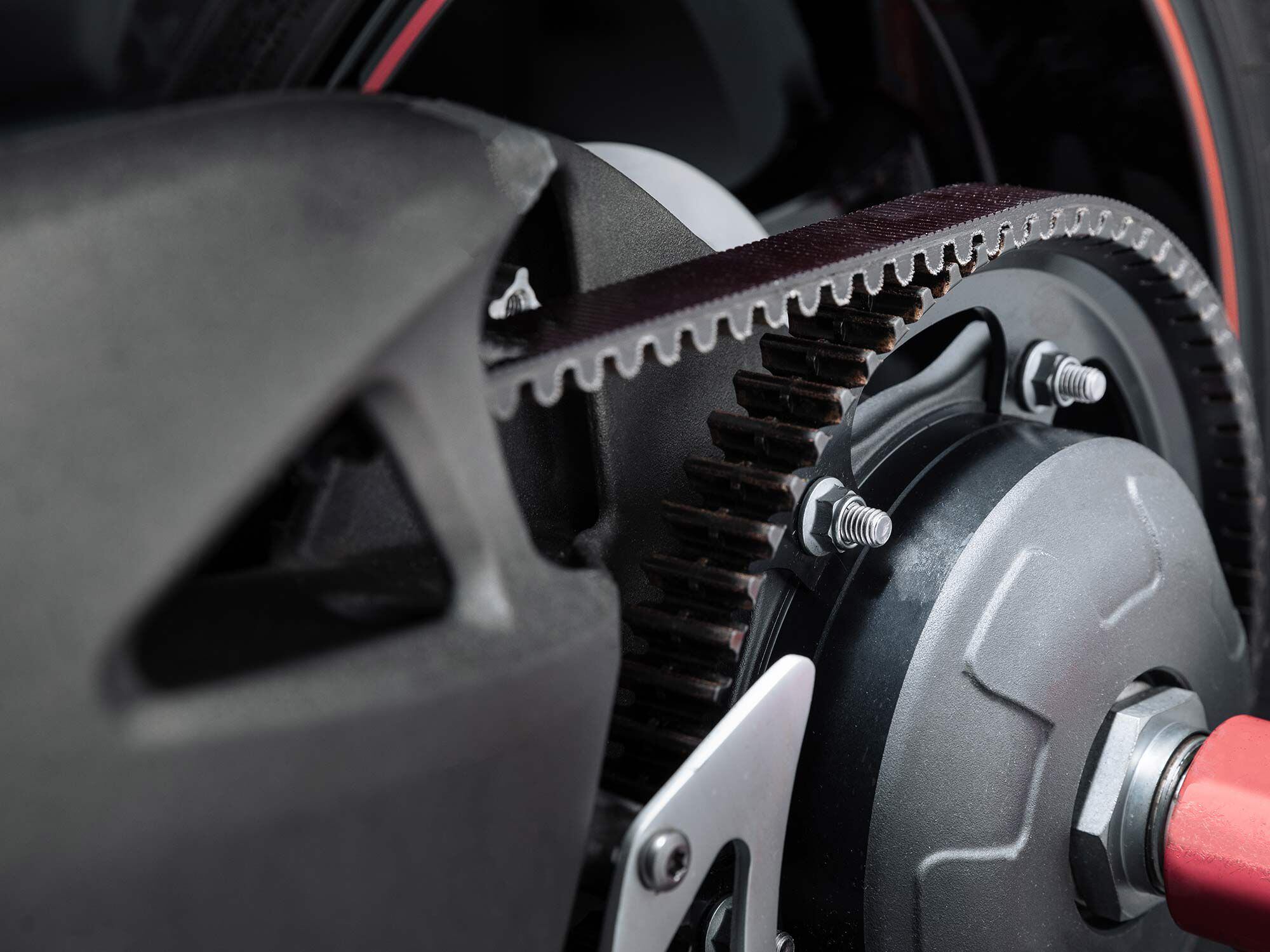 The TE-1 prototype arrives with a Gates Carbon belt drive to deliver instantaneous torque to the rear wheel. (Triumph/)
Regarding completion of this stage of the project, Triumph's Chief Product Officer Steve Sargent said, "During phase 3 we have focused on building the physical foundation of Triumph's first electric prototype motorcycle. I am pleased with the outcome of Triumph and the TE-1 partners' efforts in creating a demonstrator bike that is not only visually so desirable with clear Triumph DNA, but also packaged with an exhilarating and thrilling brand-new electric powertrain that has such potential for the future.
"I look forward to continuing the development of this demonstrator vehicle through phase 4 and using our knowledge and capabilities to bring all the partners' cutting-edge technology together into a final result which will guide Triumph's electric strategy for the future.
"Our experience tells us that at this stage of a project there is no substitute to genuinely riding a bike when developing drivability, handling, and character, and we have ambitious targets focused on delivering a riding experience that is new and exciting, but ultimately intuitive and familiar. I am really looking forward to my first opportunity to ride the completed prototype."
Triumph says the overall objectives of the TE-1 project are a focus on developing electric motorcycle capability; providing input into Triumph's future electric motorcycle offering; driving innovation, capability, and new intellectual property; and enhancing the credibility and profile of British industry and design.
Another view of the frame design and the golden top of the Öhlins rear suspension. (Triumph/)
Triumph Project TE-1: Final Testing Phase Begins
With phases 1 through 3 dedicated to design and build, phase 4 takes the bike to the real world to see how it all works.
For the next six months, Triumph test riders will put the TE-1 through extensive testing at Triumph's facilities, including both on-road and track testing.
Rolling Road Testing:
This assessment includes:
Throttle calibration
Powertrain performance mapping
Power and torque output
Range and battery consumption assessment
Rider mode development
Software functionality validation
Thermal optimization
Track Testing:
This assessment includes:
Handling
Acceleration
Braking and braking regeneration strategy
Traction control
Front-wheel lift control
Triumph expects the test to be complete in summer 2022. After making whatever tweaks are needed, Triumph expects to release the TE-1 to journalists in its final body panels and paint scheme. We hope those don't change much.
Stay clicked to Cycle World for future announcements.
Source link