Alfa Romeo unveils crucial new Tonale SUV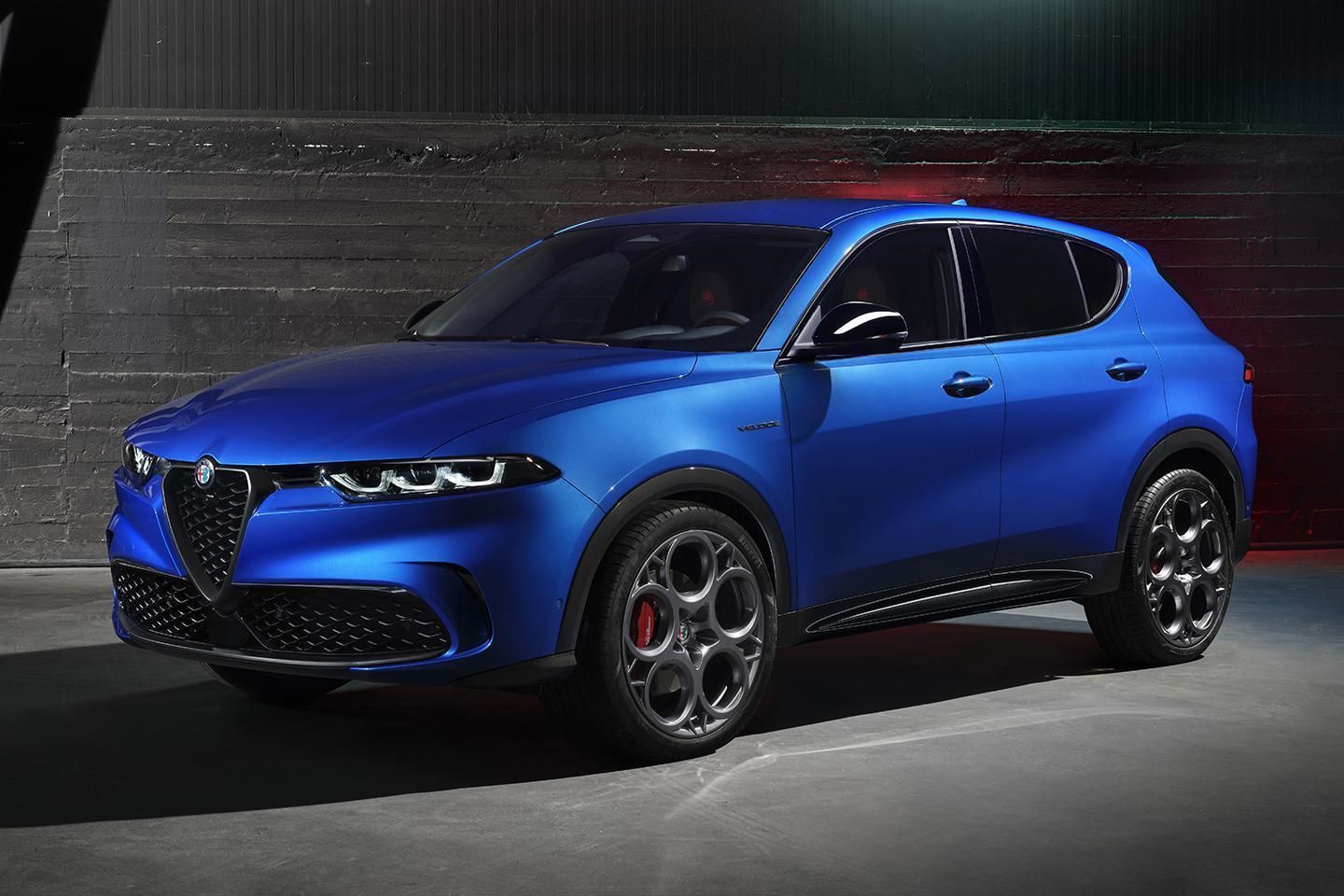 Not all that long ago, just the notion of an Alfa Romeo SUV would have seemed far-fetched, leave alone a really very good one. Then along came the Stelvio half a dozen years ago, and tipped expectations on their head. Not only had an Alfa made an SUV, it had made one you might well want, especially in Quadrifoglio form. The Stelvio's success means expectations for Alfa's smaller SUV, this new Tonale, are higher than they might once have been.
Certainly it looks the part. The silhouette might not be classic Alfa, but the full suite of cosmetic cues has been thrown at it to ensure the Tonale's identity is never in doubt. There are '3+3' lights either side of the Alfa Scudetto grille, just like an SZ, a wraparound rear screen like an 8C, and teledial wheels like just about every Alfa ever. Note as well the 'GT Line', from the rear to the headlights, said to evoke the Giulia GT. Sure. There's a rear light bar linking the lights, too, because no new car is complete without one, and overall the Tonale looks a faithful evocation of the Geneva concept car. Alfa Romeo says the design is intended for a "young, metropolitan and dynamic customer", which certainly counts us out. And even if not a true beauty then it's easy to see the Alfa appealing in a fairly stale class. It's a rival for cars like the Mini Countryman and Hyundai Kona, let's be honest.
There's more to be encouraged by underneath the Tonale. The powertrain choices at launch are two outputs of a new mild-hybrid (MHEV) turbo petrol, a diesel, and a plug-in hybrid (PHEV). The Hybrid Variable Geometry Turbo will be offered with 130hp or 160hp and a standard seven-speed DCT; it combines a 1.5-litre four-cylinder turbo with a 48v 'P2' mild-hybrid system, providing 20hp and 40lb ft. The P2 is sufficiently powerful to manoeuvre the Tonale at low speed (i.e., in traffic or when parking) without the combustion engine running. Both MHEV models, plus the 130hp diesel, will be front-wheel drive only, with a dual-clutch (this time a six-speed) standard fit for the latter.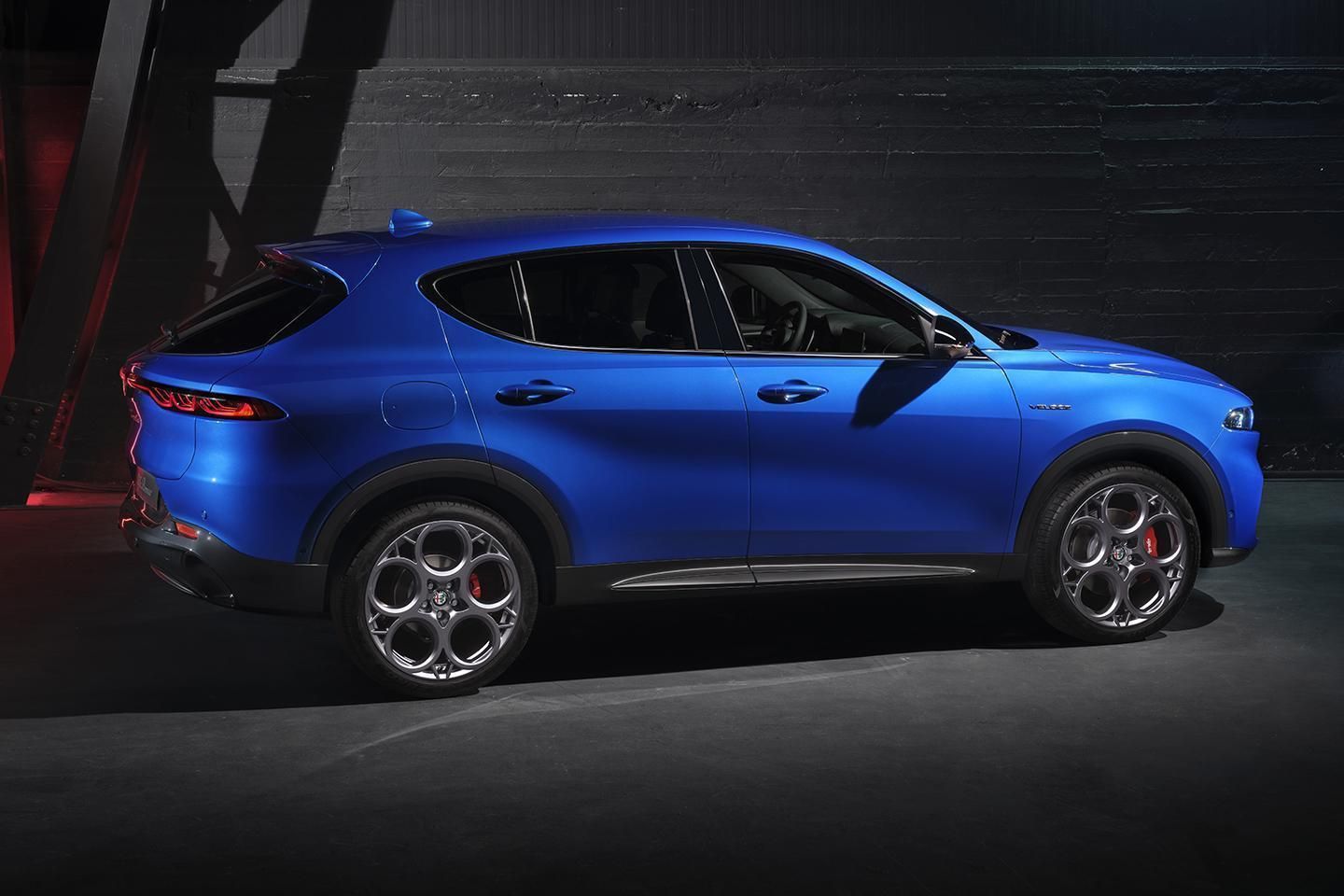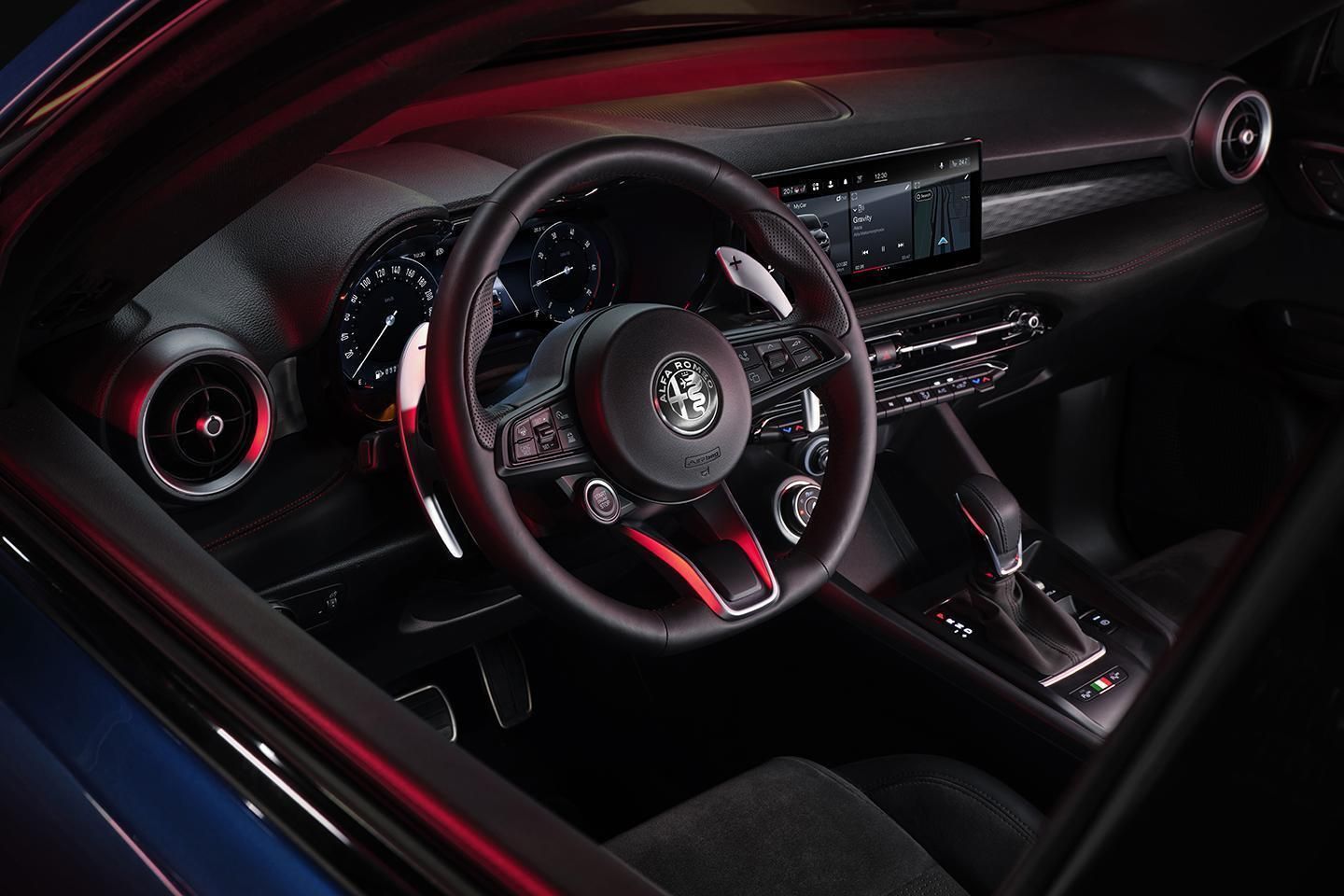 Of most PH interest from launch will be the Plug-In Hybrid Q4 Tonale, bringing together a 1.3-litre MultiAir turbo with 15.5kWh battery and an electric motor for a total system output of 275hp. With standard all-wheel drive, Alfa claims 0-62mph in 6.2 seconds, as well as more than 60km (37 miles) of electric range. Though going without a Quadrifoglio badge, Alfa says the Tonale PHEV will offer a "high performance, fun and safe drive".
In fact, there's plenty about the makeup of all Tonales to suggest similarly engaging handling to the larger Stelvio. All are said to benefit from 50:50 weight distribution, with independent suspension, Koni Frequency Selective Damping, and the super sharp steering that's now an Alfa trademark – with a ratio of 13.6:1. "Precise and direct" steering feel is promised, with geometry settings to ensure reduced reliance on software like the electronic diff lock. Perhaps less positively, the Integrated Brake System seen in larger Alfas is also Tonale standard kit, here with Brembo calipers. DualStage Valve dampers, developed with Marelli, will be offered, with a Comfort and Sport setting. They offer independent damping curves (rather than being adaptive), with Comfort providing "the smoothest performance on uneven roads" and Sport there for "improved vehicle dynamics on corners." Those settings are incorporated into the Alfa 'DNA' (Dynamic, Natural, Advanced Efficiency) drive mode switch, though it sounds like the firmer suspension setting can be decoupled from the sharper drive mode, which has been a welcome concession from Alfa in recent years.
However, we all know that, really, those young, metropolitan, and dynamic customers won't really care about how an Alfa drives. To them, a GTV6 is a nightbus. A decent interior will rank much more highly on the list of priorities. To that end, Alfa Romeo is promising a driving environment that "arouses real emotions, not to mention the latest technology, ensuring a connected and comfortable experience, while maintaining the pleasure of a sporty drive that always remains in the lead."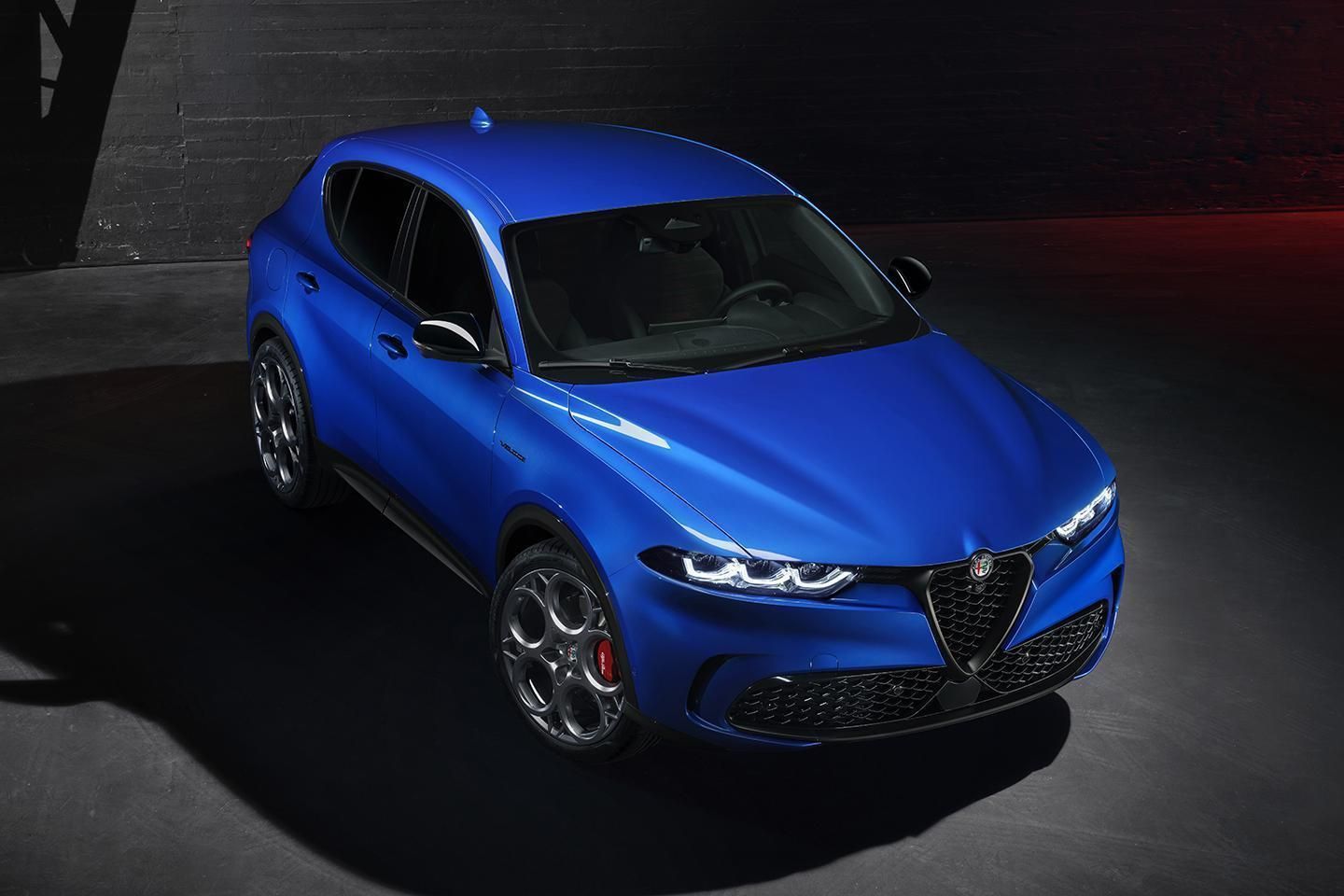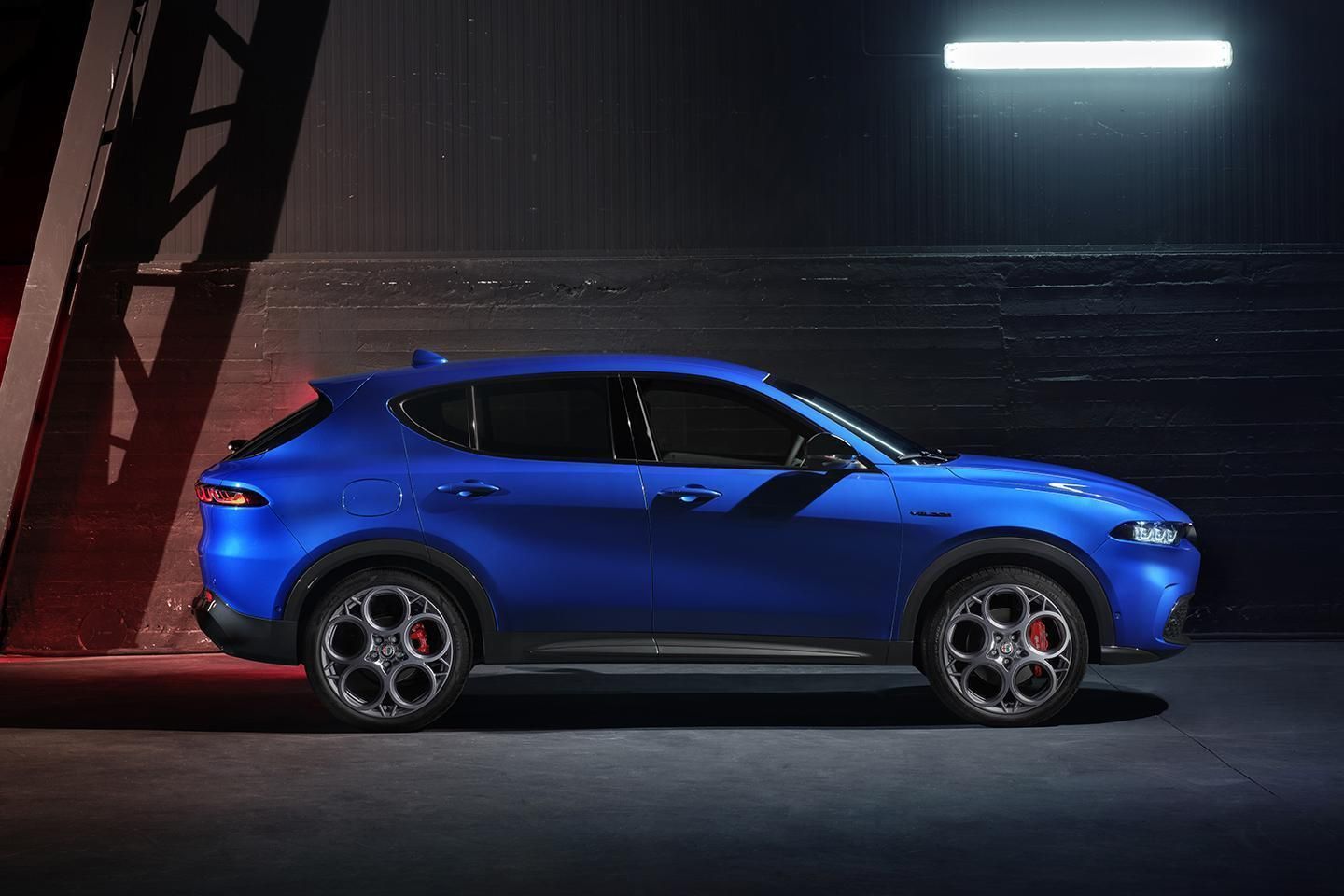 On the technology side, the Tonale is said to boast a world first in the form of Non-Fungible Token technology. Yep, those pesky NFTs again; this time around the tokens will be there to provide what sounds like a more in-depth service record. Or, viewing it more cynically, monitor a lot more of what you do in the car. "With the customer's consent, the NFT will record vehicle data, generating a certificate that can be used as a guarantee that the car has been properly maintained, with a positive impact on its residual value", reads the press release. The aim is to demonstrate both Alfa's innovation and reassure secondhand buyers further down the line.
Additional features inside include those lovely aluminium gearshift paddles familiar from the Stelvio, built-in Amazon Alexa (including full Amazon integration and the Secure Delivery Service, parcel-to-your-car option), two big screens (12.3-inch for the driver and 10.25-inch for the infotainment) plus seats made of neoprene, apparently commonly seen in sportswear. Or there's an Alcantara and vegan leather combo, of course. From what can be seen here, the Tonale's interior will look familiar to current Alfa customers (no bad thing), albeit with some useful upgrades to a few areas, the screen quality most notably. The kids like their screens, don't forget. There's plenty of driver assistance kit for the SUV, too, which Alfa says – and this is not a joke – "heighten the emotions of Level 2 autonomous driving". If anyone can do it, Alfa can!
Presuming the four engines will be offered in the UK (exact specs haven't been released just yet), the Tonale can either be had in Super or Ti trim. The former can then be added to with a Sprint pack, while a Veloce upgrade for the latter offers "the peak in terms of performance and sportiness". Very nice. Before all that, however, an 'Edizione Speciale' launch edition will be offered to UK customers when orders open in April – form an orderly queue, any young, metropolitan, and dynamic PHers out there. Green looks pretty good…
Source link