Horner enters cheeky bid for Mercedes F1 factory tour
Christian Horner will exploit every opportunity available to help Red Bull gain an edge over its rivals, including entering a charity auction to gain access to Mercedes' F1 factory in Brackley!
The 2022 F1 season is just around the corner and amid the excitement, teams are putting the finishing touches to their all-new contenders.
Pre-season testing is anxiously awaited by F1 fans and teams as everyone will be eager to search for tell-tale signs about who may have got it right or wrong.
Read also: Horner serves FIA duty for Qatar GP 'rogue marshal' comment
Red Bull and reigning world champion Max Verstappen will be hoping its RB18 will find itself in the camp of the winners.
And to try and gain an extra edge this season, the Milton Keynes-based outfit's long-standing team boss won't leave any stone unturned.
The Grand Prix Trust which provides help and advice to Formula One's trackside and factory-based team personnel to help put their lives back on track when things go wrong is conducting its annual charity auction, and the F1 community has donated a raft of lots to bid on.
Mercedes generously offered the auction a factory tour and, low and behold, the top bid currently stands at £4,000 and was submitted this weekend by one 'Chrisrian Horner'.
Whether the name includes a typo or is a not-so-subtle attempt by Horner to cover his tracks, only time will tell but the Red Bull team boss is definitely willing to pay whatever it takes to get him into Mercedes' building!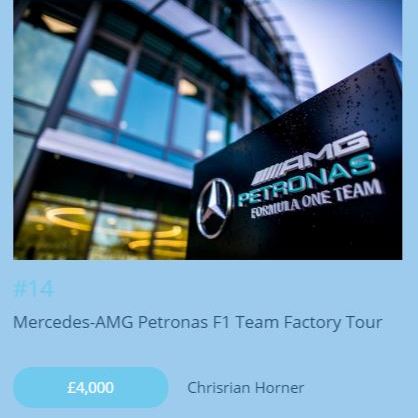 Interestingly, Red Bull has also donated a factory tour to the Grand Prix Trust's charity auction.
But will Horner's Mercedes counter-part Toto Wolff pull out his credit card and follow suit?
You can follow the charity auction or even bid on the lots right here.
Gallery: The beautiful wives and girlfriends of F1 drivers
Keep up to date with all the F1 news via Facebook and Twitter
The post Horner enters cheeky bid for Mercedes F1 factory tour appeared first on F1i.com.