F1 news LIVE: Lewis Hamilton waits on Abu Dhabi inquiry as Mercedes deny deal to remove Michael Masi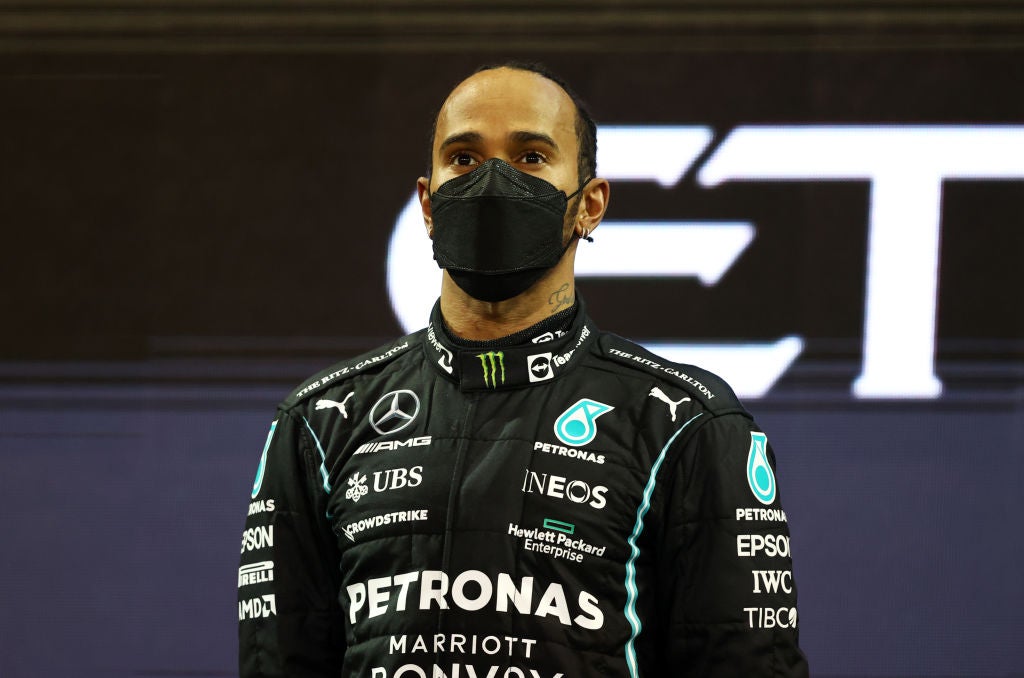 Sir Lewis Hamilton knighted days after missing out on record eighth F1 title
Lewis Hamilton's Formula One future remains in the balance, if only because there has been no clarification from him in public over his intentions ahead of the 2022 campaign. The British racer is still contracted with Mercedes through to 2023, but speculation has grown that he could walk away ever since the dramatic events at the end of last term which saw Max Verstappen clinch the championship on the final lap of the season.
Four-time world champion Alain Prostrated the chances of Hamilton coming back to F1 at just "50-50", amid suggestions that the outcome of an inquiry into the season-ending race in Abu Dhabi could prove key to his final call – which might include a sabbatical year. Michael Masi came under serious pressure as race director for his decisions during that Grand Prix in particular, while Mercedes eventually dropped their appeal against Red Bull's driver winning the title in such fashion.
Elsewhere, a McLaren boss has suggested teams will be looking to perform "trickery" within the new rules to maximise their chances of success once the new-look cars hit the tracks later this year. Follow all the latest F1 news below:
1642000658
F1 news
Formula 1 engineers will perform some "trickery" to capitalise on the sport's new regulations, according to McLaren technical director James Key.
After a thrilling 2021 season which saw Lewis Hamilton and Max Verstappen dominate throughout, F1 has drafted in new regulations to shake up the sport in pursuit of greater variance.
The sport will see a change to the aerodynamic composition of the cars. While simplified front and rear wings should result in minimal turbulent air created as well as enabling cars to follow through technical sections across all the circuits on the schedule.
And after much discussion and debate surrounding rear wings and more stringent FIA tests, Key has shed light on the impact they will have next season.
"I think the sensitivities around elastics certainly have changed," Key said. "It's well understood that from the regulations that have been discussed of late with how to better manage flexible…I shouldn't say flexible components but components that can flex and make a difference is probably more accurate.
"Some of the tests are more stringent I think so the rear wing tests, for example, will be a little bit tougher. Some of the things that have happened earlier in the year have carried through into '22 and I think there is a lot of attention being paid to that.
"Front wings similarly, and the front wing in '22 is a massive thing but it has still got a stringent set of guidelines on stiffnesses. So I think there will always be a few tricks to play but I don't think there's going to be something easy to exploit there."
Key maintains "a certain level of stiffness" to the car can be exploited through the big ground-effect floor and the return of big wings.
He added: "There are various new tools to play with in 2022. It will probably become some sort of issue I'm sure, but it's not something that the teams or the FIA are ignoring.
"It's a fairly clear area where we need to be careful to regulate correctly."
Karl Matchett12 January 2022 15:17
1641999518
F1 news
The Australian star says travelling around the world and being away from family and friends can take their toll on F1 drivers. He adds he has been "lonely" during a season before and people outside of the sport should be mindful that they are "real people".
"I think with anyone in the spotlight or anyone on TV, sometimes to the outside they are not seen as, like, real people," he said, per Autosport.com.
"It's like, if you're an actor…oh, that's Brad Pitt. He's superman. He could do anything or whatever. Like he doesn't get sad or emotional or whatever. But as you know, you guys would feel it, we travel so much that you do miss loved ones. So having that kind of times 10 is tricky."
Karl Matchett12 January 2022 14:58
1641998438
Mercedes 'deny' rumours of deal being struck to replace F1 race director Michael Masi
Last season's final race was a real showstopper for entertainment – but the end result and how it came about left Mercedes, Lewis Hamilton and many fans of the sport incredibly unhappy. The decision of Michael Masi, the race director, to unlap only the cars between Max Verstappen and Hamilton, who was leading at the time, was seen as a very obvious move to inject last-lap drama into the championship fight.
BBC Sport claim sources tell them a deal was struck between Mercedes and F1 authorities that the team would "drop their appeal against the results of the race after agreeing a quid pro quo with the FIA", namely that Masi and "FIA head of single-seater technical matters Nikolas Tombazis would no longer be in their positions for the 2022 season."
Mercedes deny that such a deal was ever in place, according to the same report, and say they withdrew their appeal "after receiving assurances only that the issue would be treated seriously and appropriate action would be taken".
Toto Wolff was furious with Masi on the day and has since stated that the team would hold the FIA "to account".
Karl Matchett12 January 2022 14:40
1641997238
Latest F1 news
Pierre Gasly knows there are plenty of uncertainties over how teams will interpret the new incoming rules in F1 and it could see teams fire up the leaderboard early on – or slide the other way. The AlphaTauri driver isn't wasting too much time worrying about whether his team will get it right or wrong, but pointed out that the nature of F1 means it's more exciting to be involved nearer the front – and often, people won't even notice a "moment of genius" if it doesn't happen among the front-runners.
"I'm aware of that [and] I'm aware at the same time I'm looking at the other side, maybe McLaren might get it wrong, Ferrari might get it wrong, Alpine might get it wrong.
"There's just many unknowns that I don't have the answer [to]. I hope we are as good because when you start to fight for P12, P13, these sorts of positions, [it] is not as exciting and obviously, people don't even really see your performances.
"You can do an amazing race but as I say, whether Mick [Schumacher] delivers the performance of his life in a Haas because the pace is so far from the others, even if he has a moment of genius, no one will ever notice, except he will know that he's done an incredible job.
"It was probably for whatever reason in the best zone he's ever been but if you are at the back, no one cares, and no one sees it.
"It's difficult to enjoy, even to get the results and the reward. As you learn in motorsport, if you do a good job, you get rewarded with a trophy, champagne, but F1 is a different story and that's not always easy to accept."
Karl Matchett12 January 2022 14:20
1641996038
F1 latest news
Today's top stories so far in Formula One centre around Audi's rumoured involvement in the sport in future and the two Red Bull drivers in the spotlight.
Karl Matchett12 January 2022 14:00
1641995258
F1 news
Antonio Giovinazzi is remaining hopeful that he'll make a return to Formula One, after being cut from Alfa Romeo at the end of last season.
Despite three years with the team they opted against a renewal and he will be Ferrari's reserve driver this year, splitting the role with Mick Schumacher.
But that's far from the extent of his ambitions and he told Formula1.com that he's aiming for a comeback just as others have done.
"I'm leaving for now. I posted my first picture in a F1 car when I was three years old on my social media. The last picture [in F1] is not this year. We saw already many drivers have stopped for one year and come back, like Esteban Ocon and Alex Albon," he said.
"On my side, I had two years reserve driving for Ferrari in 2017 and 2018 and finally got my chance in 2019. You never know what will happen in F1.
"One of the things I will do next is keep one foot in the F1 paddock. I'm still part of the Ferrari family. We're trying to have the same things next year; it's important to stay here and see if there is a chance in 2023. We're looking for this, and I'd be happy to continue with them."
Karl Matchett12 January 2022 13:47
1641994478
F1 news
Fernando Alonso has named the two drivers who had him enthralled during his year away from F1 – and added in a third upon being cheekily interrupted by Daniel Ricciardo in an interview with Formula One.
"I said at the beginning of the championship as well, before it had even started, in Bahrain, that the driver that impressed me more when I was at home watching on TV was George [Russell], on the performance in the Williams, and Max [Verstappen]. Those were the two guys that I was switching on the TV [for]," Alonso said.
"And Daniel because he was in the Renault and that car was very interesting to me last year! But no, I mean, they were giving something extra and that was the reason why I was putting on the TV."
Alonso will have surgery in January to remove plates in his face from a cycling crash last year, before preparing for the new season where he hopes Alpine can make real progress.
"It's up to us to do a good car; we will either do it or learn from our mistakes. But there are no more [excuses]: [we cannot say] we have less budget or we have less resources or they are using two wind tunnels. There are no more [of] all those things so it is up to us."
Karl Matchett12 January 2022 13:34
1641993398
McLaren oppose raising cost cap for F1 sprint races
McLaren CEO Zak Brown says his team entirely oppose any raising of the cost cap for sprints.
F1's limit of $140m for the 2022 season should be raised to compensate for potential crash damage with the addition of sprint qualifying, some teams have argued, leading to a $450,000 add-on – with six of these weekends to be seen in the new, upcoming campaign.
Brown revealed certain teams are fighting for the cap to be raised again, but McLaren will be standing firm in opposing it.
Some teams want to take the opportunity to raise the cost cap," he said, per Motorsport-Total.com.
"We are strongly opposed to increasing the cost cap. So we will have to deal with this issue.
"The reality is there was very little damage last year. They made a report on the damage in the first round and that report showed there was very little damage. We assumed anyway there would be very little damage, and it turned out there was very little damage.
"Some teams want to take the opportunity to increase the budget by a ridiculous amount. For some teams it may be new that they have to manage a budget, but I think that's in the spirit of the sport. We have to resist the fact certain teams are taking the opportunity to try to constantly increase that."
Karl Matchett12 January 2022 13:16
1641992438
McLaren boss reveals hopes that 'three or four cars' compete for F1 title in 2022
McLaren team boss Zak Brown hopes the introduction of new regulations in Formula One ahead of the 2022 season will make the fight for the drivers' championship a more open competition this year.
Changes to promote closer racing and increase overtaking opportunities will come into force ahead of the start of the new campaign in March, in the first major shake up of F1's rules since 2014.
With the 2022 season therefore providing teams a clean slate, Brown would like to see several teams heading into the final Grand Prix of the season with a chance of winning the title, after a campaign which saw Mercedes and Red Bull win the majority of races.
"My hopes are that we go into Abu Dhabi next year with three or four cars who can compete for the championship, I think that's the ultimate goal," Brown said.
"I think this year has been spectacular, up and down the grid, and I hope with what has been put in place and the new car designs, and the intent of the new aerodynamic package, that what we're seeing now is just a taste of the future."
McLaren made significant strides last campaign, winning their first race in nine years as Daniel Ricciardo won the Italian Grand Prix at Monza. Lando Norris also enjoyed an impressive first half of the campaign, as McLaren battled with Ferrari for third place in the constructors, a fight eventually won by the Italian team.
There have been some fears that the change of regulations could bring a new era of dominance for one team if they get ahead of the pack early, as was seen in 2009 as Brawn surged to the title and in 2014 when Mercedes took advantage.
But Brown believes that it will be a different story this time around, predicting a tightening of the field.
"I'd be very surprised if next year was a boring campaign with the new cars," Brown said. "I think you'll get some winners and losers and some surprises. I'd be surprised if there was dominance.
"You could get a team who is maybe dominant for a small period of time like Brawn was when they figured out something in 2009. But I think with the cost cap now in place, you can feel the tension that is put on the teams who stopped developing this car in expensive of next year.
"I'd be surprised if the field didn't continue to get closer."
Karl Matchett12 January 2022 13:00
1641991598
Lewis Hamilton 'sabbatical year' raised as possibility for 2022
Lewis Hamilton could take a "sabbatical year" from Formula One if he does not receive assurances from the FIA that there will be changes to how its rules are enforced ahead of next season, it was been warned.
Hamilton lost out on a record-breaking eighth F1 title to Max Verstappen on the last lap of the season at a hugely controversial Abu Dhabi Grand Prix last month.
In withdrawing their appeals in the aftermath of the race, Mercedes confirmed that would "actively work" with the FIA to "build a better Formula One".
That process has since been thrown into doubt, however, after Sky Sports reporter Craig Slater said that Hamilton and Mercedes had yet to see meaningful changes following the FIA's investigation into the Abu Dhabi Grand Prix.
"All the options might be on the table, even a sabbatical year for Lewis if he doesn't feel ready to come back in 2022," Slater said.
"As far as the team is concerned, the onus is on the FIA to make good on their pledge to investigate that final lap in Abu Dhabi and to come up with some findings."
Karl Matchett12 January 2022 12:46