F1 news LIVE: Lewis Hamilton rejects weakness over tactics to defeat Max Verstappen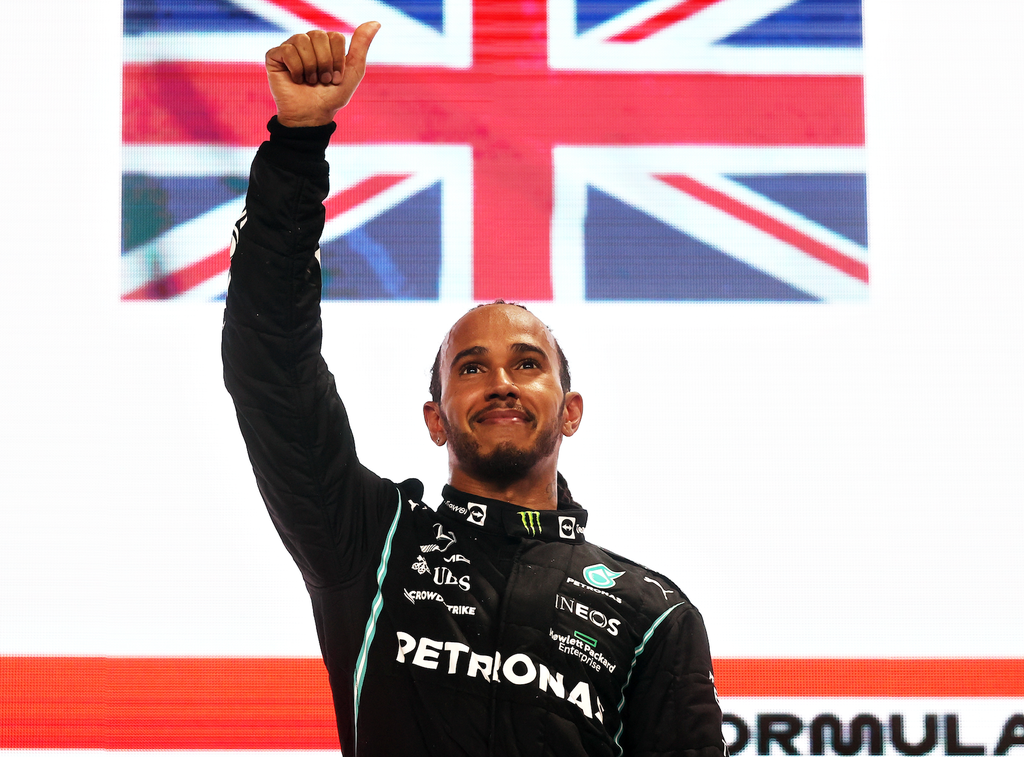 Mercedes Requests Review Of Verstappen/Hamilton Battle
Lewis Hamilton is now within touching distance of the top of the Formula 1 standings after a second successive victory helped cut Max Verstappen's lead to just eight points.
Two races remain, at Jeddah in Saudi Arabia and Yas Marina in the United Arab Emirates, both circuits with layouts including a series long straights. That should favour the Mercedes car over the Red Bull, meaning one of the most intense battles the sport has seen in its modern history is set to go down to the wire.
Off track, team principals Toto Wolff and Christian Horner have been engaged in something of a slanging match, while the FIA's policing of the sport in regards to penalties dished out to drivers has come in for heavy criticism. That combination of scintillating action on circuit and controversy off it means the pressure is rising and the smallest of margins could make all the difference
Here's all the latest F1 news and reaction as the build-up to Saudi Arabia continues:
1637835544
Verstappen wants one title to 'complete' career
Max Verstappen has revealed winning the Formula One world title is his "final goal" in the sport and admitted it would not "matter" if he didn't add another championship in his career.
Lewis Hamilton is a seven-time world champion and is determined to win a record-breaking eighth, Verstappen has admitted he will have "completed" F1 is he wins a maiden title this year.
"It then doesn't really matter anymore how many you win because you've already won one," Verstappen told the Chequered Flag podcast.
"Of course, I would always try to win more, but that's done, that's the final goal, and will, of course, work very hard to try and achieve that, and after that, there's a lot less pressure."
Dan Austin25 November 2021 10:19
1637835004
Wolff and Horner feud is 'terrible', 'tacky', and 'childish'
Van der Grint also made his feelings clear about the increasing feud between Mercedes team principal Toto Wolff and his Red Bull counterpart Christian Horner.
The pair clashed in a press conference in Qatar and exchanged a series of snippy remarks about each other, with Horner saying they had "no relationship" and that he doesn't "need to kiss Toto's a***."
Van der Grint, though, believes both men need to grow up. "I think that's terrible," he told Motorsport.com. "I think it's tacky. "And then marshals are insulted. It is childish. We have two great drivers who actually downgrade the rest of the field. Fantastic, that's motorsport.
"When I hear terms that I don't want to repeat, that annoys me too. I am sorry to hear that."
Dan Austin25 November 2021 10:10
1637834464
Talk of Mercedes' car being 'illegal' must stop, says Van Deer Grint
Former Formula 1 engineer Kees van der Grint says any talk of Mercedes' car being illegal "must stop."
Van der Grint worked with Ferrari at the height of Michael Schumacher's early 00s success, and says the Mercedes is simply faster than the Red Bull right now. Rumours about the Silver Arrows' car falling foul of the rules have spread since Brazil, when Lewis Hamilton was significantly faster than any other car on track, and the rear wing as found by the FUA to have fallen foul of measurement restrictions.
"The speed differences between the teams was not that great in Qatar," Van de Grint told RTL GP. "Mercedes just got it right. Since the FIA has said that [the Mercedes] is not illegal, then the chatter about it must stop."
Dan Austin25 November 2021 10:01
1637833984
Verstappen's Qatar penalty was 'harsh', says Brundle
Sky Sports F1 commentator Martin Brundle believes Max Verstappen's five-place grid penalty for ignoring double yellow flags in Qatar was 'harsh.'
The 24-year-old failed to slow once marshals were waving flags in the final part of qualifying, but there was confusion afterwards because DRS was still activated and no warning message appeared on drivers' dashboards, indicating the track was clear and safe to continue driving at top speed.
IN his Sky Sports column, Brundle wrote: "I'm a fully paid up advocate that yellow flags must be respected as an absolute priority,. "But from the cockpit on Sunday the drivers would have been on their final qualifying effort exiting the last corner with no visible flags, no incident warning lights on their steering wheel or messages from the pit wall, a blaze of red lights in the night time sky at the finish line indicating the qualifying session is over (one red light and the chequered flag would be sufficient), spotting the DRS activation line which had been re-enabled, pulling up through the gears whilst then working out what that car [Pierre Gasly's three-wheeling Alpha Tauri] on the right hand side was actually doing."
Dan Austin25 November 2021 09:53
1637833504
Alfa Romeo admits finance a key consideration in Zhou arrival
Alfa Romeo team boss Frederic Vasseur has admitted that Guanyu Zhou's financial backing formed part of the reasoning for the 22-year-old's promotion to a full-time F1 race seat with the team.
Zhou will become the first Chinese driver to race in F1 when he partners Valtteri Bottas in 2022, and is bringing a reported £20m worth of sponsorship to the team with him.
"The first criteria is the performance of the team," Vasseur said. "It means that to be performant you need to have good drivers, good technicians, good engineers, a good feeling from the drivers, and a good budget [Money] was a pillar of the decision, for sure. I was always clear like this because we want to get the cost cap. It's the best way for us to be performant."
Dan Austin25 November 2021 09:45
1637833091
Lewis Hamilton details 'clever' strategy to defeat Max Verstappen and avoid 'selfish act'
The Briton now intends to pull out of risky on-track duels, which saw flash points at Silverstone and Monza earlier this season.
And Hamilton was asked if his strategy to back down against Verstappen on the track was a sign of weakness.
Jack Rathborn25 November 2021 09:38
1637832904
Kubica staying with Alfa Romeo for 2022
Robert Kubica will stick around at Alfa Romeo for 2022 after being confirmed as the team's test and reserve driver for 2022.
The Pole stood in for Kimi Raikkonen at the Dutch and Italian grands prix in September after the Finn contracted Covid-19, scoring 15th and 14th-place finishes respectively. Kubica seemed destined to compete for the world championship earlier in his career after showing enormous potential with BMW Sauber and Renault, before a rallying accident caused significant damage to his body and prevented him from competing in F1 between 2011 and 2017.
Dan Austin25 November 2021 09:35
1637832364
One corner cost Red Bull in Qatar, says Horner
Christian Horner says the difference in pace between Mercedes and his Red Bull team at the Qatar Grand Prix last weekend all came down to the slow left-hander at Turn 6.
The Losail circuit was making its debut on the F1 calendar and is made up of a series of high speed corners, but Turn 6 is one of the slowest on the track, and Horner believes the Silver Arrows were able to build a significant advantage there.
"I think there's one corner that's differentiated us all weekend and it's been Turn 6 ," Horner told reporters. "We lost two tenths a lap every lap from Friday to Sunday at that corner and I think that's one the things we need to go and understand and where we need to improve."
Dan Austin25 November 2021 09:26
1637831824
Horner has no regrets over behaviour in Qatar
Despite criticism from Albers and other F1 commentators and pundits, Christian Horner says he has no regrets over his behaviour in Qatar, which saw him given a formal warning by the FIA for breaching the international sporting code.
On the penalty given to Max Verstappen for ignoring double yellow flags, he said: "It's a rogue marshal that stuck out a flag out. He wasn't told to do so. This is a crucial blow in the world championship." FIA Race Director Michael Masi was unimpressed and summoned the 48-year-old to the stewards.
But asked on Sky Sports F1 f his outburst showed that the pressure of a close-run title fight was getting to him, Horner said: "Not at all – watch the interview and make your own opinion. Everyone has a right to an opinion and I gave an opinion."
Pushed on if he regretted his recent behaviour, he added: "Not at all, I believe in my team, I'm a straight-talker and have always conducted myself in that manner."
Dan Austin25 November 2021 09:17
1637831224
Christian Horner 'doesn't have a clue' in comparison with Wolff
Former F1 driver Christijan Albers says Red Bull team principal Christian Horner 'doesn't have a clue' compared to the more 'professional' Toto Wolff.
Wolff has led Mercedes to seven consecutive drivers' and constructors' championship double title wins since the turbo-hybrid era began in 2014, and Dutchman Albers says the Austrian is the superior team boss.
"I'm not a Toto fan, I'm not a Horner fan, but I do think Toto handles it better I must tell you, more professional," the ex-Minardi driver told De Telegraaf. "That too, and Toto really asks his engineers how and what. He's more into the [technical] matters than Horner," he said.
"Horner doesn't have a clue. The issue is that he doesn't delve into the matter. You see that Horner doesn't ask his engineers any more questions when it comes to technique."
Dan Austin25 November 2021 09:07